Lowesell.com is a fraudulent online shop that masquerades as an official LOWE'S store. If you've encountered their ads on Facebook offering unbeatable deals on toolboxes and other products, you'll want to read this full article to protect yourself from being scammed.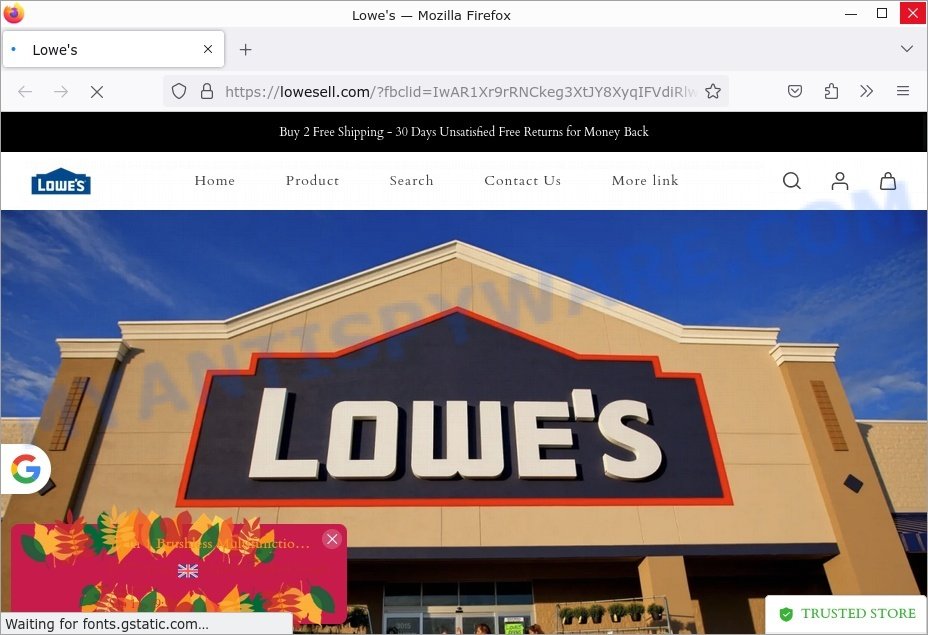 Quick Links
Is Lowesell.com a Scam?
If you're wondering whether Lowesell.com is a legitimate store, the answer is a resounding no. Here are some signs that unequivocally classify it as a scam:
Recently created domain
Lack of transparent contact information, hidden Whois contacts
Associated with a known scam company, FADEL-BEATTY LIMITED
Unbelievable deals and incredibly low prices, such as a toolbox for $49.99
Enticing slogans like "Clearance Sale", "Huge Discounts", "Limited Time Sale"
Non-existent social media presence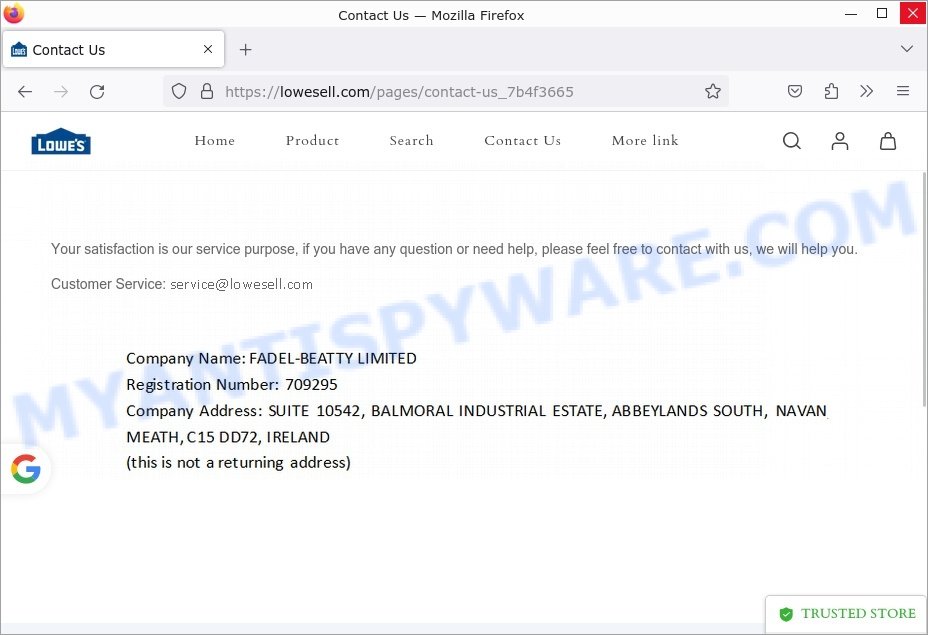 How the Lowesell.com Scam Works
Lowesell.com uses Facebook as its main platform for promotion. The scam often starts with a Facebook ad offering unbeatable deals, like a toolbox with 273 mechanical tools for only $49.99. They use phrases like "When It's Gone, It's Gone for Good" to create a sense of urgency.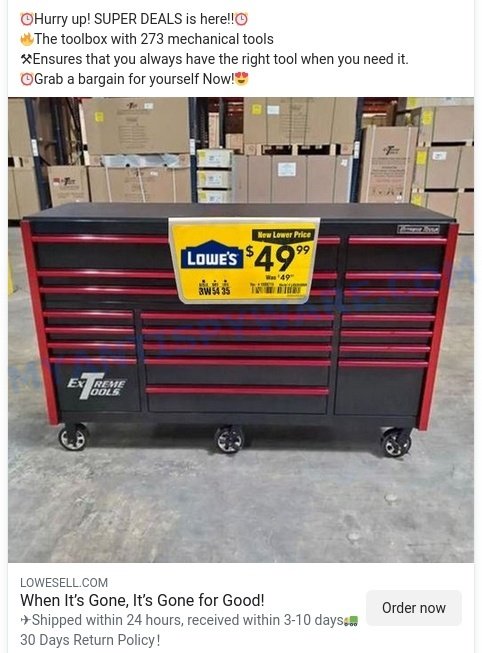 After you make a purchase, either your product never arrives, or you get a substandard item. Customer service, which can only be reached via a suspicious email, is generally unresponsive, leaving you without recourse.
What to do if you become a victim of Lowesell.com
If you've fallen victim to the Lowesell.com scam, it's important to act quickly to minimize the damage.
Contact your bank immediately to dispute the charges
Report the scam at reportfraud.ftc.gov
Leave a comment on this review to help warn others
Other Scam Online Shops to Avoid
As part of our ongoing effort to protect consumers from scams, we're highlighting other online shops that also use deceptive tactics similar to Lowesell.com. It's crucial to stay vigilant when shopping online.
Here are a few examples of scam online shops:
Blackstonediscount.com, Bedstockclearance.com, KingCrabStore.com.
Summary table for Lowesell.com
| | |
| --- | --- |
| Name | Lowesell.com |
| Type | Online Scam Shop |
| Damage | Financial Loss, Identity Theft Risk |
| Distribution | Facebook Ads |
| Tactics | False Advertising, Phishing |
| Prices | Unbelievably Low |
| Contacts | service@lowesell.com, FADEL-BEATTY LIMITED |
| Prevention Tips | Verify Online Shops, Use Trusted Payment Methods |
| Reporting Info | reportfraud.ftc.gov |
Conclusion
Lowesell.com is a dangerous online scam that poses as an official LOWE'S store. With its misleading Facebook ads and ridiculously low prices, it aims to trap unwary buyers. Do not fall for this scam and always verify online shops before making any purchases.
FAQ About the Lowesell.com Scam
Why do scammers often choose Facebook for promotion?
Facebook has a vast user base and allows scammers to target a wide demographic, making it easier for them to find potential victims.
How do I verify if an online shop is legitimate?
It's challenging but not impossible. The first step is to contact your bank to dispute the charges, followed by reporting the scam to the authorities.