ZapposPower.com is a purported online store claiming to offer extreme discounts of up to 90% on popular brands like Dick's Sporting Goods and Converse. Prominently advertised on Facebook through over 500 ads, the site flaunts deals that appear too good to be true, like back-to-school sales at shockingly low prices. However, all signs point to this being a deceptive operation: it has a recently created domain, its WHOIS contacts are hidden, and its listed company address and contact email are linked to other known scam shops. If you've come across Zappos Power com and are questioning its legitimacy, proceed with caution and skepticism. For a comprehensive breakdown of all the red flags and to understand why this site is a scam, read the full article.
Quick Links
Is ZapposPower.com a Scam?
If you're wondering whether Zappos Power is legitimate, the answer is a resounding no. Here are the signs that make it clear this is a scam:
Recently created domain
Lack of contact information, except for an email: customerservices@zappospower.com
Company details linked to other scams: NOVVA LIMITED
Unbelievable deals: Up to 90% off, prices as low as $20
Enticing slogans such as "Flash Sale Today", "Free shipping", "30-DAY FREE RETURNS"
No social media presence
How the ZapposPower.com Scam Works
ZapposPower.com lures unsuspecting shoppers through its extensive advertising on Facebook. Using the names of well-known brands like Dick's Sporting Goods and Converse, the site draws people in with promotions like "Up to 90% Off" and "$20 Flash Sales".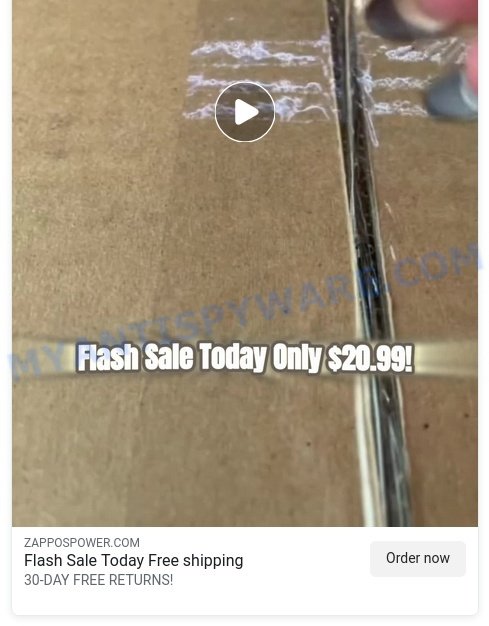 Once a customer is enticed by these seemingly unbeatable deals, they are directed to complete their purchase on a sleek, professional-looking website. As part of its deceptive practices, ZapposPower.com even offers a "30-Day Free Returns" policy, adding another layer of false security. The site collects not just the money but also valuable personal and financial information from the shopper. The ripple effect of this scam isn't just financial loss; it's also potential identity theft and credit card fraud.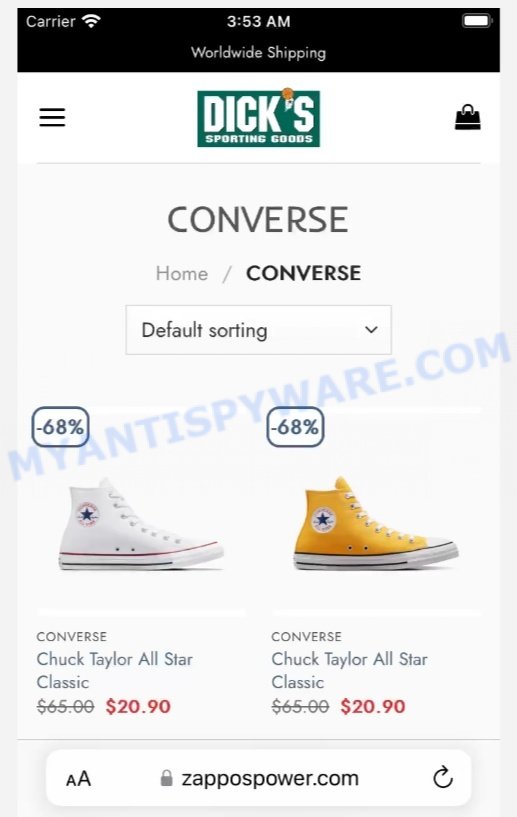 After a purchase is made, the consumer might receive a shipping confirmation, complete with a tracking number. Sometimes the tracking number is fake, or worse, it shows an item successfully delivered but to a completely different location. In some instances, an item does arrive, but it's a counterfeit or an extremely low-quality version of what was advertised. Either way, the scam usually incorporates just enough elements of a legitimate transaction to make the victim hesitate to take immediate action.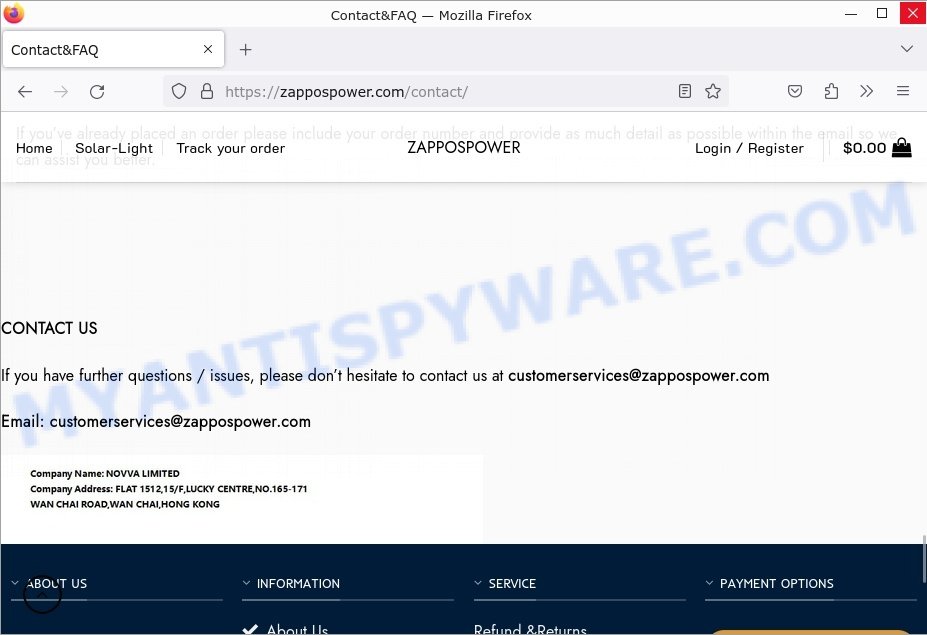 By the time the consumer realizes they've been duped, the scammers have already made off with the money. The company's listed contacts are usually non-responsive, and any attempt at reaching customer service ends in futility. This is consistent with the company's email and address being tied to other known scams, making it nearly impossible for the consumer to get their money back. All the while, ZapposPower.com continues to run ads and draw in more victims, repeating the cycle of deceit and financial loss.
What to Do if You Become a Victim
If you've fallen victim to the ZapposPower.com scam, don't despair. Here's what you can do:
Contact your bank to report fraudulent activity and request a chargeback.
File a report at reportfraud.ftc.gov
Leave a comment on this review to warn others.
Other Online Scams to Avoid
To protect our readers from scams like ZapposPower.com, we continuously monitor and report on suspicious online stores. Below are examples of similar scams you should steer clear of:
Here are a few examples of the scam online shops: Babyjoynewyork.com Buy Buy BABY Store Scam, Fake Wilko Clearance Sale: Wilko Discounts Scam Stores Review, Outletshoks.com HOKA Clearance Scam.
Summary Table for ZapposPower.com
| | |
| --- | --- |
| Name | ZapposPower.com |
| Type | Online Scam Shop |
| Damage | Financial loss, potential identity theft |
| Distribution | Facebook ads |
| Tactics | Fake discounts, misleading advertising |
| Prices | Up to 90% off, as low as $20 |
| Contacts | customerservices@zappospower.com, NOVVA LIMITED |
| Prevention Tips | Verify the legitimacy of online shops, read customer reviews |
| Reporting Info | reportfraud.ftc.gov |
Conclusion
ZapposPower.com is a classic online scam that uses the allure of massive discounts to lure victims into a trap. Not only does it promise unrealistically low prices, but it also operates under the guise of being affiliated with trusted brands. Stay away from this website and always exercise caution when shopping online.
FAQ About the ZapposPower.com Scam
How did ZapposPower.com get my Facebook data?
ZapposPower.com likely didn't access your data directly. Instead, the scam exploits Facebook's ad platform to target a broad audience, appearing on your feed based on your browsing habits or interests.
Is it safe to click on ZapposPower.com links?
No, it's not safe to click on any links related to ZapposPower.com. Doing so can expose you to financial loss or identity theft.