The list of cryptocurrency scams just got longer with the arrival of Adexcoins.com, a new platform mimicking tactics used by previous scams like Xemtruck.com and Bitnuw.com. Using TikTok as its main promotional stage, Adexcoins.com falsely claims to have Elon Musk's endorsement to lure in unsuspecting victims. While it may look like a credible cryptocurrency exchange at first glance, don't be fooled. The site is unregulated, lacks proper licensing, and is shrouded in anonymity. Their scheme is straightforward yet effective: promise you free Bitcoin, entice you to deposit your own money to "unlock" the giveaway, and then disappear with your funds. If you come across TikTok videos touting Adexcoins.com, it's imperative to steer clear. Continue reading to arm yourself with knowledge about how this latest scam operates and what you can do to protect your assets.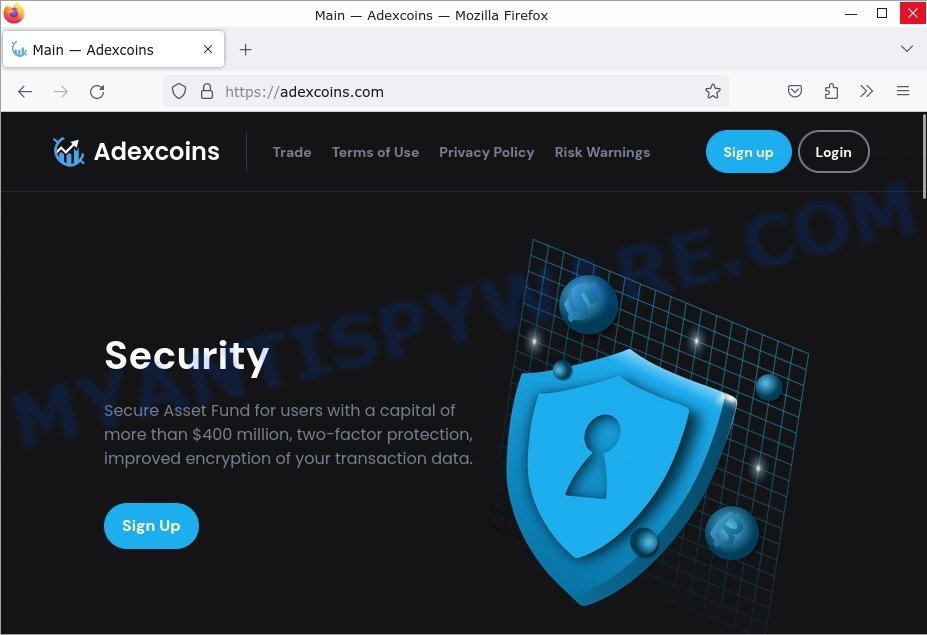 Quick Links
Is Adexcoins.com a Scam?
Yes, Adexcoins.com appears to be a scam based on numerous warning signs that should give potential investors pause. In today's digital age, scams have become increasingly intricate, making it even more critical to be cautious about where you place your trust and money. Below, we delve into the specific red flags that should deter anyone from engaging with this platform.
List of Red Flags:
Unregulated Platform: Adexcoins.com operates without oversight from any financial regulatory authorities. This means your investment and personal information are at risk.
No Licenses or Certifications: A legitimate financial platform would display its trading licenses and certifications. The absence of these on Adexcoins.com leaves potential investors unprotected.
Duplicate Content: The use of duplicate or copied content on the website raises questions about its authenticity and reliability.
Fake Endorsements: The platform falsely claims to have endorsements from public figures like Elon Musk, a manipulative tactic to gain user trust.
Advance Fee Scam: The site promises free Bitcoin but requires an initial deposit to "unlock" these funds, a classic scam method to run off with your money.
Anonymous Ownership: The site's owners are hiding their identity, often a sign of a scheme designed to evade legal consequences.
Recently Created Domain: Newly created websites often pose higher risks, especially in high-risk sectors like cryptocurrency trading.
By being aware of these red flags, you can protect yourself from falling victim to this and similar scams.
How the Adexcoins.com Scam Works
Adexcoins.com gets people's attention through TikTok ads that make it look like Elon Musk is supporting their platform. They say you can get free Bitcoin if you sign up. When you go to their website, it looks like any other place where you can buy and sell cryptocurrency. To get your "free" Bitcoin, they ask you to use a special code, usually something like "STARTX".
Here's where they catch you: to get your free Bitcoin, they say you have to deposit some of your own money first. Many people do it, thinking they'll get even more money back. But once you deposit your money, you can't get it back or access the free Bitcoin they promised. The website has your money, and you're left with nothing. Since the website is unregulated and the owners are anonymous, there's little chance of getting your money back or taking legal action. So, it's best to stay away and warn others about it.
What to Do if You Become a Victim of Adexcoins.com
If you've fallen prey to the Adexcoins.com scam, immediate action is crucial to mitigate the damage and prevent others from becoming victims. Here's a concise list of steps you should take right away:
Stop any further deposits and do not share any more personal information with the website.
Contact your bank immediately to inform them of the unauthorized transaction. They may be able to halt the transaction or offer next steps.
Report the scam ads on TikTok or any other platform where you encountered them, so they can be taken down.
File a detailed complaint with your local law enforcement agency to help build a case against the fraudsters.
n the U.S., this means filing a complaint with the Federal Trade Commission (FTC). For other countries, reach out to your national consumer protection agency.
Use your social media accounts to warn friends, family, and followers about the scam, reducing the chances of them falling for it too.
By taking these specific actions promptly, you can help protect yourself and others from further damage. While the chances of recovering your funds may be slim, collective action can help curb the operations of scammers like those behind Adexcoins.com.
Other Online Scams to Avoid
As part of our ongoing effort to protect our readers, be cautious of similar scams online.
Here are a few examples: Oputcre.shop QVC Store Scam, Bedstockclearance.com Review: Lowe's Stock Clearance Scam, Outletshoks.com HOKA Clearance Scam.
Summary Table for Adexcoins.com
| | |
| --- | --- |
| Name | Adexcoins.com |
| Type | Cryptocurrency Scam |
| Damage | Financial loss, Identity theft risk |
| Distribution | TikTok, Fake endorsements |
| Tactics | Free bitcoin giveaway, Fake celebrity endorsement |
| Contacts | None available |
| Prevention Tips | Verify information, Don't give personal information easily |
| Reporting Info | FTC Reporting |
Conclusion
Adexcoins.com is a scam that promises free Bitcoin to lure people in, but ends up taking their money instead. The website uses fake celebrity endorsements and asks for a deposit that you'll never see again. If you've fallen for this scam, act quickly: report it, talk to your bank, and warn others. In a world where online scams are all too common, it's important to be extra careful. Always double-check before you invest your money, especially in things that promise quick riches. Let's stay alert and keep our hard-earned money safe.
FAQ About the Adexcoins.com Scam
Why is Adexcoins.com using Elon Musk's name?
To lend an air of credibility to their scam, the fraudsters behind Adexcoins.com are using a well-known public figure to trick people into thinking their offer is legitimate.
What is the endgame for Adexcoins.com?
The ultimate aim is to get you to deposit money that you will never see again, thereby defrauding you of your hard-earned cash.
Is it common for scams like this to use social media?
Yes, social media platforms like TikTok are increasingly being used to promote scams due to the large audience they can quickly reach.