Crosstaste.shop is advertising unbeatable deals on mobility scooters, promising scooters for as low as $39. Promoted across social media platforms like Facebook and Instagram, this online store has caught the eye of many. But before you take out your credit card, read on to find out why you should steer clear of this scam shop.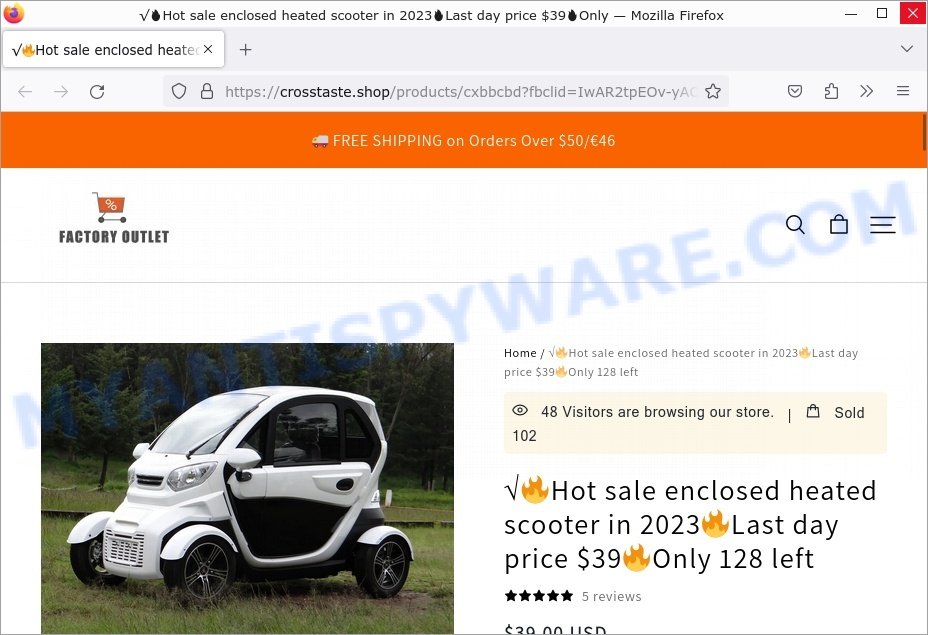 Quick Links
Is Crosstaste.shop a Scam?
Crosstaste.shop displays multiple red flags that point to it being a scam:
Recently created domain
Lack of contact information other than an email address: support@customer-vipserv.com
No real information about the company behind the shop
Unbelievable deals like a mobility scooter for $39
Enticing slogans like "Last Day For Only $39"
Time counter on the product page
No social media presence
Company name NOVVA LIMITED is linked to other scam shops
Whois contacts hidden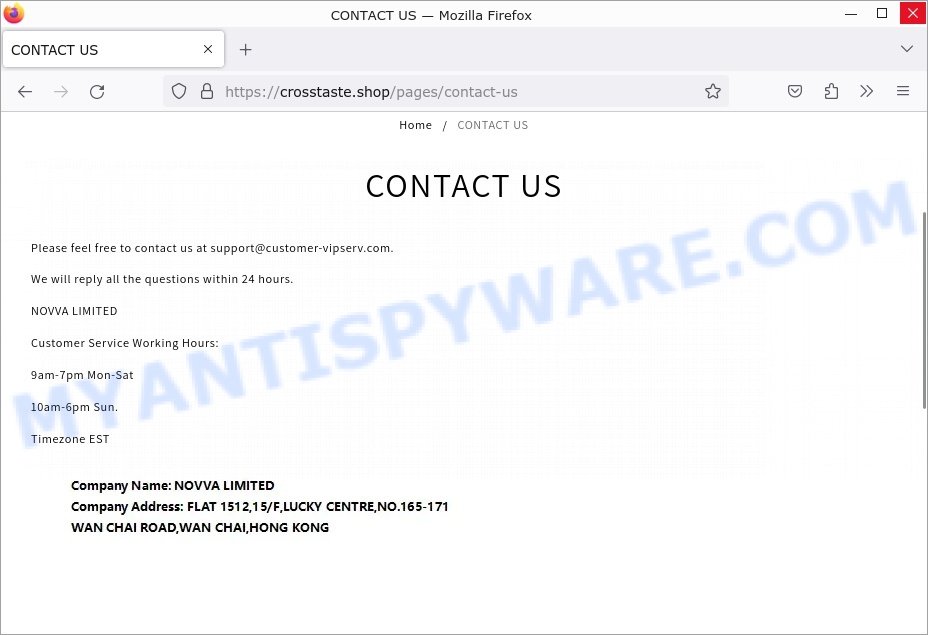 How the Crosstaste.shop Scam Works
Crosstaste.shop is primarily promoted through social media platforms like Facebook and Instagram. They use flashy advertisements promising high-speed mobility scooters at unbeatable prices, typically around $39. Enticing slogans like "Last Day For Only $39" are used to lure people into the scam. After customers make the payment, they either receive a subpar product or nothing at all. Emails to customer support go unanswered or are not helpful.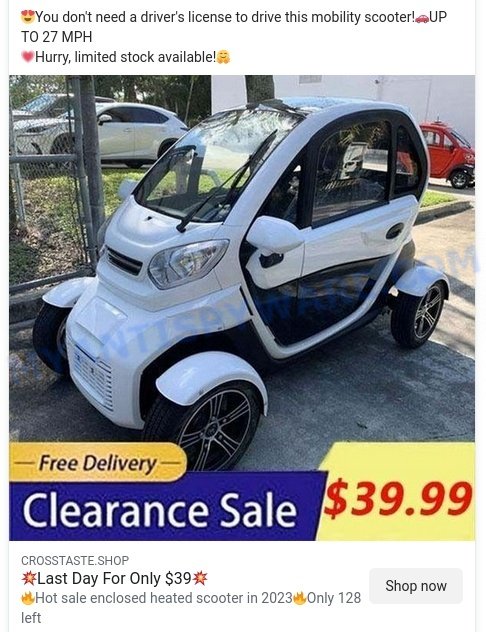 What to Do If You Become a Victim of Crosstaste.shop
If you have fallen victim to the Crosstaste.shop scam, there are several steps you can take:
Contact your bank and report the fraudulent transaction
Report the scam to the Federal Trade Commission at reportfraud.ftc.gov
Leave a comment on this review to help others avoid the scam
Other Scam Online Shops to Avoid
In our ongoing effort to protect our readers, we have identified other scam shops that share characteristics with Crosstaste.shop. Be wary when shopping online and always look for signs that may indicate a scam.
Here are a few examples of other scam online shops: Acstoreus.com DICK'S SPORTING GOODS Store Scam, Bedstockclearance.com Lowe's Stock Clearance Scam, Outletshoks.com HOKA Clearance Scam.
Summary Table for Crosstaste.shop
| | |
| --- | --- |
| Name | Crosstaste.shop |
| Type | Online Scam Shop |
| Damage | Financial Loss, Potential Identity Theft |
| Distribution | Social Media (Facebook, Instagram) |
| Tactics | False Advertising, Enticing Slogans |
| Prices | Unbelievably low (e.g., $39 for a mobility scooter) |
| Contacts | Email: support@customer-vipserv.com, Company: NOVVA LIMITED |
| Prevention Tips | Verify before buying, avoid too-good-to-be-true deals |
| Reporting Info | FTC Reporting |
Conclusion
Crosstaste.shop is undoubtedly a scam, designed to lure in unsuspecting buyers with promises of incredibly cheap mobility scooters. Not only does it prey on consumers' desires for affordable options, but it also poses a risk for financial loss and identity theft. Be cautious and always verify before making any online purchases.
FAQ About the Crosstaste.shop Scam
Why are the prices so low on Crosstaste.shop?
The low prices are a tactic to lure in buyers. These are not genuine offers, and the intent is to scam you out of your money.
Is there any way to get my money back?
The chances are slim, but you can report the transaction to your bank and the FTC to see if they can assist you in any way.
How did Crosstaste.shop get my Facebook details?
Crosstaste.shop likely targeted you through paid social media advertising. This doesn't mean they have access to your personal Facebook data unless you provided it to them.