Brightaura.shop poses as a legitimate H&M online store offering unbelievable discounts on fashion products. Promoted through social media platforms like Facebook and Instagram, this scam lures unsuspecting shoppers into its trap. Before you fall for their too-good-to-be-true deals, read this comprehensive review.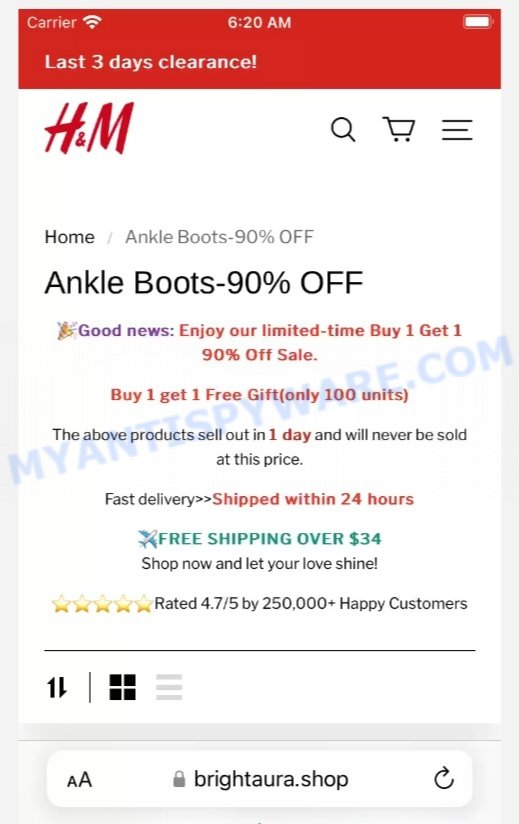 Quick Links
Is Brightaura.shop a Scam?
Let's cut to the chase: Brightaura.shop is a fraudulent online store that's designed to scam you.
Recently created domain
Lack of authentic contact information; linked to other scam shops
No real info about the company behind the shop
Unbelievable deals and incredibly low prices, e.g., "Last 3 days clearance! 90% OFF"
No social media presence or fake social media links
Customer complaints regarding non-delivery and false advertising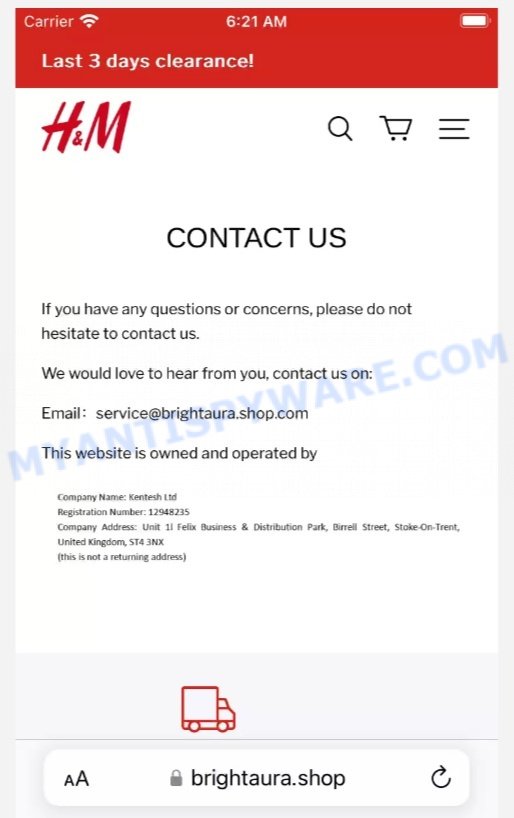 How the Brightaura.shop Scam Works
Brightaura.shop promotes itself primarily on social media platforms like Facebook and Instagram. It often offers deals that seem too good to be true, such as "Last 3 days clearance! H&M Home Ankle Boots-90% OFF."
The scam takes advantage of shoppers by capturing their personal and financial information, promising goods that will never arrive. Following a purchase, customers usually discover that they have been duped and that the website is nearly impossible to contact.
What to do if you become a victim of Brightaura.shop
If you've fallen victim to this scam, it's crucial to act quickly to protect your financial and personal information.
Contact your bank immediately to dispute the transaction.
Change passwords for any accounts that might be compromised.
Report the scam to local authorities and online platforms where the scam was advertised.
Report to the FTC at reportfraud.ftc.gov.
Leave a comment on this review to help others become aware of this scam.
Other Scam Online Shops to Avoid
In an effort to help protect you from further scams, we've listed other suspicious online stores that you should avoid. Like Brightaura.shop, these stores also employ deceptive tactics.
Here are a few examples of the scam online shops: Blackstonediscount.com, Acstoreus.com, and Outletshoks.com.
Summary Table for Brightaura.shop
| | |
| --- | --- |
| Name | Brightaura.shop |
| Type | Online Shopping Scam |
| Damage | Financial and Personal Information Theft |
| Distribution | Social Media (Facebook, Instagram) |
| Tactics | Fake promotions and ads |
| Prices | Unbelievably low prices |
| Contacts | Email: service@brightaura.shop.com; Company: Kentesh Ltd |
| Prevention Tips | Check for authentic contact details; Be skeptical of low prices |
| Reporting Info | FTC Reporting |
Conclusion
Brightaura.shop is a fake H&M website designed to trick you into parting with your money and personal information. Always be skeptical of any online stores that offer deals that seem too good to be true, and always conduct your due diligence before making a purchase.
FAQ About the Brightaura.shop Scam
What makes Brightaura.shop different from other scam sites?
Brightaura.shop uniquely poses as an H&M website, a reputable brand, making it easier for the scam to be convincing.
How did I come across Brightaura.shop?
You likely encountered Brightaura.shop through social media advertising, particularly on platforms like Facebook and Instagram where they actively advertise.
Is there any chance to get my money back if I've been scammed?
While getting your money back isn't guaranteed, contacting your bank immediately to dispute the transaction is your best chance for a refund.