Bedbeyonlineus.shop is luring customers with the promise of unbelievably low prices on household items. Advertised on Facebook as a bankruptcy liquidation sale for Bed Bath & Beyond, this store offers up to 90% off on a wide range of products. Be cautious and read the full article before making any purchases.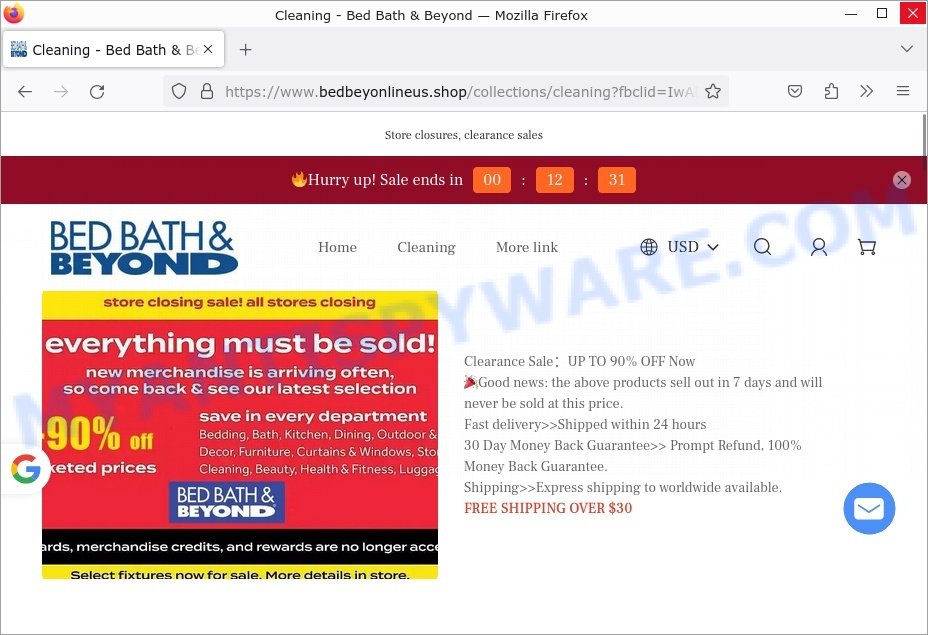 Quick Links
Is Bedbeyonlineus.shop a Scam?
There are several red flags that strongly suggest Bedbeyonlineus.shop is a scam:
Recently created domain
Lack of genuine contact information; provided email is linked to other scam shops
No real info about the company behind
Unbelievable deals and incredibly low prices
Content and images likely copied from other sites
Enticing slogans like "Clearance Sale," "Huge Discounts," "Limited Time Sale"
Time counter on the product page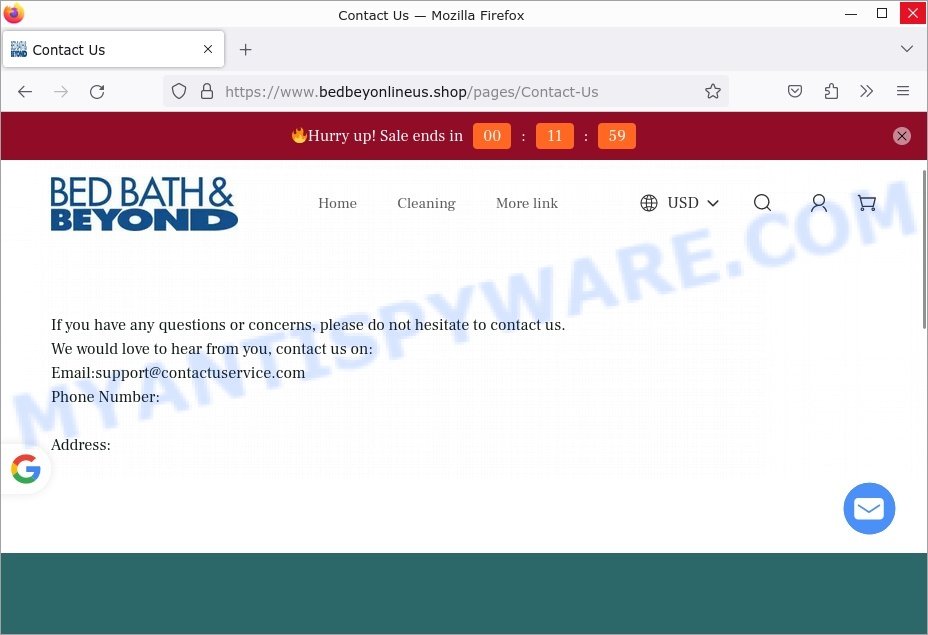 How the Bedbeyonlineus.shop Scam Works
Bedbeyonlineus.shop is heavily promoted through Facebook ads, enticing people with the promise of bankruptcy liquidation sales and prices as low as $7.99. The site mimics the look and feel of a legitimate Bed Bath & Beyond clearance sale.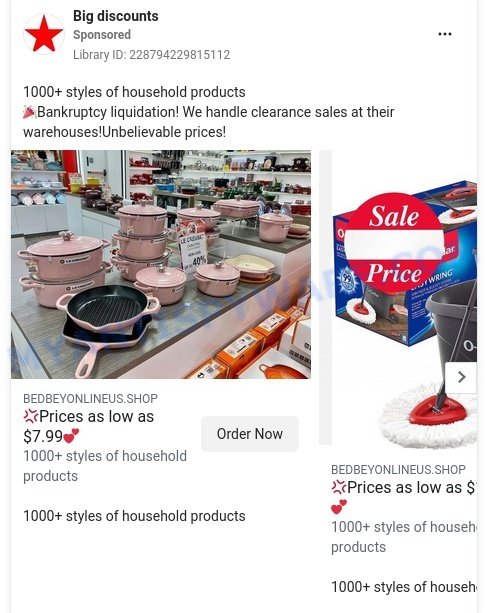 Once you click on the ads, you're taken to a page offering up to 90% off on various household items. The sense of urgency is created with slogans like "Sale ends in" and "Fast delivery; Shipped within 24 hours". However, there's a high chance you'll never receive the products, or you might receive counterfeit or subpar items.
What to do if you become a victim of Bedbeyonlineus.shop
If you've fallen victim to this scam, take immediate steps to protect your personal and financial information.
Contact your bank or credit card provider to report the fraud
Report the scam to FTC
Leave a comment on this review to help others become aware of this scam
Other Scam Online Shops to Avoid
As part of our ongoing effort to protect our readers from potential scams, we've compiled a list of other suspicious online shops you should be wary of. These shops use similar tactics as Bedbeyonlineus.shop.
Here are a few examples of scam online shops: Luvasti.com, Acstoreus.com, and KingCrabStore.com.
Summary table for Bedbeyonlineus.shop
| | |
| --- | --- |
| Name | Bedbeyonlineus.shop |
| Type | Scam Online Shop |
| Damage | Financial loss, possible identity theft |
| Distribution | Facebook Ads |
| Tactics | Enticing discounts, urgency creation |
| Prices | As low as $7.99 |
| Contacts | support@contactuservice.com |
| Prevention Tips | Verify before purchasing, look for secure payment options |
| Reporting Info | FTC |
Conclusion
Bedbeyonlineus.shop is a fraudulent online store that's capitalizing on the brand name of Bed Bath & Beyond to lure victims into its scam. Advertised heavily on Facebook, the site offers too-good-to-be-true discounts that are designed to catch your attention and make you act fast. Protect yourself by always verifying the legitimacy of online shops and avoiding deals that seem too good to be true.
FAQ About the Bedbeyonlineus.shop Scam
Is Bedbeyonlineus.shop affiliated with Bed Bath & Beyond?
No, Bedbeyonlineus.shop is not affiliated with Bed Bath & Beyond and is misusing the brand name to scam people.
How are these scam shops usually promoted?
They are often promoted via social media platforms like Facebook through paid ads, using enticing slogans and discounts.
Is it safe to provide my credit card information to Bedbeyonlineus.shop?
Definitely not. You risk financial loss and possible identity theft.