Snowymist.Shop is a scam online store purporting to be a bookstore clearing out its inventory due to "closing down forever". The site lures potential buyers through highly attractive Facebook advertisements. If you've encountered this shop, we strongly recommend reading this article to avoid falling into the trap.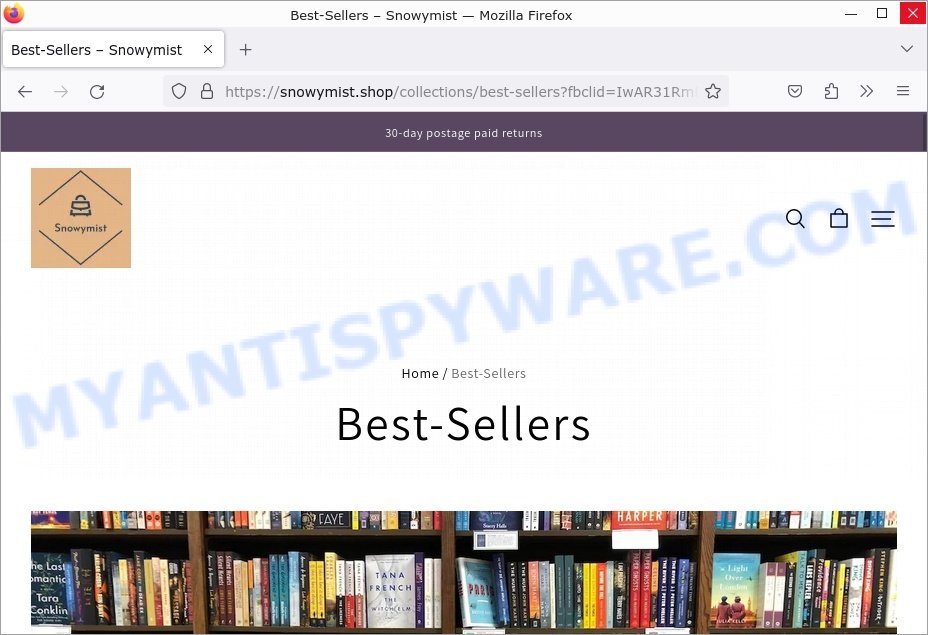 Quick links
Is Snowymist.Shop a Scam?
Snowymist.Shop is indeed a scam and here are the red flags that prove it:
Recently created domain
Lack of contact information
Associated with BANMAEC TRADING LTD, a company linked to other scam shops
Unbelievable deals and incredibly low prices
Enticing slogans like "Storewide Clearance", "Free return", "Orders over $35 get free shipping"
No social media presence
Customer complaints and non-delivery of goods
How the Snowymist.Shop Scam Works
Snowymist.Shop is promoted mainly through Facebook ads claiming to be a bookstore moving clearance sale. These ads use urgent language and promotional tactics like "Last Chance! Storewide Clearance" and "Orders over $35 get free shipping" to create a sense of urgency and authenticity. After being lured in, victims find that either they never receive their orders or receive items vastly different from what was advertised.
What to do if you become a victim of Snowymist.Shop
If you have fallen victim to this scam, take the following steps:
Contact your bank and initiate a chargeback
Change passwords for any accounts associated with the payment method you used
Report the scam to FTC
Leave a comment on this review to help warn others
Other Scam Online Shops to Avoid
As part of our ongoing effort to protect our readers from scams, we have compiled a list of other suspicious online shops that share similar characteristics with Snowymist.Shop. It's crucial to remain vigilant when shopping online.
Here are a few examples of the scam online shops: Luggagebigsale.com, Acstoreus.com, Babyjoynewyork.com.
Summary table for Snowymist.Shop
| | |
| --- | --- |
| Name | Snowymist.Shop |
| Type | Online Scam Shop |
| Damage | Financial Loss |
| Distribution | Facebook Ads |
| Tactics | False advertisements, time-limited offers |
| Prices | Unbelievably low |
| Contacts | BANMAEC TRADING LTD |
| Prevention Tips | Be skeptical of too-good-to-be-true deals |
| Reporting Info | FTC |
Conclusion
Snowymist.Shop is a fraudulent online store aimed at tricking individuals into making purchases that they will never receive or be satisfied with. The site uses a variety of deceptive tactics including false advertising and hiding behind an associated scam company. Always stay cautious and do your research before making any online purchases.
FAQ About the Snowymist.Shop Scam
What makes Snowymist.Shop stand out among other scam shops?
Unlike other scams, Snowymist.Shop heavily leverages social media platforms like Facebook to distribute its fake advertisements.
How can I get a refund if I have already made a purchase?
Initiate a chargeback by contacting your bank immediately.
Is there a pattern in the types of items Snowymist.Shop claims to sell?
Snowymist.Shop falsely claims to sell books at highly discounted rates as a part of its scamming strategy.