Beware of Bykamin.com, a new cryptocurrency scam that's making the rounds on TikTok. Just like the infamous Katranex.com, this platform promises free Bitcoin giveaways to hook you in. The site even uses a fake shoutout from internet celebrity MrBeast to seem legit. But here's the kicker: to get your "free" Bitcoin, you have to deposit your own money first—money you'll never see again. No licenses, no regulation, and anonymous owners: it's a recipe for disaster. If you don't want to lose your hard-earned cash, keep reading to find out how to spot scams like this and protect yourself.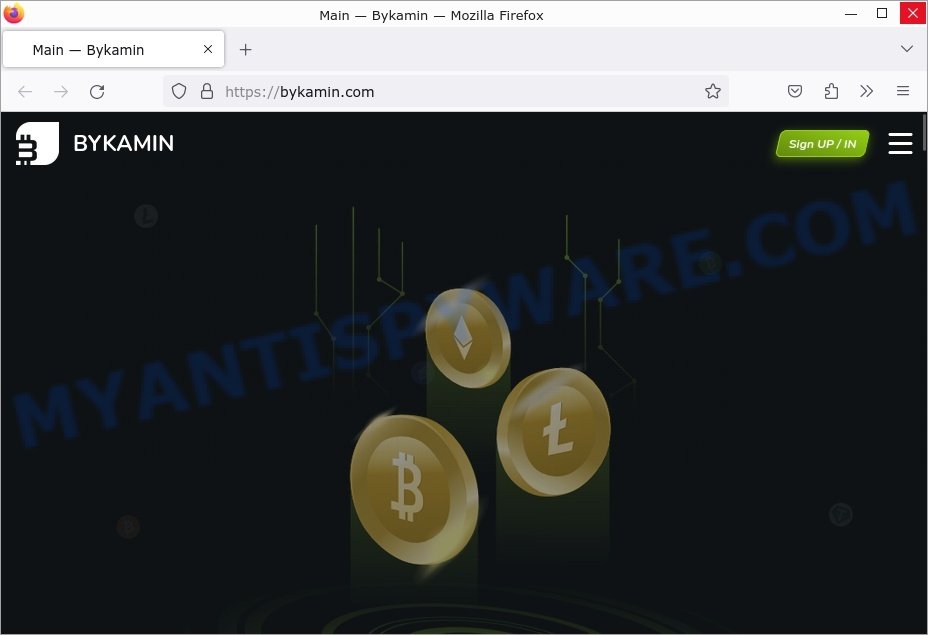 Quick links
Is Bykamin.com a Scam?
Yes, Bykamin.com shows all the signs of being a scam. With promises of free Bitcoin and fake endorsements from internet celebrity MrBeast, the website aims to attract people who are new or inexperienced in the cryptocurrency world. But don't be fooled. There are several major red flags that you should be aware of:
Recently created domain, indicating that it has not been around for long.
Absolute lack of contact information, making it impossible for users to reach out for support or queries.
Concealed WHOIS details, preventing users from identifying the individuals or company behind the website.
Too-good-to-be-true promises of free cryptocurrency giveaways.
No social media presence except for deceptive TikTok promotions.
A look into these details makes it quite clear that Bykamin.com is not to be trusted.
How the Bykamin.com Scam works
Bykamin.com uses a similar playbook to other cryptocurrency scams, notably luring people in through social media, specifically TikTok. The ads often display what looks like a grateful message from someone thanking MrBeast for free Bitcoin. It's a trick to make you think a well-known internet celebrity is backing the platform, giving it a sense of credibility.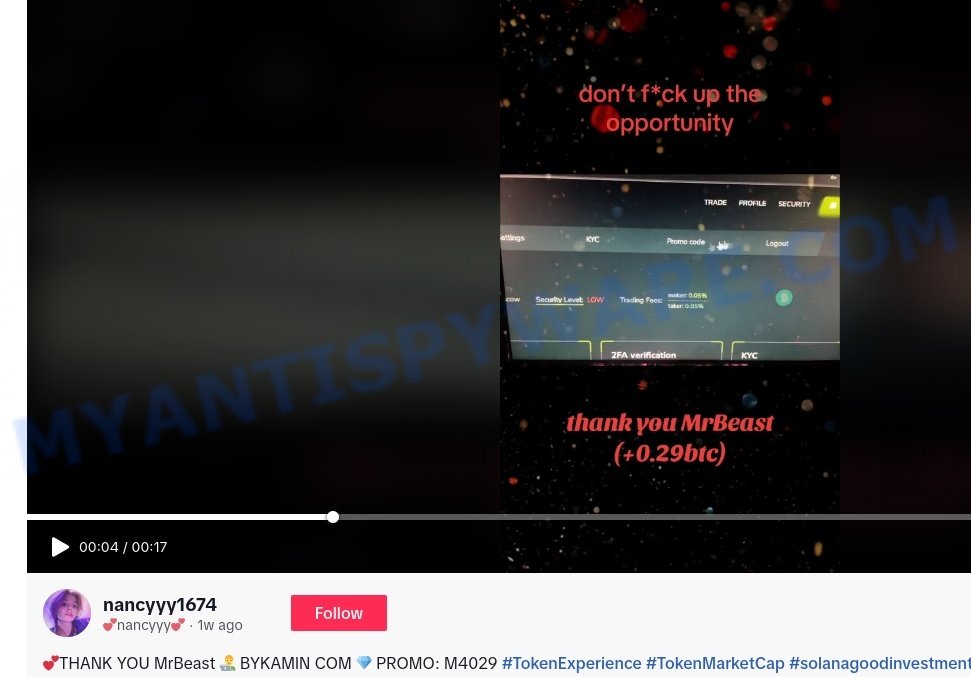 When you land on their website, you'll see it appears to be a regular crypto exchange platform. They reel you in with the promise of free Bitcoin, which they claim you can unlock using a special promo code, often labeled as "M4029" or something similar. The scam really kicks in when you try to withdraw your "free" Bitcoin. That's when they tell you that you need to make an initial deposit first to access your giveaway prize.
People who make the deposit find out the hard way that they've been scammed. The deposited money vanishes, and there's no way to withdraw the promised Bitcoin. With no responsible parties and zero regulation, victims find themselves stuck, having lost their money with little hope of getting it back. So, the simple answer to how the Bykamin.com scam works is this: they promise you free money to get you to give them real money, which they then keep for themselves.
What to do if you become a victim of Bykamin.com
If you've been tricked by Bykamin.com, quick action can help limit the damage and perhaps prevent others from being scammed. Here are specific steps to take immediately:
Cease all contact and transactions with the site. Don't give them any more money or information.
Contact your bank or financial institution to report any unauthorized transactions.
Report the deceptive TikTok ads to TikTok's support, so they can take them down and prevent more people from being lured in.
If you're in the U.S., report the scam to the Federal Trade Commission (FTC) on reportfraud.ftc.gov. For other countries, your national consumer protection agency is the place to go.
Leave a comment below to share your experience and warn others.
Other Online Scams to Avoid
As part of our commitment to ensuring online safety for our readers, it's essential to be aware of other potential scams. Many online traps share similar deceitful tactics with Bykamin.com and prey on unsuspecting individuals.
Below, we've listed a few deceptive online Scams you should steer clear from: Bedstockclearance.com, Blackstonediscount.com, and Acstoreus.com.
Summary table for Bykamin.com
| | |
| --- | --- |
| Name | Bykamin.com |
| Type | Fraudulent Crypto Exchange |
| Damage | Potential loss of funds and personal information |
| Distribution | Promoted on TikTok |
| Tactics | Free crypto giveaways |
| Fake claims | Claims of 0.41BTC giveaways |
| Contacts | None provided |
| Prevention Tips | Always verify online platforms before engaging, avoid too-good-to-be-true offers. |
| Reporting Info | FTC Fraud Reporting |
Conclusion
Bykamin.com is a scam that uses the allure of free Bitcoin and fake celebrity endorsements to grab your attention and your money. It may look convincing at first, but the lack of regulation, hidden ownership, and a bait-and-switch tactic reveal its true colors. If you've already been scammed, take immediate action by contacting your bank and reporting the issue to authorities. While getting your money back might be a long shot, your actions can help prevent others from falling into the same trap. Always double-check before investing online, especially if it looks too good to be true. Being cautious and vigilant is the best defense against scams like this.
FAQ About the Bykamin.com Scam
What is Bykamin.com's primary method of scamming?
Bykamin.com lures victims through TikTok promotions, promising substantial free crypto rewards in return for registration or other actions on their site.
Why is it hard to track the people behind Bykamin.com?
The WHOIS details for the site are concealed, and there is no contact information provided, making it challenging to identify the individuals or organizations operating it.
What is the "M4029" code?
The code "M4029" is a bait tactic used to lure people into believing they will receive free Bitcoin upon registration.
How can one protect themselves from such scams?
It's crucial to conduct thorough research, be wary of offers that sound too good to be true, and never share personal or financial details without verifying the authenticity of a platform.