Dancm.Top is an online shop claiming to offer unbeatable deals on patio furniture and other items. Promoted heavily on social media platforms like Facebook and Instagram, the site lures customers in with unbelievable discounts and promises of quality. If you've come across this website and are considering a purchase, read this article first.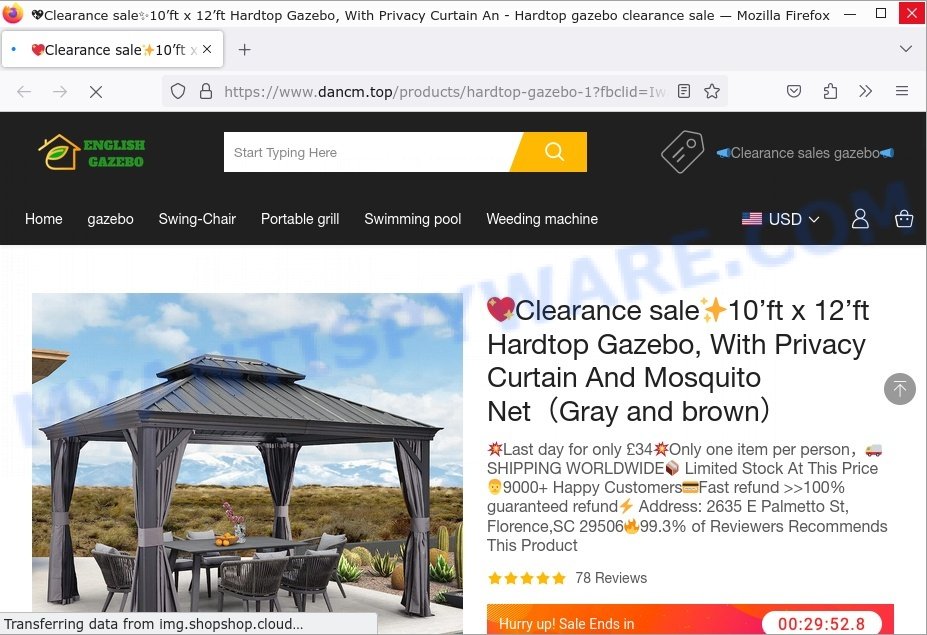 Quick Links
Is Dancm.Top a Scam?
Dancm.Top exhibits multiple red flags commonly associated with online scams:
Recently created domain.
Lack of transparent contact information; only available through email addresses like frenchjuliet1@gmail.com and Support@cleanstore.com.
Company name and details, such as 'Lefern Company Limited,' are associated with other scam stores.
Unbelievable deals and incredibly low prices such as £34 for a 10′ x 12′ Hardtop Gazebo.
Generic and template design.
Enticing slogans like "Clearance Sale", "Free return and exchange within 60 days."
Hidden WHOIS contacts.
How the Dancm.Top Scam Works
Dancm.Top is heavily promoted through social media channels like Facebook and Instagram. Ads like "Special Flash Sale £34" or "Amazon Furniture unclaimed orders. Clearance" grab your attention and make you believe you're getting a great deal.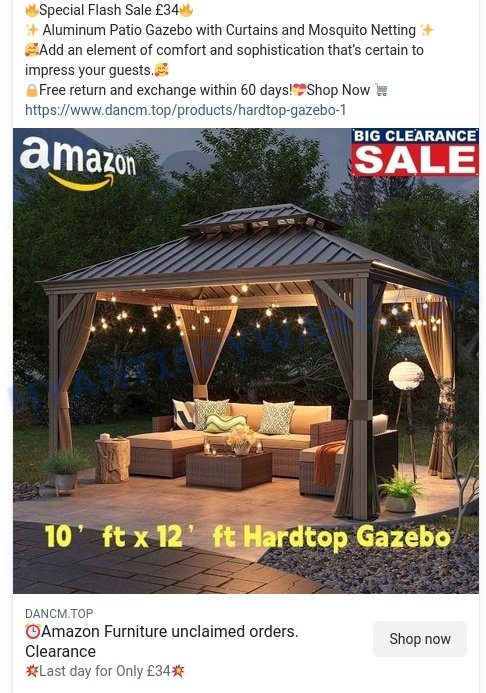 Once you make a purchase, you're likely to either receive a counterfeit item or nothing at all. The lack of transparent contact information makes it nearly impossible to reach out for returns or complaints.
What to do if you become a victim of Dancm.Top
If you've been duped by Dancm.Top, take the following steps:
Contact your bank and report the fraudulent transaction.
File a complaint with FTC.
Leave a comment on this review to warn others.
Other Scam Online Shops to Avoid
In our ongoing effort to protect our readers from scams, it's crucial to remain vigilant. Below are some other suspicious online shops you should be aware of:
Here are a few examples of scam online shops: Fake Wilko Clearance Sale, Acstoreus.com DICK'S SPORTING GOODS Store Scam, and Outletshoks.com HOKA Clearance Scam.
Summary Table for Dancm.Top
| | |
| --- | --- |
| Name | Dancm.Top |
| Type | Online Scam Store |
| Damage | Financial Loss, Personal Data Risk |
| Distribution | Facebook, Instagram |
| Tactics | False Advertising, Fake Deals |
| Prices | Unrealistically Low |
| Contacts | frenchjuliet1@gmail.com, Support@cleanstore.com, Lefern Company Limited |
| Prevention Tips | Always verify online stores, Read reviews |
| Reporting Info | FTC |
FAQ About the Dancm.Top Scam
Is Dancm.Top affiliated with Amazon?
No, despite the misleading ads, Dancm.Top has no affiliation with Amazon.
What kind of products does Dancm.Top falsely advertise?
The store mainly focuses on patio furniture, advertising items like Hardtop Gazebos at unbelievably low prices.
How are they able to offer such low prices?
The low prices are a baiting tactic to lure in unsuspecting customers. You're likely to either receive a counterfeit item or nothing at all.
Conclusion
Dancm.Top is an online scam store that exploits the allure of cheap prices and false advertising. Promoted on social media platforms, the site leaves customers with counterfeit items or, in some cases, nothing at all. Stay vigilant and always verify the legitimacy of an online store before making a purchase.