Volcomonsale.shop claims to be an online outlet for the popular brand Volcom, offering steep discounts on clothing and accessories. Promoted heavily on Facebook, the shop offers "Warehouse End of Season Clearance" sales with up to 85% off. But don't be fooled. Read this full article to understand why this online shop is a scam.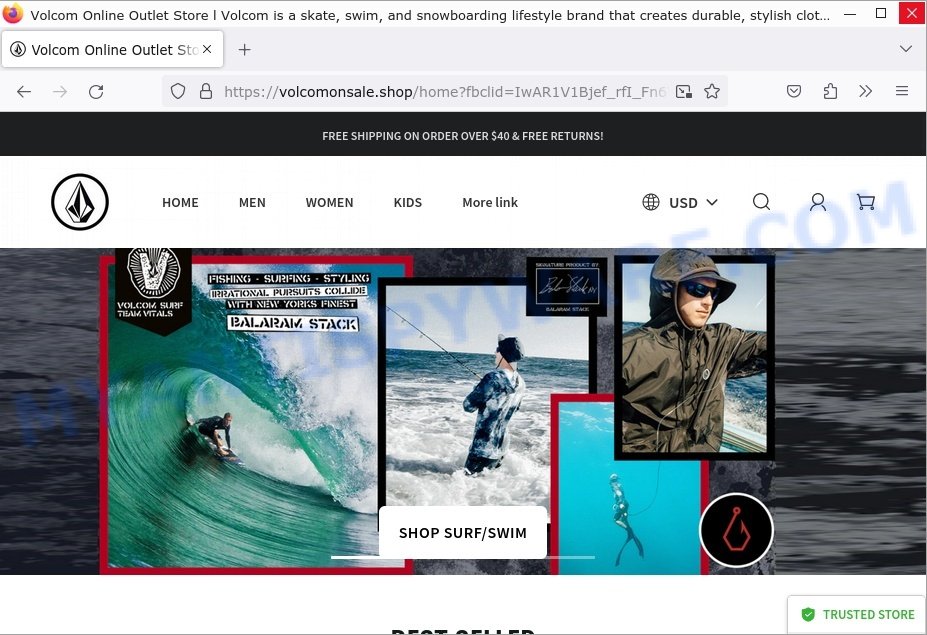 Quick links
Is Volcomonsale.shop a Scam?
We have strong reasons to believe that Volcomonsale.shop is a scam, and here's why:
Recently created domain
Lack of contact information (only email: service@ornatey.com)
No real info about the company behind
Unbelievable deals and incredibly low prices
Template design and copy-pasted content
Enticing slogans such as "End of Season Clearance", "Free return", and "Limited Time Sale"
No social media presence beyond scammy advertisements
Hidden WHOIS details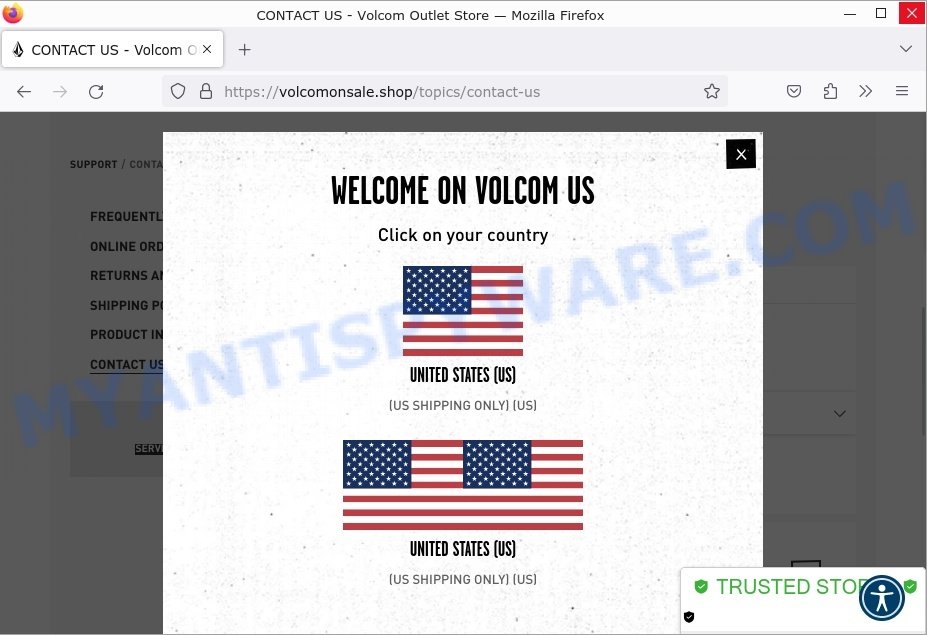 How the Volcomonsale.shop Scam Works
Volcomonsale.shop is heavily promoted on Facebook with an "End of Season Clearance Sale", promising discounts between 72% to 85% on Volcom branded goods. The shop uses catchy phrases like "Don't miss out" and "This sale won't stick around for long" to lure people into acting quickly, often without due diligence.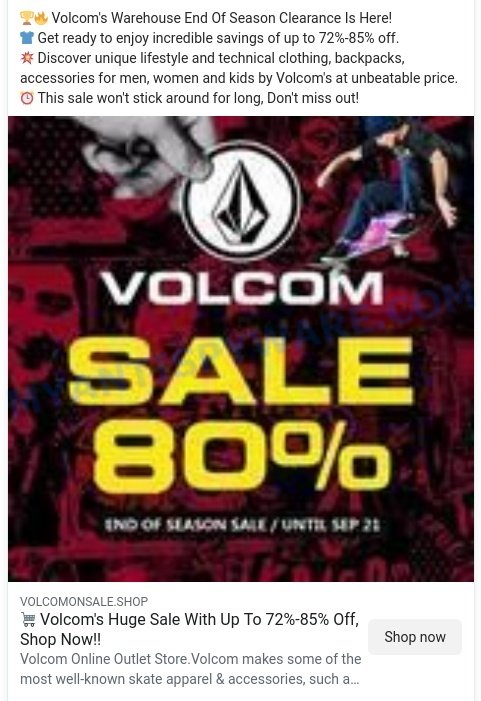 The end game for the scammers is simple: they either deliver counterfeit products or don't deliver anything at all. And since the WHOIS details are hidden and there's only a vague email for contact, tracing or reaching the scammers becomes near impossible.
What to Do if You Become a Victim
If you've fallen victim to this scam, immediate action is required to protect your personal and financial information.
Contact your bank to report the fraudulent transaction and explore the possibilities of a chargeback.
Change the passwords of any accounts connected to the payment method you used.
Report the scam to your local authorities.
File a complaint with the FTC at reportfraud.ftc.gov.
Leave a comment on this review to help warn others.
Other Scam Online Shops to Avoid
We've put together a list of other scam shops that operate similarly to Volcomonsale.shop. It's crucial to be cautious and familiarize yourself with common scam signs when shopping online.
Here are a few examples of the scam online shops: Blackstonediscount.com, KingCrabStore.com, and Tv-homeshopping.shop.
Summary Table for Volcomonsale.shop
| | |
| --- | --- |
| Name | Volcomonsale.shop |
| Type | Online Scam Shop |
| Damage | Financial loss, potential identity theft |
| Distribution | Facebook promotions |
| Tactics | Enticing slogans, hidden details, low prices |
| Contacts | service@ornatey.com |
| Prevention Tips | Verify the authenticity, be skeptical of huge discounts |
| Reporting Info | FTC |
Conclusion
Volcomonsale.shop is a fraudulent online shop that capitalizes on the Volcom brand name to scam unsuspecting buyers. With hidden WHOIS details, elusive contact information, and unbelievable discounts, the shop is a textbook example of an online shopping scam.
FAQ About the Volcomonsale.shop Scam
What makes Volcomonsale.shop different from a legitimate online shop?
The absence of verifiable company information, recently created domain, and exceptionally low prices are primary red flags.
Is it safe to click on the Facebook ads for Volcomonsale.shop?
No, it's not safe. By clicking the ad, you risk getting rerouted to the scam website.
How do I report a scam?
You can report a scam to the FTC at reportfraud.ftc.gov.