Saleclearanceshoes.com is gaining attention through its tempting offers on high-quality 𝖧𝖮𝖪𝖠 sneakers, showcased on social media platforms like Facebook. However, a deeper dive into their operations reveals some concerning red flags that potential buyers need to be aware of. Continue reading to find out why this store might not be as legitimate as it appears.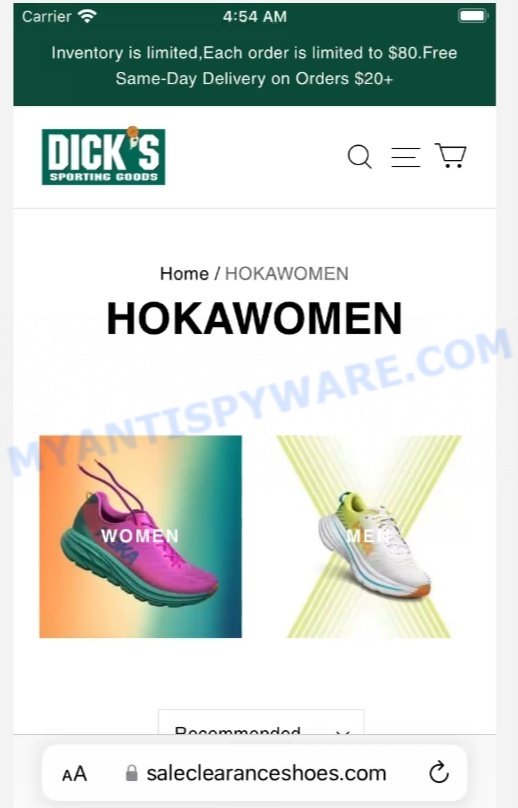 Quick links
Is Saleclearanceshoes.com a Scam?
Upon investigating, there are clear indicators that point towards Saleclearanceshoes.com being a scam:
Recently created domain which lacks a longstanding reputation.
Absolute lack of contact information. No email, phone, or social network connections.
The company behind, AIMARK LTD, is linked with other known scam shops.
Offers that seem too good to be true, such as high-quality sneakers at unbelievably low prices.
No social media presence apart from the misleading Facebook advertisements.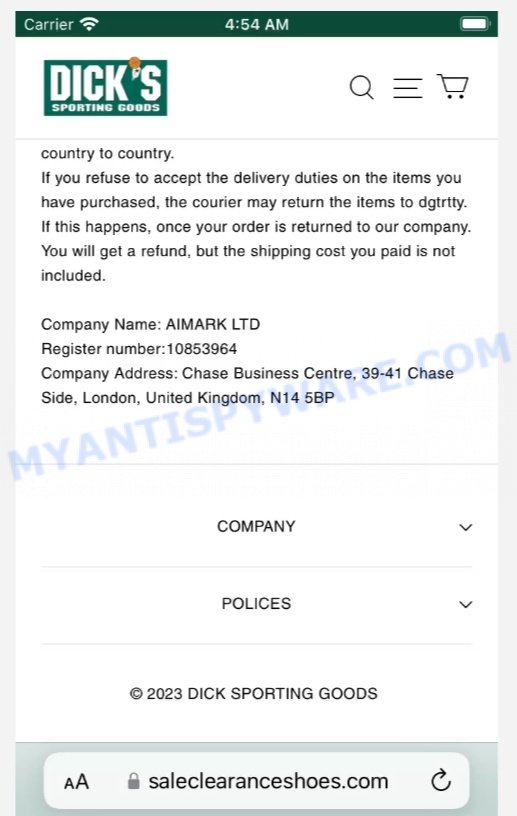 How the Saleclearanceshoes.com Scam works
Saleclearanceshoes.com is drawing in potential victims primarily through Facebook ads, boasting irresistible discounts on 𝖧𝖮𝖪𝖠 sneakers due to an "expired sales contract". These advertisements also promote deals like "Buy 2 Only $34.9" and "Free shipping on orders over $20.0".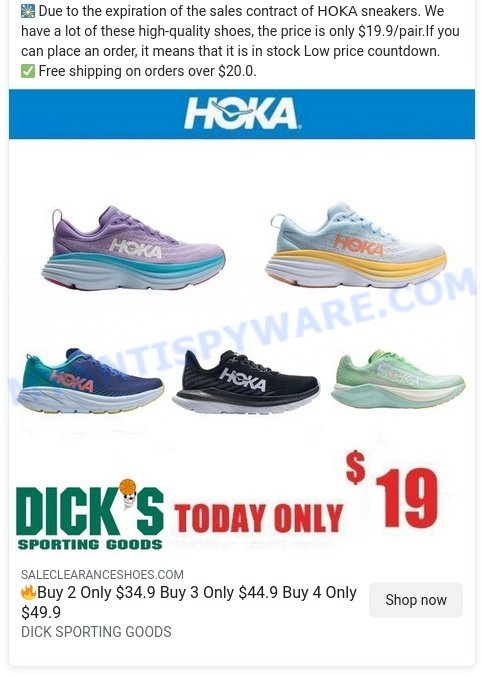 Once the buyer is lured in by these enticing deals and makes a purchase, they either receive counterfeit products, a completely different item, or sometimes, nothing at all. The absence of contact details further makes it impossible for victims to lodge complaints or seek refunds.
What to do if you become a victim of Saleclearanceshoes.com
If you've unfortunately fallen victim to this scam, here's what you can do:
Contact your bank or credit card provider immediately to report the fraudulent transaction.
Change your online banking and payment passwords as a precautionary measure.
Report the scam to local law enforcement and provide them with all the details of your transaction.
Always check reviews and do thorough research before making purchases from unfamiliar online stores in the future.
Other Scam Online Shops to Avoid
As part of our ongoing effort to protect our readers from potential scams, we've compiled a list of other suspicious online shops to steer clear of. Like Saleclearanceshoes.com, these stores use deceptive tactics to trap unsuspecting buyers. Shopping online requires caution, and knowing the signs of a scam is crucial.
Here are a few examples of the scam online shops: Ahodenare.com Bookstore Scam, Naswino.com Bed Bath & Beyon Store Scam, Closingstore.shop Bed Bath & Beyond Store Scam.
Summary table for Saleclearanceshoes.com
| | |
| --- | --- |
| Name | Saleclearanceshoes.com, Sale Clearance Shoes Scam |
| Type | Online Store Scam |
| Damage | Potential financial loss, receipt of counterfeit items. |
| Distribution | Primarily through Facebook ads |
| Tactics | Misleading ads, fake discounts, no customer support. |
| Prices | Varied (As low as $19.9/pair) |
| Contacts | Company: AIMARK LTD; Address: Chase Business Centre, 39-41 Chase Side, London, United Kingdom, N14 5BP; No email or phone |
| Prevention Tips | Always research before buying, check reviews, and be wary of too-good-to-be-true deals. |
| Reporting Info | Contact local law enforcement and bank |
Conclusion
Saleclearanceshoes.com (Sale Clearance Shoes) is a harmful scam store that lures in victims with seemingly irresistible deals on high-quality products. Always approach such offers with caution, and remember, if a deal seems too good to be true, it probably is.
FAQ About the Saleclearanceshoes.com Scam
Why are the prices so low on Saleclearanceshoes.com?
This is a common tactic used by scam websites to attract potential victims. Offering high-quality products at shockingly low prices is a red flag and should be approached with caution.
How do I know if an online store is a scam?
Always look for reviews, verify contact details, and be cautious of newly created domains. If the deals seem too good to be true or the site lacks transparent information, it might be a scam.
What should I do if I've already made a purchase from a scam website?
Contact your bank or credit card provider immediately to report the fraudulent transaction. Change your online banking and payment passwords, and always be vigilant in the future.