Fivehuge.com is a cunning and misleading scam that pretends to be a legitimate Bed Bath & Beyond store offering a huge bankruptcy sale. It may seem tempting at first, but reading our comprehensive review will reveal the deceptive practices this site employs. Stay vigilant and keep reading.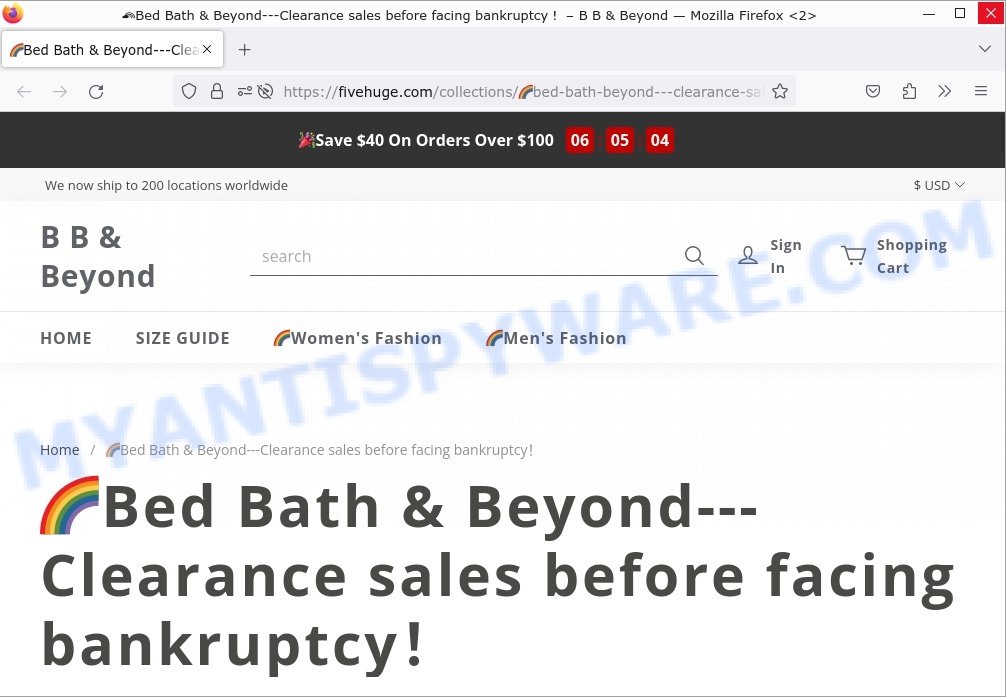 Quick Links
What is Fivehuge.com
Fivehuge.com is a fraudulent online store posing as the well-known brand Bed Bath & Beyond. It operates under the guise of a bankruptcy sale, luring consumers with promises of incredible discounts. Despite its seemingly authentic appearance, it's merely a hoax designed to cheat unsuspecting customers out of their hard-earned money.
Signs of Fivehuge.com Scam
Several telltale signs indicate that Fivehuge.com is a scam:
The domain was recently created in May 2023 and has a short registry expiration, which is common with scam sites.
The deals offered are unrealistic, such as saving $40 on orders over $100.
The content, images, and promotions appear to be taken directly from Bed Bath & Beyond's brand.
The contact information is limited to an email address (jlgq00@outlook.com), and the provided company address is not a return address.
The company name (Kentesh Ltd) and email address are associated with other known scam shops.
There is a lack of presence on social media platforms.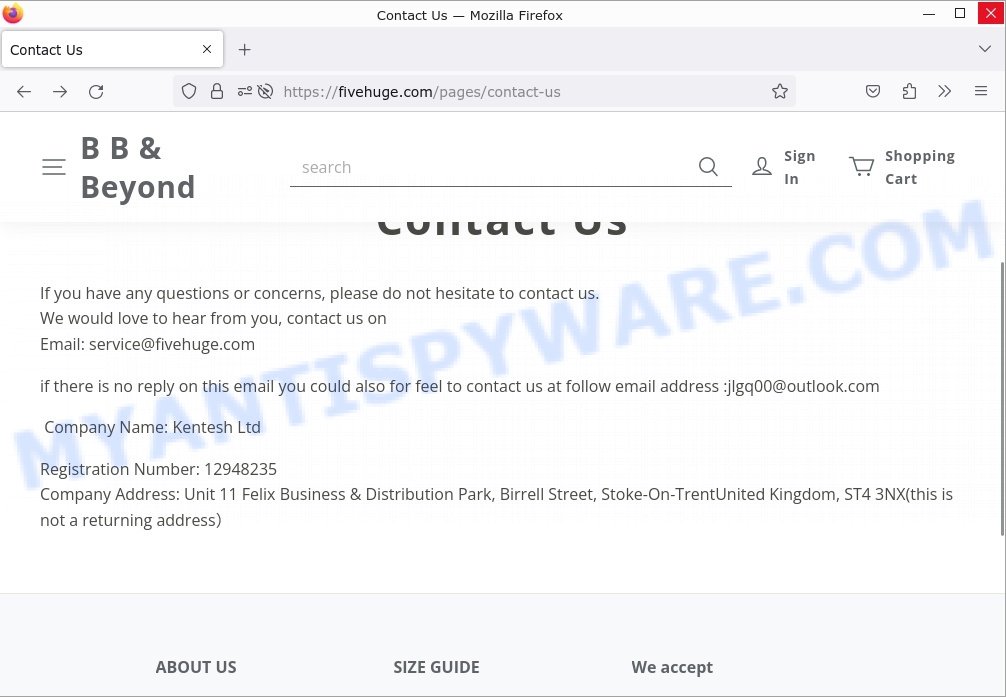 How Fivehuge.com Scam Works
Fivehuge.com scam begins with a compelling advertisement on Facebook, claiming that all Bed Bath & Beyond stores are closing and announcing a store closing sale. Clicking on the ad leads you to the website where you are greeted with a banner promoting a clearance sale with huge discounts due to alleged bankruptcy.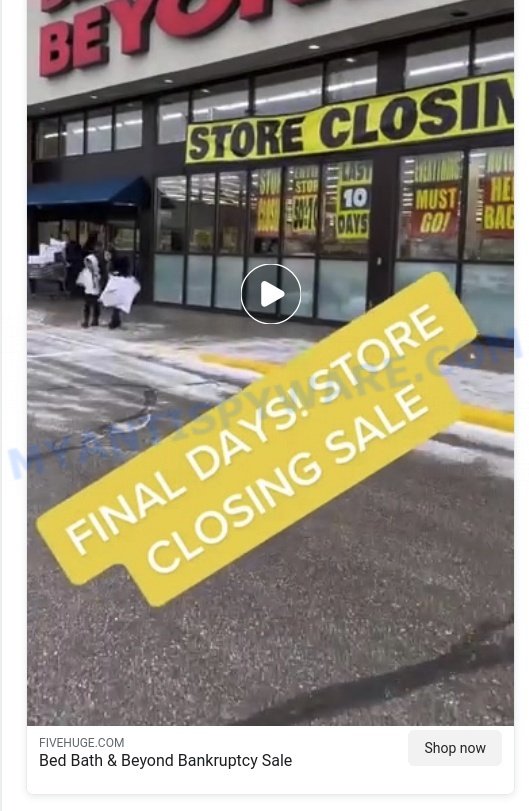 They even offer a discount of $40 on orders over $100, an enticing offer difficult to pass up. As a result, customers may end up placing orders, providing personal information and payment details. However, instead of receiving the promised products, they either receive counterfeit goods or nothing at all.
What to do if you become a victim of Fivehuge.com
If you've fallen prey to Fivehuge.com scam, here are some steps you should take:
Immediately contact your bank or credit card company to report the fraudulent transaction.
Change your online passwords for any accounts where you've used the same password.
Report the scam to your local law enforcement authorities and file a complaint with your country's Internet Crime Complaint Center.
Other Scam Online Shops to Avoid
As part of our mission to protect our readers from potential scams, we continuously identify and expose deceptive online shops. These shops often employ tactics similar to Fivehuge.com, using fake discounts and sales to lure in unsuspecting buyers. Online shopping demands constant vigilance and awareness of the signs of potential scams.
Here are a few examples of the scam online shops: Babyjoynewyork.com Buy Buy BABY Store Scam, Naswino.com Bed Bath & Beyon Store Scam, Acstoreus.com DICK'S SPORTING GOODS Store Scam.
Summary Table for Fivehuge.com
Name
Fivehuge.com
Type
Online Scam (Fake Bed Bath & Beyond Shop)
Damage
Loss of money, potential identity theft
Distribution
Primarily through Facebook ads
Tactics
False clearance sales, fake company details
Prices
Significantly lower than original prices
Contacts
Email: jlgq00@outlook.com
Company Name: Kentesh Ltd
Prevention Tips
Verify website legitimacy, check company details, avoid deals that seem too good to be true
Reporting Info
Contact your bank, change passwords, report to local law enforcement and Internet Crime Complaint Center
FAQ About the Fivehuge.com Scam
1. What if I have already ordered from Fivehuge.com?
If you have already made a purchase from Fivehuge.com, contact your bank or credit card company immediately. Report the fraudulent transaction and request to dispute the charge. Change your online banking and shopping passwords as well.
2. Is Fivehuge.com associated with Bed Bath & Beyond?
No, Fivehuge.com is in no way affiliated with the legitimate Bed Bath & Beyond brand. It is a scam that uses the brand's name to appear credible and lure in unsuspecting customers.
3. Are all stores with bankruptcy sales scams?
No, not all stores with bankruptcy sales are scams. However, it is crucial to verify the legitimacy of these stores before making any purchases. Look out for red flags such as new domain names, suspicious contact information, and unbelievably low prices.
Conclusion
Fivehuge.com is a scam online store that impersonates the reputable Bed Bath & Beyond brand. It attempts to lure in unsuspecting customers with unrealistic deals and a false narrative of a bankruptcy sale. The site is associated with fraudulent activities, including the use of false company details and a non-existent return address. The lure of substantial savings and the misuse of a well-known brand name make it dangerous for unsuspecting consumers. Always remember to verify online stores' legitimacy before making any purchases to avoid becoming victims of such scams.