Hubray.shop is an online store claiming to sell seafood at staggeringly low prices. It uses alluring Facebook ads to reel in unsuspecting customers. However, this store is a fraudulent operation known to either send inferior products or nothing at all. It's essential to read this full article to protect yourself from such scams.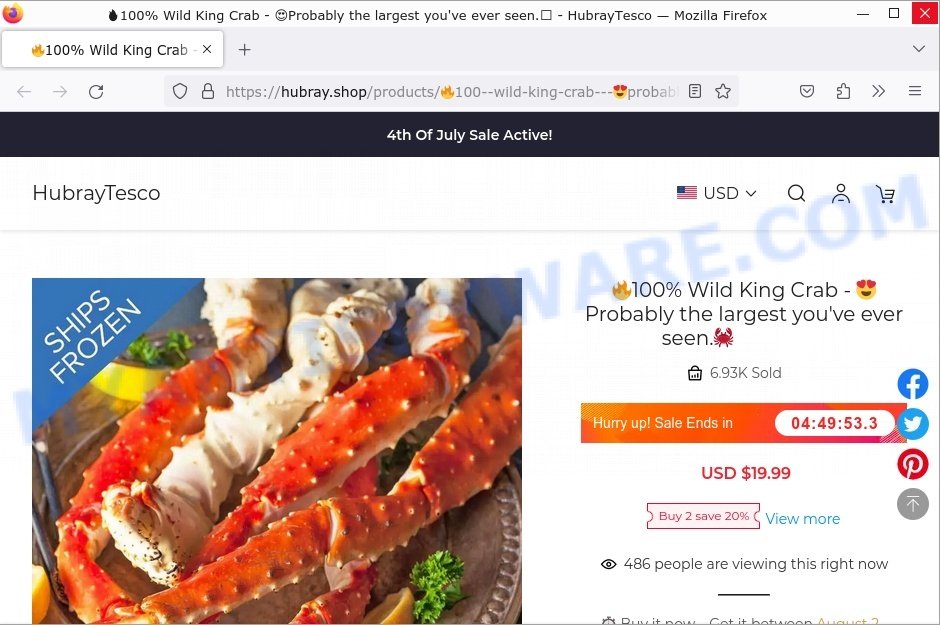 Quick links
What is Hubray.shop
Hubray.shop is an online store purporting to sell seafood, specifically Alaskan King Crab Legs, at an enticingly low cost. Established in May 2023, this e-commerce platform predominantly promotes its offerings through Facebook ads, luring customers with enticing deals. However, this facade masks a deceptive operation where customers often receive subpar goods or nothing at all post-purchase. The association with Meledo Company Limited, known for its links to other scam operations, the hidden WHOIS details, and the listed non-return address add to the growing suspicion around the platform's authenticity, revealing Hubray.shop as a classic example of an online scam.
Signs of Hubray.shop Scam
Scam shops like Hubray.shop often exhibit some common signs, including:
Recently created domain – Hubray.shop was created on May 11, 2023, which is suspiciously recent.
Lack of genuine contact information – only an email address (support@billbo.shop) is provided, and the provided address is not for returns.
No real info about the company – although the site claims affiliation with Meledo Company Limited, there is no substantial evidence of this.
Unbelievable deals and incredibly low prices on products.
Template design and content taken from other sites.
Enticing slogans like "Colossal Alaskan King Crab Legs Big Sale Today".
No social media presence or links to any social media platforms.
Customer complaints about product quality and delivery issues.
How Hubray.shop Scam works
The Hubray.shop scam begins with a captivating social media promotion, such as the one observed on Facebook, where they advertise an unbelievable deal on Alaskan King Crab Legs. This deal is typically accompanied by a time-sensitive offer like the "4th of July Sale" or a countdown clock, exerting pressure on the potential buyer to act swiftly before the deal expires.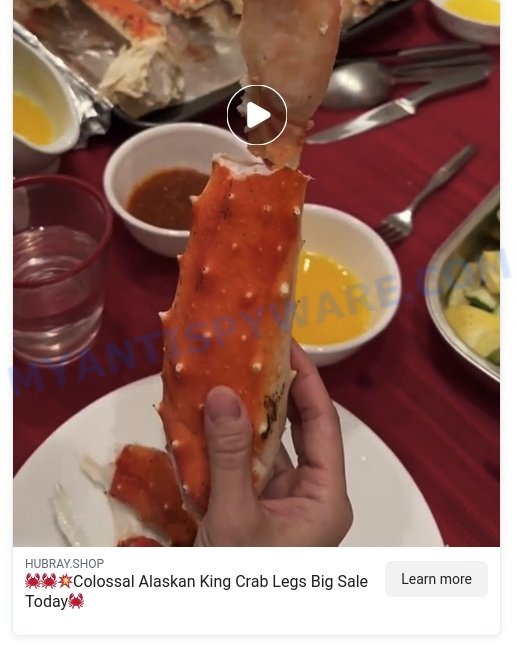 The seafood products are advertised at an astonishingly low price, with the "Colossal Alaskan King Crab Legs" for instance, being offered for as low as $2 per lb for a 20 lbs package. This is an eye-catching price, well below the market average, and too good to be true, yet tempting enough to lure the unsuspecting customer into making a purchase.
Furthermore, the scam attempts to create a sense of urgency and scarcity by displaying information like "486 people are viewing this right now" and promising swift delivery times like "Get it between August 2 – August 5". Once the customer places an order, they are either sent an inferior product, completely different from what was advertised, or in worst cases, receive nothing at all.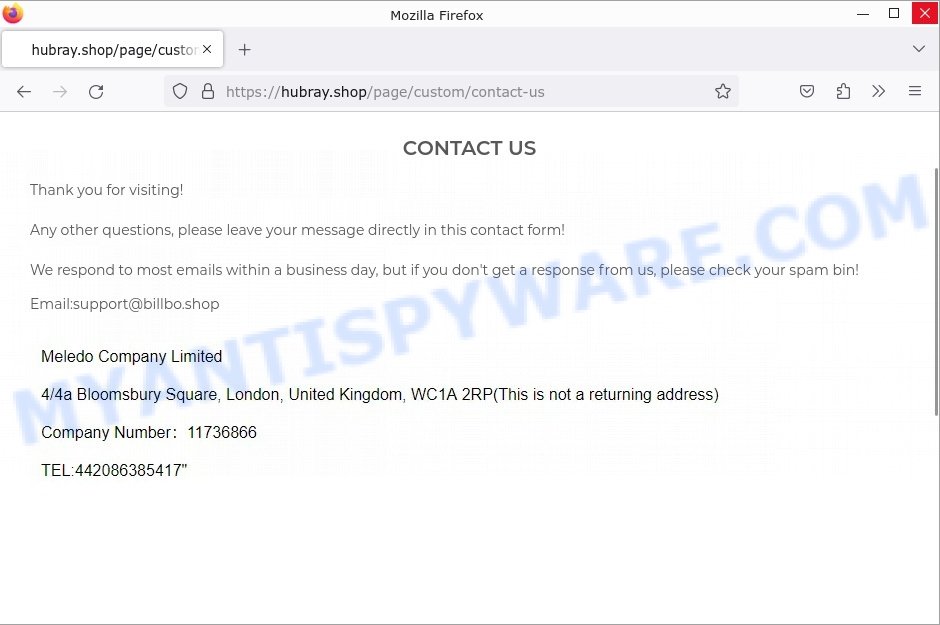 It's also important to note the affiliation with Meledo Company Limited, a company linked with other scam shops, and the opaque nature of the store's WHOIS information, adding to the tactics used by Hubray.shop to defraud its customers. All these methods combined present a picture of a well-orchestrated scam that thrives on deception and the exploitation of customer trust.
What to do if you become a victim of Hubray.shop
If you've fallen prey to the Hubray.shop scam, it's important to take immediate action:
Contact your bank to report the fraudulent transaction and request a chargeback.
Report the scam to your local law enforcement agencies.
Report the scam to the platform where the ad was displayed (e.g., Facebook).
Warn your friends and family about the scam.
Other Scam Online Shops to Avoid
In our ongoing effort to protect our readers from potential scams, we've compiled a list of other suspicious online shops to avoid. These shops share similar tactics with Hubray.shop, using deceptive practices to lure unsuspecting buyers. Staying vigilant while shopping online and understanding the warning signs of potential scams can help protect your personal and financial information.
Here are a few examples of the scam online shops: Axerxm.com Bed Bath & Beyond Store Scam, KingCrabStore.com King Crab Store Scam, and Heerful.com $37.95 Hoka Running Shoes Scam.
Summary table for Hubray.shop
| | |
| --- | --- |
| Name | Hubray.shop |
| Type | Online Shopping Scam |
| Damage | Monetary loss, potential identity theft |
| Distribution | Facebook Ads |
| Tactics | Deceptive ads, incredibly low prices |
| Prices | Allegedly discounted seafood prices, Colossal Alaskan King Crab Legs $2 per lb for a 20 lbs |
| Contacts | Email: support@billbo.shop, Company: Meledo Company Limited |
| Prevention Tips | Be wary of too-good-to-be-true deals, verify the authenticity of online stores |
| Reporting Info | Report to local law enforcement agencies and your bank |
Conclusion
Hubray.shop is a fraudulent online store exploiting the appeal of low-priced seafood to scam unsuspecting shoppers. Always approach such deals with skepticism and do due diligence before making any online purchase.