D-SportingGoods.com is another scam store in the series of fake DICK'S SPORTING GOODS shops. With its enticing ads about low-priced HOKA sneakers, many online users might have stumbled upon this scam. This review presents an analysis of the scam and tips to avoid being a victim. Read the full article to learn more.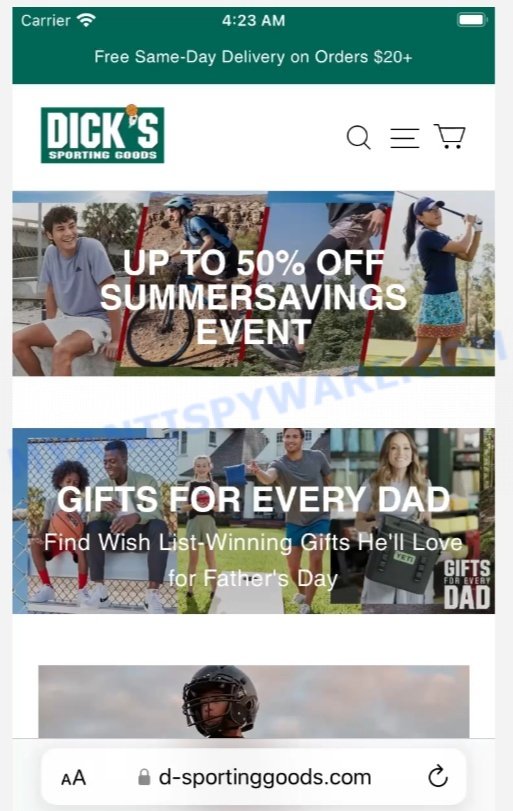 Quick Links
What is D-SportingGoods.com
D-SportingGoods.com is an illegitimate online shop that impersonates a genuine DICK'S SPORTING GOODS store. It primarily lures victims in with an irresistible offer of HOKA sneakers priced at only $19.9 per pair.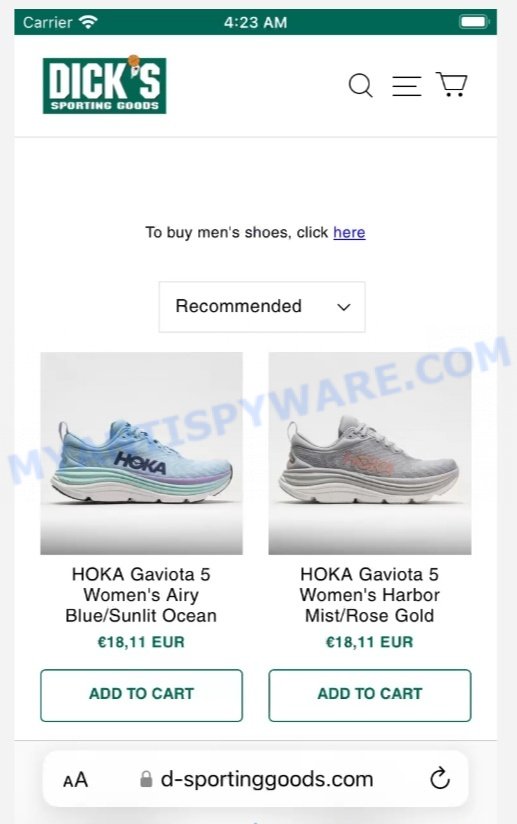 Understanding the intricate workings of this scam is essential to protect yourself and your hard-earned money. For a detailed understanding of this specific type of scam, we highly recommend reading our previous article, The $19.9 HOKA Sneakers Scam: The Trap of Unrealistic Discounts. This comprehensive piece sheds light on how scammers use high-demand products like HOKA sneakers and incredibly low prices as bait to reel in their victims.
Signs of D-SportingGoods.com Scam
A number of red flags signal that D-SportingGoods.com is a scam:
Recently created domain (less than a month old).
Unbelievable deals and incredibly low prices ($19.9/pair for HOKA sneakers).
The site design follows a standard template, and content seems copied from other sites.
There are enticing slogans such as "Clearance Sale", "Free return", "Huge Discounts", "Limited Time Sale".
The product page features a time counter.
There is no social media presence or links to any social media platforms.
Contact information is limited to an email address, and there is no real info about the company behind the shop.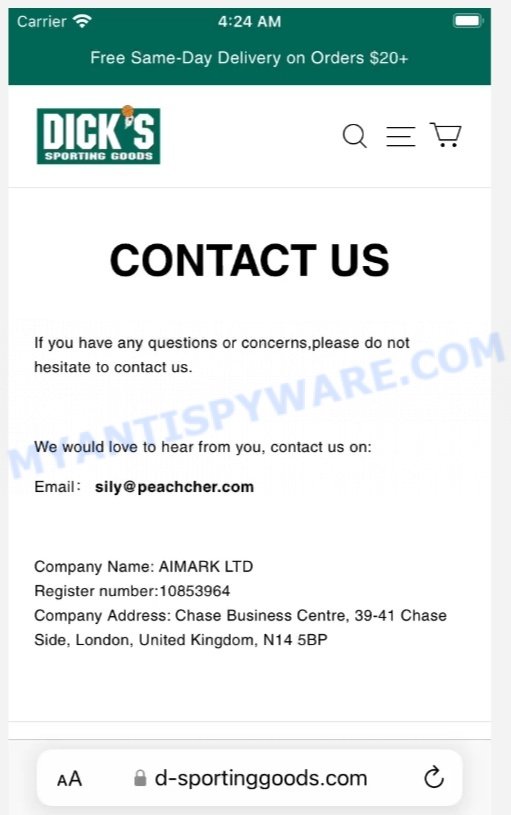 How D-SportingGoods.com Scam Works
The scam begins with a Facebook ad about a clearance sale of HOKA sneakers. D-SportingGoods.com claims to sell these high-quality shoes for just $19.9 per pair due to the expiration of the sales contract. The ad pushes urgency with phrases like "Today only" and "Hurry up! $19 Sale End Up Soon!" attracting people to the site. The domain of the website is consonant with the brand DICK'S SPORTING GOODS, which tricks customers into thinking they are shopping at a legitimate store.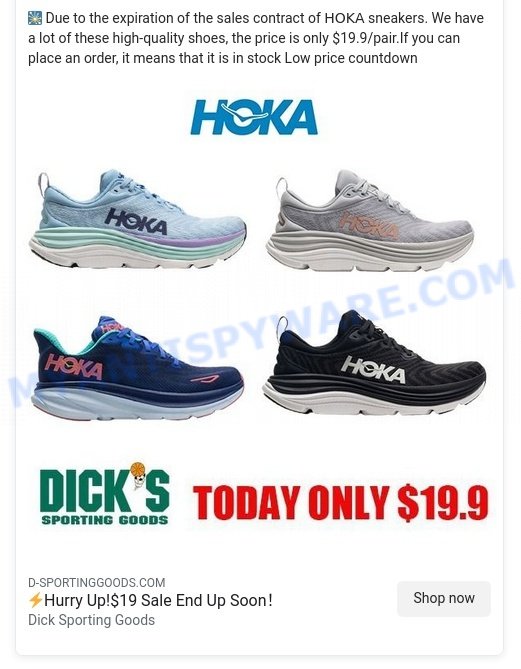 However, once the payment is made, customers either receive counterfeit goods or nothing at all.
What to Do if You Become a Victim of D-SportingGoods.com
If you believe you have fallen victim to this scam, follow these steps:
Contact your bank or credit card company and dispute the transaction.
Report the scam to your local law enforcement.
Report the scam to your country's consumer protection agency.
Leave an online review or report on a scam reporting website to help warn others.
Other Scam Online Shops to Avoid
In our mission to protect readers from potential scams, we highlight other suspicious online shops to be aware of. These shops use deceptive tactics similar to D-SportingGoods.com to entice unsuspecting buyers. It's crucial to stay vigilant when shopping online and to know the warning signs of a potential scam. Here are a few examples of the scam online shops: Acstoreus.com DICK'S SPORTING GOODS Store Scam, Axerxm.com Bed Bath & Beyond Store Scam, Bedbathbeyondclose.com BED BATH & BEYOND Store Scam.
Summary Table for D-SportingGoods.com
| | |
| --- | --- |
| Name | D-SportingGoods.com |
| Type | Online Shop Scam |
| Damage | Financial loss, possible identity theft |
| Distribution | Primarily through Facebook ads |
| Tactics | Impersonation of a legitimate brand, false advertising, extremely low prices |
| Prices | HOKA Sneakers at $19.9/pair |
| Contacts | Email: sily@peachcher.com; Company Name: AIMARK LTD; Register number:10853964; Company Address: Chase Business Centre, 39-41 Chase Side, London, United Kingdom, N14 5BP |
| Prevention Tips | Be skeptical of unbelievable deals, verify the site's authenticity before making a purchase, avoid unfamiliar online shops |
| Reporting Info | Contact your local law enforcement or consumer protection agency |
Conclusion
D-SportingGoods.com is a fake online store that lures unsuspecting customers with incredibly low prices for HOKA sneakers, impersonating the legitimate DICK'S SPORTING GOODS store. We recommend you stay vigilant when shopping online, always double-check the authenticity of the shop, and beware of offers that seem too good to be true.