Sily@peachcher.com is an email address used by a network of scam stores that aim to deceive customers with fake products and enticingly low prices. The same email address appears on various fraudulent online stores that masquerade as legitimate brands, such as Hey Dude, DICK'S SPORTING GOODS, Stanley1913, IGLOOCoolers, and others. Despite posing as different brands and selling different products, these scam shops share similar deceptive tactics.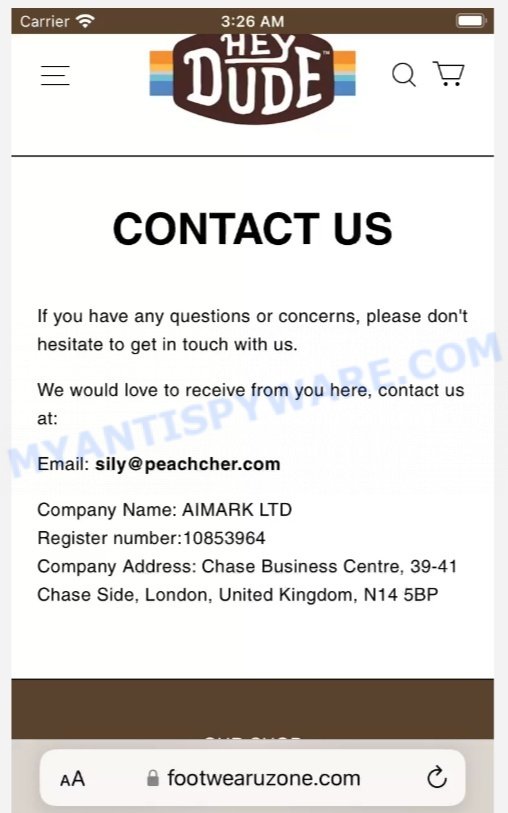 Quick Links:
Facebook Promotion
The scam stores frequently employ Facebook and other social networks as a platform to reach potential victims. They use eye-catching ads and enticing offers to lure users into visiting their websites and making purchases.
Pretense of Being an Official Store
Another tactic used by these scam stores is the pretense of being official retail outlets for well-known brands. By using logos, product images, and brand names, they attempt to give the impression of legitimacy, when, in reality, they have no affiliation with the genuine brands they claim to represent.
Low Prices and Fake Products
One common trait among these scam stores is the offer of remarkably low prices for their products. These discounted prices are often used as bait to attract potential victims. However, customers who fall for these deals are likely to receive inferior or counterfeit products, or sometimes nothing at all.
Claim of Limited-Time Sale
These fraudulent websites often emphasize that their sales are time-sensitive, creating a sense of urgency to prompt quick purchases. They employ phrases such as "Sale Ends Soon" or "Limited-Time Offer" to pressure customers into making impulsive decisions.
What to Do If You Become a Victim of Sily@peachcher.com Scam Stores
If you believe you have fallen victim to a scam from any of the Sily@peachcher.com email-associated stores or other fraudulent websites, follow these steps to protect yourself and report the incident:
Contact Your Bank or Payment Provider: If you made a payment to any of the scam stores using a credit card or online payment platform, contact your bank or payment provider immediately. Inform them about the fraudulent transaction and request a chargeback or refund.
Document All Communication: Keep a record of all communication with the scam store, including emails, order details, payment receipts, and any promises made by the scammers.
Report the Scam: File a complaint with your local consumer protection agency and report the scam to the Federal Trade Commission (FTC) or your country's equivalent consumer protection agency.
Warn Others: Spread awareness about the scam to prevent others from falling victim to the same fraudulent tactics. Share your experience on social media, online forums, or consumer complaint websites.
Review Online Resources: Use online platforms that track and review scam websites to add your experience and contribute to warning others about potential risks.
Other Scam Online Shops to Avoid
As part of our ongoing effort to protect our readers from potential scams, we have compiled a list of other suspicious online shops that you should be aware of. These shops share similar characteristics and tactics to Sily@peachcher.com scam stores, and they use deceptive practices to lure in unsuspecting buyers. It's crucial to remain vigilant when shopping online and to be aware of the warning signs of a potential scam. Below we will highlight some of the other suspicious online shops that you should avoid to protect your personal and financial information.
Here are a few examples of the suspicious online shops: Oputcre.shop Fake QVC Store, Outletshoks.com HOKA Summer Clearance Scam, and King Crab Store Scam.
Summary Table for Sily@peachcher.com Scam Stores
| | |
| --- | --- |
| Name | Sily@peachcher.com Scam Stores |
| Tactics | Fake products, low prices, Facebook promotion, pretense of being official stores, limited-time sale claims |
| Brands Posed As | DICK'S SPORTING GOODS, Hey Dude, Stanley1913, IGLOOCoolers, and others |
| Associated Scam Stores | Ascsportsus.com, Footwearuzone.com, Bedbathandbeyondgo.com, Heydude2008.com, Dickssportsus.com, Igloocoolersus.com, Stanleyna.com, Stanley1915.com, StanleyUS1913.com, and others |
| Damage: | Fraudulent transactions, fake or low-quality products, financial loss |
| Distribution: | Promoted through social networks, especially Facebook |
| Prevention Tips: | Research the store's credibility, check for valid contact information, avoid deals that seem too good to be true |
| Reporting Info: | Contact local consumer protection agencies or file a complaint with the FTC |
Prevention Tips to Avoid Scam Stores
To protect yourself from falling victim to Sily@peachcher.com scam stores and similar fraudulent websites, follow these prevention tips:
Research Before Buying: Conduct thorough research on a website before making a purchase, especially if the prices seem too good to be true.
Verify Brand Identity: Check the official website of the brand you intend to purchase from to confirm the legitimacy of the online store.
Be Cautious of Limited-Time Sales: Avoid being pressured by limited-time offers and sales that create a sense of urgency.
Check Contact Information: Legitimate stores provide valid contact information, including an address, phone number, and customer support details.
Read Customer Reviews: Look for customer reviews and feedback about the website to gauge its trustworthiness.
Avoid Sharing Sensitive Information: Do not share sensitive personal or financial information with unverified websites.
Conclusion
Sily@peachcher.com is an email address associated with a network of deceptive scam stores. These fraudulent websites employ various tactics to deceive customers, including offering unrealistically low prices, promoting on social networks, pretending to be official stores, and creating a false sense of urgency. Customers must exercise caution when encountering unfamiliar online stores and verify their legitimacy before making any purchases. If you suspect that you have come across a scam website, it is crucial to report it to the appropriate authorities to protect yourself and others from falling victim to deceptive practices.