Ascsportsus.com is a scam online shop masquerading as a DICK'S SPORTING GOODS store. It uses the reputable DICK'S SPORTING GOODS brand to lure unsuspecting online shoppers into its trap. If you've come across this site or its ads, we urge you to read our complete analysis before engaging in any transactions.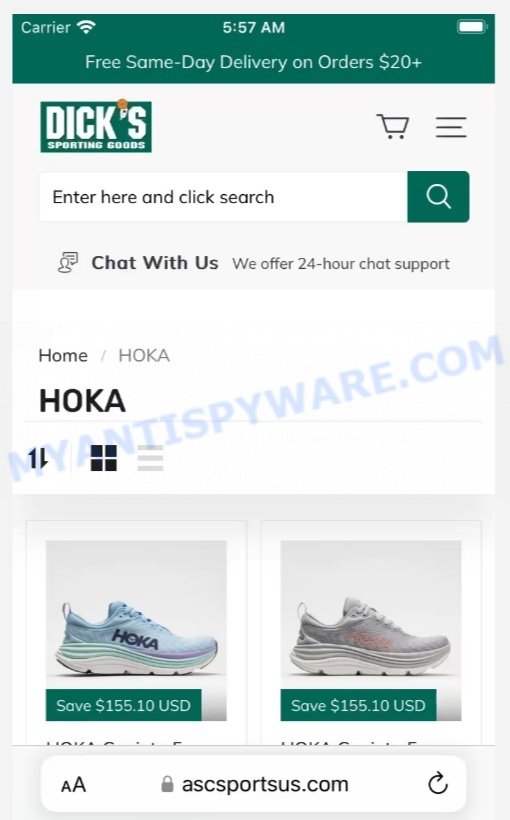 Quick links
What is Ascsportsus.com?
Ascsportsus.com is an online scam shop pretending to be a DICK'S SPORTING GOODS store. It advertises heavily discounted sports goods and uses the famous DICK'S SPORTING GOODS name to make buyers believe it's a legitimate outlet sale. In reality, this online shop is part of a larger scheme aimed at deceiving online shoppers and harvesting their personal and financial data.
Signs of Ascsportsus.com Scam
Detecting a scam shop can often be straightforward if you know the signs to look for. Here are some warning signals associated with Ascsportsus.com:
Recently created domain: Ascsportsus.com was registered less than two weeks ago.
Unbelievable deals: The site is advertising HOKA sneakers for a remarkably low price of $19.9, which is significantly below market rates for these products.
Quantity limitations: The site uses phrases like "Limited 6 Per Customer" to create a sense of scarcity and urgency.
Limited contact information: The only contact method provided is an email address (sily@peachcher.com), and the physical address listed is likely a shared or virtual office space.
Association with other scam shops: The store is linked to a company (AIMARK LTD) known for running other scam shops.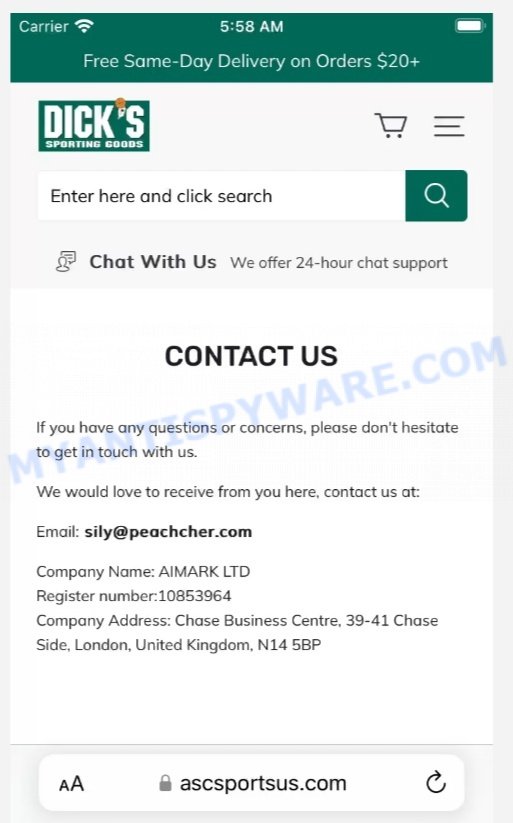 How Ascsportsus.com Scam works
The Ascsportsus.com scam starts with an enticing advertising campaign on platforms like Facebook, where they offer incredibly low prices for popular products such as HOKA sneakers.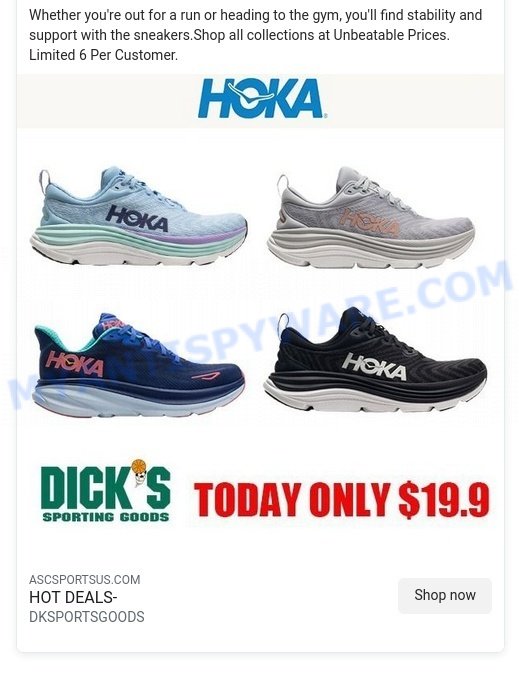 Once on the site, customers are enticed by these too-good-to-be-true deals and the famous DICK'S SPORTING GOODS branding. The sense of urgency and scarcity pushes them to make quick purchasing decisions. However, after placing an order, customers often receive no products, counterfeit goods, or items of much lower value than advertised. By the time they realize they've been scammed, it's too late. The scammers have their money and, more worryingly, their personal and financial information.
What to do if you become a victim of Ascsportsus.com
If you've fallen victim to the Ascsportsus.com scam, there are steps you can take to minimize the damage and potentially recoup your losses:
Contact your bank or credit card company to report the fraudulent transaction and request a chargeback.
Change any passwords you may have shared with the site.
Report the scam to your local law enforcement and to the relevant online platforms.
Leave a review or report online to help warn others about the scam.
Other Scam Online Shops to Avoid
To protect our readers from potential scams, we continue to expose suspicious online shops. These stores employ similar deceptive practices as Ascsportsus.com, trying to trick unsuspecting buyers. Staying vigilant when shopping online and being aware of scam signs is crucial to safeguard your personal and financial information.
Here are a few examples of scam online shops:Bedstoreclearance.com Bed Bath & Beyond Store Scam, Ahodenare.com Bookstore Scam, and Axerxm.com Bed Bath & Beyond Store Scam
Summary table for Ascsportsus.com
| | |
| --- | --- |
| Name | Ascsportsus.com |
| Type | Online Store Scam |
| Damage | Monetary loss, potential identity theft |
| Distribution | Online (e.g., Facebook ads) |
| Tactics | False advertising, misleading branding, urgency tactics |
| Prices | Highly reduced (e.g., HOKA sneakers for $19.9) |
| Contacts | Email: sily@peachcher.com; Company Name: AIMARK LTD; Register number:10853964; Company Address: Chase Business Centre, 39-41 Chase Side, London, United Kingdom, N14 5BP |
| Prevention Tips | Always research online shops before purchasing, be wary of deals that are too good to be true |
| Reporting Info | Report to local law enforcement, your bank, and the appropriate online platforms |
Conclusion
Ascsportsus.com is a scam online shop designed to lure buyers with the promise of unbelievable discounts on popular brands like DICK'S SPORTING GOODS. However, this site is not affiliated with DICK'S SPORTING GOODS and is, in fact, designed to trick buyers into giving over their personal and financial information. We advise all online shoppers to exercise caution when encountering such sites and to always research before making a purchase.