Bedstoreclearance.com is a scam online shop masquerading as a clearance warehouse for Bed Bath & Beyond. It uses enticing discounts and the well-known Bed Bath & Beyond brand to attract and deceive buyers. If you've encountered this site or its advertising campaign, we urge you to read our full analysis before engaging in any transactions.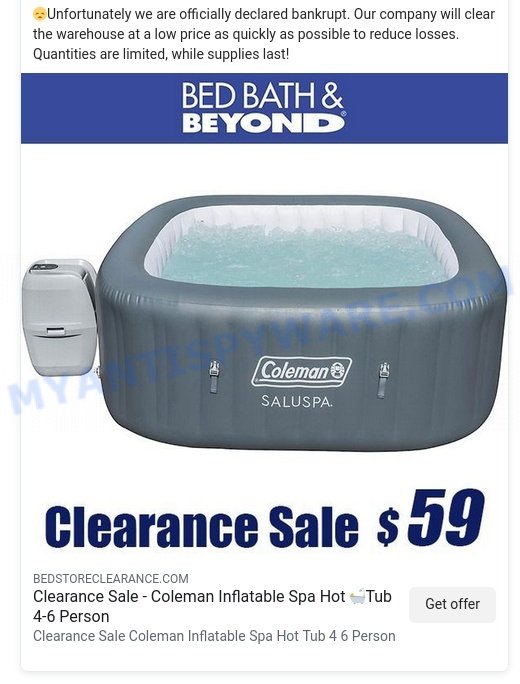 Quick links
What is Bedstoreclearance.com?
Bedstoreclearance.com is an online scam shop that pretends to be a Bed Bath & Beyond store. It advertises incredibly low prices and uses the reputable brand name to make buyers believe it's a legitimate clearance sale. However, the reality is far from this. The store is part of a wider scheme designed to dupe unsuspecting online shoppers and extract their personal and financial information.
Signs of Bedstoreclearance.com Scam
Identifying a scam shop can often be straightforward if you know what signs to look for. Here are some red flags associated with Bedstoreclearance.com:
Recently created domain: Bedstoreclearance.com was registered less than two weeks ago.
Lack of authentic contact information: The only contact method provided is an email address, and the physical address listed is not a return address.
Association with other scam shops: The store is connected to a company (Supic Company Limited) known for running scam shops.
Unbelievable deals: The site is advertising a Coleman SALUSPA hot tub for an incredibly low price of $59, which is significantly lower than market prices for this product.
Urgency tactics: The site uses phrases like "Clearance Sale", "Quantities are limited, while supplies last!" to push buyers to make quick, impulsive purchases.
How Bedstoreclearance.com Scam works
The Bedstoreclearance.com scam begins with a compelling advertisement campaign on platforms like Facebook, where they declare bankruptcy and offer unbelievably low prices to clear their warehouse. Customers are drawn in by these too-good-to-be-true deals, such as a Coleman SALUSPA hot tub for just $59, and the reputable Bed Bath & Beyond branding.
Once on the site, the urgency tactics push them to make quick decisions, fearing they might miss out on these amazing deals. However, after making a purchase, customers often receive no products, counterfeit goods, or items of much lower value than advertised. By the time they realize they've been scammed, it's too late. The scammers have their money and, worse, their personal and financial information.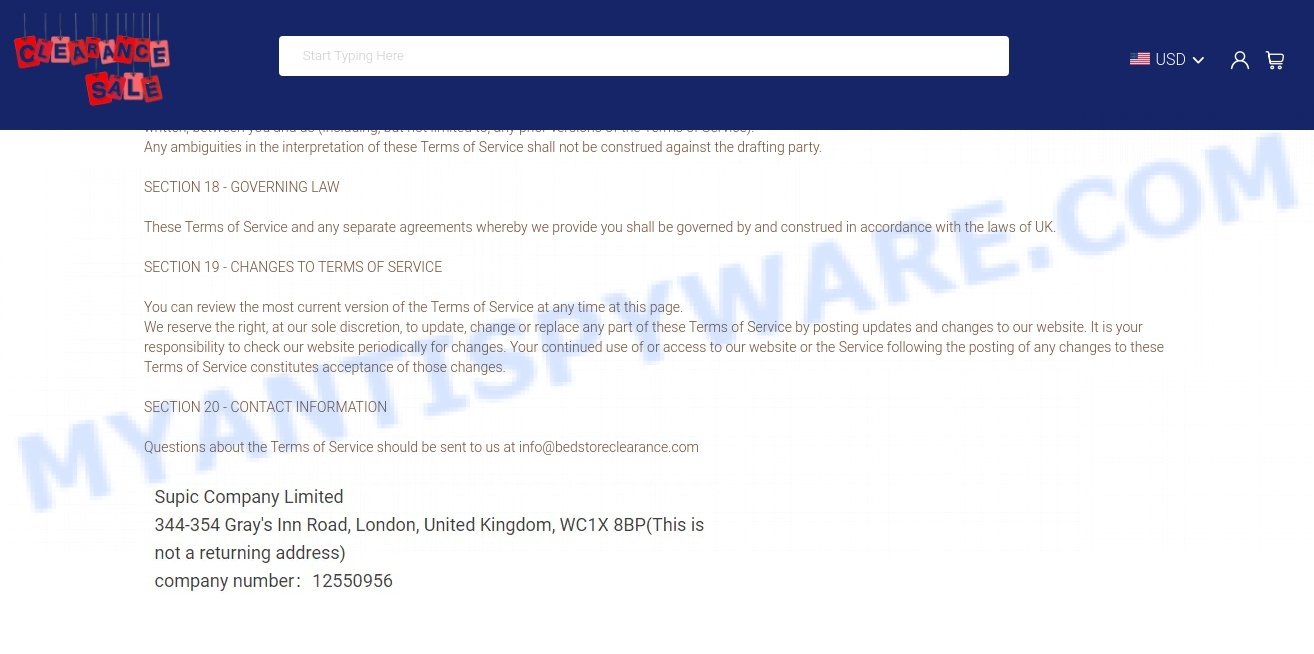 What to do if you become a victim of Bedstoreclearance.com
If you fall victim to the Bedstoreclearance.com scam, there are steps you can take to mitigate the damage and potentially recoup your losses:
Contact your bank or credit card company to report the fraudulent transaction and request a chargeback.
Change any passwords you may have shared with the site.
Report the scam to your local law enforcement and to the appropriate online platforms.
Leave a review or report online to help warn others about the scam.
Other Scam Online Shops to Avoid
To protect our readers from potential scams, we continue to expose suspicious online shops. These stores employ similar deceptive practices as Bedstoreclearance.com, aiming to trick unsuspecting buyers. Staying vigilant when shopping online and being aware of scam signs is crucial to keep your personal and financial information safe.
Here are a few examples of the scam online shops:
Summary table for Bedstoreclearance.com
| | |
| --- | --- |
| Name | Bedstoreclearance.com |
| Type | Online Store Scam |
| Damage | Monetary loss, potential identity theft |
| Distribution | Online (e.g., Facebook ads) |
| Tactics | False advertising, misleading branding, urgency tactics |
| Prices | Highly reduced (e.g., Coleman SALUSPA hot tub for $59) |
| Contacts | Email: info@bedstoreclearance.com; Supic Company Limited; 344-354 Gray's Inn Road, London, United Kingdom, WC1X 8BP(This is not a returning address); company number: 12550956 |
| Prevention Tips | Always research online shops before purchasing, be wary of deals that are too good to be true |
| Reporting Info | Report to local law enforcement, your bank, and the appropriate online platforms |
Conclusion
Bedstoreclearance.com is a scam online shop designed to lure buyers with the promise of unbelievable discounts on well-known brands like Bed Bath & Beyond. However, the site is not affiliated with Bed Bath & Beyond and is, in fact, designed to trick buyers into handing over their personal and financial information. We advise all online shoppers to exercise caution when encountering such sites and to always research before making a purchase.
It is imperative to stay informed and exercise caution when encountering such offers online. We strongly encourage you to read our detailed article on the Bed Bath & Beyond Clearance Sale scam to learn more about these deceptive practices, understand the red flags, and safeguard yourself against falling victim to these fraudulent schemes. Your awareness is the first line of defense in combatting online scams and protecting your hard-earned money.