Syracuseomt.shop is a scam shop presenting itself as a Bed Bath & Beyond store offering unbelievable deals. The shop exploits the tactics of ridiculously low prices and clearance sales to attract victims. This article provides an in-depth analysis of this scam, warning signs to look out for, and what to do if you become a victim. Keep reading to stay informed and protect yourself against such threats.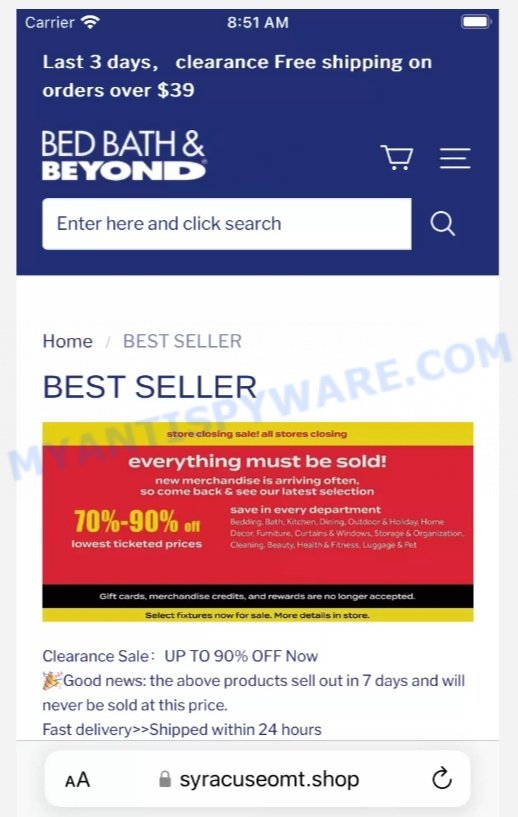 Quick links:
What is Syracuseomt.shop?
Syracuseomt.shop is a fraudulent online store posing as a Bed Bath & Beyond outlet. With the promise of unbelievably discounted products, the site aims to trick customers into handing over their personal and financial information. This elaborate scam uses fake advertisements and clearance sales to lure in victims, making it vital for shoppers to remain vigilant while online shopping.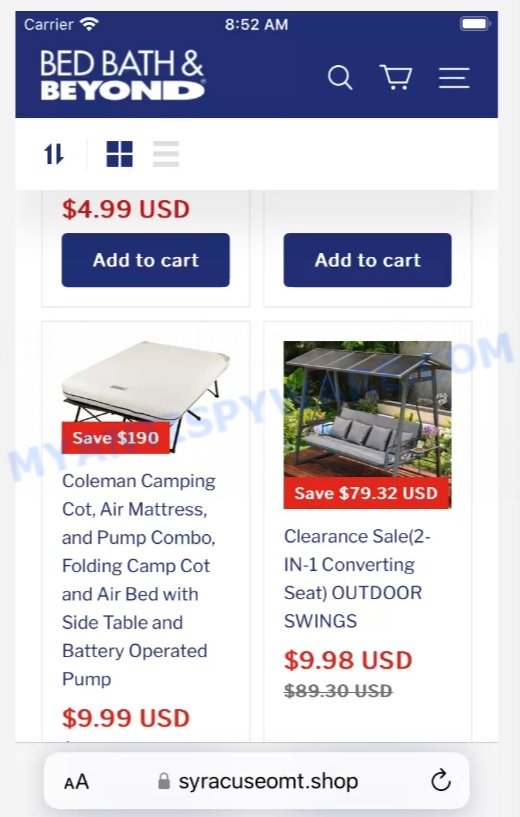 Signs of Syracuseomt.shop Scam
Several red flags can help identify Syracuseomt.shop as a scam:
The domain was created recently in June 2023.
Lack of transparent contact information: the site provides only an email address.
Unbelievable deals and incredibly low prices, which are too good to be true.
Enticing slogans like "Clearance Sale", "Free return", "Huge Discounts", and "Limited Time Sale".
No social media presence apart from Facebook Ads.
No real information about the company behind the shop.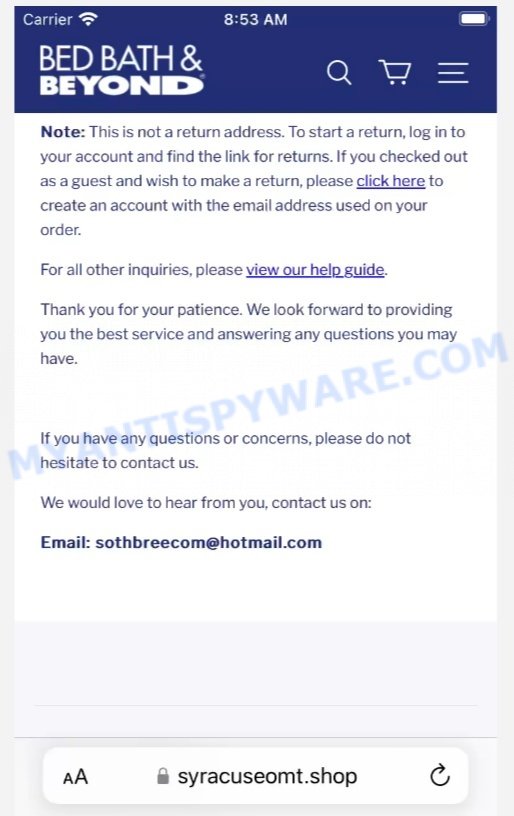 How Syracuseomt.shop Scam works
The scam begins when unsuspecting victims encounter Facebook ads for Syracuseomt.shop. These ads promote a "Bankruptcy liquidation!" event, claiming that the scam shop is handling clearance sales for a warehouse. Shoppers are lured in with promises of over 7000 styles available at prices as low as $3.99. The ads also warn customers that the "above products sell out in 7 days and will never be sold again", creating a sense of urgency to encourage impulse buying.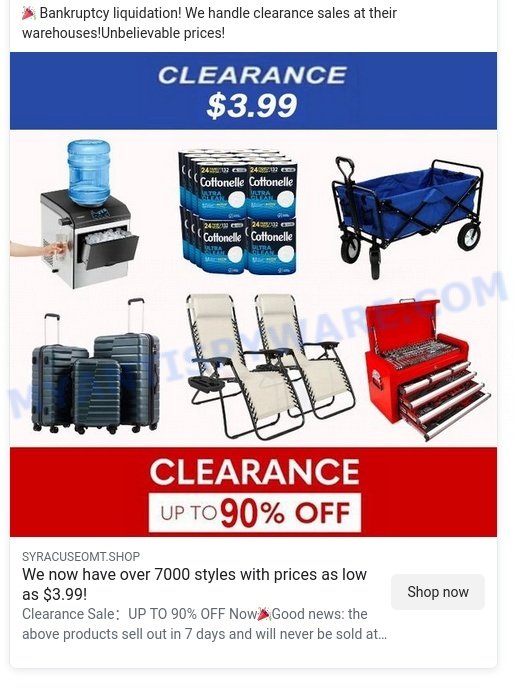 Once the order is placed, the scam store collects the payment but never delivers the goods. Victims usually realize the scam only after it's too late and their personal and financial information is compromised.
What to do if you become a victim of Syracuseomt.shop
If you suspect that you have fallen victim to the Syracuseomt.shop scam, it's crucial to act immediately. Here are the steps you should follow:
Contact your bank or credit card company to report the fraudulent charges.
Change your online passwords, especially for any accounts linked to the payment method used.
Monitor your accounts for any suspicious activity.
Report the scam to your local law enforcement agency.
Leave a review of the scam shop online to warn others.
Other Scam Online Shops to Avoid
In our continuous effort to protect readers from potential scams, we've identified several other suspicious online shops that use similar tactics to Syracuseomt.shop. These deceptive practices are designed to trick unsuspecting buyers, making it crucial to stay alert when shopping online. Beware of the warning signs and safeguard your personal and financial information. Here are a few examples of the scam online shops:
Summary table for Syracuseomt.shop
| | |
| --- | --- |
| Name | Syracuseomt.shop |
| Type | Online Scam Shop |
| Damage | Financial loss, Personal data breach |
| Distribution | Facebook Ads |
| Tactics | Unrealistically low prices, Clearance sales, Urgency |
| Prices | As low as $3.99 |
| Contacts | sothbreecom@hotmail.com |
| Prevention Tips | Be wary of too good to be true deals, Check the domain's creation date, Verify the store's authenticity |
| Reporting Info | Contact local law enforcement and bank |
Conclusion
Syracuseomt.shop is a malicious scam site pretending to be a Bed Bath & Beyond store. Its primary method of scamming unsuspecting customers is through a "bankruptcy liquidation!" clearance sale, promoted on Facebook. The prices are absurdly low, and the advertised products supposedly sell out within a week. However, the reality is that once payment is made, no goods are delivered. Anyone who encounters this scam should report it to the relevant authorities and take steps to protect their financial information.