Skwpar.online is another scam store that is trying to deceive consumers by posing as a legitimate Bed Bath & Beyond store. If you have encountered this scam, we highly recommend you to read the full article to understand its insidious techniques.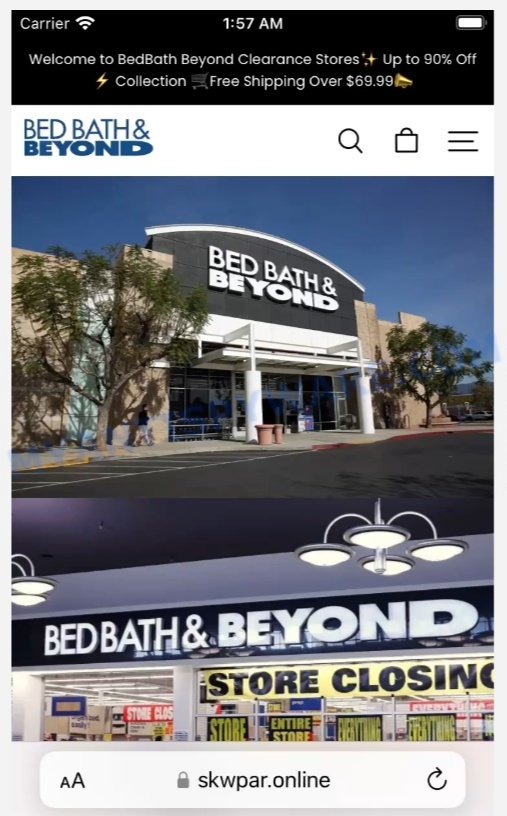 Quick links
What is Skwpar.online
Skwpar.online is a deceptive online shop that falsely claims to be a Bed Bath & Beyond store, promising steep discounts on popular items like Birkenstock footwear. This scam store uses the tactic of mimicking a well-known brand to trick consumers into thinking they are making purchases from a trusted source.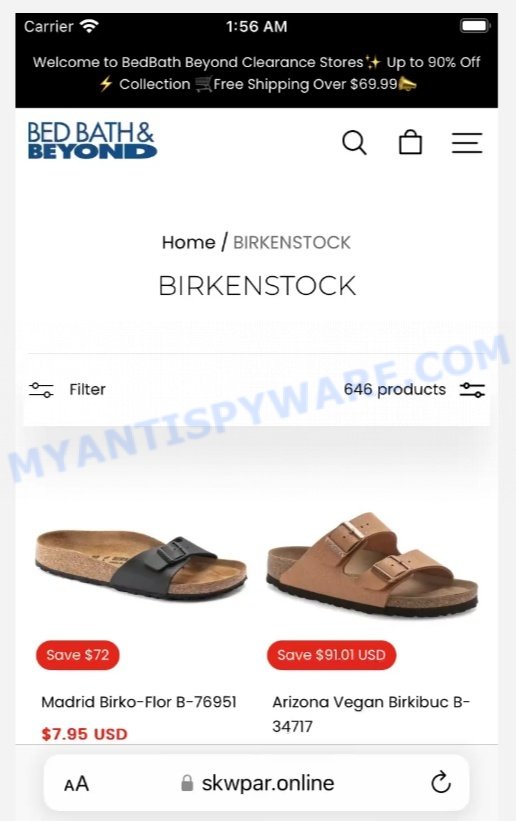 Signs of Skwpar.online Scam
Several warning signs can alert you to the fraudulent nature of Skwpar.online:
The domain was recently created, indicating a lack of established reputation.
Unbelievably low prices and fantastic deals that are too good to be true, such as 90% off on Birkenstock items.
Enticing slogans like "Clearance Sale", "Fast Delivery", and "100% Money Back Guarantee" are used to draw in consumers.
No real information about the company behind the website.
Content, images, and descriptions have likely been copied from other sites.
Contact information is limited to only an email address, with no physical address or phone number provided.
The site lacks social media presence, which is uncommon for a legitimate online store.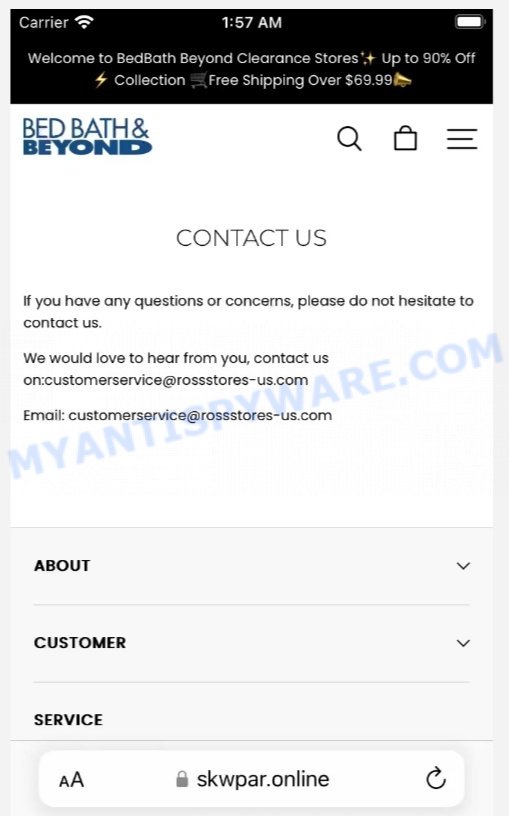 How Skwpar.online Scam Works
The scam begins with an advertisement on Facebook that claims a "Bed Bath & Beyond Bankruptcy Sale" with "UP TO 90% OFF Now". This creates an illusion of urgency and scarcity, prompting consumers to rush into purchases.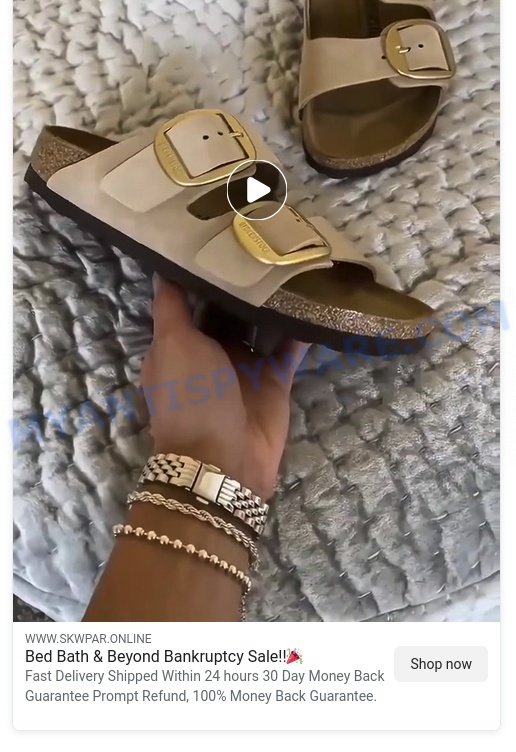 The website then takes customers' payment and personal information but fails to deliver the promised goods. Consumers who fall victim to the scam face not only financial loss but also the risk of identity theft.
What to do if you become a victim of Skwpar.online
If you have fallen victim to the Skwpar.online scam, there are steps you can take to protect yourself:
Contact your bank or credit card company to report the fraudulent transaction and ask if it is possible to reverse the charges.
Change your online passwords to protect against potential identity theft.
Report the scam to your local law enforcement agency and online fraud reporting tools.
Other Scam Online Shops to Avoid
As part of our commitment to protect our readers from potential scams, we provide information about other suspicious online shops that share similar tactics with Skwpar.online. Staying vigilant when shopping online and recognizing the warning signs can protect your personal and financial information. Here are a few examples of the scam online shops: Ahodenare.com Bookstore Scam, Acstoreus.com DICK'S SPORTING GOODS Store Scam, and Babyjoynewyork.com Buy Buy BABY Store Scam.
Summary table for Skwpar.online
| | |
| --- | --- |
| Name | Skwpar.online |
| Type | Online Store Scam |
| Damage | Financial loss, risk of identity theft |
| Distribution | Advertised on Facebook |
| Tactics | Promises of high discounts, mimicking a well-known brand |
| Prices | Up to 90% off on Birkenstock products |
| Contacts | Email: customerservice@rossstores-us.com |
| Prevention Tips | Verify the authenticity of the online store before making purchases, check for contact information, avoid deals that are too good to be true |
| Reporting Info | Contact your bank or credit card company, report to local law enforcement and online fraud reporting tools |
Conclusion
Skwpar.online is a deceptive online store scamming unsuspecting buyers by posing as a Bed Bath & Beyond store. It uses the lure of steep discounts and promises of quick delivery to defraud customers. It's crucial to stay vigilant and always verify the authenticity of online stores before making any purchases.
It is imperative to stay informed and exercise caution when encountering such offers online. We strongly encourage you to read our detailed article on the Bed Bath & Beyond Clearance Sale scam to learn more about these deceptive practices, understand the red flags, and safeguard yourself against falling victim to these fraudulent schemes. Your awareness is the first line of defense in combatting online scams and protecting your hard-earned money.