Diarygiraffe.com is a deceptive online scam that falsely claims to be QVC. This scam store uses enticing summer sales and implausible discounts to prey on innocent online shoppers. This article will help you understand the signs of this scam.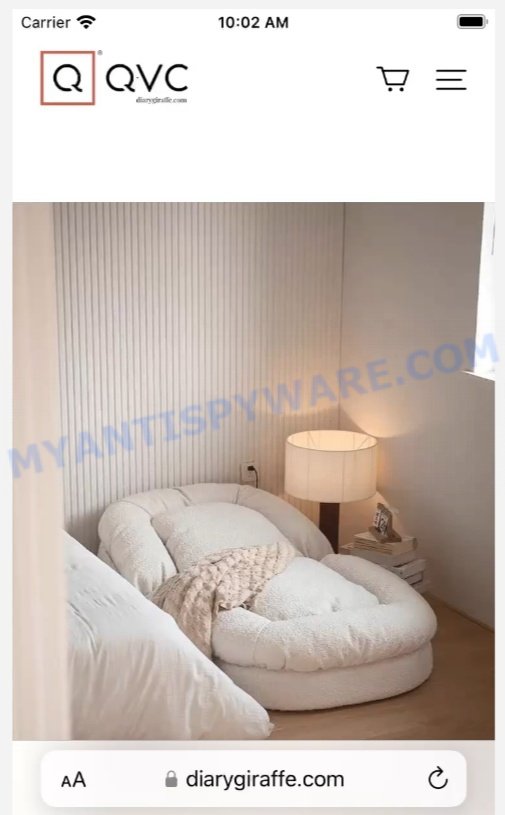 Quick links
What is Diarygiraffe.com
Diarygiraffe.com is an online shop that falsely claims to be QVC, a renowned home shopping brand. The website uses the reputation of QVC to trick customers into buying products under the impression that they are getting high-quality goods from a trusted source.
Signs of Diarygiraffe.com Scam
Several warning signs can help you identify the Diarygiraffe.com scam, including:
The domain was recently registered (July 2023), which is a common trait among scam sites.
They offer unrealistic deals and incredibly low prices such as "QVC-Summer Sale $19 Relax in style with the GCI OUTDOOR rocking chair", "Today Only $19.99! Introducing The World's First Dog Bed For Humans!".
Generic website design, likely copied from other similar scam sites.
Generic email provided for customer service is not associated with the QVC brand.
A lack of company information on the website.
There's no visible presence on social media platforms.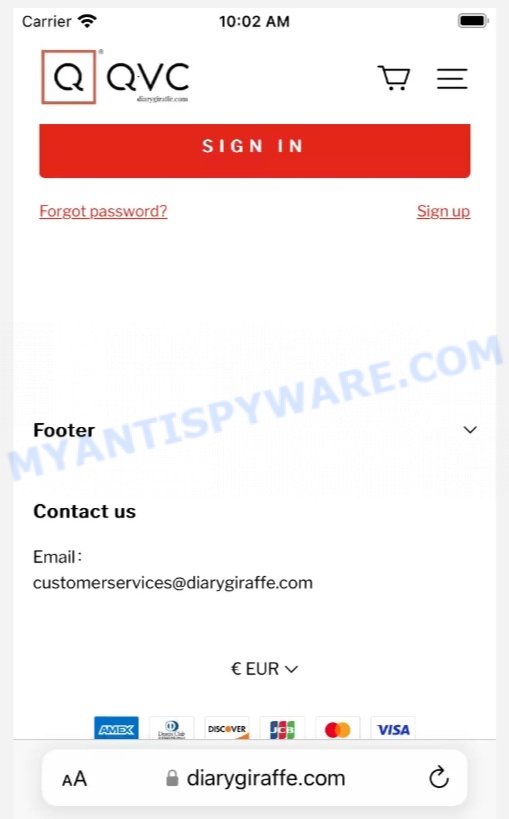 How Diarygiraffe.com Scam Works
The scam begins with Facebook ads promoting a "Summer Sale" or a "Last Day for Clearance" deal on various products, including a rocking chair and a 'dog bed for humans.' The prices are significantly reduced, making the deals hard to resist.
After customers make a purchase, either the products never arrive, or what's delivered is a cheap imitation of the original product they thought they were buying.
What to do if you become a victim of Diarygiraffe.com
If you have been scammed by Diarygiraffe.com, take immediate action:
Contact your bank or credit card provider and dispute the charges.
Change your passwords and other sensitive information related to online banking.
Report the scam to your local law enforcement agency and online scam reporting platforms.
Other Scam Online Shops to Avoid
To help you stay safe online, we have compiled a list of similar scam shops. These shops use tactics similar to Diarygiraffe.com, luring shoppers with too-good-to-be-true deals. Remember to verify the authenticity of online stores before purchasing and beware of unrealistically high discounts. Some of these scam shops include Closingstore.shop QVC Scam, KingCrabStore.com Scam, and Naswino.com QVC Store Scam.
Summary table for Diarygiraffe.com
| | |
| --- | --- |
| Name | Diarygiraffe.com |
| Type | Online Shopping Scam |
| Damage | Financial loss, possible identity theft |
| Distribution | Primarily through Facebook Ads |
| Tactics | Impersonating QVC, offering unrealistically high discounts |
| Prices | Highly discounted prices |
| Contacts | customerservices@diarygiraffe.com |
| Prevention Tips | Verify the authenticity of online stores before purchasing, be skeptical of extraordinarily high discounts |
| Reporting Info | Contact local law enforcement and report to online scam platforms |
Conclusion
Diarygiraffe.com is a fraudulent online store impersonating QVC. Offering high discounts, this scam tricks customers into buying non-existent or substandard goods. It's vital to verify the authenticity of an online store before making a purchase and remain wary of deals that appear too good to be true. Stay alert and stay safe.