Oruzora.com is an online scam that deceives customers by leveraging popular brands like HSN and Amazon in its advertisements. Keep reading to learn more about this scam and how you can stay safe.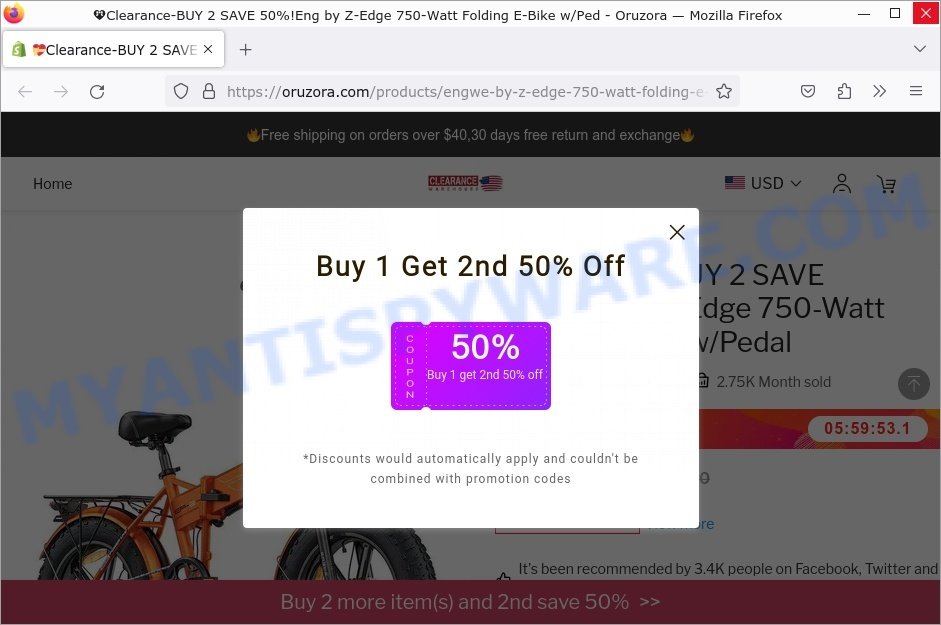 Quick links
What is Oruzora.com
Oruzora.com is an online store that targets customers with shockingly low prices for its items. The site tries to replicate the look of a legitimate e-commerce platform and uses big brand names such as HSN and Amazon in its promotions and ads.
Signs of Oruzora.com Scam
Domain was registered recently, on February 22, 2023.
Concealed contact information except for an email address (support@deretee.com).
The parent company (Meledo Company Limited) is associated with other known scam sites.
Offers incredible deals and extremely low prices for items from renowned brands.
Uses common website design templates.
Promotions carry persuasive phrases such as "Clearance Sale Today only", "Buy 2 Save 50%".
Absence of social media presence or links to any social media platforms.
How Oruzora.com Scam Works
The scam begins with alluring Facebook ads offering ridiculously low prices for products. For instance, a 750-Watt Folding E-Bike is being sold for only $29. The ad utilizes the HSN and Amazon brands to gain trust.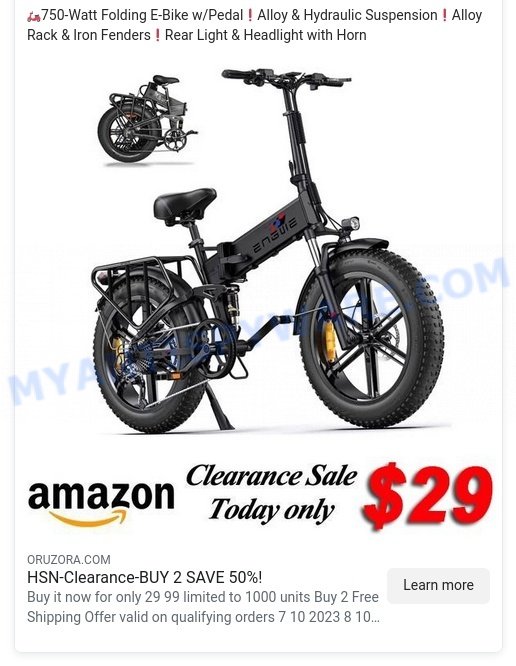 Once the buyer falls for the ad and proceeds to purchase, they are either likely not to receive the product or receive a counterfeit or inferior one. The provided contact details are often unresponsive or unhelpful in resolving the situation.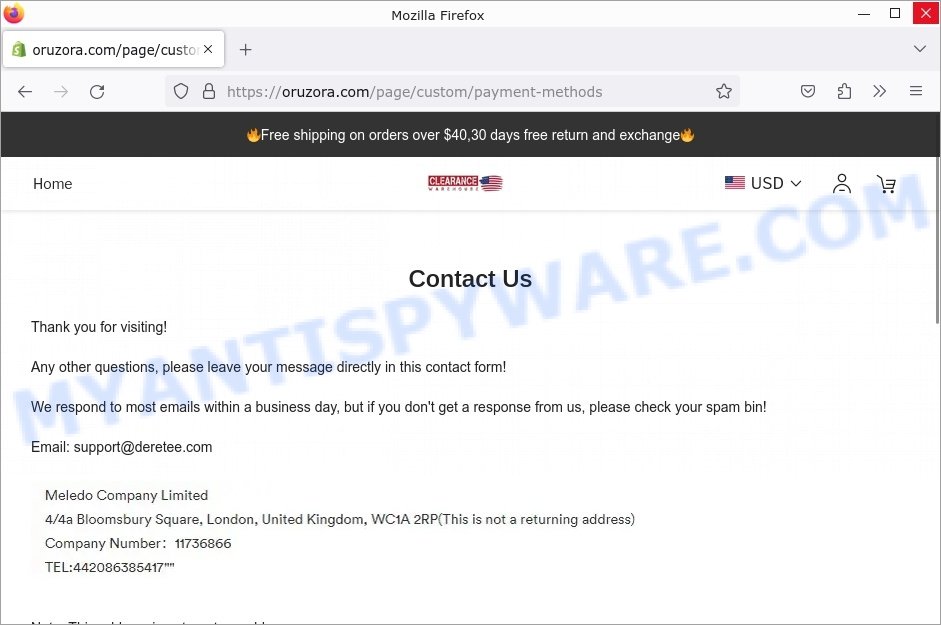 What to do if you become a victim of Oruzora.com
If you suspect that you've been duped by the Oruzora.com scam, follow these steps:
Dispute the charges with your bank or credit card company.
Report the scam to your local law enforcement agency.
File a complaint with the Better Business Bureau.
Report the scam to online fraud reporting platforms.
Spread awareness by sharing your experience on online forums and social media platforms.
Other Scam Online Shops to Avoid
To protect our readers from possible scams, we've compiled a list of other questionable online shops to beware of. These shops exhibit similar characteristics and strategies as Oruzora.com, using misleading practices to entice unsuspecting buyers. When shopping online, it's crucial to stay vigilant and recognize the warning signs of potential scams.
Here are a few examples of scam online shops: Ahodenare.com Bookstore Scam, Acstoreus.com DICK'S SPORTING GOODS Store Scam, Axerxm.com Bed Bath & Beyond Store Scam.
Summary table for Oruzora.com
| | |
| --- | --- |
| Name | Oruzora.com |
| Type | Online Shopping Scam |
| Damage | Financial Loss, Personal Information Theft |
| Distribution | Through social media platforms (especially Facebook) |
| Tactics | False advertising, use of popular brands, exceptionally low prices |
| Prices | Offers 750-Watt Folding E-Bike w/Pedal at $29 |
| Contacts | support@deretee.com |
| Prevention Tips | Exercise caution with unusually low prices, verify contact details, seek online reviews |
| Reporting Info | Contact local law enforcement agency, report to online fraud reporting platforms |
Conclusion
Oruzora.com is an online scam store that utilizes popular brands and unfeasibly low prices to attract unsuspecting buyers. It's vital to stay cautious and always do thorough research before making an online purchase. Look out for red flags such as a recent domain registration date, lack of transparent contact information, and suspiciously low prices for high-value items.