Shine-us.store is an online scam that you might encounter, especially if you're an active shopper on Facebook. This platform claims to be an outlet for SHEIN, offering incredible discounts. Unfortunately, it's nothing but a ruse to trap unsuspecting buyers. Read on for a detailed analysis and review of Shine-us.store.
Quick links
What is Shine-us.store
Shine-us.store is a fake online shop that poses as an outlet for SHEIN, a popular clothing and accessories brand. Using social media platforms, particularly Facebook, it lures potential victims by advertising a fake SHEIN clearance sale with a promise of quick delivery and easy returns. The scam employs deceptive tactics, including fake email addresses associated with other scam shops and hidden WHOIS contact details.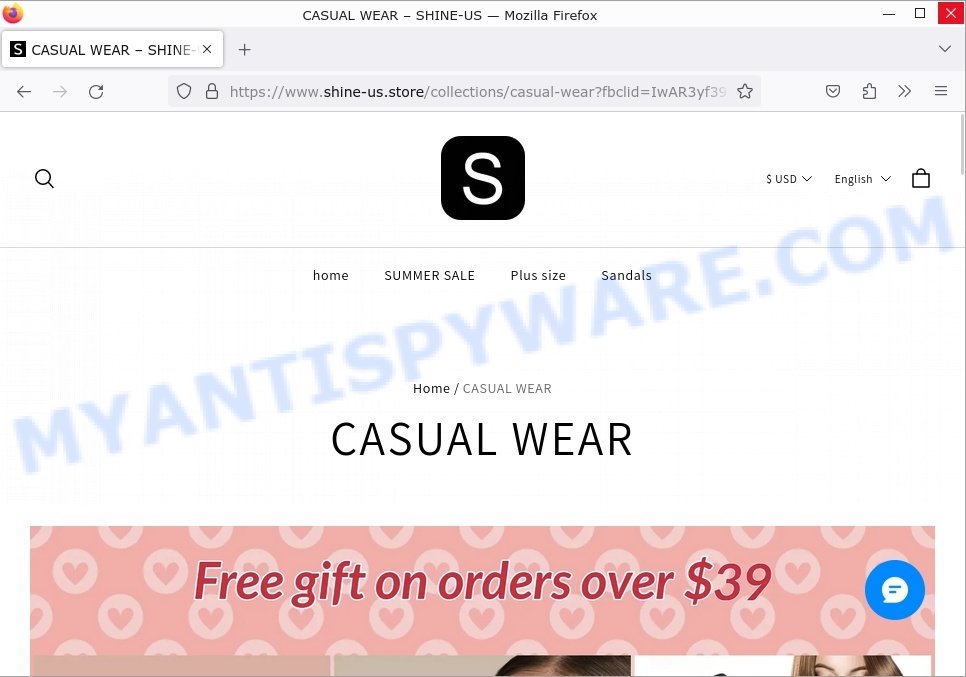 Signs of Shine-us.store Scam
It's important to be aware of the common signs of online scams, especially when dealing with suspicious online shops like Shine-us.store. Here are some tell-tale signs:
Recently created domain: Shine-us.store was created on July 5, 2023.
Unbelievable deals and incredibly low prices: The advertised clearance sale promises exceptional discounts that are too good to be true.
Template design: The website design is generic and lacks originality, which is common among scam websites.
Enticing slogans: Slogans such as "Clearance Sale", "30 Days Easy Return", and "DHL Arrive 3-5 Days" are used to lure customers.
No social media presence: Despite claiming to promote their deals on Facebook, the site does not have a credible social media presence.
Lack of contact information: The site uses generic email addresses that are associated with other scam shops, but no physical address or phone number is provided.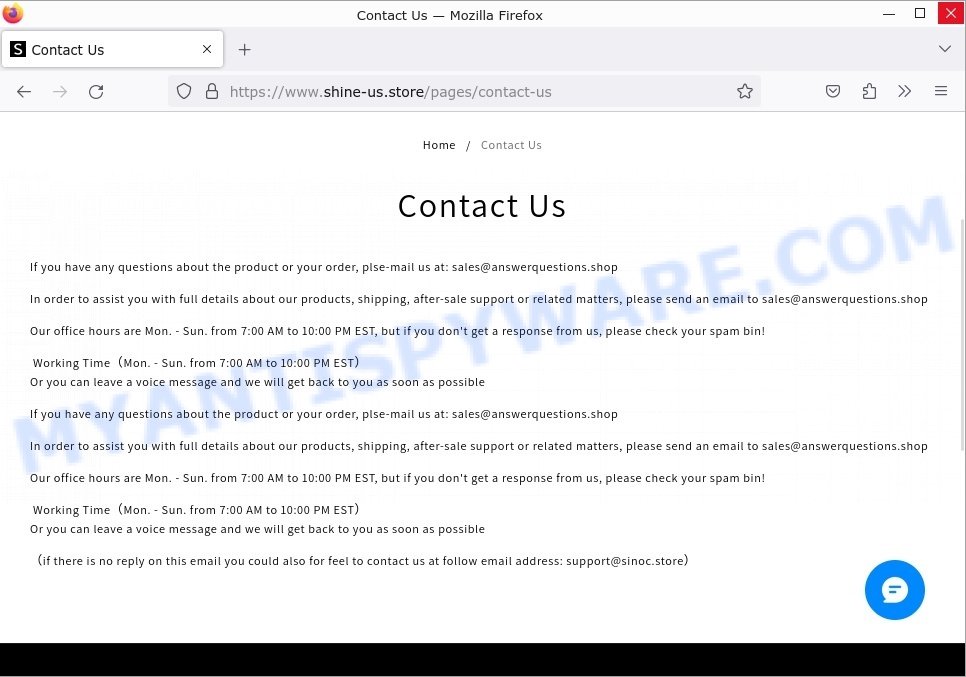 How Shine-us.store Scam works
Shine-us.store operates by promoting a non-existent SHEIN clearance sale on Facebook. The scam begins when a user clicks on the ad and is redirected to the Shine-us.store website. There, they are presented with heavily discounted items and persuaded to make a purchase. After the victim completes a transaction, they either receive counterfeit items or nothing at all. Despite promising easy returns and quick delivery, Shine-us.store is merely a façade to defraud buyers and collect their personal and financial information.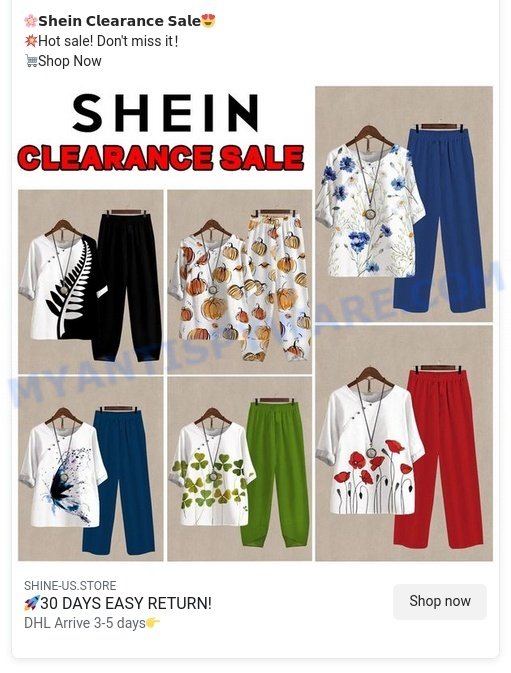 What to do if you become a victim of Shine-us.store
If you have been scammed by Shine-us.store, don't panic. Here are some steps you can take:
Contact your bank or credit card company and inform them about the fraudulent transaction. They might be able to reverse the charge.
Change your online banking and credit card passwords.
Report the scam to your local law enforcement agency and to the platform where the scam was advertised.
File a complaint with the Internet Crime Complaint Center (IC3).
Leave a review or testimonial on online platforms to warn others about the scam.
Other Scam Online Shops to Avoid
As part of our commitment to protect you from potential scams, we have listed some suspicious online shops that share similar characteristics with Shine-us.store. It's critical to stay alert when shopping online and be mindful of potential scam warning signs. Here are a few examples of the scam online shops: Babyjoynewyork.com Buy Buy BABY Store Scam, Ahodenare.com Bookstore Scam, and Acstoreus.com DICK'S SPORTING GOODS Store Scam.
Summary table for Shine-us.store
| | |
| --- | --- |
| Name | Shine-us.store |
| Type | Online Shop Scam |
| Damage | Financial loss, potential identity theft |
| Distribution | Primarily through Facebook ads |
| Tactics | Deceptive sales, counterfeit products, identity theft |
| Prices | Significantly discounted |
| Contacts | xm3@officialservice.shop; sales@answerquestions.shop; support@sinoc.store |
| Prevention Tips | Always verify the legitimacy of online shops, be skeptical of too-good-to-be-true deals, and never share sensitive information with untrusted sites |
| Reporting Info | Report to local law enforcement, IC3, and the platform where the scam was promoted |
Conclusion
Shine-us.store is a deceptive scam that impersonates the popular brand SHEIN to trick online shoppers. By offering irresistibly low prices and using enticing slogans, it attracts victims into revealing their financial information or purchasing counterfeit goods. Awareness and vigilance are crucial to avoid falling prey to such scams.