Salesaverr.com is a sophisticated online scam store that impersonates the well-known brand Bed Bath & Beyond. With their unbelievable discounts and clearance sale promotions, they lure unsuspecting online shoppers into a trap. Continue reading to understand the ins and outs of this scam.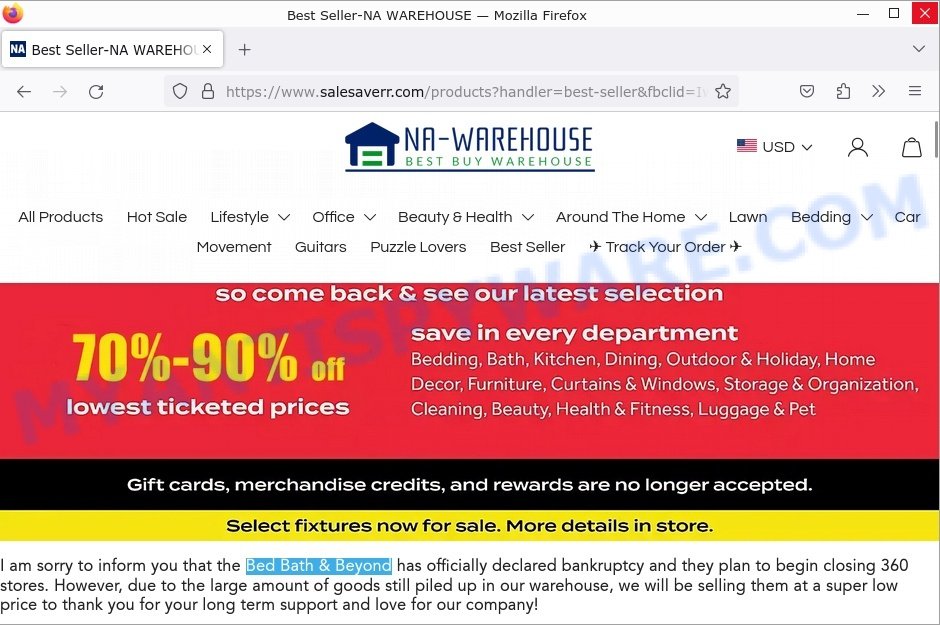 Quick links
What is Salesaverr.com
Salesaverr.com is an online store pretending to be Bed Bath & Beyond, leveraging the popular brand's trust to deceive customers. By mimicking a known brand, it becomes easier for these types of stores to trick unsuspecting customers into purchasing products that will never be delivered.
Signs of Salesaverr.com Scam
Salesaverr.com presents several telltale signs of a scam, including:
Recently created domain, as per the WHOIS data.
Unbelievable deals and incredibly low prices, up to 70%-90% discounts.
Template website design and enticing slogans such as "Clearance Sale", "Unbeatable Deals", "Limited Time Offer", etc.
Lack of genuine contact information. The provided emails are suspicious and do not associate with the brand they're pretending to be.
No real information about the company behind the website.
No social media presence or links to any social media platforms.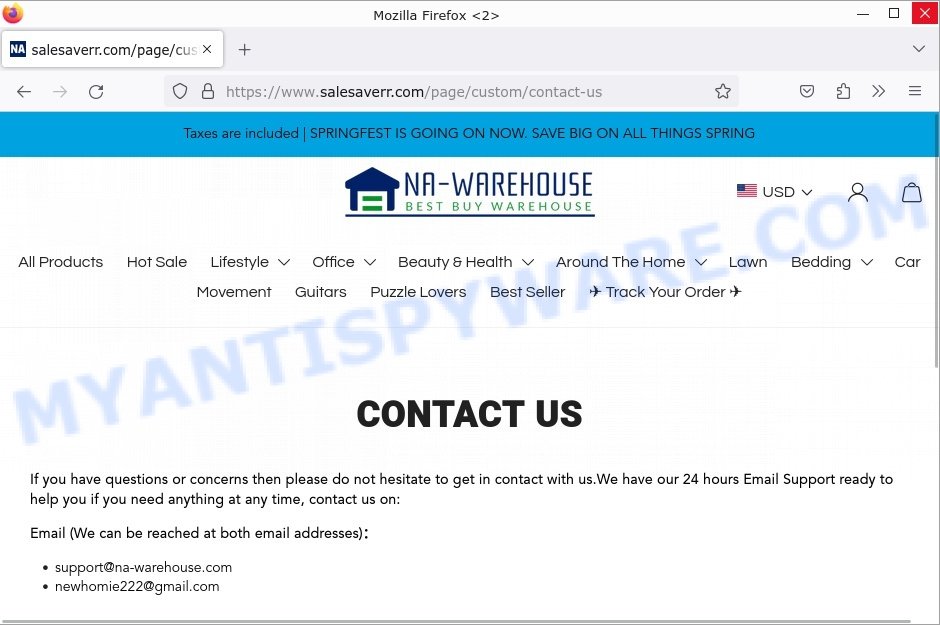 How Salesaverr.com Scam Works
Salesaverr.com begins by placing Facebook ads, claiming a "store closing sale" and offering incredible discounts of 70%-90% on all products. Once these ads catch the eye of an unsuspecting customer, they are redirected to the Salesaverr.com website, which mimics the Bed Bath & Beyond brand.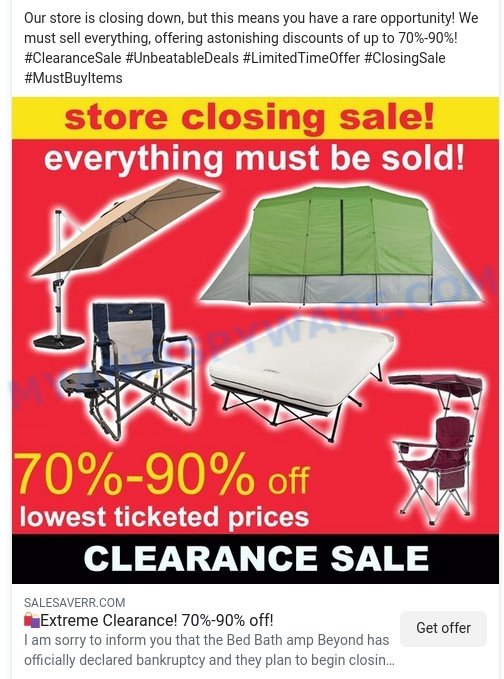 This store was recently created (June 2023) and provides suspicious contact details, further reinforcing the illusion of authenticity. However, once a purchase is made, either the products are never delivered, or they are of extremely low quality, nothing like the original branded products.
What to do if you become a victim of Salesaverr.com
If you have fallen victim to the Salesaverr.com scam, it is essential to take immediate steps to mitigate the damage. These include:
Contacting your bank or credit card provider to dispute the charges.
Changing your online banking passwords and other sensitive information.
Reporting the scam to your local law enforcement agency and online scam reporting platforms.
Other Scam Online Shops to Avoid
To protect our readers from potential scams, we have compiled a list of other suspicious online shops that you should be aware of. These shops share similar characteristics and tactics to Salesaverr.com, using deceptive practices to lure unsuspecting buyers. It's crucial to remain vigilant when shopping online and to recognize the warning signs of a potential scam. Here are a few examples of the scam online shops: Closingstore.shop Bed Bath & Beyond Store Scam, KingCrabStore.com King Crab Store Scam, and Naswino.com Bed Bath & Beyon Store Scam.
Summary table for Salesaverr.com
| | |
| --- | --- |
| Name | Salesaverr.com |
| Type | Online Shopping Scam |
| Damage | Financial loss, possible identity theft |
| Distribution | Primarily through Facebook Ads |
| Tactics | Impersonating Bed Bath & Beyond, offering unrealistic discounts |
| Prices | 70%-90% discounted prices |
| Contacts | support@na-warehouse.com, newhomie222@gmail.com |
| Prevention Tips | Verify the authenticity of online stores before purchasing, be suspicious of unrealistic deals |
| Reporting Info | Contact local law enforcement and report to online scam platforms |
Conclusion
Salesaverr.com is a fraudulent online store impersonating Bed Bath & Beyond. By offering unrealistically high discounts, this scam lures in customers and either fails to deliver the promised goods or delivers substandard products. It's essential to verify the authenticity of an online store before making a purchase and to be wary of deals that seem too good to be true. Stay vigilant and stay safe.