Allureusports.com, also known as Allure Sports, is a deceptive online store that has been duping customers with attractive deals on HOKA sneakers. This threat has been catching unsuspecting online shoppers off-guard with their seemingly irresistible offers. If you've come across this scam or suspect you might have, continue reading to gain valuable insights about it and how to protect yourself from such threats.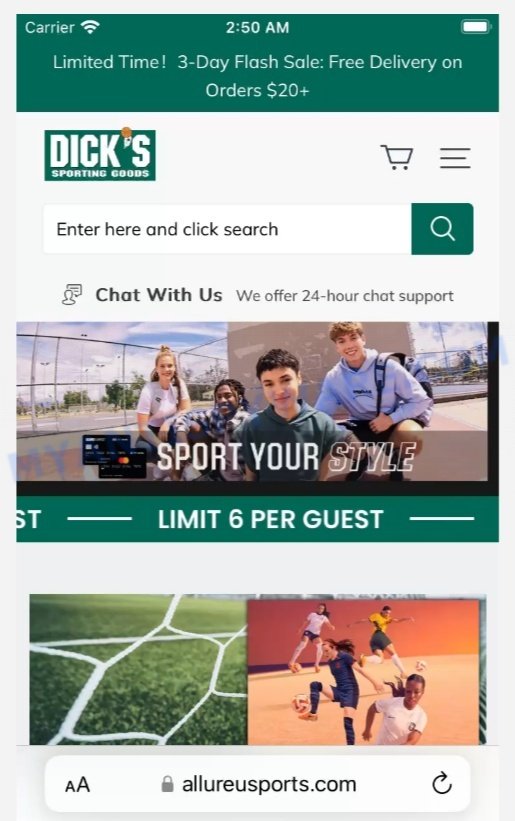 Quick links
What is Allureusports.com
Allureusports.com is a recently created website posing as a DICK'S SPORTING GOODS store. It particularly targets consumers interested in purchasing HOKA sneakers, claiming to offer these high-quality shoes at the unbelievably low price of $19.9 per pair. But don't be fooled. It's an elaborate scam aimed at luring unsuspecting buyers to part with their money and personal information.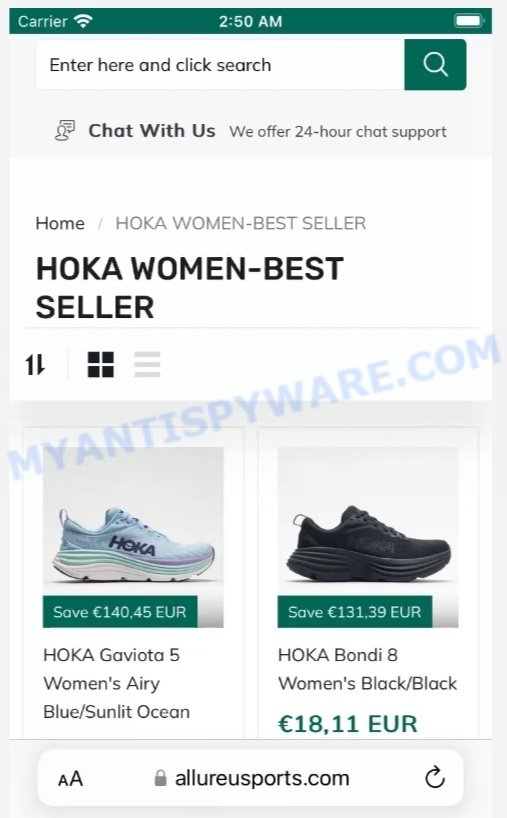 Understanding the intricate workings of this scam is essential to protect yourself and your hard-earned money. For a detailed understanding of this specific type of scam, we highly recommend reading our previous article, The $19.9 HOKA Sneakers Scam: The Trap of Unrealistic Discounts. This comprehensive piece sheds light on how scammers use high-demand products like HOKA sneakers and incredibly low prices as bait to reel in their victims.
Signs of Allureusports.com Scam
There are several red flags that indicate Allureusports.com is a scam:
The domain was recently created. As per WHOIS data, the domain was registered on July 28, 2023.
The website uses a template design and the content, images, and descriptions are taken from other sites.
Unbelievably low prices. For example, the store offers HOKA sneakers for only $19.9 per pair, which is significantly less than their usual retail price. No legitimate business would sell high-quality sneakers at such a low price.
Enticing slogans such as "$19.9 TODAY ONLY" and "LIMIT 6 PER GUEST" are used to create a sense of urgency among customers.
There is a time counter on the product page to create a false sense of urgency.
The site lacks social media presence or links to any social media platforms.
Lack of contact information. They only provide an email address (sily@peachcher.com), and the company behind the scam, AIMARK LTD, is associated with other scams.
There are customer complaints and delivery issues.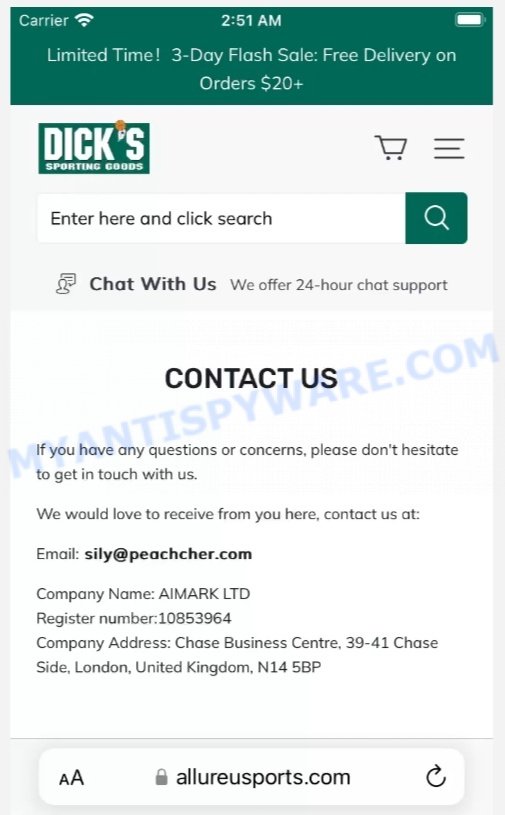 How Allureusports.com Scam Works
Allureusports.com first draws in potential victims through Facebook ads, promoting an "expiration of sales contract" and a "low price countdown" for HOKA sneakers. When customers are lured into the site, they are presented with a deal that seems too good to pass up – HOKA sneakers for only $19.9 per pair.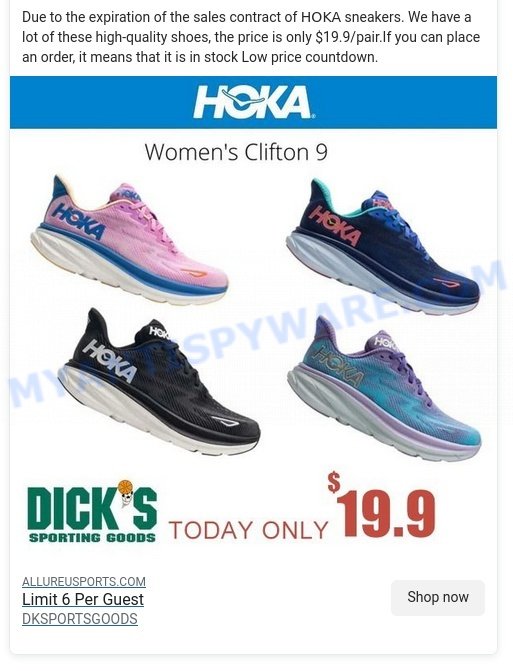 However, once the order is placed and payment is made, either the shoes never arrive or customers receive a low-quality product that is not worth the price they paid. The limited contact information and hidden WHOIS details make it difficult for customers to get a refund or seek any form of resolution.
What to Do if You Become a Victim of Allureusports.com
If you have fallen victim to the Allureusports.com scam, there are several steps you can take:
Contact your bank or credit card company to report the fraudulent transaction.
Change your online banking and credit card passwords.
Report the scam to your local law enforcement.
File a complaint with your country's consumer protection agency.
Other Scam Online Shops to Avoid
In our ongoing effort to protect our readers from potential scams, we have compiled a list of other suspicious online shops that you should be aware of. These shops share similar characteristics and tactics with Allureusports.com, and they use deceptive practices to lure in unsuspecting buyers. It's crucial to remain vigilant when shopping online and to be aware of the warning signs of a potential scam.
Here are a few examples of the scam online shops: Ahodenare.com Bookstore Scam, Luvasti.com Silver Jewellery Store Scam, and Oputcre.shop QVC Store Scam.
Summary Table for Allureusports.com
| | |
| --- | --- |
| Name | Allureusports.com |
| Type | Online Store Scam |
| Damage | Financial Loss, Privacy Breach |
| Distribution | Online, particularly through Facebook Ads |
| Tactics | Deceptive Advertising, Fake Deals, Data Collection |
| Prices | $19.9 per pair of HOKA sneakers |
| Contacts | Email: sily@peachcher.com, Company Name: AIMARK LTD, Address: Chase Business Centre, 39-41 Chase Side, London, United Kingdom, N14 5BP |
| Prevention Tips | Look for customer reviews, Verify contact information, Avoid too good to be true deals |
| Reporting Info | Report to local law enforcement and consumer protection agency |
Conclusion
Allure Sports Scam is a deceptive online scam that exploits the popularity of HOKA sneakers and the trust in the DICK'S SPORTING GOODS brand to trick consumers into making purchases on their site. The best defense against such scams is to be vigilant, do your due diligence before making any purchases, and be wary of deals that seem too good to be true.