Hdcvnbk.shop is a scam store claiming to sell Wilko products at drastically reduced prices. It has been heavily promoted on Facebook, offering 70-90% off on various items, from sofas to furniture. If you've come across this too-good-to-be-true deal, read on to find out why you should avoid it.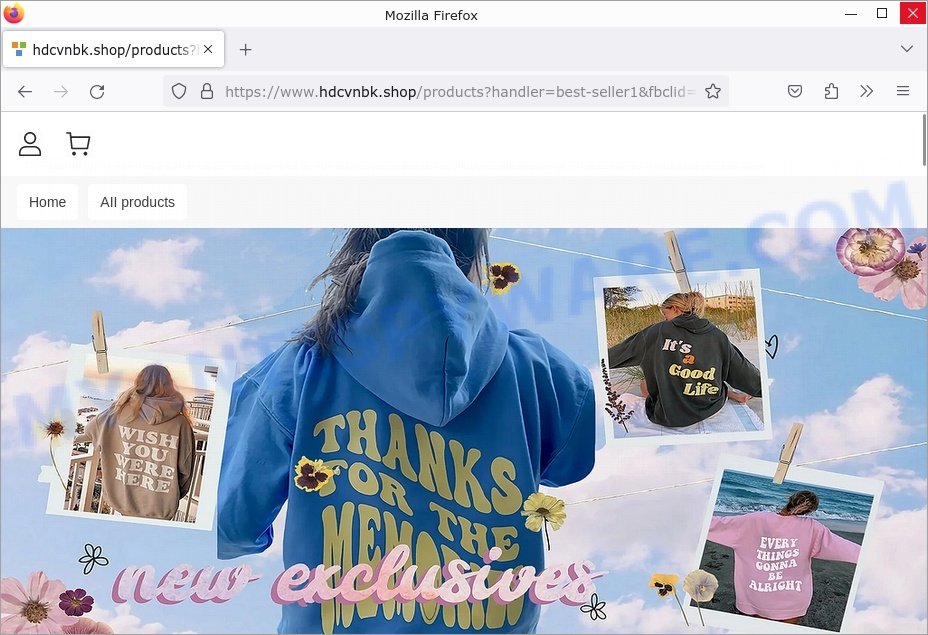 Quick Links
Is Hdcvnbk.shop a Scam?
Based on multiple red flags, Hdcvnbk.shop is undoubtedly a scam. Here are the signs that should make you skeptical:
Recently created domain
Lack of real contact information: Only available through a sketchy email address – service@wikkosale.online
Unbelievable deals and incredibly low prices: 70-90% off clearance sale
Enticing slogans: "Up to 90% off clearance", "Free on-site installation", "10-year warranty"
No social media presence: Only promoted on Facebook but no authentic social media links
Fake company information: Claims to be affiliated with THUNDER WING (HK) TECHNOLOGY CO., LIMITED
Whois contacts are hidden and company address linked to other scams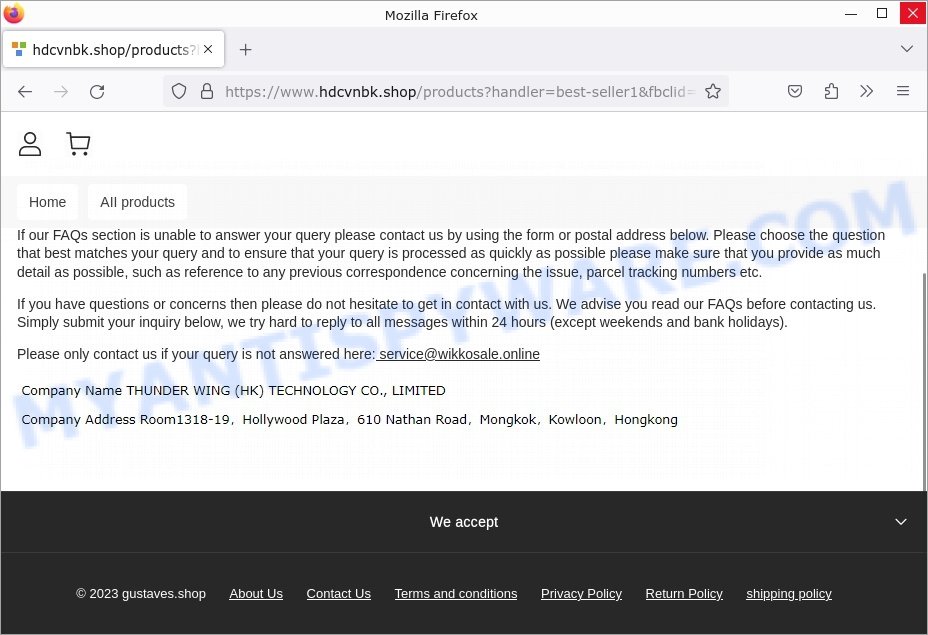 How the Hdcvnbk.shop Scam Works
Hdcvnbk.shop is primarily promoted on Facebook, where they claim to be an online reseller for Wilko with a bankruptcy sale offering up to 90% off. They lure customers in with highly discounted products, ranging from £5 to £8, all purportedly from the Wilko brand.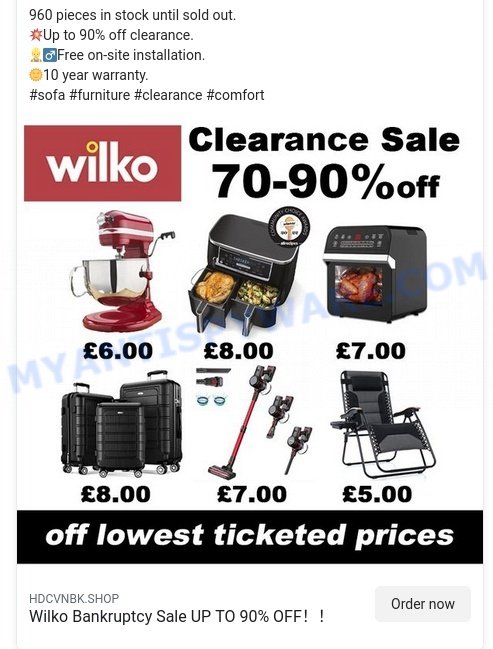 Once you make a purchase, either no product is delivered, or a substandard one arrives. The email they provide for customer service either does not respond or offers no real solution. Moreover, the company name and address are linked to various other online scams.
What to Do if You Become a Victim of Hdcvnbk.shop
If you have fallen for this scam, it's important to act immediately to mitigate damage.
Contact your bank to report the fraudulent transaction
Change your passwords for online shopping sites and your bank
Report the scam at reportfraud.ftc.gov
Leave a comment on this review to warn others
Other Online Scams to Avoid
In our continuous effort to protect our readers, it's crucial to be aware of similar deceptive online shops. These shops, like Hdcvnbk.shop, employ underhanded tactics to trick unsuspecting buyers.
Here are a few examples of scam online shops: Fake Wilko Clearance Sale, Blackstonediscount.com, Luggagebigsale.com
Summary Table for Hdcvnbk.shop
| | |
| --- | --- |
| Name | Hdcvnbk.shop |
| Type | Online Scam Store |
| Damage | Financial loss, personal information risk |
| Distribution | Primarily through Facebook |
| Tactics | False clearance sales, misleading promotions |
| Prices | £5 to £8 |
| Contacts | Email: service@wikkosale.online, Company: THUNDER WING (HK) TECHNOLOGY CO., LIMITED |
| Prevention Tips | Be skeptical of too-good-to-be-true deals, check reviews |
| Reporting Info | reportfraud.ftc.gov |
Conclusion
Hdcvnbk.shop is a fraudulent online shop with multiple red flags that point to its scam nature. From its newly created domain to misleading advertisements and fake company information, this site is set up to deceive customers into parting with their money. We highly recommend avoiding this site and urge you to stay vigilant when shopping online.
FAQ About the Hdcvnbk.shop Scam
Is Hdcvnbk.shop legit? – No, it's a scam.
What should I do if I have been scammed? – Report to your bank and take necessary measures as outlined in the 'What to Do if You Become a Victim' section.
How did I get tricked into visiting Hdcvnbk.shop? – Likely through a Facebook advertisement promoting a 'bankruptcy sale'.
Where can I report scams like this? – You can report scams like this at reportfraud.ftc.gov.