Discount Store Scam, often referred to as "outlet store scam", "department store scam", or even "discount store savings scam", is an increasingly prevalent online fraud that's impacting numerous unsuspecting shoppers. Scammers employ a deceitful tactic by setting up sham online stores and aggressively promoting them across various platforms, with social media giants like Facebook being a favored choice for their advertising efforts. These fraudulent operations entice potential victims with alluring advertisements featuring unbelievably low prices. For instance, you might have encountered an ad like this: "Discount store clearance. Another discount on the basis of low price. All products enjoy this discount. Only $3.99".
If you've stumbled upon such ads or websites, it's imperative to be well-informed about the risks they pose. In this comprehensive review, we will dissect the inner workings of these scams, shed light on the red flags you should watch out for, and provide guidance on how to protect yourself from becoming a victim. Stay vigilant, as recognizing these scams and avoiding them is the first step towards a safer online shopping experience.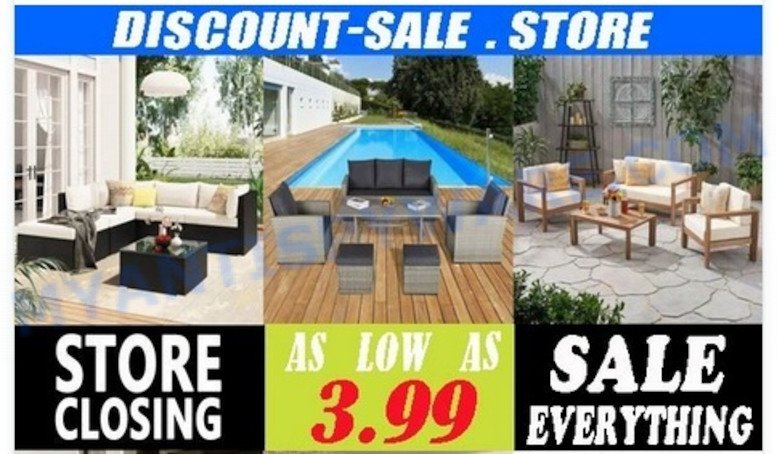 Quick Links
How the Discount Store Scam Works
The scam often begins with enticing advertisements plastered across social media platforms, email inboxes, or even pop-up ads on websites. These ads promise unbelievable discounts and clearance sales that seem too good to pass up.
Once you click on these enticing ads, you're directed to what appears to be an e-commerce website. These sites are meticulously designed to mimic the look and feel of legitimate online stores, complete with product listings, shopping carts, and payment gateways. They often use logos, images, and branding that imitate well-known retail companies, creating an illusion of trustworthiness.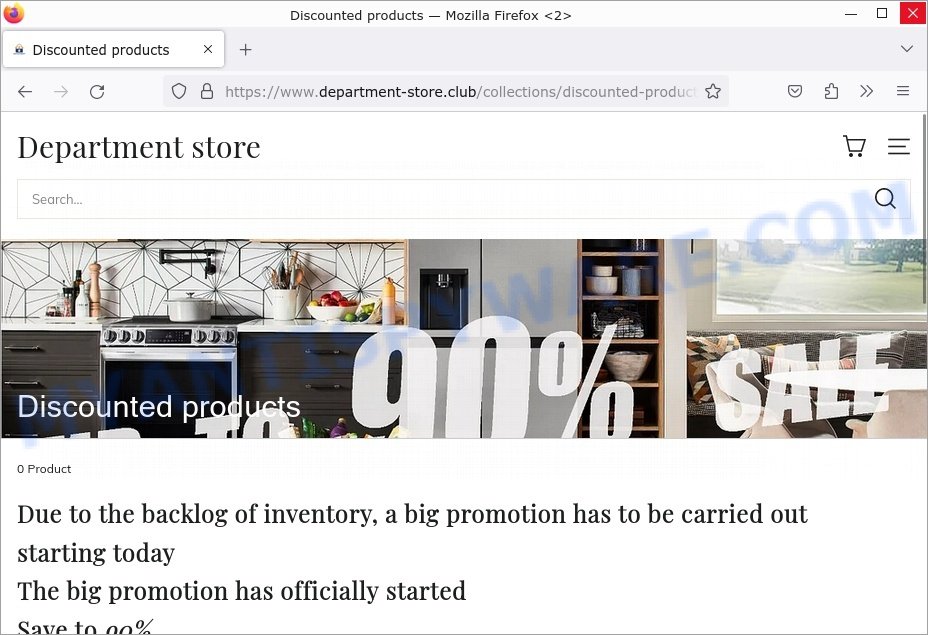 As you browse the website, you'll notice products displayed at extraordinarily low prices. These prices are the bait that lures unsuspecting shoppers in. Believing they've stumbled upon an incredible deal, victims proceed to add items to their shopping carts and proceed to the checkout page.
At this point, the scam takes a nefarious turn. When you attempt to complete your purchase, you may encounter one or more of the following scenarios:
After payment, you may receive an order confirmation, but the products never arrive. These scammers may not even have inventory; they simply take your money and disappear.
In some cases, you may receive substandard or counterfeit products that bear little resemblance to what was advertised. These items are often of poor quality and not worth the discounted price.
Scammers may also collect your personal and financial information during the checkout process. This sensitive data can be exploited for identity theft or future scams.
Some scam websites may tack on hidden fees during the checkout process, inflating the final cost beyond what was initially advertised.
Your payment information may be at risk if the website doesn't have proper security measures in place (lack of HTTPS), potentially leading to unauthorized charges or identity theft.
It's important to note that these scams often employ a sense of urgency, claiming that the sale is ending soon or that products are in limited supply. This urgency is a psychological tactic to pressure you into making impulsive decisions.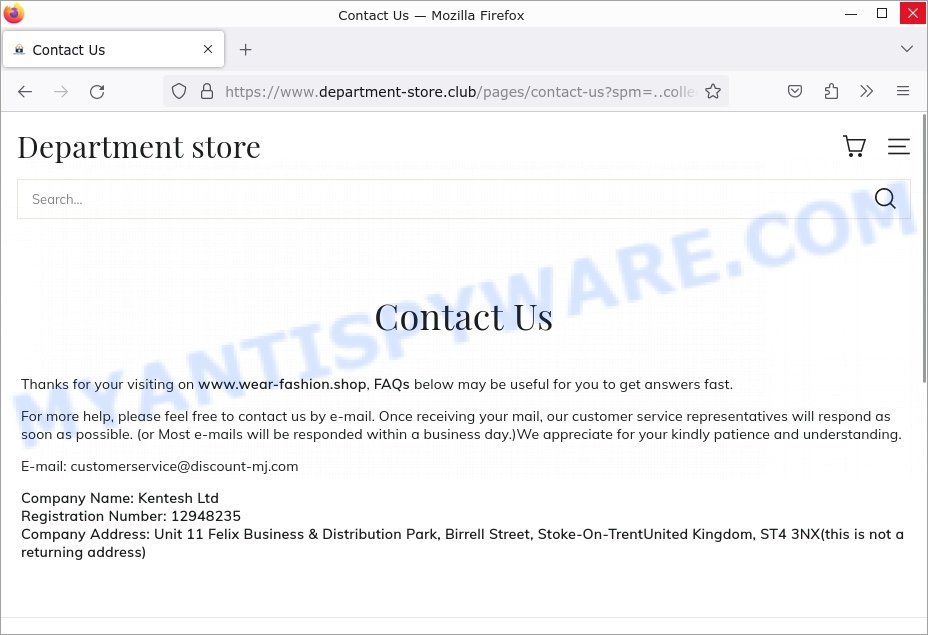 In summary, the Discount Store Scam is a well-crafted deception that preys on the desire for a good bargain. By mimicking legitimate online stores and offering unbelievable discounts, scammers exploit unsuspecting shoppers, leaving them with either subpar products, empty pockets, or worse, compromised personal information. Recognizing the hallmarks of this scam is crucial in safeguarding yourself from falling victim to its alluring facade.
How to Identify Discount Store Scams
Online shopping is a convenience that we all enjoy, but with it comes the lurking threat of Discount Store Scams. These scams are designed to deceive and exploit shoppers with seemingly unbeatable deals.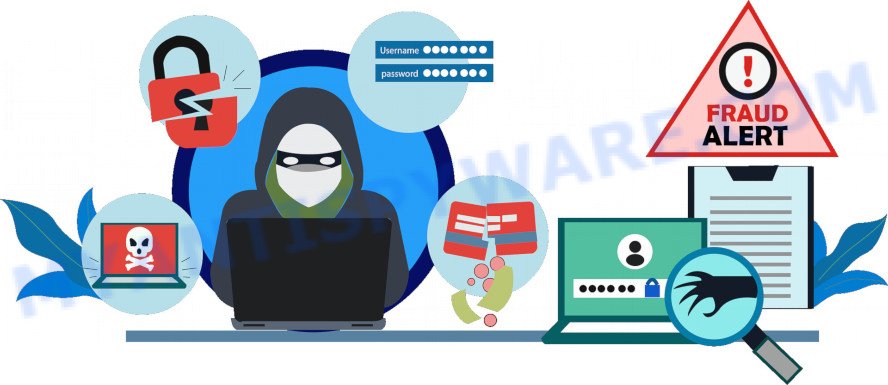 In this section, we will equip you with precise indicators and clear warning signs to recognize these fraudulent schemes swiftly. By staying sharp and informed, you can confidently navigate the online marketplace, safeguarding your wallet and personal information from potential threats.
Unrealistic Discounts: Be skeptical of deals that seem too good to be true. Prices that are significantly lower than market rates should raise suspicion.
Generic Website Design: Scam websites often use generic templates and may have poor website designs, including stolen images and content from legitimate sources.
Urgency Tactics: Scammers create a sense of urgency by claiming that the "store is closing" or offering discounts for a limited time, pushing you to make impulsive purchases.
Hidden Contact Information: The provided contact information, such as the email address and company details, are often linked to other known scam shops. Legitimate businesses typically provide clear and verifiable contact details.
Recently Created Domains: Scammers frequently create new domains to avoid detection. Check the domain's creation date, and be cautious if it's a newly registered website.
Associated Scam Shops: Contact information, such as email addresses and company names, is often linked to other known scam shops, indicating a network of fraudulent activity.
Here are a few examples of Discount Store scams: King Crab Store Scam, Luvasti.com Silver Jewellery Store Scam, Outletshoks.com HOKA Clearance Scam.
What to Do if You Become a Victim of 'Discount Store' Scam
If you become a victim of the 'Discount Store' Scam or suspect that you have fallen prey to a fraudulent website, it's crucial to take immediate action to minimize potential damage and increase the chances of resolving the situation. Here's what you should do if you become a victim:
If you made a payment to the scammer, contact your bank or credit card company as soon as possible. Report the transaction as fraudulent and ask for assistance in blocking or reversing the charges.
File a formal complaint with your local law enforcement agency or consumer protection agency (FTC). Provide them with all the evidence you have gathered regarding the scam.
If the scam originated from a specific online platform (e.g., social media, e-commerce website), report the scam to that platform's customer support or reporting system. They may take action against the scammer or provide guidance on further steps.
If you encountered the scam on social media or through email, warn your friends and family about it. Scammers often target multiple individuals using the same methods.
Keep an eye on scam alerts and news related to online scams. Staying informed about emerging scams can help you avoid them in the future.
Change your passwords for any accounts that may have been compromised
Leave a comment on this review to warn others
Summary Table for Discount Store Scam
| | |
| --- | --- |
| Name | Discount Store Scam |
| Type | Online Shopping Scam |
| Fake Claims | Promises unbelievably low prices (e.g., 90% off) and clearance sales. Claims of limited-time offers and urgency. |
| Distribution | Facebook Ads |
| Disguise | Mimics legitimate e-commerce websites and trusted brands. |
| Scammers Websites | Multiple websites with variations |
| Damage | Financial losses, identity theft, counterfeit products |
| Distribution | Social media, email, pop-up ads, fake online stores |
| Indicators of the Scam | 1. Unrealistic discounts 2. High-pressure sales tactics 3. Mismatched contact information 4. Limited payment options 5. Lack of reviews or information |
| Prevention Tips | 1. Research the website and company 2. Verify contact information 3. Use secure payment methods 4. Trust your instincts |
| Reporting Info | Contact local law enforcement, consumer protection agencies, and report to the online platform where you encountered the scam. |
Conclusion: Unveiling the Truth About Discount Store Scams
Discount Store Scams have become a prevalent concern in the world of online shopping. With queries like "discount store scam," "discount store legit," and "outlet store scam," people seek to decipher the legitimacy of tempting offers.
While genuine discount stores offer great deals, fraudulent operations like the "ariat discount store" scam and "bbb discount store" scam mimic authenticity to exploit unsuspecting shoppers with seemingly irresistible discounts.
Vigilance and knowledge are your allies in avoiding falling victim. Recognize red flags such as hidden domain details, limited payment options, and website quality. In today's digital age, staying informed and sharing experiences are essential for strengthening defenses against Discount Store Scams. Navigate online shopping with awareness, and skepticism will be your best defense.