Beware the "Meta Business Suite Scam"! Recently, a surge in fake notifications has alarmed business users on the Meta Business Suite platform. Posing as "Business Services", scammers are sending ominous messages warning of account deactivation due to supposed "terms of use" violations. But here's the catch: the facebook-help.social links provided lead to phishing sites, cleverly designed to mimic the official Meta appearance, aiming to snatch your login details, personal information, and even photos of IDs! Falling for this can put your account, and even your identity, at risk. Read on to dive deeper into how this scam operates and how to safeguard yourself against it.

🚨 Is the 'Business Services' Message Legitimate?
NO, the "Your account will be deactivated" message from Business Services is a Scam! 🚫 If you've received a message claiming to be from "Business Services" warning of an imminent account deactivation, be extremely cautious. These messages are not from the official Meta Business Suite and are designed to instill fear and urgency.
The 'Business Services' Message read as follows:
From: Business Services
Dear Admin,
Your account will be deactivated as it, or its activities, do not comply with our terms of use.
If you believe this deactivation is in error, we can guide you through steps for verification. Please complete these steps promptly to prevent permanent deactivation of your account.
Your detailed guide can be found here: http://facebook-help.social /gbGPWUBb/ehopxTiWODnkg.html
If you do not verify, our system will automatically lock your account, and you will be unable to use it further. Thank you for helping us improve our
services. Terms of Use Team 2023 Inc.
facebook-help.social
The malicious links (facebook-help.social) embedded in these messages redirect users to fake sites that look eerily similar to the real Meta platform. 🚨 The goal? To trick you into providing sensitive information such as login credentials, personal details, and even photographs of official IDs. Always remember: real platforms like Meta rarely send unsolicited messages demanding immediate action or personal information. Protect yourself and always double-check before taking any steps. 🛡️
🚩 Red Flags to Watch Out For:
If you come across any of these red flags, exercise caution and verify the legitimacy of the message through official channels before taking any action. 🔍🛡️
📧 Unofficial Sender Name: "Business Services" is vague and doesn't match the official communication channels Meta uses. Meta would typically use recognizable sender names tied directly to their platform.
🔗 Suspicious Links: Instead of redirecting to a legitimate Meta or Facebook domain, the message contains links to external sites such as "facebook-help.social" or "pages-notifications.net". Always hover over a link to check its destination before clicking.
⏳ Urgency Tactics: Legitimate platforms don't typically resort to scare tactics. The message tries to instill panic by using phrases like "will be deactivated" and "prevent permanent deactivation". It's a strategy to make you act without thinking.
🆔 Requests for Personal Information: Be wary of any unsolicited message that asks for detailed personal information, especially if it's demanding you upload an ID. This is not standard practice for account verifications.
✍️ Grammar and Language: Often, phishing messages have noticeable grammar mistakes or awkward phrasings. If something sounds off in the language or presentation, trust your gut.
🚫 Lack of Personalization: The message is likely generic, not addressing you by your name or your business's name. Real notifications from platforms where you have an account would typically include some personalization.
🔄 Too Many Verification Steps: The scam takes you through numerous steps to collect as much data as possible. While verification processes are common, overly complicated processes, especially those initiated from an unsolicited message, can be suspicious.
🕵️‍♂️ How the Scam Works
The Meta Business Suite Scam is a sophisticated scheme, taking advantage of users' trust and the urgency to resolve perceived issues. Being aware of the mechanics behind this scam can be the first step in protecting oneself from falling prey to it. 💡🔐
🚨 Initial Panic
Upon receiving the "Your account will be deactivated" message, many business owners experience immediate stress and alarm, fearing the loss of their online presence and potential customer engagement. This reaction is precisely what the scammers count on. The message's official-sounding tone, combined with the looming threat of "permanent deactivation", is designed to create a rush of anxiety, pushing users to click on the provided links without pausing to consider their legitimacy.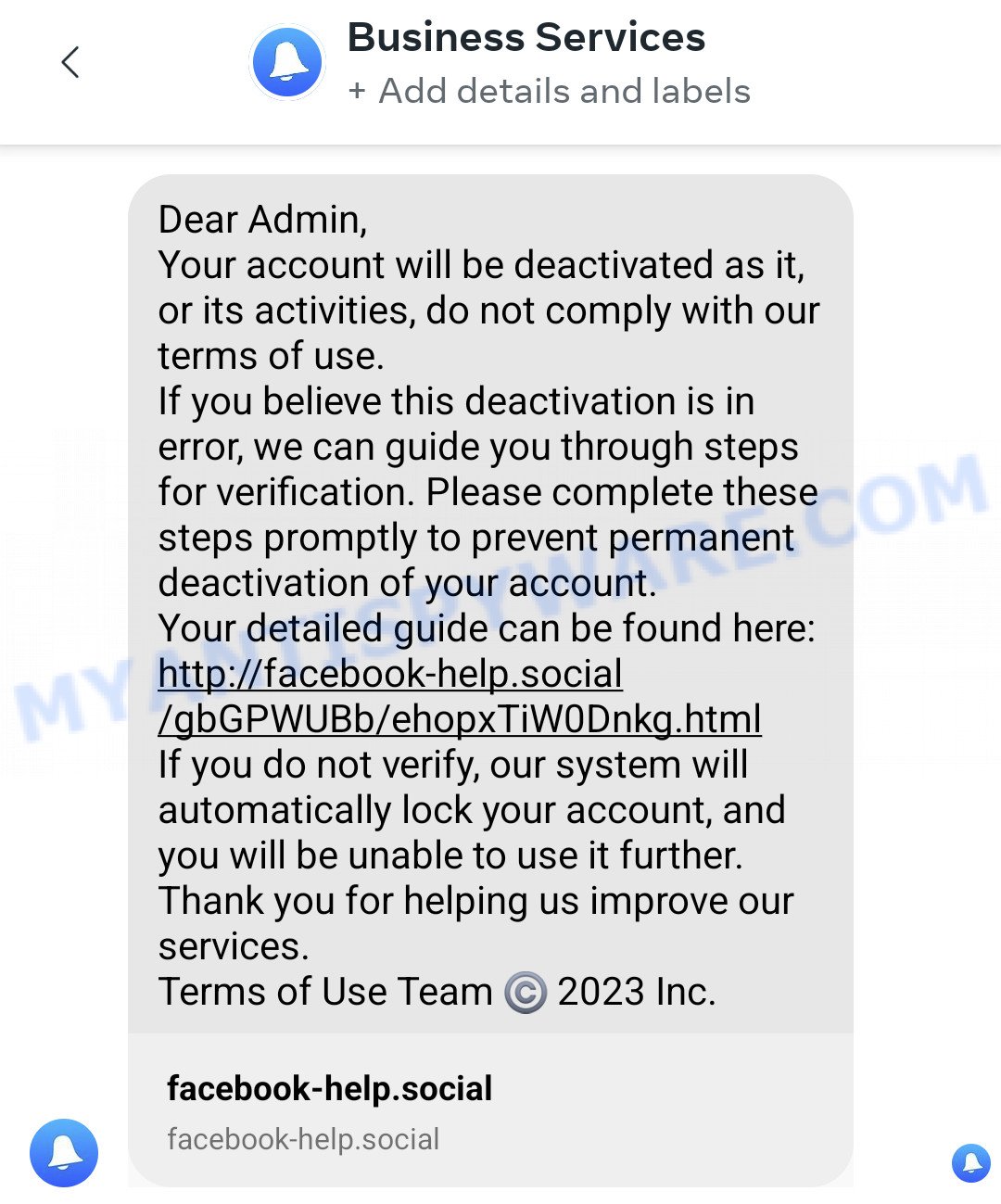 🔗 Phony Links
The message cunningly includes links to sites like "facebook-help.social" or "pages-notifications.net", which, at a quick glance, may seem related to Meta. However, these domains are fake and not associated with the official Meta or Facebook platforms. The main aim? To redirect users to counterfeit pages that look almost identical to the real Meta Business Suite, further ensnaring them into the scammer's web. Always remember: official Meta communications would come from recognizable domains like "facebook.com" or "meta.com".
VirusTotal flagged "facebook-help.social" and "pages-notifications.net" as phishing and malware:
🎭 Mimicry
Once users click on the deceptive links, they're led to sites that are startling replicas of the Meta Business Suite interface. Every detail, from logos to fonts and even the page layout, is crafted to mirror the official platform. This mimicry serves a singular purpose: to convince users they're on a genuine Meta page. In reality, every piece of information entered here—logins, personal data, or ID photos—goes directly into the hands of scammers.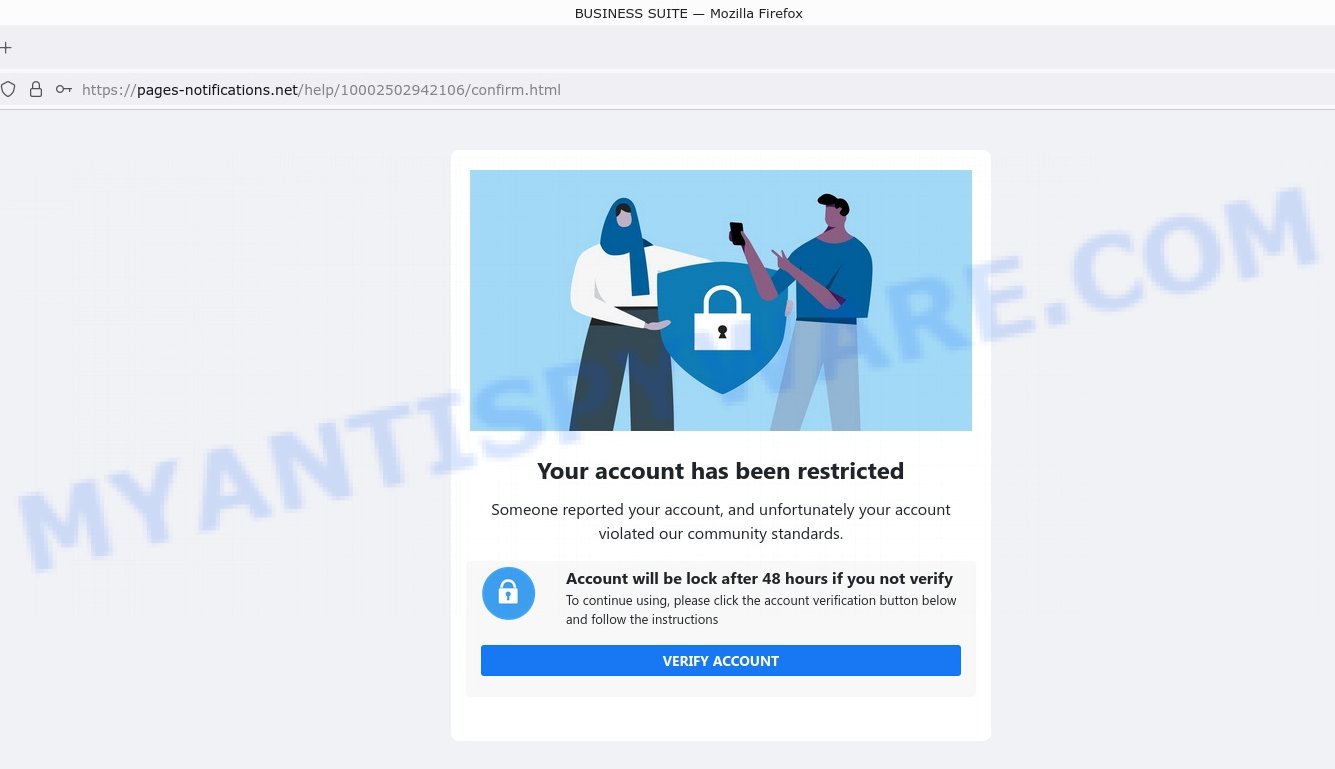 📥 Data Harvesting
When a user clicks on the "VERIFY ACCOUNT" button, they're prompted to enter their login credentials. This is the scammer's primary goal: capturing your username and password.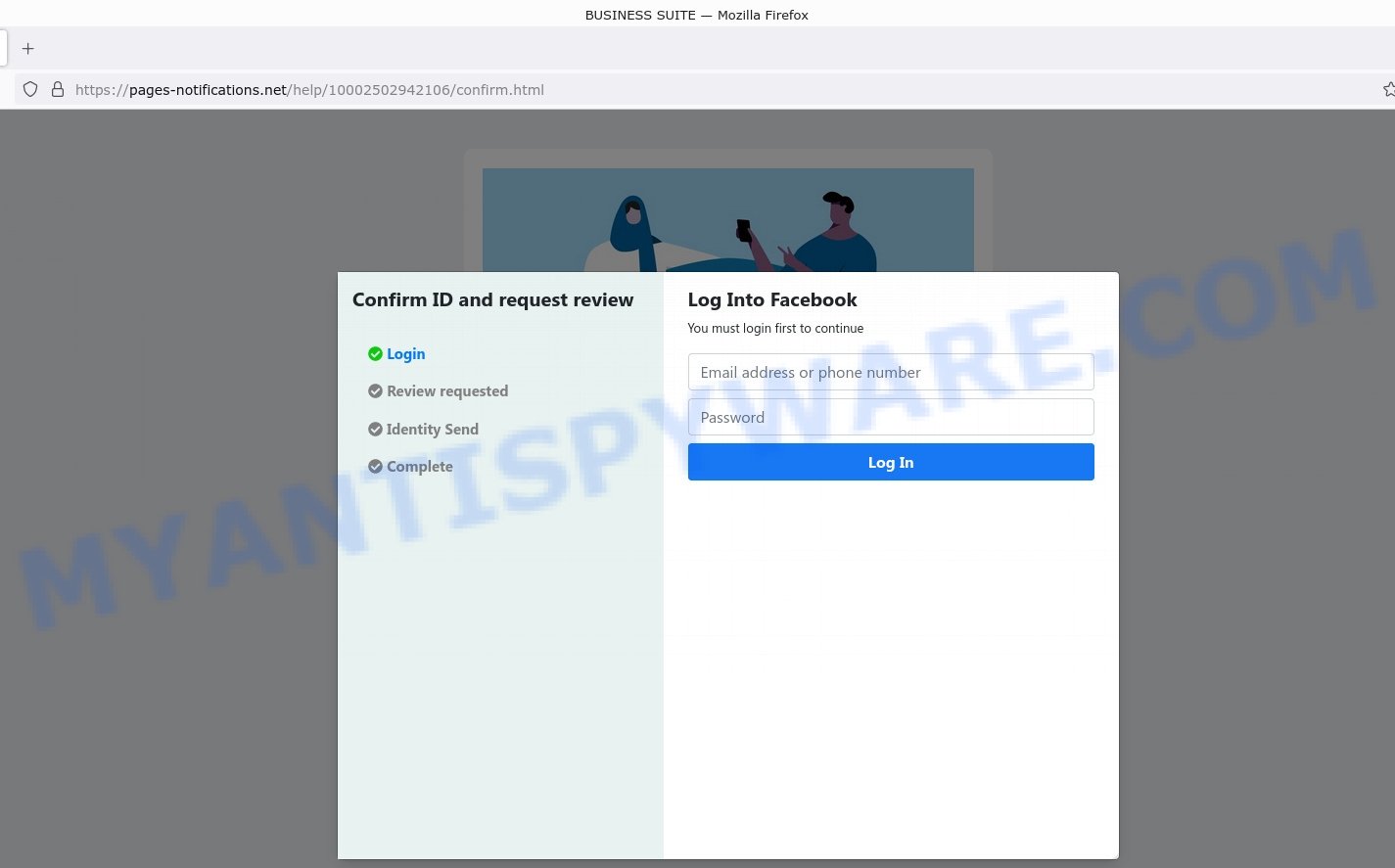 📋 More Personal Data
After obtaining login details, the scam doesn't stop. Users are then led through a series of steps, from entering a date of birth to providing reasons for account review, further amassing data for potential misuse.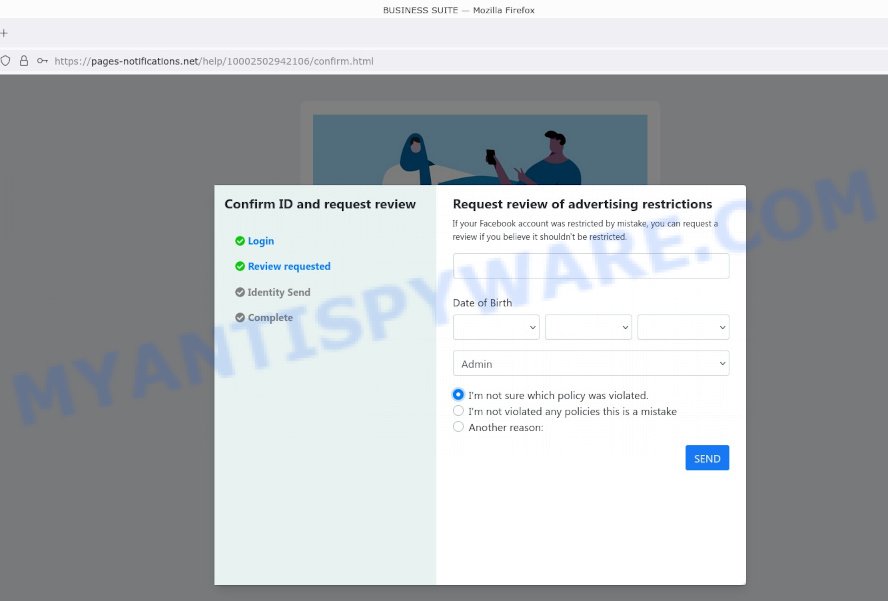 🆔 ID Theft
The icing on the cake for the scammers is when they ask users to upload a photo of their official ID. This step is particularly dangerous as it can lead to identity theft.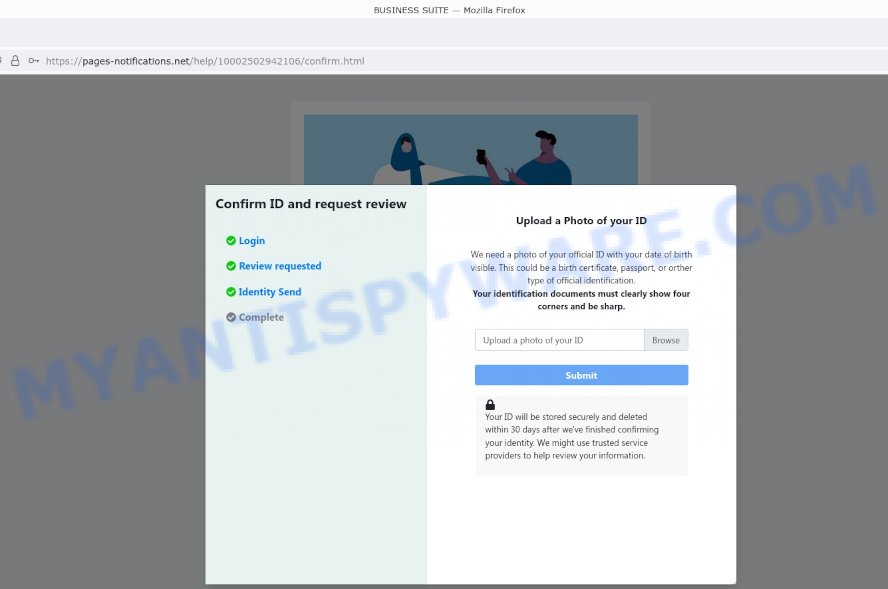 🔄 False Reassurance
After extracting the victim's data, the fake site then offers a comforting illusion of resolution. Users are shown a "submission received" status and are assured that their so-called "review" is underway, often with a specific timeframe like 48 hours mentioned. This tactic gives victims the false belief that they've averted a crisis and that their accounts are safe, when in reality, the scammers have now obtained everything they were after.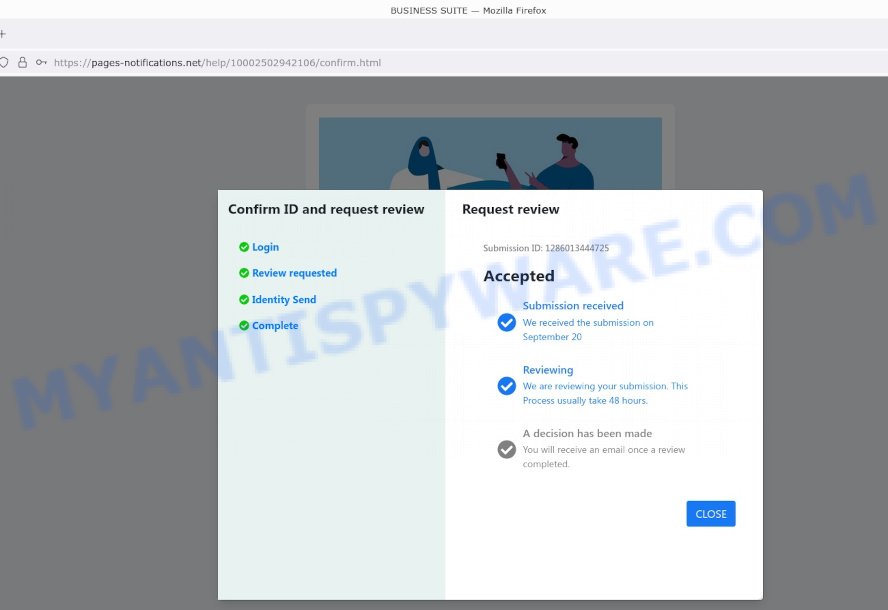 What to Do If You Receive the Meta Business Suite message
If you've been targeted by the "Meta Business Suite Scam" message on Facebook Messenger, you're not alone. The scam, designed to exploit unsuspecting users by posing as an authentic warning from the platform, can be unsettling. However, taking informed and prompt action can safeguard your account and personal information. Here's a step-by-step guide on how to handle the situation effectively.
🚫🔗 Don't Click Any Links
If you receive a suspicious message, avoid clicking any embedded links. This is the primary way scammers can lead you to fraudulent websites.
🔐 Change Your Password
Immediately update your Meta Business Suite and other related account passwords to ensure security, especially if you suspect you've been compromised.
📞 Verify Through Official Channels
Before taking any action, reach out to Meta's official support channels or check their official website for any known issues or alerts.
🚨 Report the Scam
Forward the message or provide details of the scam to Meta's official reporting channels, phish@fb.com. This helps them be aware and possibly take action.
👥 Educate Your Team
If you run a business, make sure your team knows about the scam so they can also be on the lookout and avoid falling prey.
🔒 Two-Factor Authentication
Enable two-factor authentication for an added layer of security on your accounts, making it harder for unauthorized users to gain access.
📰 Stay Updated
Regularly check for news or updates on common scams and phishing tactics to always be one step ahead of cybercriminals.
Examples of such scams
Scams using emotional manipulation and fake news are unfortunately common tactics used by cybercriminals to exploit people's vulnerabilities and steal money or personal information. The "Meta Business Suite" scam is just one example of such schemes. These scams often rely on shock value or sensational claims to get people to click on a link or provide sensitive information. Below are some other examples of similar scams to watch out for.
Users are targeted with messages that appear to be from "Meta Business Support", claiming that a user's page has been disabled due to intellectual property violations. The scammers then prompt users to click on a link to "resolve" the purported violation.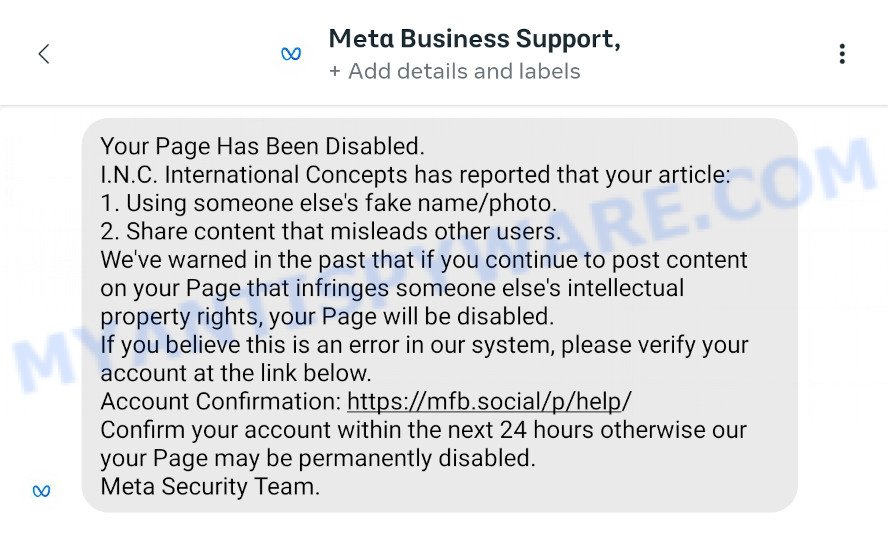 This scam alarms users with a notification stating that a restriction has been added to their account due to a breach of community standards. They're urged to click on a link to lift the restriction.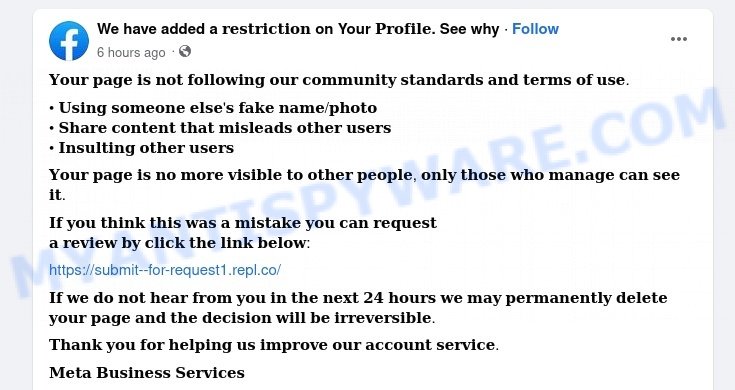 Victims get an email claiming to be from Facebook Support, stating that they've requested a password reset. The email contains a "recovery code" and prompts users to confirm their identity by clicking on a provided link.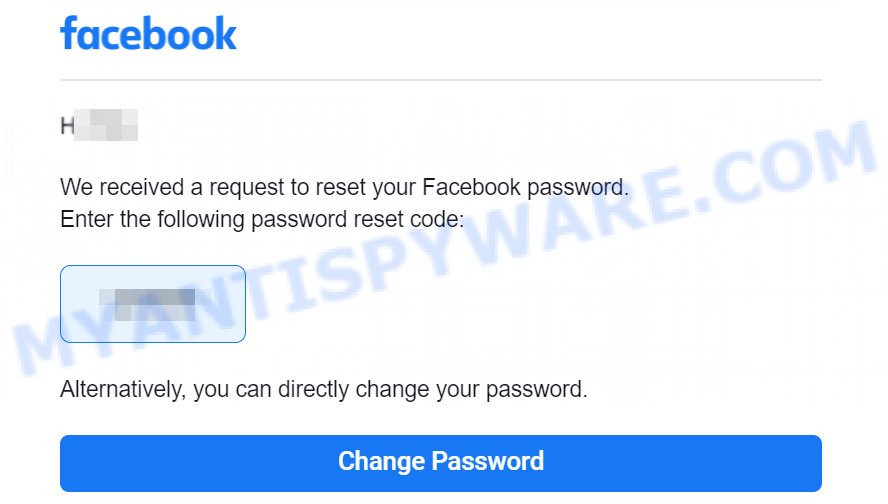 How to Report the Meta Business Suite Scam on Facebook Messenger?
Encountering the "Meta Business Suite Scam" on Facebook Messenger can be alarming, but it's vital to take action. Not only does reporting the scam protect your account, but it also aids Facebook in safeguarding the entire community from such threats. If you've stumbled upon this deceptive message, here's a comprehensive guide to ensure you respond effectively and notify the platform promptly.
Open the conversation with the sender of the message or the conversation where the message was sent.
Click on the name of the sender of the message to open their profile.
Click on the "Report" link or button located below the sender's name.
Choose the option that best describes the scam message, such as "Scam or fraud" or "Spam".
Follow the prompts to provide more information and complete the report.
By reporting suspicious activities, users play a pivotal role in enhancing the platform's safety, making it less conducive for scammers to operate.
Summary table for 'Meta Business Suite' Facebook Scam
| | |
| --- | --- |
| Name | 'Meta Business Suite' Facebook Scam |
| Type | Phishing Scam |
| Damage | Loss of personal data, potential financial loss |
| Distribution | Facebook Messenger |
| Tactics | Impersonation, fear, urgency |
| Scammers websites | facebook-help.social, pages-notifications.net, etc |
| Prevention Tips | Do not click on suspicious links, even if they appear to come from a friend. Enable two-factor authentication. Regularly update your passwords. |
| Reporting Info | Report to Facebook and local authorities |
😱 Steps to Take If You've Been Tricked by the Meta Business Suite Scam
It's a sinking feeling to realize you've been tricked by the Meta Business Suite Scam. This scam tricks Meta and Facebook users into thinking there's a problem with their account. If you think you've clicked on one of these fake messages, don't panic. We've got a clear and easy list of steps to help you set things right. Let's get started.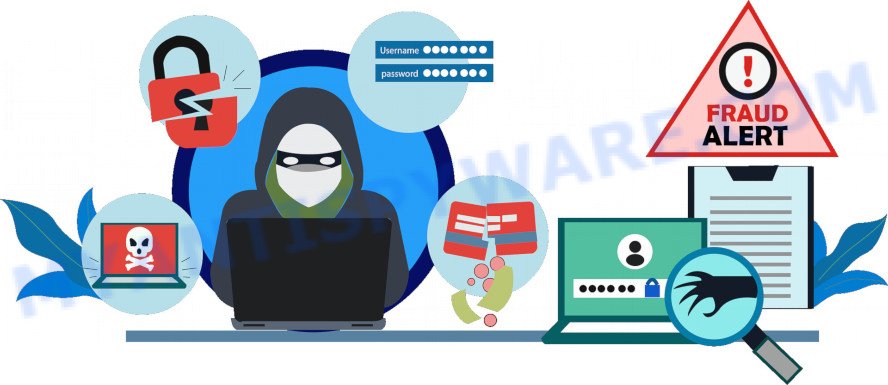 🔐 Immediate Password Change
First and foremost, access your Meta Business Suite and Facebook accounts to update passwords. If you used similar passwords elsewhere, change those too.
👀 Monitor Account Activity
Keep an eye on your Meta and Facebook accounts for any unusual or unauthorized activity. Scammers might attempt to misuse your account or impersonate you.
📞 Contact Meta/Facebook Support
Reach out to the official support channels of Meta and Facebook. Inform them of the scam and provide any relevant details. They might offer guidance or take measures to protect your account.
🔒 Enable Two-Factor Authentication
Turn on two-factor authentication for your Meta and Facebook accounts. This ensures an added layer of security, even if the scammers try using your old credentials.
🚫🔗 Inform Your Network
Alert your business contacts, friends, and followers about the scam. Let them know not to trust any unusual messages or requests coming from your account.
📝 Document Everything
Take screenshots and keep records of all interactions related to the scam. This might assist if you choose to report the incident to authorities or need to prove your case to platforms.
👮‍♀️ Report to Local Authorities
While online scams are widespread, reporting them can sometimes aid in investigations, especially if it's a large-scale operation targeting multiple victims.
📘 Stay Educated
Make it a point to stay informed about updates on the Meta Business Suite Scam and similar threats. This will help in recognizing and avoiding future attempts.
🎯 Conclusion
The Meta Business Suite Scam is a cunning attempt by cybercriminals to exploit the trust users place in reputable platforms like Meta and Facebook. Leveraging panic and official-looking mimicry, the scam seeks to harvest personal data, potentially leading to identity theft and unauthorized account access.
It's essential to remember that official communications from Meta will come from recognizable domains and will rarely, if ever, solicit personal data through emails or messages. The best defense is always vigilance and knowledge. Ensure you regularly update your passwords, enable two-factor authentication, and always double-check with official channels if you receive suspicious communications. 🛡️🌐