The "We Added a Restriction to Your Account" scam is the latest phishing tactic targeting Facebook and Instagram users. Scammers craft deceptive profiles with names and logos that mimic official messages from Meta, the parent company of both platforms, in an attempt to make you think your account has violated community guidelines. The fraudulent posts urge you to click a link to 'review' your account status, only to redirect you to a fake website designed to harvest your login information. Falling for this scam not only puts your social media accounts at risk but also exposes you to identity theft and financial loss. Read the article to learn how to protect yourself from this and similar scams.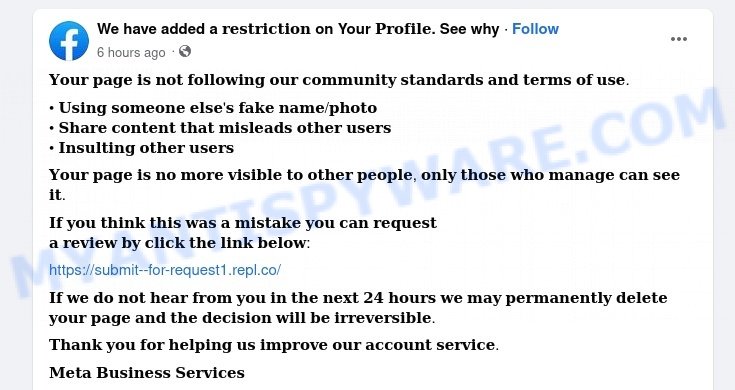 Quick links:
What is the 'We Added a Restriction to Your Account' Scam?
The "We Added a Restriction to Your Account" scam is a targeted phishing campaign aimed at Facebook and Instagram users. The scam relies heavily on social engineering tactics to dupe users into handing over their login credentials.
A typical 'We Added a Restriction to Your Account' scam message reads as follows:
We have added a restriction on Your Profile. See why.
Your page is not following our community standards and terms of use.
Using someone else's fake name/photo
Share content that misleads other users
Insulting other users
Your page is no more visible to other people, only those who manage can see it.
If you think this was a mistake you can request a review by click the link below:
hxxps://submit–for-request1.repl.co/
If we do not hear from you in the next 24 hours we may permanently delete your page and the decision will be irreversible.
Thank you for helping us improve our account service.
Meta Business Services
The first part of the scam involves a post or profile named "We Added a Restriction to Your Account. Here's Why…" which is crafted to appear as if it's an official message from Meta, the parent company of Facebook and Instagram. The scammers even use warning symbols or company logos as their profile photo to make it look genuine. The message claims that your account isn't in compliance with community standards, mentioning issues like using someone else's fake name or photo, sharing misleading content, or insulting other users. The scam message also adds urgency by stating that your page will be permanently deleted within the next 24 hours unless you take action.
The scam post includes a link for an "appeal process", which leads to a URL like "hxxs://submit–for-request1.repl.co/". It's important to note that legitimate Facebook or Instagram URLs will never look like this. The domain repl.co is a red flag, as authentic communications will only direct you to official Meta-owned websites.
A phishing "We Added a Restriction to Your Account" page, stage #1: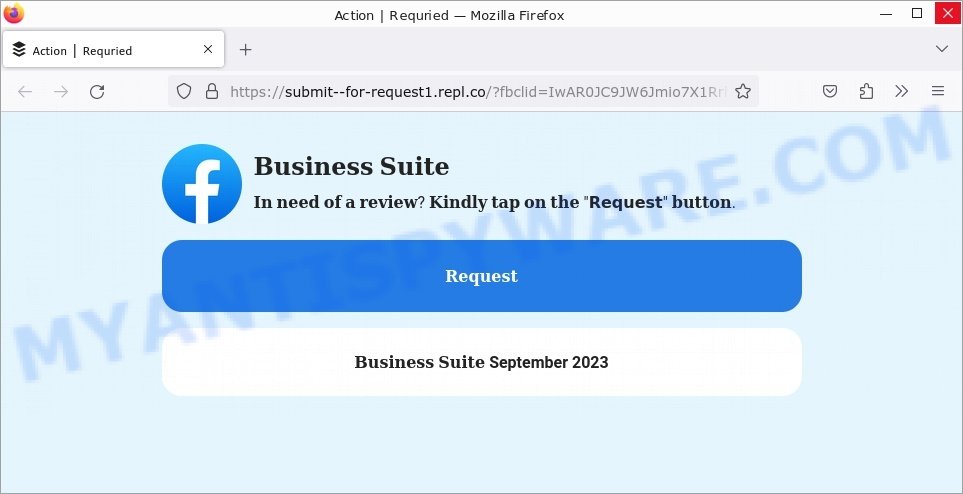 After clicking the link, you're taken to a phony Meta page that further mimics the company's branding. This webpage asks you to "tap the Request button" for a review, following which you'll be directed to yet another fake page, usually with a URL that might appear as "hxxps://b1–for-request1.repl.co/". This final webpage directly asks for your login credentials, under the guise of submitting an "appeal" for the supposed violation. When you enter your username and password here, the scammers get what they were after: full access to your social media account.
A phishing "We Added a Restriction to Your Account" page, stage #2: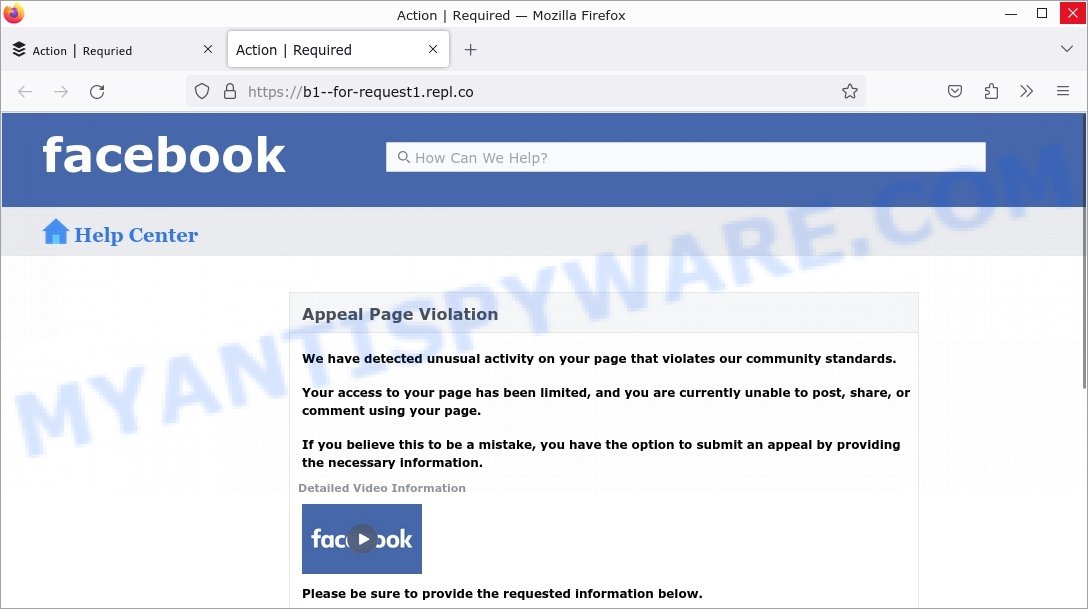 In Conclusion, the "We Added a Restriction to Your Account" scam is an insidious attempt to trick Facebook and Instagram users into compromising their accounts. By mimicking the appearance and language of official Meta communications and creating a false sense of urgency, the scam is designed to make you act before you think. If you ever receive a message or see a post like this, do not click any links or provide any information. Instead, report it immediately to the social media platform. Always remember that Meta will not ask you to provide your password via a link from a social media post.
What to Do If Scammed 🚨
If you've fallen victim to the "We Added a Restriction to Your Account" scam, don't panic—there are steps you can take to reclaim your account and protect your information.
1. Change Your Passwords Immediately 🔐
First things first, change the password to your compromised account as quickly as possible. Also, update the passwords for any other accounts that use the same or similar credentials.
2. Enable Two-Factor Authentication (2FA) 🛡️
Go a step further in securing your account by enabling two-factor authentication. This provides an extra layer of security, making it harder for scammers to gain unauthorized access.
3. Report to the Platform 📣
Inform the social media platform about the scam account and your situation. Both Facebook and Instagram have processes for reporting fraudulent activity, so make sure you follow those.
4. Scan Your Computer for Malware 🖥️🔍
It's a good idea to run a full malware scan on your computer to ensure that no malicious software was installed when you visited the fake website.
5. Monitor Your Account Activities 🧐
Keep a close eye on your social media accounts and associated email accounts for any suspicious activity. If you notice something off, report it immediately.
6. Inform Your Network 🗨️🚨
Lastly, let your friends and family know what happened so they can be on the lookout for any strange messages or posts coming from your account, which may now be controlled by scammers.
Examples of such scams
Scams using emotional manipulation and fake news are unfortunately common tactics used by cybercriminals to exploit people's vulnerabilities and steal money or personal information. The "We Added a Restriction to Your Account" scam is just one example of such schemes. These scams often rely on shock value or sensational claims to get people to click on a link or provide sensitive information. Below are some other examples of similar scams to watch out for.
Here are some examples of similar scams: Meta Business Support Scam, Just Died In An Accident Scam, 'Hi Mum' Scam, Your iPhone Has Been Hacked Scam, and Financial Hardship Department Scam.
How to Report the 'We Added a Restriction to Your Account' Scam on Facebook 🚫📝
If you come across the "We Added a Restriction to Your Account" scam on Facebook, it's crucial to report it to help protect both yourself and the wider community.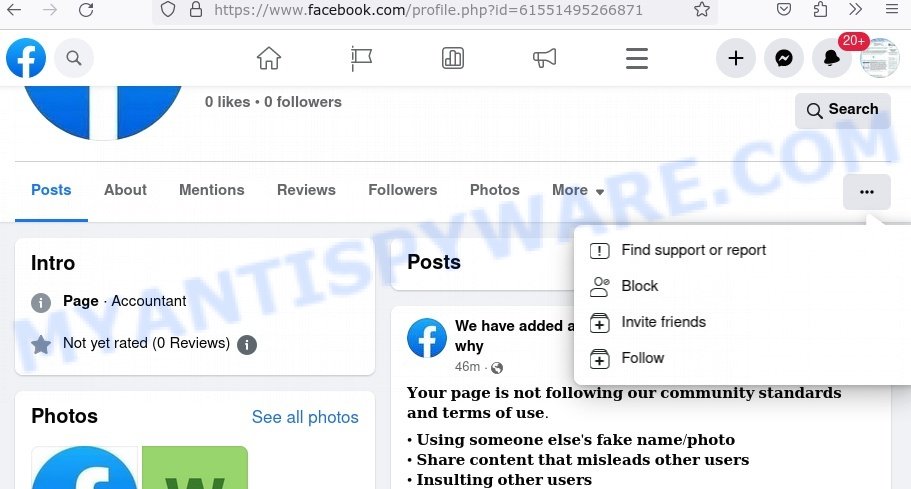 Here's how to do it:
1. Go to the Scammer's Profile 🕵️‍♂️
Navigate to the scam account's profile page. This is the page posing as an official Facebook or Meta service.
2. Click on the Three Dots (…) 📌
On their profile page, you'll see three dots usually located near the cover photo. Click on these dots to open a dropdown menu.
3. Choose 'Find Support or Report Profile' 🚨
In the dropdown menu, click on the option that says 'Find Support or Report Profile.'
4. Select the Issue 📝
You'll be prompted with several options to explain why you're reporting the account. Choose the one that best fits, like 'Suspicious Activity' or 'Fake Account.'
5. Confirm and Submit 🖲️
Once you've selected the issue, follow the prompts to confirm and submit your report.
6. Optional: Block the Account 🚫
For added safety, you may also choose to block the account to prevent any further interaction.
Summary table for 'We added a restriction to your account' Facebook Scam
| | |
| --- | --- |
| Name | 'We added a restriction to your account' Facebook Scam |
| Type | Phishing Scam |
| Damage | Loss of personal data, potential financial loss |
| Distribution | Facebook Messenger |
| Tactics | Impersonation, fear, urgency |
| Scammers websites | submit–for-request1.repl.co, b1–for-request1.repl.co, etc |
| Prevention Tips | Do not click on suspicious links, even if they appear to come from a friend. Enable two-factor authentication. Regularly update your passwords. |
| Reporting Info | Report to Facebook and local authorities |
Conclusion
The "We Added a Restriction to Your Account" scam is a deceptive scheme designed to exploit users' fears about losing access to their social media accounts. With its official-looking design and urgent messaging, the scam manipulates people into divulging sensitive information like passwords. While it's easy to fall for such sophisticated tricks, awareness is the first line of defense. Know the red flags, such as unofficial URLs and unsolicited messages, and always double-check with the actual platforms through their official channels if you receive any warning messages. Reporting scams like these not only helps you but also makes the online community a safer place for everyone. Stay informed, stay skeptical, and stay safe. 🛡️🔒