Respondao.com is a fraudulent online store posing as a clearance center for high-speed electric bikes. This article will detail the various red flags and characteristics that make it a scam. If you've come across this website or its Facebook ads, we urge you to read the full article to protect yourself from potential harm.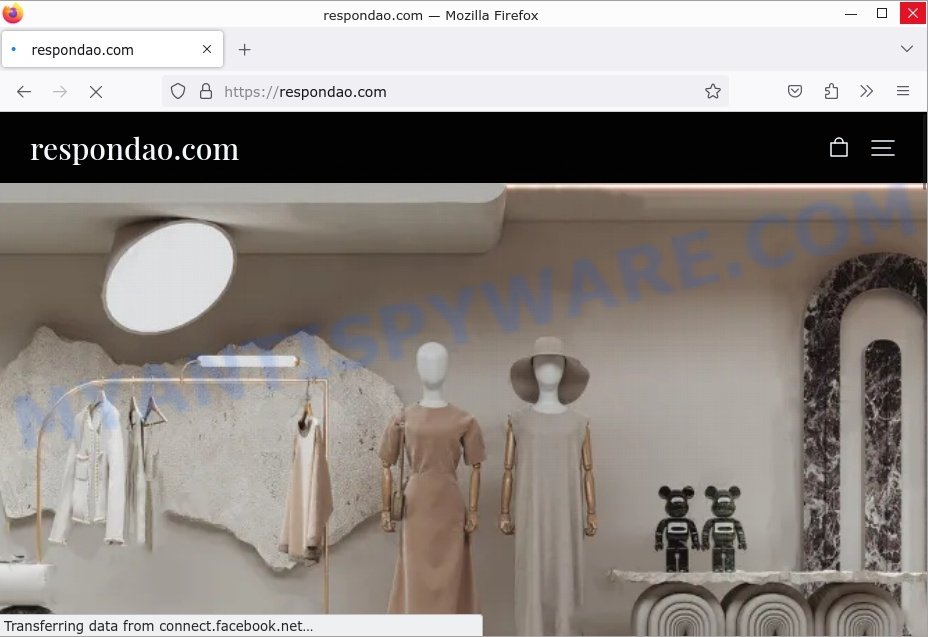 Quick links
Signs of Respondao.com Scam
There are several alarming signs that point to Respondao.com being a scam. These include:
The domain was recently created on 12th July 2023.
Contact information is limited to an email address: customerservices@respondao.com.
No authentic information is available about the company, NOVVA LIMITED, which has been linked to other scams.
The store offers unbelievable deals, such as high-speed electric bikes for only $39.
The content, images, and descriptions are generic and could have been taken from other sites.
The site uses enticing slogans such as "Warehouse Clearance", "Limited Time Offer", and "Clearance Sale".
The company lacks any social media presence.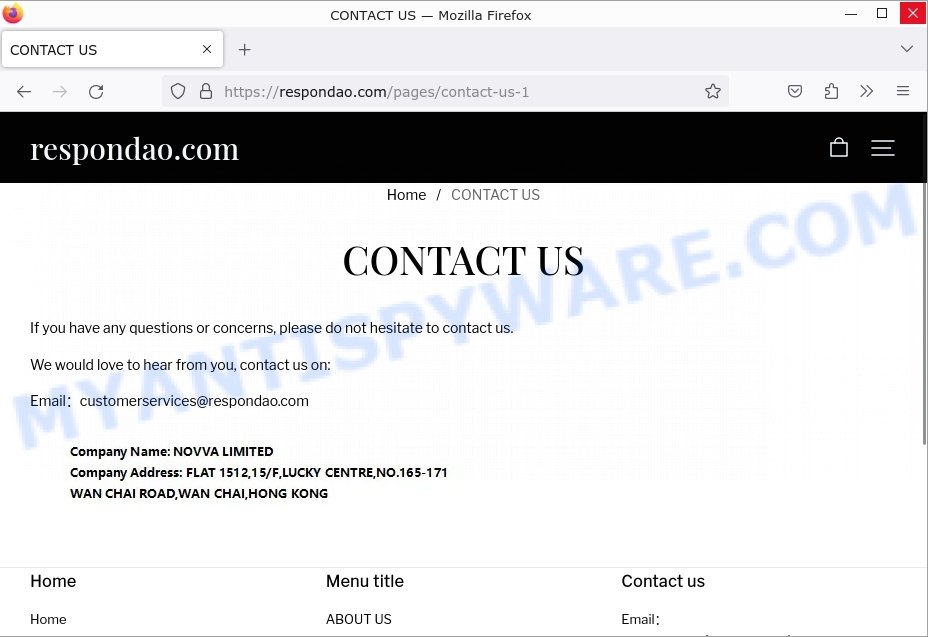 How the Respondao.com Scam works
Respondao.com presents itself as an online retailer offering "super cool electric cars" at incredibly discounted prices. The website displays an alluring promotion of high-speed electric bikes for $39, making it appear as a clearance sale.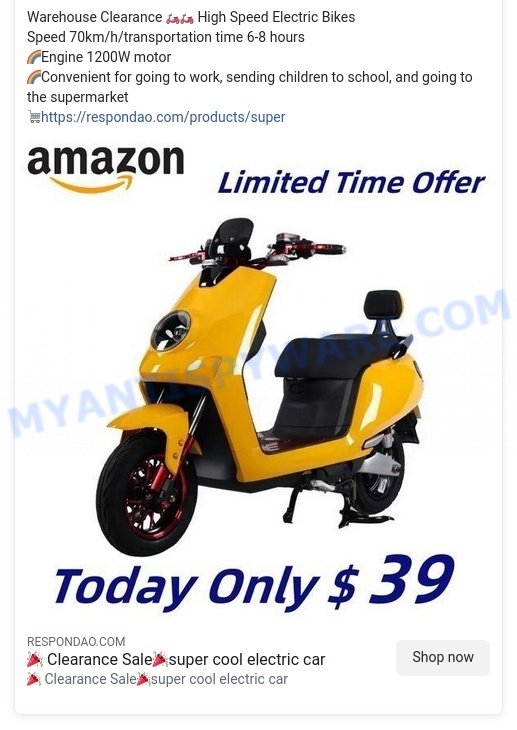 Once an unsuspecting customer places an order and makes a payment, the scam is complete. The customer will never receive the product, and any attempts to contact the company will prove futile as the provided email address does not respond to customer complaints.
What to do if you become a victim of Respondao.com
If you have fallen victim to Respondao.com, it's important not to despair. Here are some steps you can take:
Contact your bank or credit card company and report the scam. You may be able to dispute the charge and get your money back.
Report the scam to your local law enforcement agency.
Report the scam to the Federal Trade Commission (FTC) in the United States or to the appropriate agency in your country.
Spread awareness by sharing your experience on social media and scam awareness websites.
Other Scam Online Shops to Avoid
It's important to stay informed and vigilant to avoid falling victim to online scams. Similar to Respondao.com, many other scam shops employ deceptive tactics to trick customers. Here are a few examples of the scam online shops: Heerful.com $37.95 Hoka Running Shoes Scam, Acstoreus.com DICK'S SPORTING GOODS Store Scam, and Naswino.com Bed Bath & Beyon Store Scam.
Summary table for Respondao.com
| | |
| --- | --- |
| Name | Respondao.com |
| Type | Online Shopping Scam |
| Damage | Financial Loss, Potential Identity Theft |
| Distribution | Primarily through Facebook ads |
| Tactics | Unbelievably low prices, fake clearance sale, fake company information |
| Prices | $39 for high-speed electric bikes |
| Contacts | customerservices@respondao.com, NOVVA LIMITED |
| Prevention Tips | Verify the legitimacy of online shops, avoid too-good-to-be-true deals |
| Reporting Info | Report to local law enforcement, your bank, and the FTC |
Conclusion
Respondao.com is a typical scam shop that preys on unsuspecting consumers with too-good-to-be-true deals. Its main target are people looking for high-speed electric bikes. Always remember that if an online deal appears too good to be true, it probably is. Stay vigilant and ensure to shop from known and trusted retailers.
FAQ About the Respondao.com Scam
1. Are all cheap online stores scams?
Not all cheap online stores are scams. However, when a deal seems too good to be true, such as a high-speed electric bike for $39, it is wise to be suspicious. Legitimate businesses need to make a profit to sustain their operations, and they can't do this by selling products significantly below market value.
2. I've already purchased from Respondao.com. What should I do now?
Contact your bank or credit card company immediately and report the fraudulent transaction. They might be able to help you dispute the charge and get your money back. Also, change any passwords related to your banking or card details as a precautionary measure against potential identity theft.
3. How can I protect myself from similar scams in the future?
Always research online shops before making a purchase. Look for customer reviews, verify the contact details, and be skeptical of deals that seem too good to be true. Additionally, consider using payment methods that provide buyer protection, such as credit cards or PayPal.