August Cash 2023 (Augustcash2023.com) is the latest in a series of questionable websites that promise users an easy way to make money. This site, which follows the pattern of previous monthly named sites, does not host any content but rather redirects users to another platform, Rewardsgiantusa.com. Alarmingly, various trusted platforms like VirusTotal have flagged Rewardsgiantusa.com as suspicious, and spam. The site's mixed and dubious reputation, reflected in the Trustpilot and BBB Rating reviews, raises further concerns about its credibility.
This review delves into a thorough analysis of these websites, their connections, and the risks involved. We invite you to read on for a comprehensive understanding of what you may be dealing with should you choose to engage with these sites. For a quick summary of our findings, please refer to the table Summary of August Cash 2023 Review below.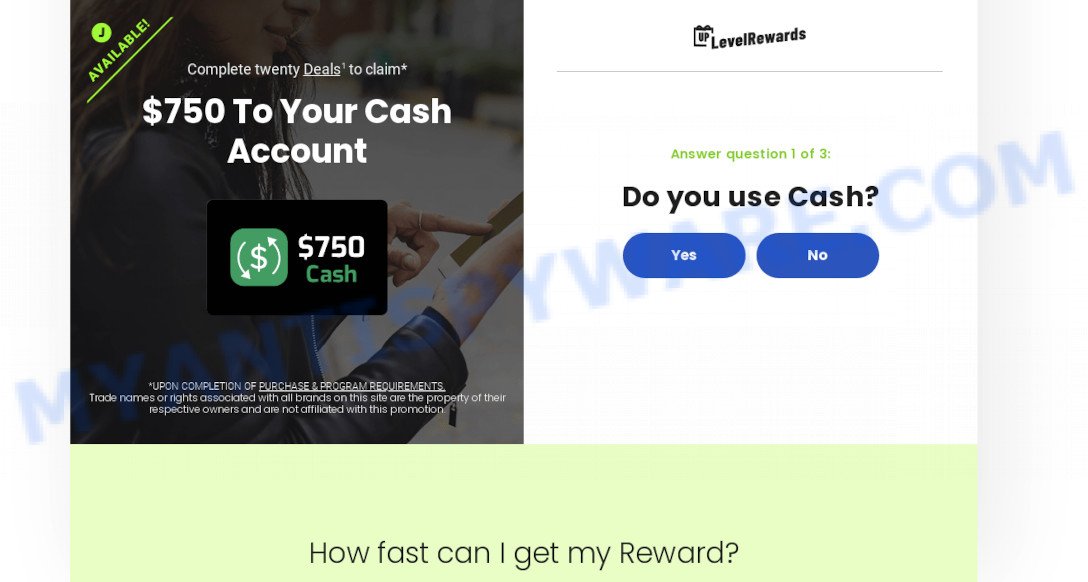 Quick Links:
Pros and Cons of August Cash 2023:
In order to understand August Cash 2023 (Augustcash2023.com) more fully, we have broken down its features into pros and cons. This allows us to evaluate both the potential advantages that might attract users to the site, and the significant risks that have emerged from our detailed analysis. This balanced view can help users make an informed decision before interacting with such platforms. We strongly recommend that you consider these points carefully to protect your digital safety and personal information.
Pros:
Potential Rewards: The site promises potential rewards for users, such as $750. This is a large sum that can appeal to many users, particularly those in financial need or those looking for easy ways to make money.
Cons:
Difficulty in Receiving Rewards: Some users have reported difficulties in receiving their promised rewards from August Cash 2023.
Potential Costs and Time Investment: While the opportunity to earn money may be enticing, users should be aware that certain activities within August Cash 2023 may require additional investments or subscriptions, such as paid offers or trial subscriptions, which could outweigh the actual rewards earned.
Unclear and Limited Whois Information: The Whois information for Augustcash2023.com reveals that the domain registration is similar to other suspicious sites like Maycash2023.com and JuneCash2023.com, indicating a potential lack of transparency or hidden ownership. Moreover, the contact information is hidden by DomainsByProxy, adding to the opacity of the site's registration details.
Suspicious Redirects: August Cash 2023 serves as a facade, redirecting users to Rewardsgiantusa.com, which has been flagged by VirusTotal as potentially malicious, suspicious, and spam.
Mixed Trustpilot Reviews: The Trustpilot reviews for rewardsgiantusa.com indicate a mixed sentiment among users. With a rating of 3.7 out of 5, the site has received both positive and negative feedback from users, suggesting a certain level of inconsistency in users' experiences and satisfaction.
Negative BBB Rating Reviews: The BBB Rating for rewardsgiantusa.com is "C-", and the site has several negative reviews and complaints. These reviews highlight unfulfilled promises, difficulties in receiving rewards, and poor customer service, indicating potential issues with the site's legitimacy and reliability.
It's important to carefully consider both the pros and cons of August Cash 2023 before deciding to engage with the platform. By understanding the potential rewards, risks, and user experiences, you can make an informed decision about whether to proceed and effectively manage your expectations.
WHOIS information:
The WHOIS data for Augustcash2023.com reveals some concerning details. The domain was registered on 2023-01-09 and is set to expire on 2024-01-09. However, the contact information for the domain is hidden by DomainsByProxy, a service that allows website owners to shield their personal information.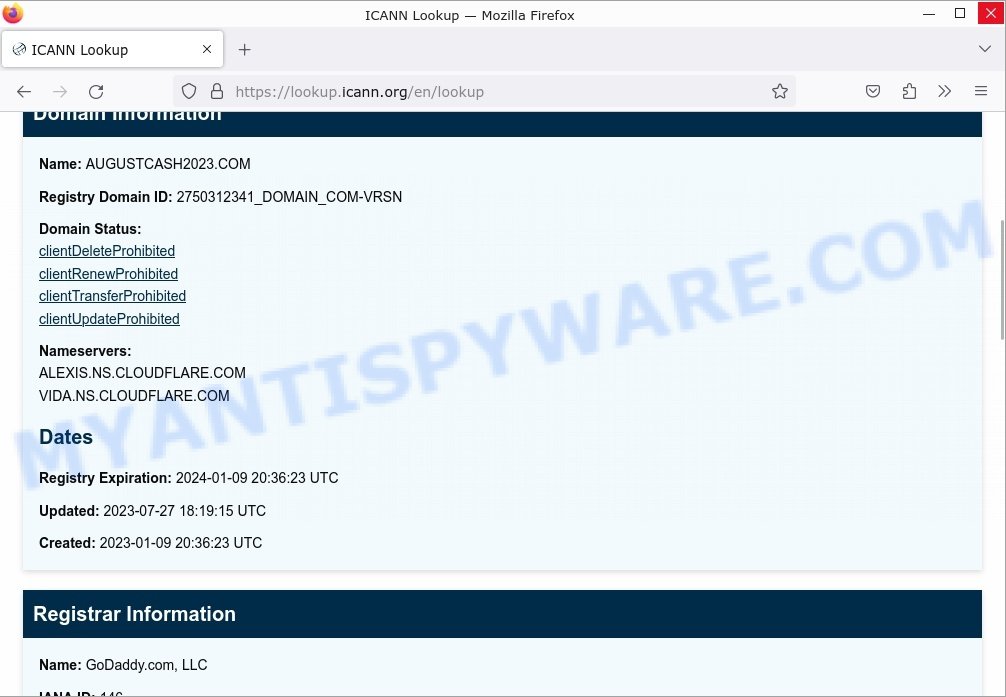 This lack of transparency raises questions about the site's ownership and credibility. The similarity of the WHOIS information to other suspicious sites like JuneCash2023.com and JulyCash2023.com further adds to the uncertainty surrounding Augustcash2023.com. With limited and obscured WHOIS information, it becomes challenging to determine the true intentions and legitimacy of the website.
Suspicious Redirects:
One of the primary concerns associated with August Cash 2023, along with its predecessors such as JulyCash2023.com and JuneCash2023.com, is the practice of suspicious redirects. When a user attempts to access these sites, they are instantly redirected to another site, Rewardsgiantusa.com, via an intermediary, spnccrzone.com. For a more detailed analysis of this redirection process, including a screenshot confirming the previous flagging of spnccrzone.com, please refer to our May Cash 2023 review.
This tactic is known as "domain forwarding" and it's used for a variety of legitimate purposes. However, in this case, the practice is questionable because it serves to move users to a site that has been flagged by VirusTotal as potentially harmful.
The intermediary, spnccrzone.com, was previously flagged as dangerous but at the time of writing this review, no threats have been detected. Hybrid-analysis.com, however, still considers the site as potentially malicious, granting it a score of 50 out of 100.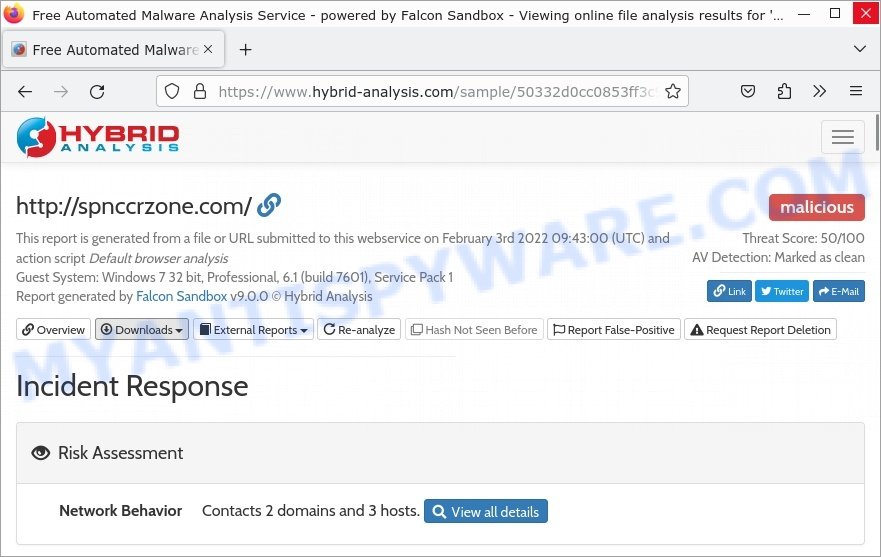 The end site in this redirect chain, Rewardsgiantusa.com, has mixed and often negative reviews, with users reporting various issues. Such a pattern of redirects serves to obfuscate the true nature of the user journey, making it more difficult for users to understand what sites they're interacting with and potentially exposing them to risk.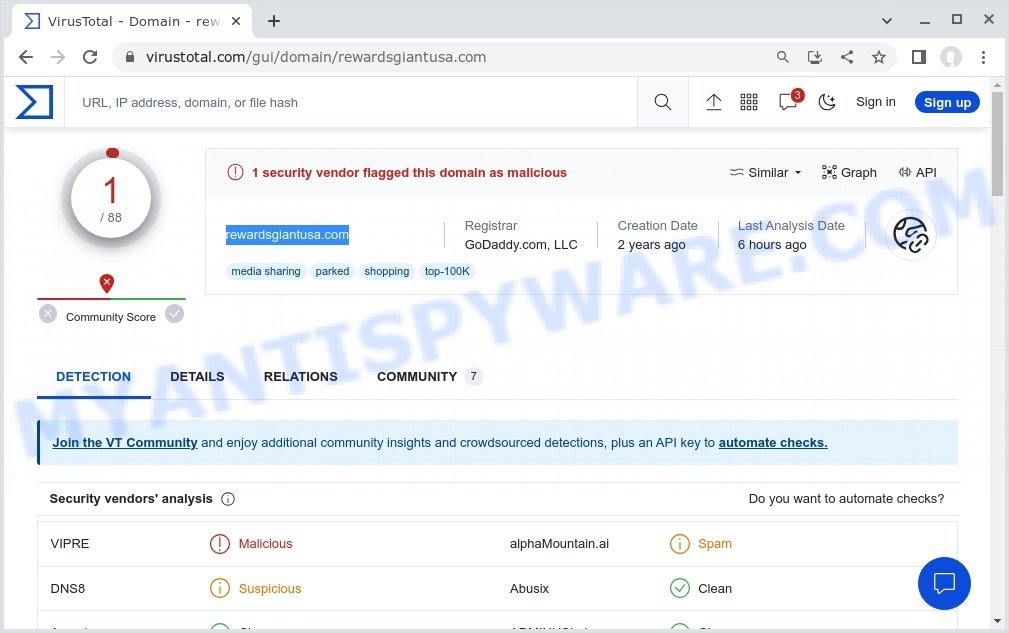 It is important to exercise caution when encountering suspicious redirects, as they can be indicative of malicious activities such as phishing attempts or malware distribution.
Trustpilot Reviews
Trustpilot is a popular online platform that allows users to share their experiences and reviews of various services, including websites like rewardsgiantusa.com. When examining the Trustpilot reviews for rewardsgiantusa.com, we found a mixed reception from users.
As of the time of this review, rewardsgiantusa.com has received a total of 3 reviews on Trustpilot. It is important to note that the number of reviews is relatively low, which may limit the overall reliability of the rating.
One review on Trustpilot for rewardsgiantusa.com is empty, providing no specific details or feedback. Another review, with a rating of 1 out of 5, describes the website as "badware" that installs apps and programs on the user's computer without their knowledge or consent. The reviewer warns others not to visit the website and shares their negative experience from August 03, 2022.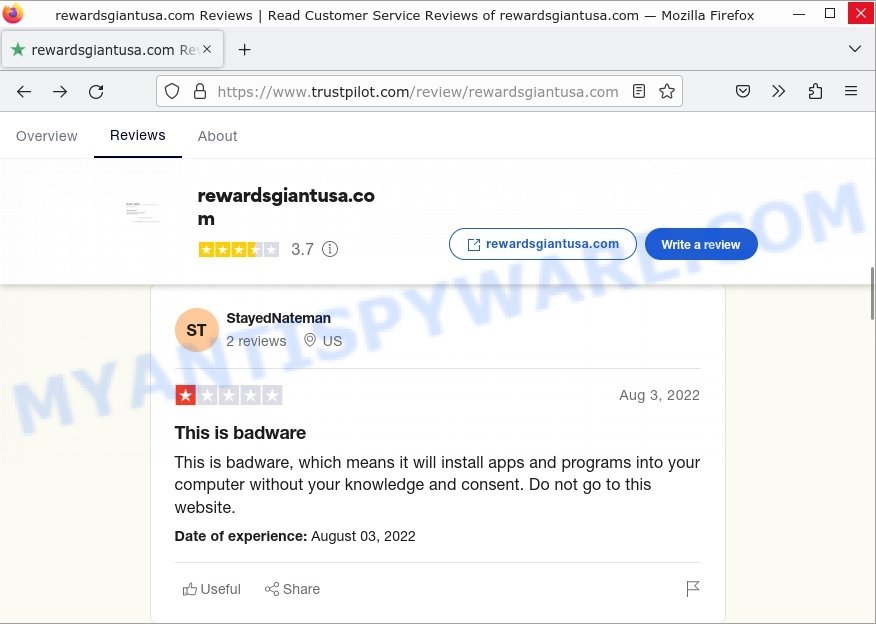 On the other hand, the third review, with a rating of 5 out of 5, states that the website was the best and the reviewer had a positive experience. However, no further details or context are provided in this review.
It is important to approach Trustpilot reviews with caution, as individual experiences can vary and reviews may not always reflect the overall credibility or legitimacy of a website.
BBB Ratings Reviews:
The Better Business Bureau (BBB) is a well-known organization that provides ratings and reviews for businesses based on various factors such as customer complaints and interactions. When examining the BBB rating and reviews for rewardsgiantusa.com, we found some concerning feedback from users.
Rewardsgiantusa.com has a BBB Rating of "C-", indicating a moderate level of concern. This rating suggests that there have been customer complaints or issues reported to the BBB about the website or its services. It is worth noting that the BBB rating can change over time based on the resolution of complaints and other factors.
Upon reviewing the BBB Rating page for rewardsgiantusa.com, we found multiple reviews from individuals who claimed to have encountered difficulties in receiving the promised rewards, despite allegedly fulfilling all the program requirements. One recent review, in particular, expressed frustration with the customer service provided by rewardsgiantusa.com. The reviewer stated that they did not receive credits for several completed paid deals and felt that they were given the runaround when trying to resolve the issue.
The response from rewardsgiantusa.com to this complaint acknowledged the customer's frustration and apologized for any shortcomings in their communication. They indicated that they could issue courtesy rewards in certain circumstances and outlined the proof requirements for deal completion. However, it is important to note that the resolution process and the satisfaction of customers can vary on a case-by-case basis.
The BBB Rating and customer reviews for rewardsgiantusa.com shed light on potential issues with the website's reward program and customer satisfaction. While it is important to consider these reviews as individual experiences, they provide valuable insights for those considering participation in the program.
Reward Program:
August Cash 2023 redirects users to rewardsgiantusa.com, where they can sign up for a rewards program that promises cash rewards in exchange for completing certain tasks, such as completing surveys, signing up for trial offers, and completing deals.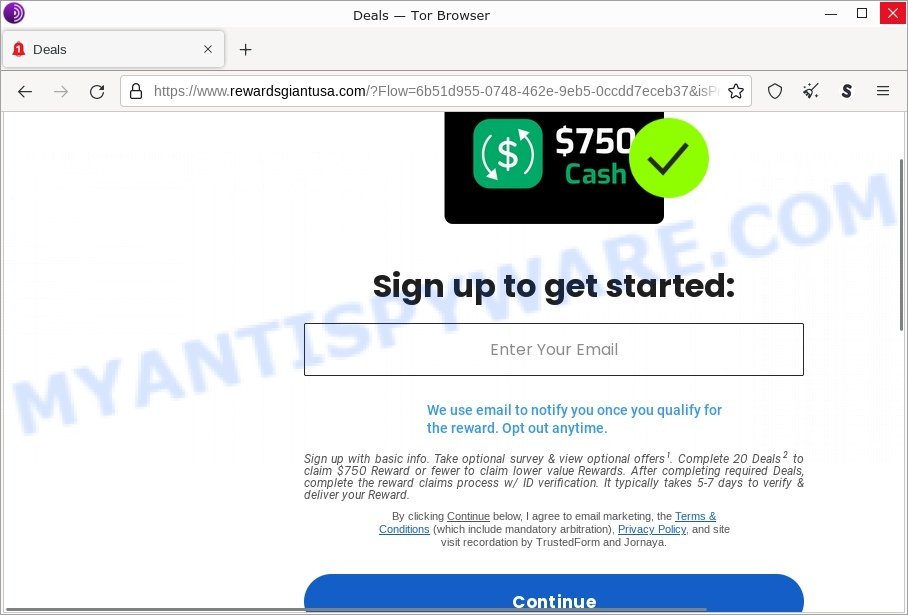 Once users arrive at rewardsgiantusa.com, they are asked to provide their email address and answer a few questions about how they plan to use their reward and how often they go shopping per week. After completing this initial step, users are presented with a variety of offers and surveys that they can choose to complete in order to earn rewards.
The offers and surveys presented are optional, and completing them does not count towards earning rewards. However, completing 20 deals from a variety of categories is required to claim the cash reward. Some of these deals may be free, while others may require a purchase to complete.
It is important to note that the reward claims process includes ID verification, and it typically takes 5-7 days to verify and deliver the reward. Additionally, by agreeing to the terms and conditions of the site, users also agree to email marketing, mandatory arbitration, and site visit recordation by TrustedForm and Jornaya.
Overall, while the promise of cash rewards may seem enticing, users should exercise caution when signing up for reward programs and carefully read the terms and conditions before sharing personal information or completing offers.
Similar Suspicious Websites
In addition to August Cash 2023, there are many other suspicious websites that claim to offer easy money for little to no effort. These sites often use similar tactics, such as promising large rewards for completing tasks or surveys, redirecting users to other sites, and asking for personal information. However, many of these websites turn out to be scams or phishing attempts that can result in financial loss or identity theft. Here are some examples of other suspicious websites to watch out for: Psnbounty.org PSN Giftcard Codes Generator, Decocash.com Coca-Cola Customer Satisfaction Survey, and Mr Beast Giveaway.
Threat Summary
| | |
| --- | --- |
| Name | August Cash 2023 |
| Website | Augustcash2023.com |
| Type of Program | Cash reward |
| Reward Program Details | Earn up to $750 through completing tasks and offers. |
| Redirection | Redirects to rewardsgiantusa.com via spnccrzone.com (flagged as malicious by Hybrid Analysis) |
| Actual Reward Site | rewardsgiantusa.com |
| Legitimacy | Questionable |
| Suspicious Flags | Suspicious redirects, negative user reviews |
| Verdict | Potentially risky |
Conclusion
August Cash 2023 (Augustcash2023.com) is a website that, while promising quick and easy money, raises significant concerns due to its questionable practices and associations with potentially harmful sites. The website serves primarily as a redirecting tool, pushing users towards Rewardsgiantusa.com, a platform flagged as suspicious by trusted security analysis platforms.
Reviews on sites like Trustpilot and BBB Rating highlight the inconsistent experiences users have reported, from failure to receive promised rewards to encounters with potential badware. The lack of transparency, especially the use of domain proxy services to hide owner details, adds another layer of uncertainty and risk.
While the allure of making quick money is strong, it's crucial to remember that if something sounds too good to be true, it often is. Digital safety should always be paramount. Before engaging with such platforms, do your due diligence: look for reviews, verify the legitimacy of the site, and be very careful about providing personal information. As is the case with August Cash 2023, the promise of fast cash may indeed be too good to be true.