Waterpark-day.com is pretending to be a legitimate Macy's store, offering incredibly attractive deals that are too good to be true. This detailed review will provide you with all the red flags and signs of this scam. Read on to arm yourself with knowledge and avoid falling victim to such frauds.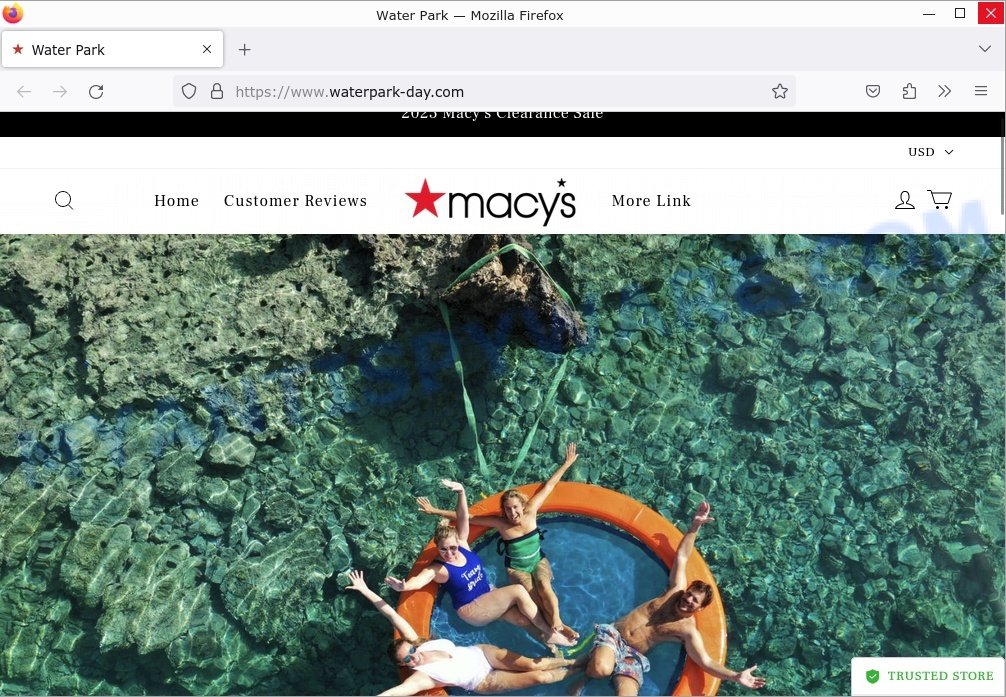 Quick links
What is Waterpark-day.com
Waterpark-day.com is a fraudulent online store masquerading as Macy's, a well-known American department store chain. Its main method of deception is offering unbelievably low prices and enticing promotions for products that it doesn't actually have, with the aim of scamming unsuspecting shoppers.
Signs of Waterpark-day.com Scam
There are several red flags that give away Waterpark-day.com as a scam. These include:
The domain was created recently, just a couple of weeks ago.
They use a template design that doesn't match the real Macy's website.
They offer unbelievable deals, like a "Buy 1 Get 1 Free" promotion for a product priced at only $36.99.
Their contact information is sketchy, only providing an email address and the name of a dubious company (FADEL-BEATTY LIMITED) that's associated with other scams.
There are no links to any social media platforms.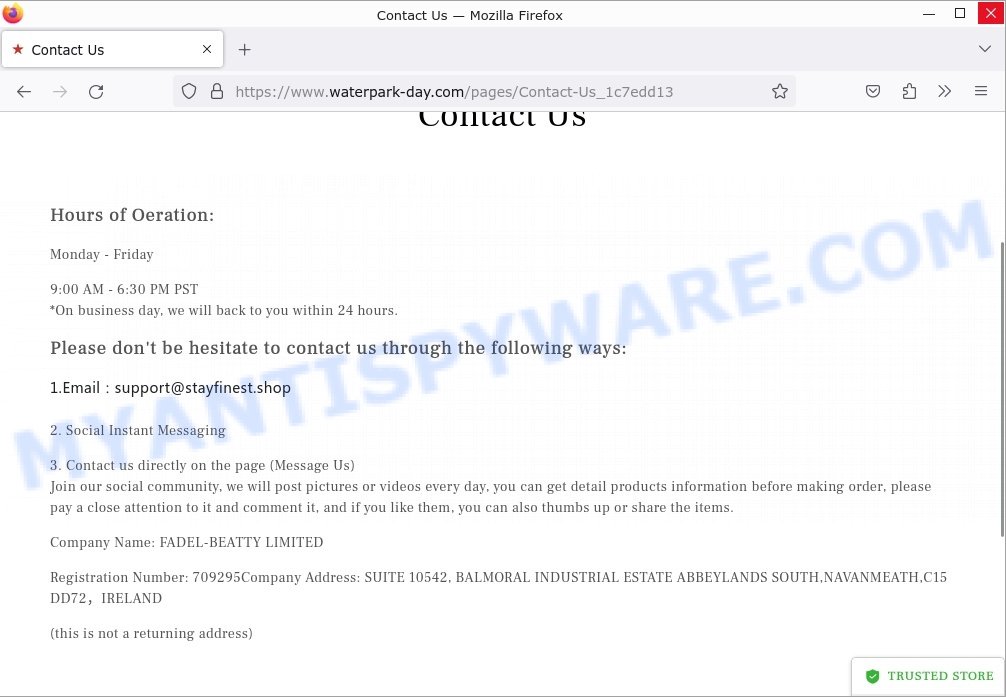 How Waterpark-day.com Scam Works
The Waterpark-day.com scam starts by attracting potential victims through its so-called "2023 Macy's Clearance Sale", promoting products like the "Portable Inflatable Outdoor Water Floating Mat" at ridiculously low prices.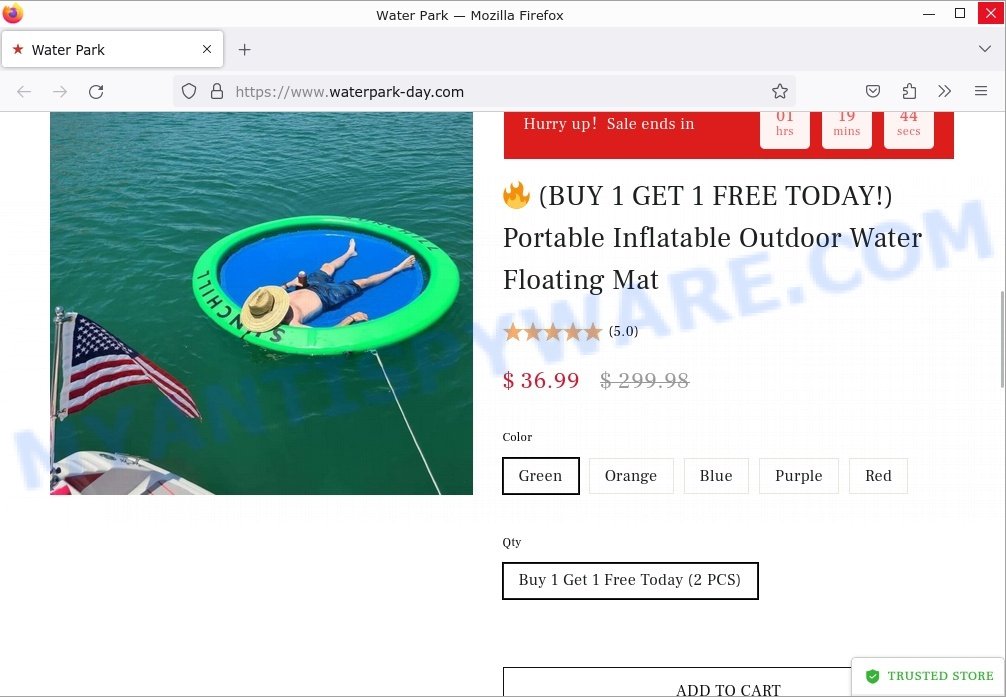 Once you're lured in and you make a purchase, your payment information could be at risk, or you might not receive the product you paid for at all.
What to do if you become a victim of Waterpark-day.com
If you've fallen for the Waterpark-day.com scam, take immediate steps to protect your information:
Contact your bank to report the fraudulent transaction and protect your account.
Change your online passwords.
Keep an eye on your account activity.
Report the scam to your local law enforcement.
Other Scam Online Shops to Avoid
Our ongoing commitment is to keep our readers safe from potential scams. As such, we continuously compile a list of suspicious online stores that share characteristics and employ similar tactics to Waterpark-day.com. Here are a few examples of the scam online shops: Ahodenare.com Bookstore Scam, Acstoreus.com DICK'S SPORTING GOODS Store Scam, KingCrabStore.com King Crab Store Scam.
Summary table for Waterpark-day.com
| | |
| --- | --- |
| Name | Waterpark-day.com |
| Type | Online Store Scam |
| Damage | Financial loss, Personal Information Theft |
| Distribution | Advertised as a Macy's store with special discounts |
| Tactics | Fake Macy's branding, Unbelievable deals |
| Prices | Unusually low ($36.99 for a Portable Inflatable Outdoor Water Floating Mat) |
| Contacts | Email: support@stayfinest.shop, Company: FADEL-BEATTY LIMITED |
| Prevention Tips | Always verify the legitimacy of online stores. Check the domain age, contact details, and look for customer reviews. |
| Reporting Info | Contact your local law enforcement and report to your bank. |
FAQ About the Waterpark-day.com Scam
How did Waterpark-day.com get my email address?
These scam sites can get your email address from various sources, such as data breaches, or you might have inadvertently provided it while browsing or shopping online.
How can I get my money back from Waterpark-day.com?
Contact your bank or credit card company as soon as possible to report the fraudulent transaction. They can assist in potentially recovering your funds and securing your account.
How do I know if a website like Waterpark-day.com is a scam?
Look for the red flags such as recently created domain, lack of contact information or transparency, and deals that are too good to be true.
Why is Waterpark-day.com pretending to be Macy's?
Scammers often use the names of reputable companies to gain trust and lure victims into their scams.
Can the authorities shut down scam sites like Waterpark-day.com?
Yes, authorities can shut down scam sites, but it often takes time and the scammers might just set up a new site under a different name.
Conclusion
Waterpark-day.com is a clear example of an online store scam. It attempts to deceive users by posing as a Macy's store, offering incredibly low prices and attractive deals. Always remember to be vigilant when shopping online. If a deal seems too good to be true, it probably is.