Coverfrot.com is an online store that has gained some negative attention for its questionable practices. They claim to be an exclusive clothing store running a big sale, but customer experiences tell a different story. If you've seen their ads on Facebook or have been enticed by their supposed offers, we urge you to read this full article for a comprehensive review of Coverfrot.com.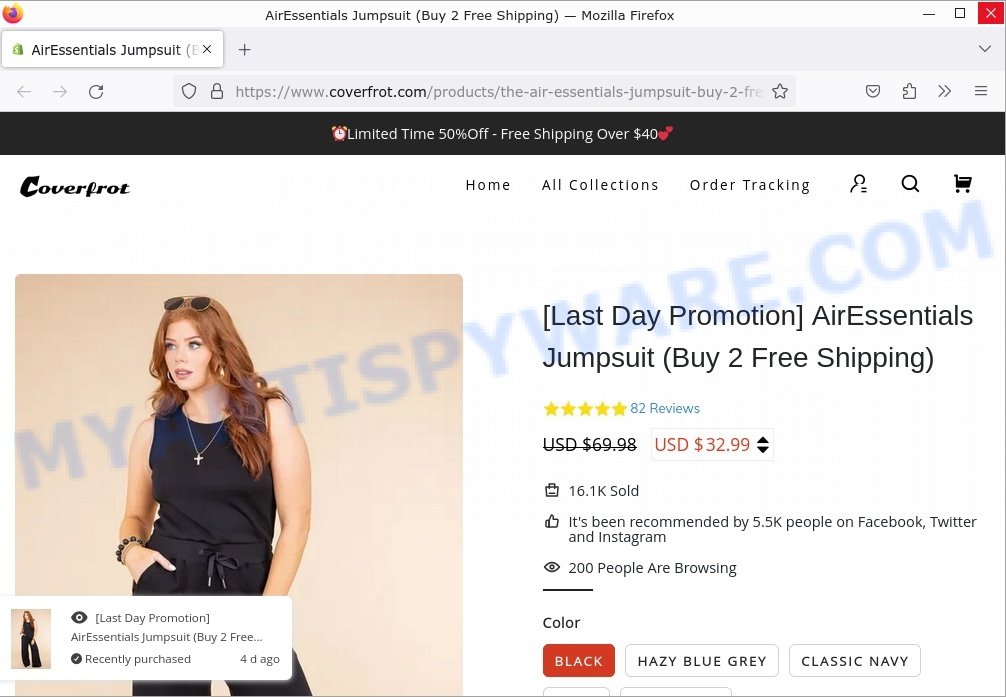 Quick Links
What is Coverfrot.com
Coverfrot.com is an online store that primarily advertises on social media platforms like Facebook. The store portrays itself as a high-end clothing retailer offering significant discounts on its products. Their most advertised product is the "Air Essentials Jumpsuit", which they claim has been recommended by thousands of people on Facebook, Twitter, and Instagram. However, according to numerous customer reviews and reports, it appears that the reality is far different from what Coverfrot.com wants you to believe.
Signs of Coverfrot.com Scam
There are several indications that Coverfrot.com may not be as trustworthy as they claim. Here are the main signs to look out for:
The domain was recently created, specifically on 2022-08-05.
Unbelievable deals and incredibly low prices, such as a 57% discount on the Air Essentials Jumpsuit.
Use of enticing slogans like "Last Day SAVE 57% OFF" and "Limited Time 50% Off – Free Shipping Over $40".
No social media presence or links to any social media platforms, despite claiming to be recommended by thousands on Facebook, Twitter, and Instagram.
Numerous customer complaints about poor product quality, long shipping times, and difficulties in getting refunds.
Lack of contact information. The only known means of communication is through an email address: support@coverfrot.com.
No real info about the company behind Coverfrot.com.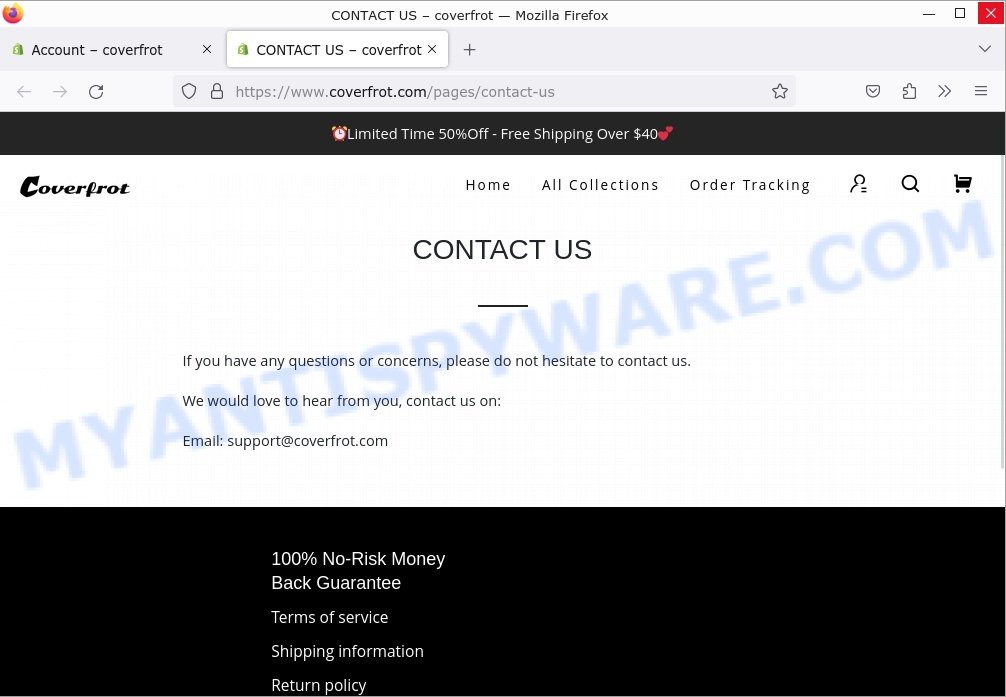 How Coverfrot.com Scam works
Coverfrot.com starts its operation by placing ads on Facebook and other social media platforms. These ads often feature their popular product, the Air Essentials Jumpsuit, at a significantly discounted price. Once the customers are drawn in by the seemingly incredible deal, they are directed to Coverfrot.com where they are further enticed by slogans like "Last Day Promotion" and "Free Shipping Over $40".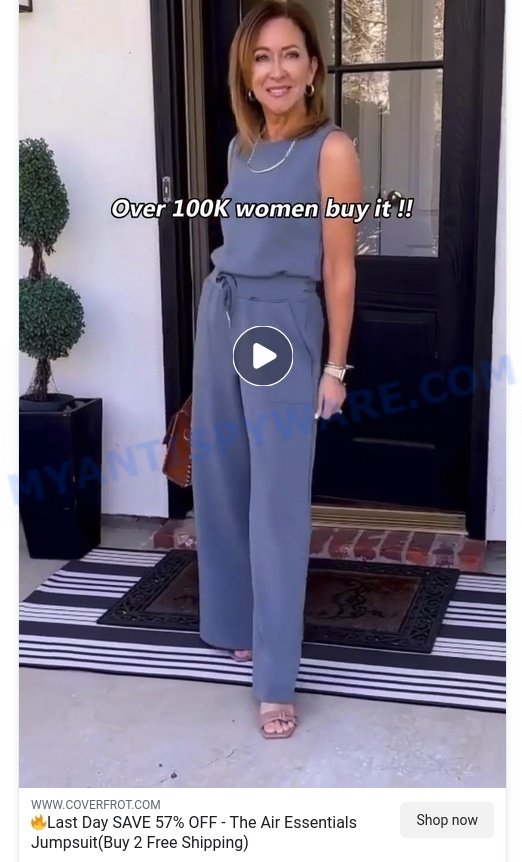 However, once the order is placed and the payment is made, the real issues start to surface. Based on customer reviews, the delivery can take an excessively long time. Moreover, the products delivered are often of poor quality and bear little resemblance to the products advertised. When customers seek refunds or returns, they face difficulties as the company seems to have an automated reply system, and no real help is provided.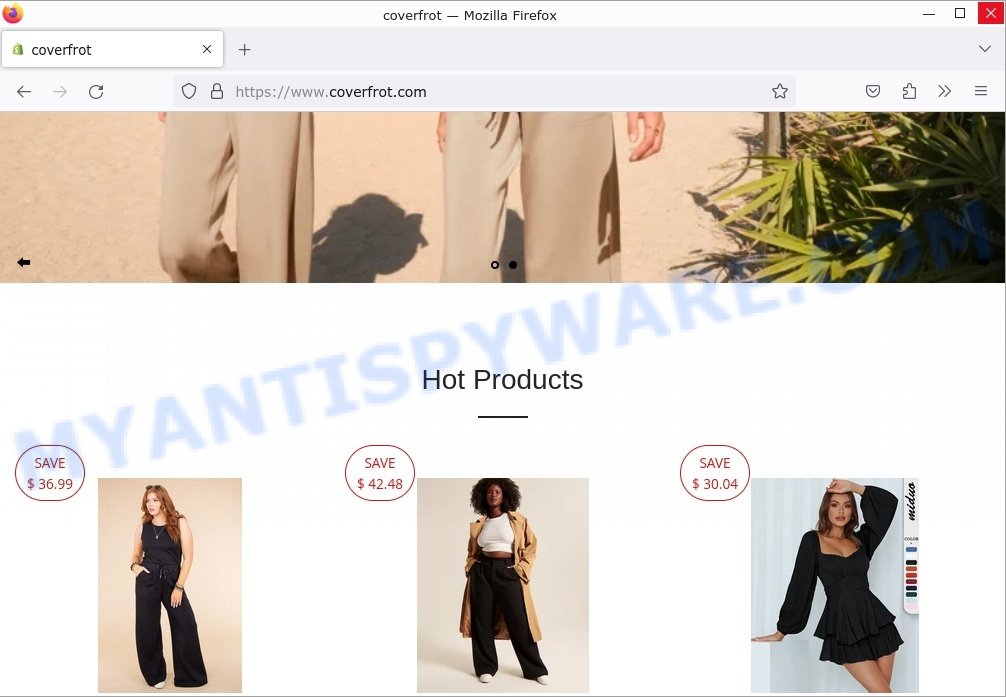 What to do if you become a victim of Coverfrot.com
If you have fallen victim to Coverfrot.com, it's essential to take immediate action. Here are some steps you can take:
Contact your bank or credit card company to report the transaction as fraudulent.
If you used a debit card, consider changing your card number to prevent any future unauthorized charges.
Report the incident to your local law enforcement authorities and provide them with all the information you have.
Leave a review on online platforms to warn others about your experience.
Report the ad on the social media platform where you saw it.
Other Scam Online Shops to Avoid
In our continuous effort to protect our readers from potential scams, we have compiled a list of other suspicious online shops that share similar characteristics and tactics with Coverfrot.com. It's crucial to remain vigilant when shopping online and be aware of the warning signs of a potential scam. Here are a few examples of the scam online shops:
Ahodenare.com Bookstore Scam,KingCrabStore.com King Crab Store Scam, and Outletshoks.com HOKA Summer Clearance Scam.
Summary table for Coverfrot.com
| | |
| --- | --- |
| Name | Coverfrot.com |
| Type | Online Clothing Store Scam |
| Damage | Financial loss, disappointment |
| Distribution | Primarily through Facebook ads |
| Email Contact | support@coverfrot.com |
| Creation Date | 2022-08-05 |
| TrustPilot Rating | 1.8/5 based on 28 reviews |
| Reporting Info | Report to your bank, local law enforcement, and online platforms |
FAQ about the Coverfrot.com Scam
Is Coverfrot.com a scam?
Based on customer reviews and the signs mentioned above, it is likely that Coverfrot.com is not a legitimate online store. Buyers are advised to exercise caution.
What are the common issues reported by customers of Coverfrot.com?
Many customers of Coverfrot.com report receiving items that are markedly different in quality compared to what was advertised. Other common issues include long shipping delays and difficulties obtaining refunds or exchanges. The customer service is reported to be unhelpful and sometimes unresponsive, causing frustration among buyers.
Where is Coverfrot.com primarily advertising its products?
Coverfrot.com mainly promotes its products via social media platforms such as Facebook and Instagram. They use appealing photos and persuasive language in their ads, promising high-quality items at significantly reduced prices. This form of advertising reaches a broad audience and has the potential to mislead many shoppers.
Why are customers finding it difficult to return items or get refunds from Coverfrot.com?
The difficulty in getting refunds or returning items stems from the company's lack of clear and reliable customer service. Some customers have reported that the company either doesn't respond to their requests or uses automated replies. Despite the company's claims of a "100% no risk 90-day money back guarantee," customers have been refused refunds unless the item has a defect.
How can I check the legitimacy of an online store before making a purchase?
One way to check the legitimacy of an online store is to look for reviews on independent platforms such as TrustPilot. For Coverfrot.com, it had a TrustScore of 1.8 out of 5 with multiple negative reviews. Additionally, the age of the domain can be checked – a newly registered domain could be a red flag. For instance, Coverfrot.com's domain was created in August 2022. Lastly, check if the company's contact details are genuine and transparently provided – in Coverfrot.com's case, they only provided an email address.
Conclusion
Coverfrot.com is an online store whose legitimacy has been heavily questioned due to a pattern of misleading practices and unsatisfactory customer experiences. Despite promising high-quality products and customer-friendly policies, the reality appears starkly different with customers receiving low-quality items, facing poor customer service, and difficulties in obtaining refunds. It serves as a cautionary example for online shoppers to thoroughly research any unfamiliar online stores, checking independent reviews and other details before making any purchases.