Mommyneststoreca.com is a fraudulent online store that's posing as an authentic buybuy BABY shop. The scam store attempts to lure unsuspecting consumers with too-good-to-be-true offers on Graco car seats. If you've encountered this scam or have been victimized, continue reading this comprehensive review for a thorough understanding of its modus operandi and tips on how to safeguard yourself.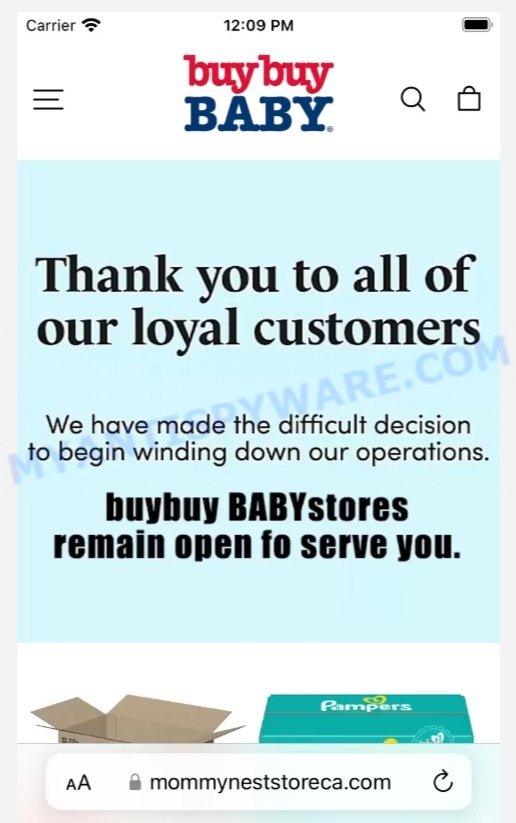 Quick Links
Signs of Mommyneststoreca.com Scam
Several red flags can point out that Mommyneststoreca.com is a scam. Here are some of them:
Recently created domain – The domain was registered only recently, which is common among scam stores.
Unbelievable deals and incredibly low prices – The Graco car seats are advertised at an unbelievably low price, which is too good to be true.
Manipulative advertising strategies – The site uses enticing slogans like "Final Closeout Sale" and "Limited Time Sale" to lure customers into making quick purchase decisions.
Lack of transparent contact information – The contact information provided is vague, and the WHOIS details are hidden. The only available contact is an email address (mila@peachcher.com) that's associated with other scam shops.
Missing social media presence – There is no evidence of any social media presence linked to this store.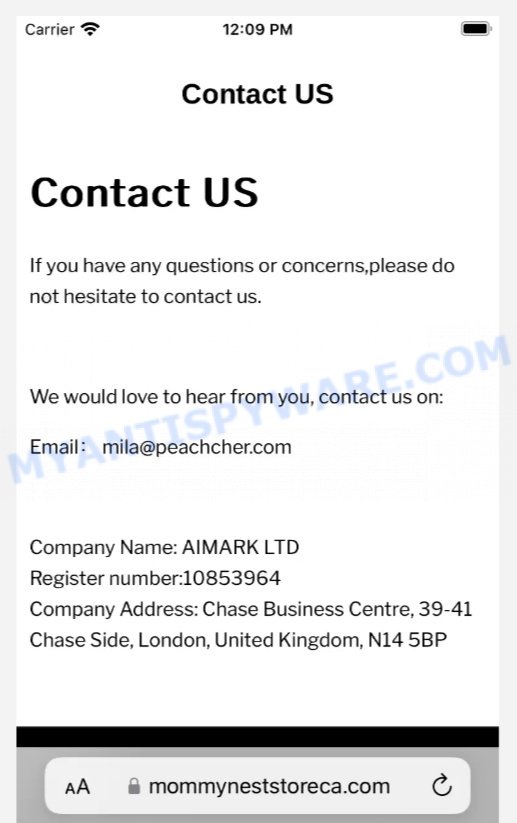 How the Mommyneststoreca.com Scam Works
Mommyneststoreca.com operates by pretending to be a legit online shop for buybuy BABY. It starts by luring potential victims through ads on Facebook, claiming that buybuy BABY is going bankrupt, and they are selling all Graco car seat products at a deep discount. The site then advertises a Graco Turn2Me 3-in-1 Car Seat for as low as $35, a price that's incredibly low considering the market rate.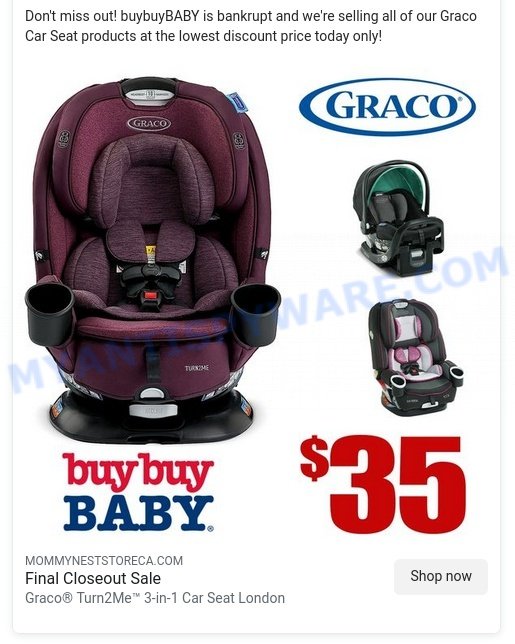 Once a customer is enticed by these false claims and completes a purchase, either the product never arrives, or they receive a vastly inferior product. The only contact detail available is an email address which is associated with other scam shops, making it nearly impossible for victims to demand a refund or any form of redress.
What to Do If You Become a Victim of Mommyneststoreca.com
If you've fallen victim to this scam, it's essential to take immediate steps to protect yourself:
Contact your bank or credit card company to report the fraud and dispute any transactions.
Change your online banking passwords and monitor your accounts for any suspicious activity.
Report the scam to your local law enforcement and file a complaint with your country's cybercrime department.
Spread awareness about this scam to prevent others from falling victim.
Other Scam Online Shops to Avoid
In our ongoing effort to protect our readers from potential scams, we've compiled a list of other suspicious online shops that display similar characteristics and tactics to Mommyneststoreca.com. It's crucial to remain vigilant when shopping online and be aware of the warning signs of potential scams.
Here are a few examples of the scam online shops: Naswino.com Bed Bath & Beyon Store Scam, Heerful.com $37.95 Hoka Running Shoes Scam, Closingstore.shop Bed Bath & Beyond Store Scam.
Summary Table for Mommyneststoreca.com
| | |
| --- | --- |
| Name | Mommyneststoreca.com |
| Type | Online Store Scam |
| Damage | Financial loss, potential risk of personal information exposure |
| Distribution | Primarily through Facebook ads |
| Tactics | False advertising, unbelievable discounts |
| Prices | Unusually low (e.g., Graco Car Seat for $35) |
| Contacts | Email: mila@peachcher.com; Company Name: AIMARK LTD; Company Address: Chase Business Centre, 39-41 Chase Side, London, United Kingdom, N14 5BP |
| Prevention Tips | Always research online stores before making a purchase, look out for unrealistic discounts, always pay with secure payment methods |
| Reporting Info | Contact local law enforcement and report to your country's cybercrime department |
FAQ About the Mommyneststoreca.com Scam
1. How did I come across Mommyneststoreca.com?
Most victims encounter Mommyneststoreca.com through Facebook ads that promote heavily discounted products.
2. Why does Mommyneststoreca.com sell products at such low prices?
Mommyneststoreca.com lures customers with unbelievably low prices to deceive them into making purchases from their fraudulent online store.
3. Is it possible to get my money back if I fell for the scam?
It's possible to recover your money by contacting your bank or credit card company to dispute the transactions. However, it's not guaranteed and the process may take time.
4. How can I protect myself from similar scams in the future?
Always research online stores before making purchases, look out for unrealistic discounts, and pay with secure methods such as credit card or PayPal. Avoid direct transfers or debit card payments as they offer less protection.
Conclusion
Mommyneststoreca.com is a scam shop that targets unsuspecting online shoppers. They use enticing discounts and deceptive tactics to lure customers into buying products that they will never receive. It's crucial to stay vigilant when shopping online and always research an online shop before making any purchases.