Are you an avid TikTok user always on the lookout for exciting opportunities? Beware of a recent scam making the rounds on the popular social media platform. Promoted through enticing videos, the MrBeastFund.com scam claims to offer users the chance to earn money by testing games. However, a closer examination reveals a web of redirects, suspicious websites, and misleading promises. Before you dive into this apparent money-making venture, it's crucial to understand the red flags and protect yourself from potential harm. In this article, we'll expose the truth behind the MrBeastFund.com scam and provide you with essential tips to stay safe online. Read on to discover how to safeguard your personal information and financial well-being from deceptive schemes.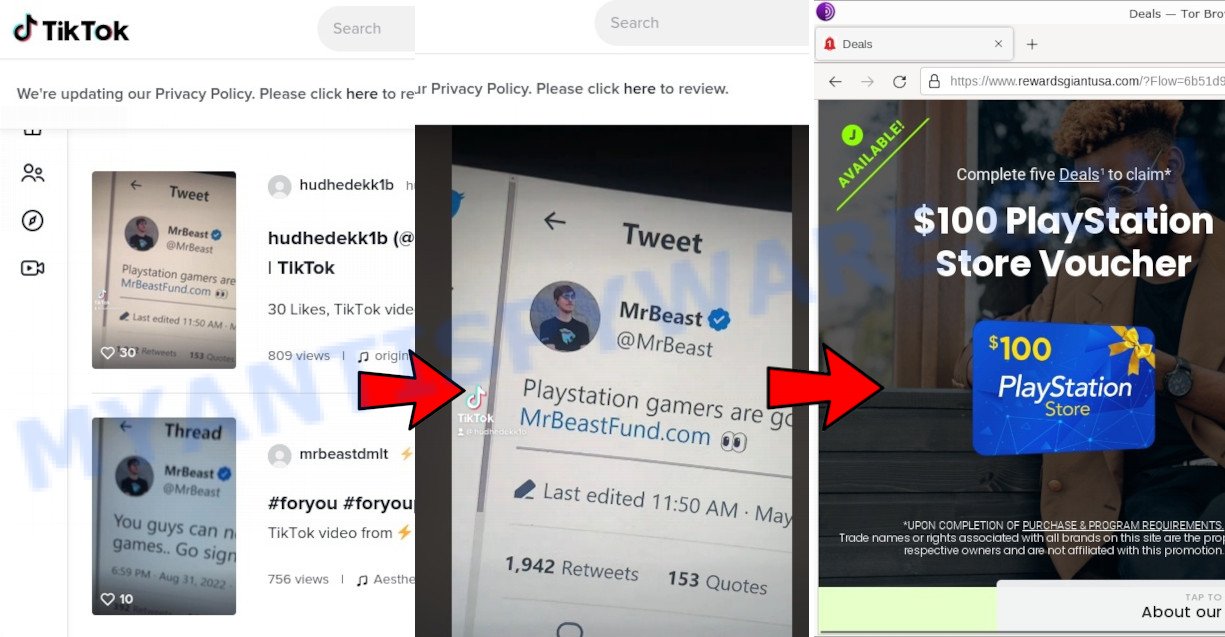 QUICK LINKS
How the MrBeastFund.com Scam works
The MrBeastFund.com scam has emerged as a deceptive scheme targeting users on TikTok, enticing them with the promise of earning money by playing and testing games. Influencers and videos on the platform have been promoting the website, claiming that they have successfully signed up, received game offers, and earned income through this opportunity. However, upon closer investigation, it becomes apparent that MrBeastFund.com is not what it seems.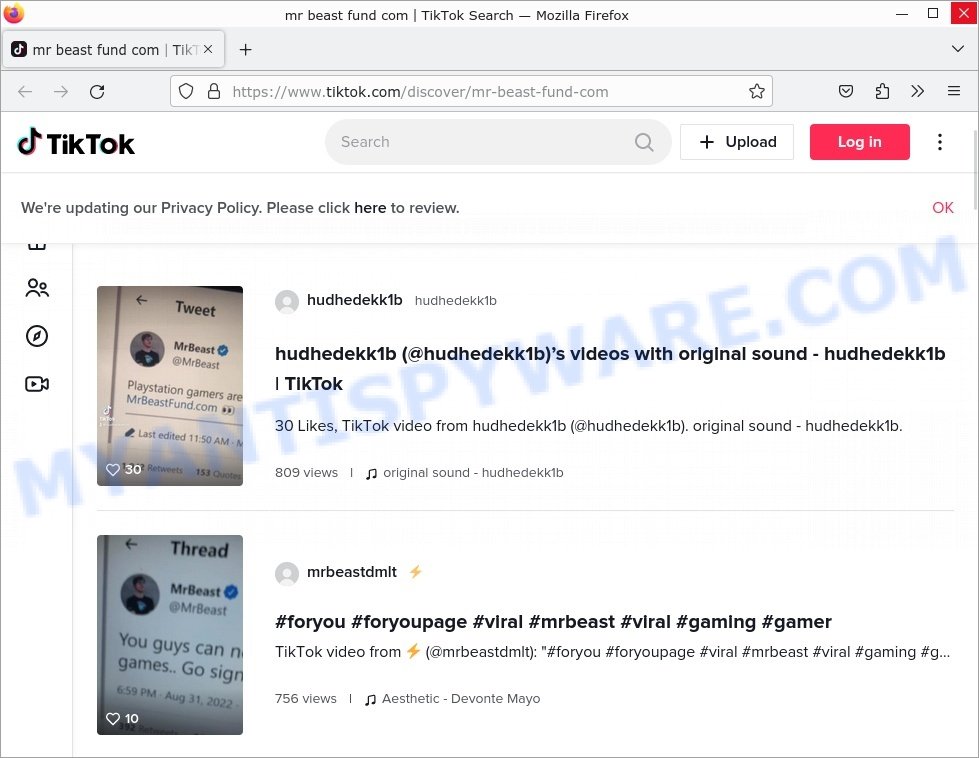 When users visit the website, they are redirected through a chain of URLs, including t.co, tpco.me, tappco.go2cloud.org, and c.spnccrzone.com, before finally landing on rewardsgiantusa.com. This redirection process is deliberately convoluted, aiming to confuse and mislead users. Rewardsgiantusa.com presents an offer to claim a $100 PlayStation Store voucher, enticing visitors to engage further.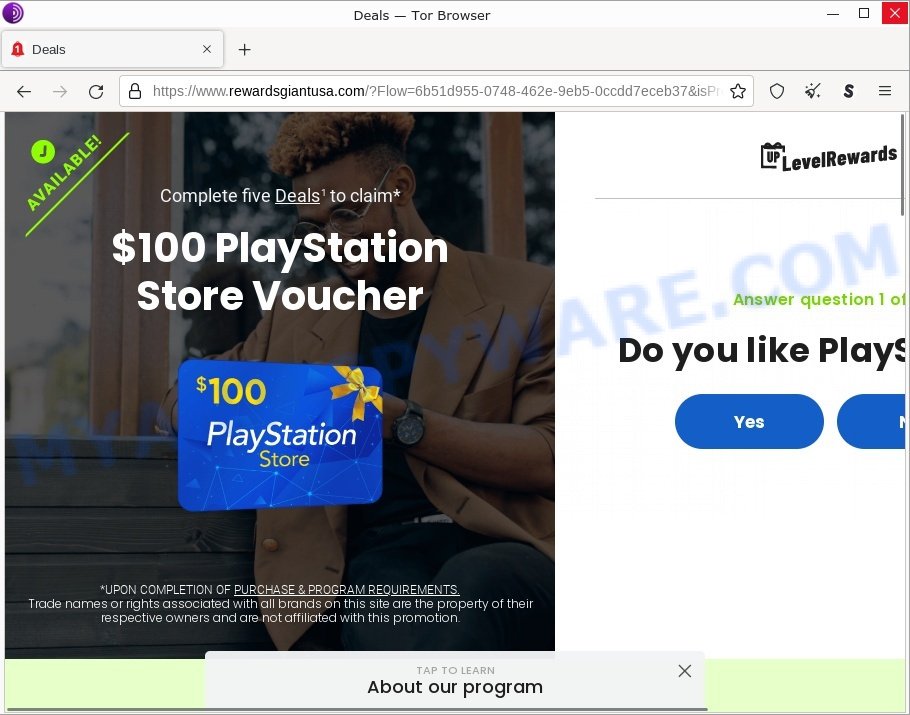 To obtain the voucher, users are asked to complete a series of deals or offers, which may involve purchases, subscriptions, or free trials. However, the legitimacy of these deals remains questionable, as rewardsgiantusa.com has been flagged as spam by security services like VirusTotal.
It's important to exercise caution and skepticism when encountering such schemes. Scammers often exploit individuals' desires for easy money or exclusive opportunities, using deceptive tactics to extract personal information, financial resources, or engage in spamming activities. Falling victim to the MrBeastFund.com scam could result in the loss of personal data, financial harm, or even identity theft.
Examples of Job Scams Like MrBeastFund.com
The MrBeastFund.com scam is just one of many fraudulent schemes that prey on individuals seeking opportunities to earn money online. Unfortunately, scammers are relentless in their efforts to deceive and exploit unsuspecting users. In this section, we will explore several other job scams similar to MrBeastFund.com, shedding light on their deceptive tactics and warning signs. By familiarizing yourself with these examples, you can enhance your ability to spot potential scams and protect yourself from falling victim to online fraud. Remember, knowledge is your best defense against these deceitful schemes.
Here are some links to examples of similar scams: Shein Gives Back Product Reviewer Scam, Amazon Product Tester Scam, Fake Pillow Testing Job, Magicbinge.com, Basics Program Scam, and Flixtagger.com Netflix Tagger Scam.
Remember, if something seems too good to be true, it probably is. Always be cautious and do your research before giving out personal information or paying for any job opportunities online
Threat Summary
| | |
| --- | --- |
| Name | MrBeastFund.com Scam, MrBeast Fund.com, "Mr Beast Fund Scam" |
| Type | Phishing/scam promotion via social media |
| Social Media | TikTok |
| Scam Promotion | Testing games |
| Scammer Strategy | Deceptive TikTok videos lure users with false promises of paid game testing, exploiting trust and urgency. |
| Scam Website | MrBeastFund.com |
| Redirection Path | mrbeastfund.com → t.co → tpco.me → tappco.go2cloud.org → c.spnccrzone.com → rewardsgiantusa.com |
| Rewardsgiantusa.com | Offers $100 PlayStation Store Voucher |
| Requirements | Complete 25 Deals to claim a $1000 Reward or complete fewer to claim a lesser value Reward |
| Scam Indicators | Redirects to suspicious sites, embedded promo messages, offers too good to be true |
| Potential Consequences | The scammers can steal personal and financial information from the user, sell their information to other scammers, or use the information to commit fraud. |
How to Spot Fake Job Offers
If you are actively searching for job opportunities online, it's important to be aware of the prevalence of fake job offers that can lead to financial loss and disappointment. Scams like the MrBeastFund.com scheme have highlighted the need for vigilance when evaluating job postings and offers.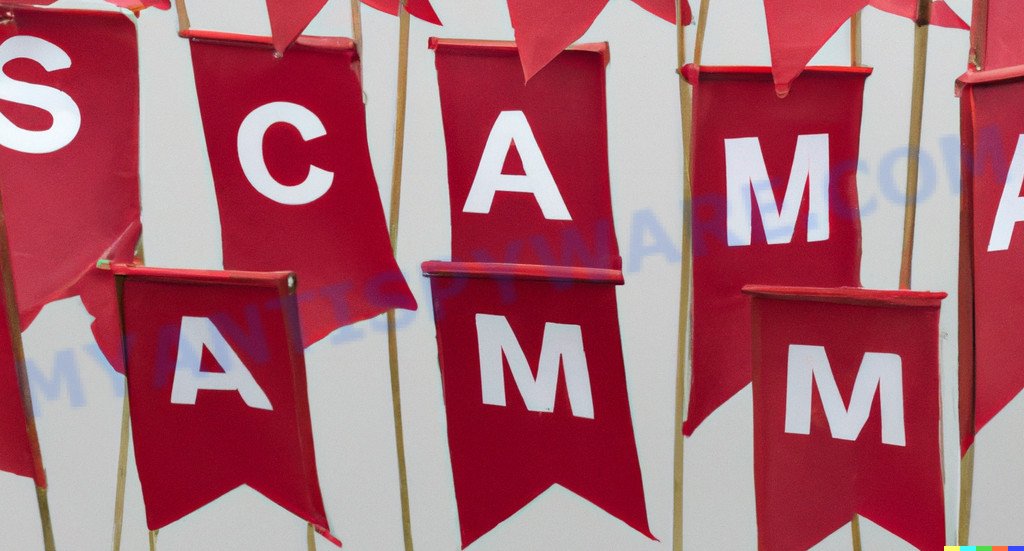 In this section, we will provide you with valuable insights and practical advice on how to spot fake job offers. By arming yourself with knowledge about the common tactics used by scammers, you can confidently navigate the online job market and protect yourself from falling into the trap of deceptive schemes.
Scammers often use vague or unrealistic job descriptions to lure people into their trap. If a job posting sounds too good to be true or lacks details about the position, it's best to be cautious.
Legitimate companies always provide contact information such as an email address, phone number, or physical address. If a company doesn't provide any contact information, it's a red flag.
Take some time to research the company and read reviews from other people who have worked with them. If there are a lot of negative reviews or the company doesn't have much of an online presence, it's best to steer clear.
If a company asks you to pay for training or materials to do the job, it's likely a scam. Legitimate companies will provide all the necessary tools and training for free.
If something feels off or too good to be true, it probably is. Don't ignore your instincts and always err on the side of caution.
Conclusion and Stay Safe
The MrBeastFund.com scam serves as a stark reminder of the ever-present threats lurking in the online world. As we have explored how the scam works, analyzed its threat summary, provided examples of similar schemes, and shared tips on spotting fake job offers, it is crucial to remain vigilant and take necessary precautions. Protecting yourself from online scams requires a combination of skepticism, research, and common sense.
Remember, genuine job offers will not require you to pay money upfront, provide personal information beyond what is necessary for the application process, or engage in suspicious redirections to unfamiliar websites. Always verify the legitimacy of a job opportunity, research the company extensively, and be cautious when dealing with unfamiliar platforms or individuals.
If you encounter suspicious job offers or scams like MrBeastFund.com, report them to the respective platform or authorities to help prevent others from falling victim to these deceptive schemes. By sharing knowledge and raising awareness, we can collectively create a safer online environment for job seekers.
Stay safe, stay informed, and trust your instincts. By staying vigilant and informed, you can navigate the online job market with confidence and protect yourself from falling prey to fraudulent schemes.