Searchstore.bargains is an online store that has caught the attention of our team. We have conducted a thorough investigation into this site and have found several red flags that suggest it may be a scam. From the lack of transparency and contact information to the suspiciously low prices for products, it is crucial for online shoppers to exercise caution when considering making a purchase from Search Store Bargains. For a detailed analysis of our findings, please read on.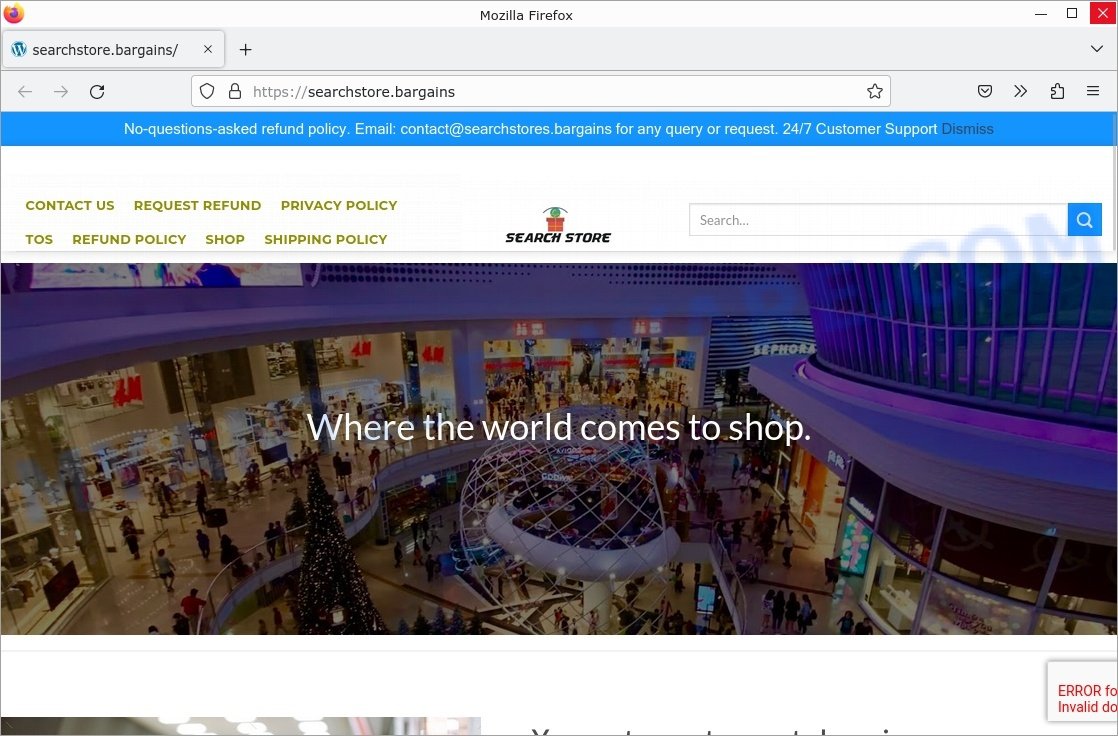 Website Design
The design of the searchstore.bargains website is very simple, with a generic logo and a lack of any descriptions or titles on the main page. The design appears to be very basic, which creates the impression that the site may have been made using a template. Additionally, there are no categories on the site, only a search bar and a few products listed on the main page. Overall, the website design does not inspire confidence and appears to be unprofessional.
Product Pricing
One of the most significant red flags we found during our analysis of searchstore.bargains was the suspiciously low prices of the products offered on the website. For instance, electric bikes priced at $9.90 and a high-end electric motorcycle "2500w Fat Tire Electric Scooter, Electric Motorcycle for Adults with Turning Lights" for only $99, which typically retails for almost $2,000 on other reputable online stores, seem too good to be true. It's worth noting that such low prices are not common in legitimate e-commerce businesses, as businesses need to make a profit to stay afloat.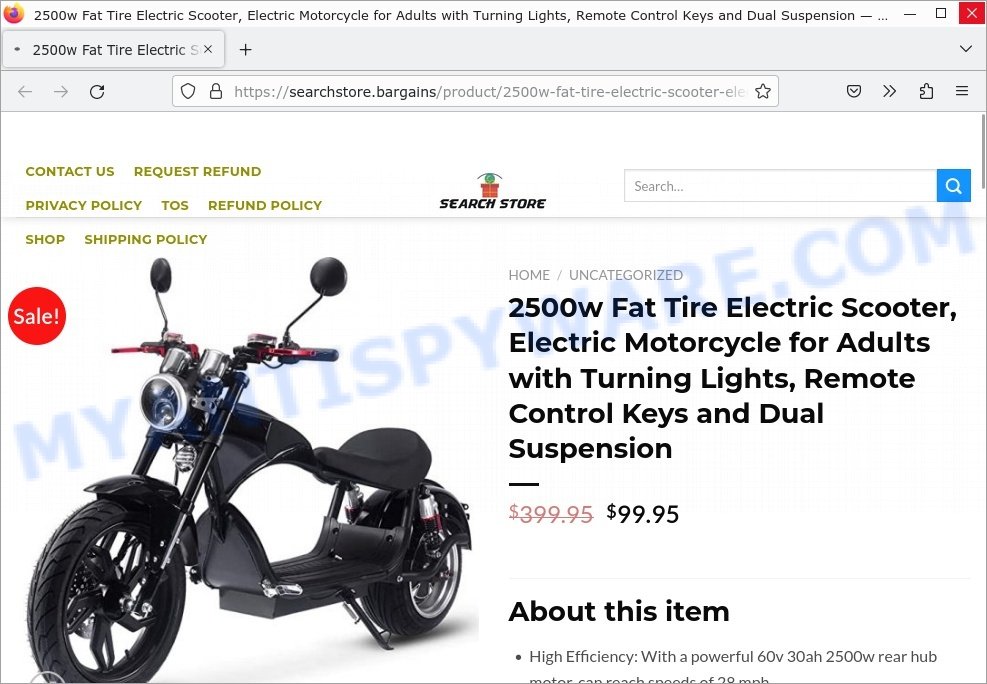 Moreover, upon researching customer reviews, we found several complaints about customers never receiving the products they ordered, even though the money was debited from their accounts. Based on our research, we believe that the low prices are used to lure customers into making purchases, and then the company never fulfills the orders, leaving customers with a significant loss.
About Us
Searchstore.bargains does not have an About Us page, which is a red flag for any online store. A lack of transparency and information about the company behind the website is concerning and can make customers hesitant to make purchases from the site. The absence of an About Us page also makes it difficult to verify the legitimacy of the store.
Customer Reviews
After conducting a search for reviews of searchstore.bargains, it was found that there are no positive reviews of the site online. In fact, many reviews suggest that the site is a scam and that customers should avoid making purchases from it. The absence of any positive reviews is a clear indication that the site may not be trustworthy.
Contact Information
Another red flag associated with searchstore.bargains is the lack of contact information on the site. There is no phone number or physical address listed, and the only way to contact the site is through an online form.
This lack of transparency is concerning, as it makes it difficult for customers to resolve any issues they may encounter with their orders. Legitimate online stores typically provide multiple avenues for customer support, including email, phone, and live chat.
Furthermore, the online form provided by searchstore.bargains is not reassuring. The form asks for personal information such as a name and email address, and it's unclear how this information will be used. In the absence of any other contact information or customer support options, it's important to proceed with caution when considering a purchase from searchstore.bargains.
Domain Information
Searchstore.bargains was registered on January 31, 2023, and the domain is set to expire on January 31, 2024. This is a relatively short amount of time for a website to be registered, and it is a red flag that suggests the site may not be trustworthy.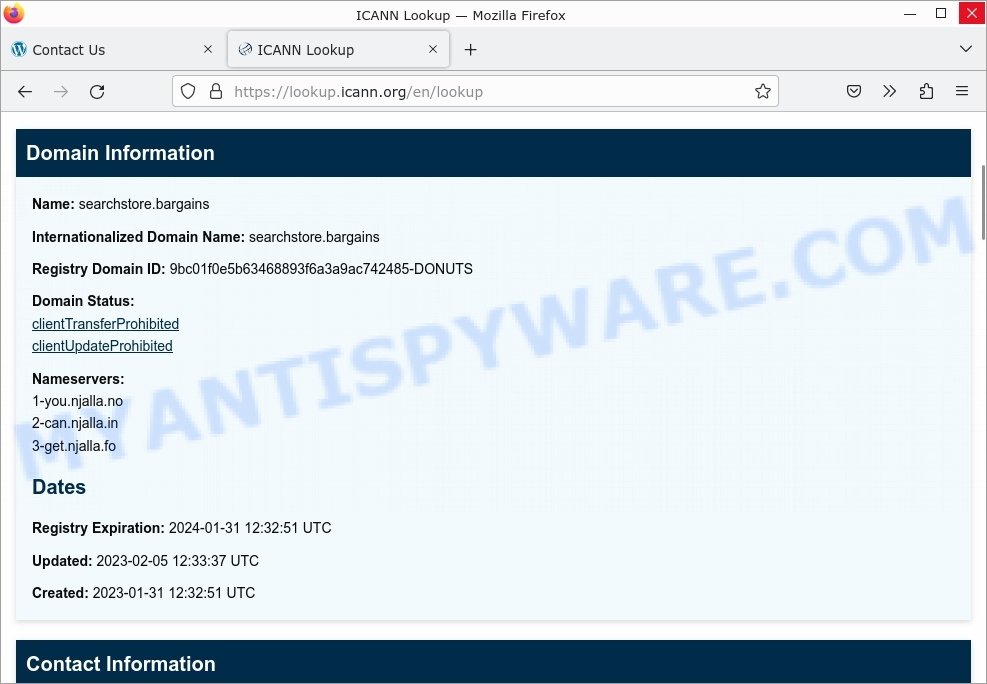 It is also worth noting that the site's domain name is somewhat unusual. The use of the ".bargains" top-level domain (TLD) is not common for legitimate online stores, and it may be an attempt to appear more legitimate than the site actually is.
Additionally, the registrant information for the site is redacted for privacy, which is also a cause for concern. Legitimate online stores typically provide clear and comprehensive information about their company and ownership, while redacting this information may be an attempt to hide the true identity of the site's owners.
Conclusion
Based on the information available, "Search Store Bargains" (searchstore.bargains) is likely a fraudulent website that should be avoided. The lack of clear and comprehensive information about the site's ownership, combined with the absence of a physical address or phone number, raises concerns about the site's legitimacy. Additionally, the absence of an "About Us" page and the lack of customer reviews further contribute to the suspicion that the site may be a scam.
Furthermore, the prices listed on the site for various products, including electric bikes and scooters, are far below the market prices for these items. This pricing anomaly, combined with the other red flags, is a clear indication that the site may be a fake or a scam.
In conclusion, it is recommended that shoppers avoid making purchases from searchstore.bargains and instead consider alternative online stores that are more transparent and trustworthy. It's important for online shoppers to remain vigilant and cautious when dealing with unfamiliar websites, and to be on the lookout for warning signs of fraudulent activity. By taking these precautions, shoppers can help protect themselves from scams and frauds and ensure that they make safe and secure purchases online.
Other Suspicious Online Shops to Avoid
It's important to be vigilant when shopping online, as fraudulent websites can easily deceive customers into making purchases that result in financial loss. Unfortunately, Searchstore.bargains is not the only suspicious online shop out there. In fact, there are many other online shops with similar characteristics and practices that should also be avoided. In this section, we will highlight some of these other suspicious online shops to help you stay informed and avoid becoming a victim of online scams.
Here are a few examples of the suspicious online shops: Bluerockt.com, Laterdse.online, and Bewoix.com.
How to spot and avoid a fake online store?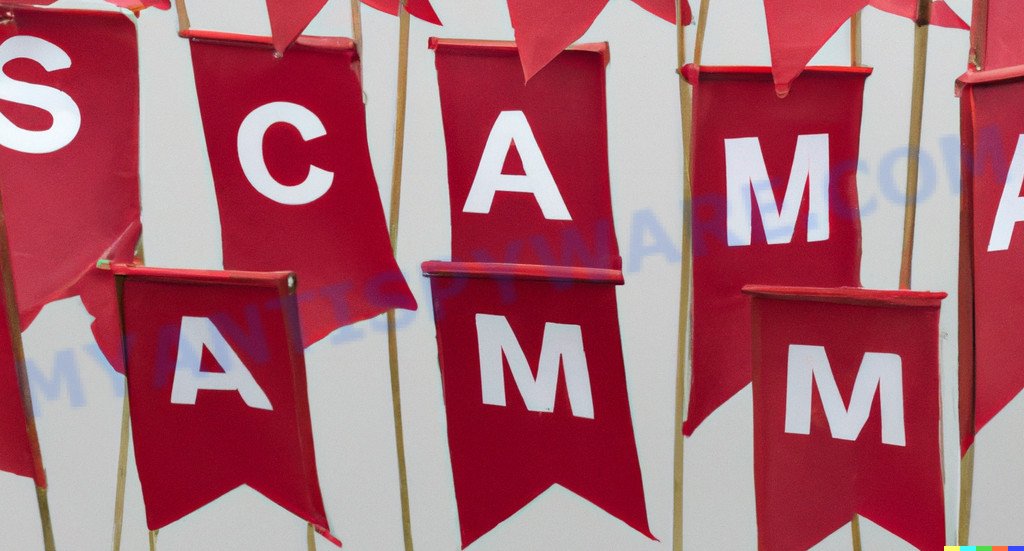 Online shopping has become increasingly popular, but it also carries certain risks, particularly when it comes to fake or fraudulent online stores. Here are some tips on how to spot and avoid a fake online shop:
Check for HTTPS and a padlock symbol in the URL bar. This indicates that the website is using encryption to protect your data.
Look for reviews and ratings of the website. Genuine websites will usually have positive feedback from customers, while fake ones may have little to no reviews or negative feedback.
Check the website's contact information. A legitimate online store will have a physical address, phone number, and email address for customer support.
Research the website on the internet. Search for the website's name and reviews, complaints or any warning signs about it before making a purchase.
Be wary of deals that are too good to be true. Fake online stores may offer steep discounts to lure in customers, but these deals may be a ploy to steal your money.
Avoid using payment methods that are not secure. Use payment methods such as credit card, PayPal or other payment methods that provide buyer protection.
Be wary of pop-ups or unsolicited emails directing you to a website. This may be a phishing attempt to get your personal and financial information.
By taking these precautions, you can reduce the risk of falling prey to fake online stores and ensure a safe and enjoyable online shopping experience.
What to do if you ordered something from a fake online store?
If you have already ordered something from a fake website and you suspect that it may be a scam, there are several steps you can take:
Contact the website's customer support.
If the website has provided contact information, try reaching out to their customer support to inquire about the status of your order. If the website does not respond or gives you unsatisfactory answers, it could be a sign that it is a fake website.
Check your payment method.
If you have paid for your order with a credit card, check your statement to see if the payment has gone through. If it has not, then you may have caught the scam in time, but if it has, you may need to dispute the charge with your bank.
File a dispute or chargeback with your payment provider.
If you have paid for your order with a credit card or other payment method that offers buyer protection, you may be able to dispute the charge or request a chargeback to get your money back. Use the steps (https://consumer.ftc.gov/articles/what-do-if-you-were-scammed) to try to stop a transaction, get a transaction reversed, or get a refund.
Report the fake online store.
You can report the fake website to authorities such as the Federal Trade Commission (FTC) at https://ftc.gov/ or the Internet Crime Complaint Center (IC3). This can help prevent others from falling victim to the same scam.
Learn from your experience.
Be more cautious in the future and take steps to ensure that you are shopping on legitimate websites that are secure and reputable.