When it comes to online shopping, it's essential to be careful and cautious. There are many scam websites out there that are designed to take your money and leave you with nothing. Ansposl.com is an online store that has raised suspicions of being a scam, and upon further examination, it's clear that there are several reasons to proceed with caution.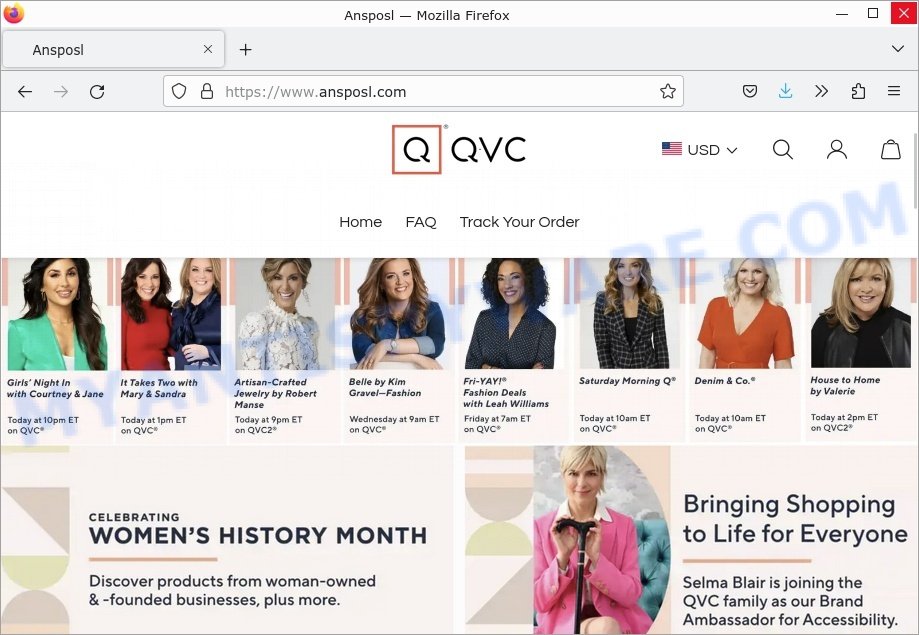 Suspicious Website Design and Limited Products
Ansposl.com's website design is one of the first things that stands out as suspicious. The site has no clear categories listed, making it difficult for customers to navigate and find the products they are looking for. Instead, customers are presented with five products listed haphazardly on the homepage. The title of the site, "ansposl," is also vague and doesn't give any indication of what kind of products are being sold.
Another red flag is the logo, which appears to be modeled after the QVC logo, featuring a red square with a Q inside next to the letters "QVC." This could be an attempt to mislead visitors into thinking the site is associated with a legitimate company, potentially to gain their trust and encourage them to make a purchase.
The limited number of products available on Ansposl.com is also concerning. With only five products listed, it's difficult to imagine how the site could be a legitimate business. The lack of variety in the products also raises suspicions that the site may be a front for a scam operation.
Negative Reviews
Another warning sign is the lack of positive reviews for Ansposl.com. Online reviews are an essential tool for determining whether a website is trustworthy, and the absence of positive reviews is a significant red flag. Some reviews suggest that the site is a scam, and caution against making any purchases from Ansposl.com.
Unrealistic Prices
One of the most significant red flags with Ansposl.com is the incredibly low prices advertised on the site. For example, the site offers a "Dirt eBike" with a claimed 140km battery life and 3-hour fast charging time for only $29.99, while the supposed real price is listed as $4,499. This kind of discount is too good to be true and should raise serious suspicions for any potential buyer.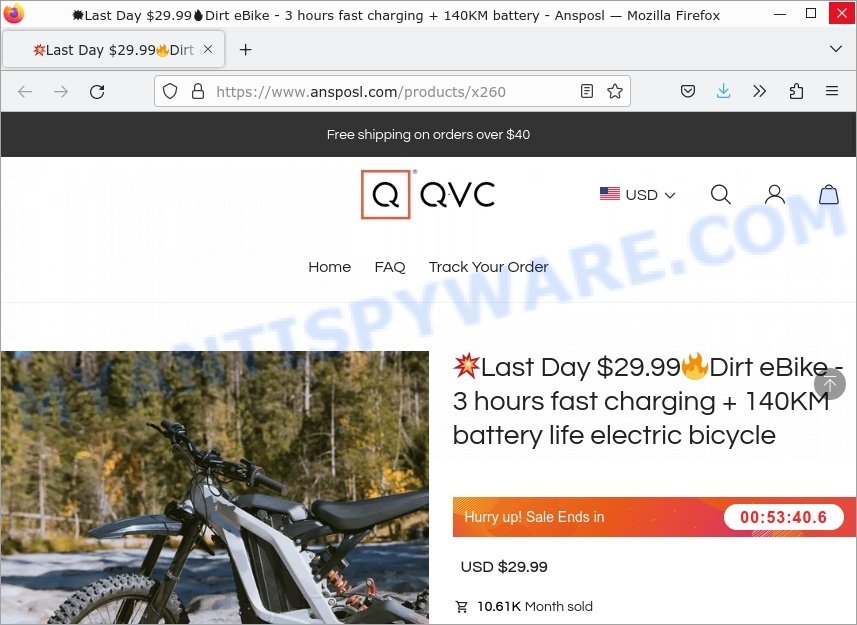 Similarly, the site offers a 10-foot solar patio umbrella with Bluetooth speaker for only $19.95 when the real price is supposedly over $200. This discount is too steep to be credible and indicates that the site is trying to lure customers in with an unrealistic bargain.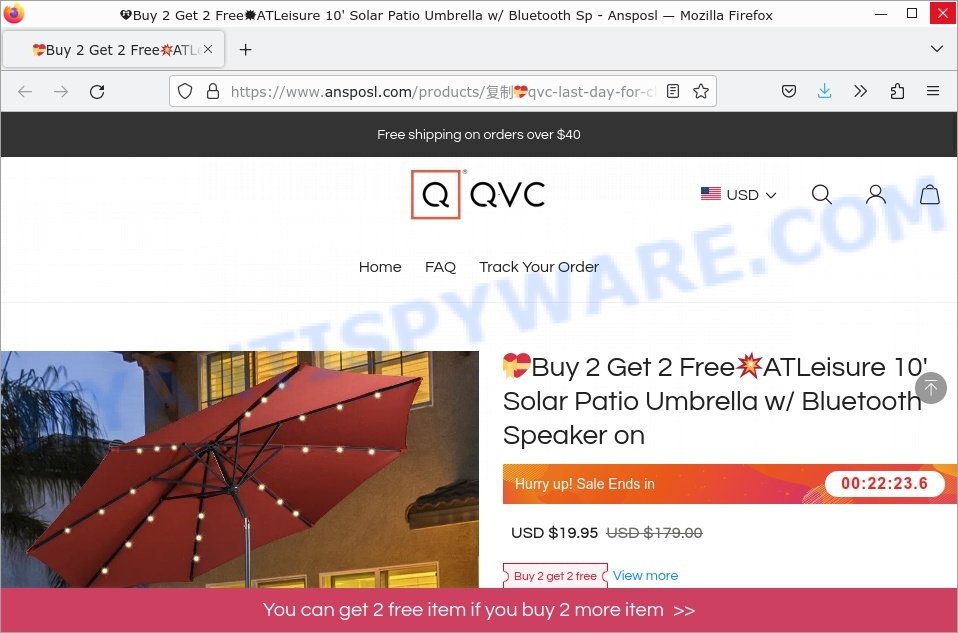 Overall, the unrealistic prices advertised on Ansposl.com are a clear indication that the site may be fraudulent.
WHOIS information
The WHOIS record for ansposl.com shows that the website was created on November 28th, 2022, and is set to expire on November 28th, 2023.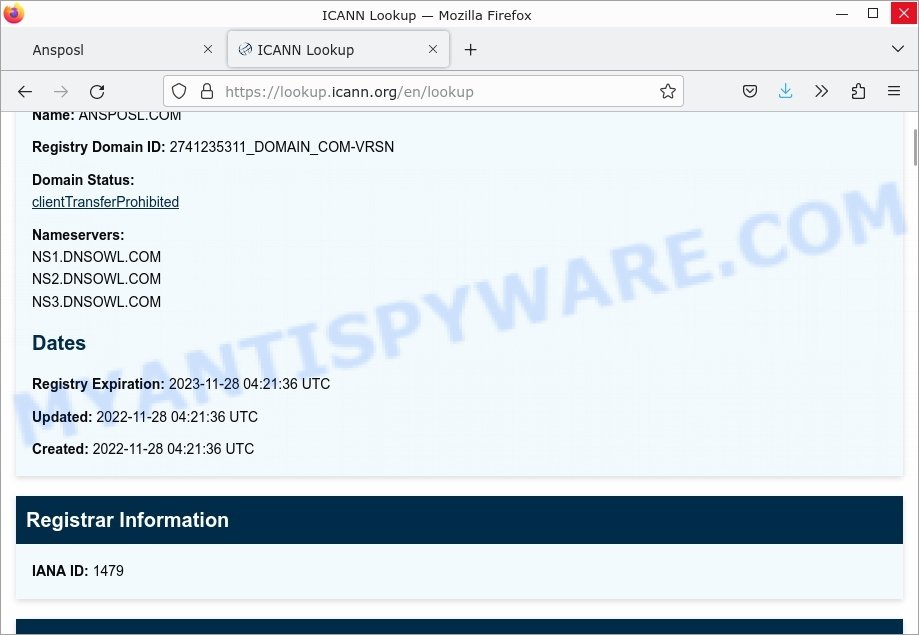 The website is registered through PrivacyGuardian.org LLC, a privacy protection service that allows website owners to keep their personal information hidden from public view. This makes it difficult to know who is behind the website and raises concerns about the legitimacy of the site.
Contacts
The only contact information provided on Ansposl.com is an email address listed as info@laughan.com. No phone number or social media accounts are provided. This lack of contact information is concerning and may indicate that the site is not legitimate.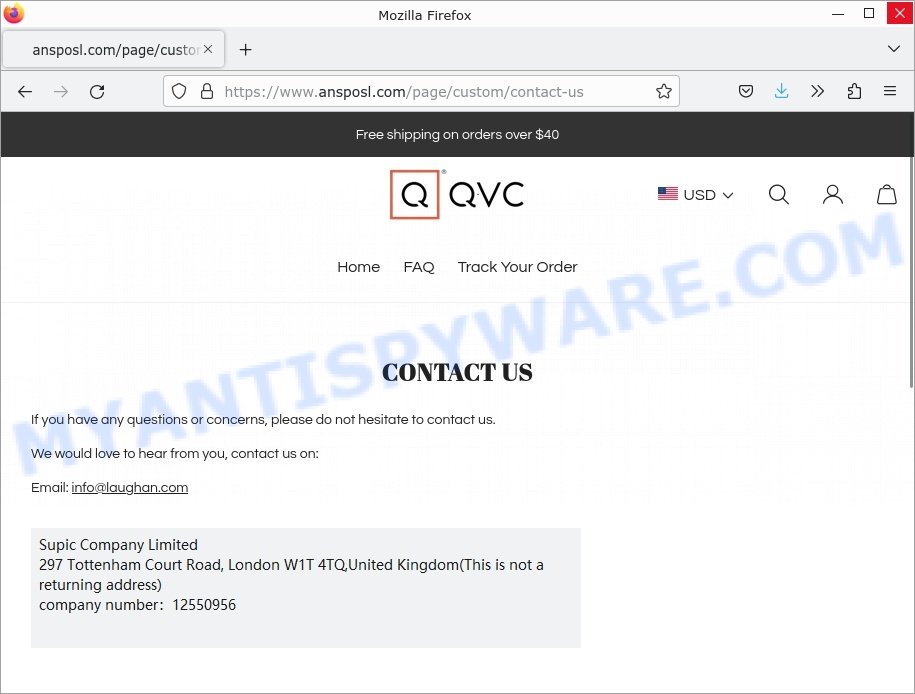 The company listed as the owner of the website is Supic Company Limited, with an address listed as 297 Tottenham Court Road, London W1T 4TQ, United Kingdom. However, as mentioned earlier, this address has been associated with multiple other suspicious websites, and it's unclear whether Supic Company Limited is a real company or merely a front for fraudulent activities.
The absence of phone numbers, social media accounts, and a physical address that can be traced to an actual company raises serious concerns about the legitimacy of Ansposl.com. Customers should be wary of shopping on websites that do not provide clear and verifiable contact information.
Conclusion
Based on the information available, it appears that Ansposl.com is a suspicious website that customers should approach with caution. The suspicious website design, limited product selection, and unrealistic prices are all red flags that suggest the site may be a scam. Additionally, the lack of transparency regarding the individuals or companies behind the website, as well as the absence of clear and verifiable contact information, are further cause for concern.
The similarities between the Ansposl.com logo and the QVC logo, as well as the use of phrases such as "Last Day" and "Buy 2 Get 2 Free" in product listings, suggest that the site may be using deceptive tactics to lure customers into making purchases.
Furthermore, the use of PrivacyGuardian.org LLC to obscure the identity of the website owner raises additional suspicions about the legitimacy of the site.
Given these factors, it is advisable to avoid making purchases on Ansposl.com. Customers looking for legitimate online shopping options should look for sites with transparent information about the company and clear contact information, as well as reviews and feedback from other customers to ensure the website is trustworthy.
Other Suspicious Online Shops to Avoid
It's important to be vigilant when shopping online, as fraudulent websites can easily deceive customers into making purchases that result in financial loss. Unfortunately, Ansposl.com is not the only suspicious online shop out there. In fact, there are many other online shops with similar characteristics and practices that should also be avoided. In this section, we will highlight some of these other suspicious online shops to help you stay informed and avoid becoming a victim of online scams.
Here are a few examples of the suspicious online shops: Searchstore.bargains, Bluerockt.com, and Laterdse.online.
How to spot and avoid a fake online store?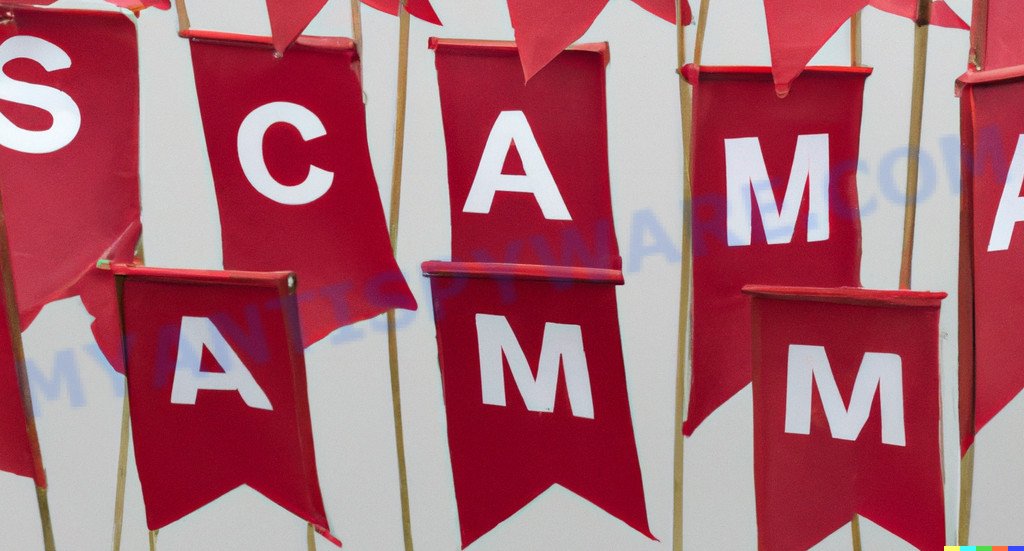 Online shopping has become increasingly popular, but it also carries certain risks, particularly when it comes to fake or fraudulent online stores. Here are some tips on how to spot and avoid a fake online shop:
Check for HTTPS and a padlock symbol in the URL bar. This indicates that the website is using encryption to protect your data.
Look for reviews and ratings of the website. Genuine websites will usually have positive feedback from customers, while fake ones may have little to no reviews or negative feedback.
Check the website's contact information. A legitimate online store will have a physical address, phone number, and email address for customer support.
Research the website on the internet. Search for the website's name and reviews, complaints or any warning signs about it before making a purchase.
Be wary of deals that are too good to be true. Fake online stores may offer steep discounts to lure in customers, but these deals may be a ploy to steal your money.
Avoid using payment methods that are not secure. Use payment methods such as credit card, PayPal or other payment methods that provide buyer protection.
Be wary of pop-ups or unsolicited emails directing you to a website. This may be a phishing attempt to get your personal and financial information.
By taking these precautions, you can reduce the risk of falling prey to fake online stores and ensure a safe and enjoyable online shopping experience.
What to do if you ordered something from a fake online store?
If you have already ordered something from a fake website and you suspect that it may be a scam, there are several steps you can take:
Contact the website's customer support.
If the website has provided contact information, try reaching out to their customer support to inquire about the status of your order. If the website does not respond or gives you unsatisfactory answers, it could be a sign that it is a fake website.
Check your payment method.
If you have paid for your order with a credit card, check your statement to see if the payment has gone through. If it has not, then you may have caught the scam in time, but if it has, you may need to dispute the charge with your bank.
File a dispute or chargeback with your payment provider.
If you have paid for your order with a credit card or other payment method that offers buyer protection, you may be able to dispute the charge or request a chargeback to get your money back. Use the steps (https://consumer.ftc.gov/articles/what-do-if-you-were-scammed) to try to stop a transaction, get a transaction reversed, or get a refund.
Report the fake online store.
You can report the fake website to authorities such as the Federal Trade Commission (FTC) at https://ftc.gov/ or the Internet Crime Complaint Center (IC3). This can help prevent others from falling victim to the same scam.
Learn from your experience.
Be more cautious in the future and take steps to ensure that you are shopping on legitimate websites that are secure and reputable.