AVbytes Win 7 Antivirus 2015 is actually a Sirius Win 7 Antivirus 2014 clone. This misleading application is being pushed by the Trojans which come from other harmful or infected web resources along with fake scanners. It imitates the operation of real antivirus program while scanning your PC. In other words you will see the progress bar as well as certain results of scanning. But all of them are false. If a user will try to fix all those problems, then he will be asked to download and install AVbytes Win 7 Antivirus 2015. You will be forced to believe that this application is truly able to help you recover your PC from all those viruses and infections. Do not trust it. This is a scam. If you happen to encounter this fake security tool installed on your computer, be quick and take effort to remove AVbytes antivirus immediately.

AVbytes Win 7 Antivirus 2015 is looking for the OS version (XP, Vista, Seven, 8) and changes its name like a chameleon. Look a table below:
Windows XP
AVbytes XP Antivirus 2015
AVbytes XP Protection 2015
Windows Vista
AVbytes Vista Antivirus 2015
AVbytes Vista Protection 2015
Windows 7
AVbytes Win 7 Antivirus 2015
AVbytes Win 7 Protection 2015
Windows 8
AVbytes Win 8 Antivirus 2015
AVbytes Win 8 Protection 2015
Once installed, the rogue will always make you think that your PC is infected and has lots of problems. As soon as you logon to Windows, AVbytes Win 7 Antivirus 2015 is automatically configured to system. You will get numerous messages regarding all kinds of infections while running OS. In addition this misleading program will use real names of different viruses, worms and infections. The main aim is to make you believe that your PC is truly infected. However it is not. Always keep in mind that all those viruses are nothing more but fake. Remember about it especially when you will be asked to buy a full version of AVbytes Win 7 Antivirus 2015 or download any kind of additional applications. All you need is to ignore it.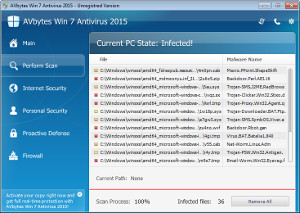 You will also get different types of security warning and alerts while operating on the computer. All of them will also be sent by AVbytes Win 7 Antivirus 2015. This is all made in order to make you scared. In other words it becomes obvious that AVbytes Win 7 Antivirus 2015 is absolutely of no use. To say the truth, the rogue was created only for getting money from users. Moreover in some occasions it can turn out to be rather harmful for your PC.
So, be quick and take effort to remove fake AVbytes antivirus. Anyway, don't purchase the fake security tool. Use a reputable antivirus program to scan your computer and remove this malware. Also read a removal guide written below to see instructions how it can be eliminated manually step-by-step.
Use the following instructions to remove AVbytes Win 7 Antivirus 2015 (Uninstall instructions)
1
It is possible that the rogue will not allow you to run a malware removal tools, then you will need to reboot your computer in Safe mode with networking.
Restart your computer. After hearing your computer beep once during startup, start pressing the F8 key on your keyboard. On a computer that is configured for booting to multiple operating systems, you can press the F8 key when the Boot Menu appears.
Instead of Windows loading as normal, Windows Advanced Options menu appears similar to the one below.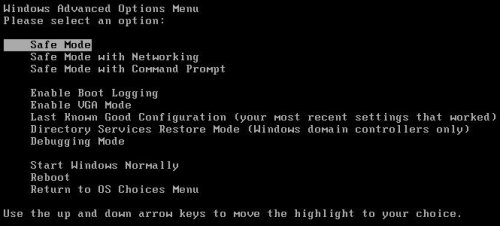 Windows Advanced Options menu
When the Windows Advanced Options menu appears, select Safe mode with networking and then press ENTER.
2
Download RKill by Grinler from here , but before saving rkill.com, rename it first to explorer.exe and click Save button to save it to desktop.
Double click the RKill desktop icon. If you are using Vista please right click and select Run as Administrator.
A black screen will briefly flash indicating a successful run. If the tool does not run and you will be shown a message that stats that rkill is infected, then without closing the message, try to run rkill once again.
3
Now you should download Malwarebytes Anti-malware and remove all AVbytes Win 7 Antivirus 2015 associated malware.
Download MalwareBytes Anti-malware (MBAM). Once downloaded, close all programs and windows on your computer.
Double-click on the icon on your desktop named mbam-setup.exe. This will start the installation of MalwareBytes Anti-malware onto your computer. Once installation is complete, you will see window similar to the one below.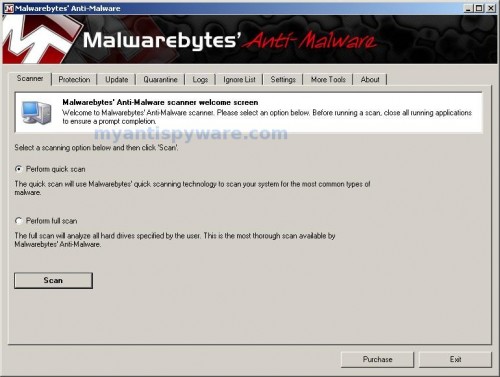 Malwarebytes Anti-Malware Window
Now click on the Scan button to start scanning your computer for AVbytes Win 7 Antivirus 2015 associated malware. This procedure can take some time, so please be patient.
When the scan is finished a message box will appear that it has completed scanning successfully. Click OK. Now click "Show Results". Make sure all entries have a checkmark at their far left and click "Remove Selected".
4
Your system should now be free of the AVbytes Win 7 Antivirus 2015 virus. If you need help with the instructions, then post your questions in our Spyware Removal forum.
AVbytes Win 7 Antivirus 2015 removal notes
Note 1: if you can not download, install, run or update Malwarebytes Anti-malware, then follow the steps: Malwarebytes won`t install, run or update – How to fix it.
Note 2: your current antispyware and antivirus software let the infection through ? Then you may want to consider purchasing the FULL version of MalwareBytes Anti-malware to protect your computer in the future.