| | |
| --- | --- |
| | Do you have pop-ups or your computer infected with trojan or spyware ? Learn how to ask us for help, click here! |
Malwarebytes' Anti-Malware is designed to quickly detect, destroy, and prevent malware, spyware, trojans. Can detect and remove malware that even the most well-known Anti-Virus and Anti-Malware applications on the market today cannot.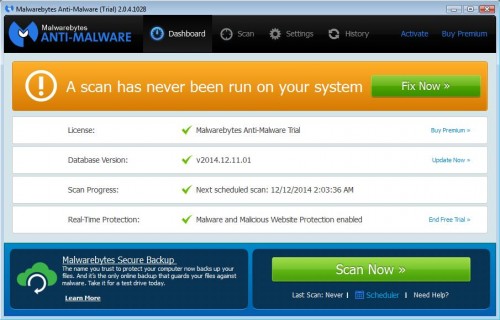 The interface is plain and simple to use. Malwarebytes' Anti-Malware scan system allows performing a quick scan or a full scan, depending on your needs.

MalwareBytes Anti-malware Features:
Support for Windows 2000, XP, Vista, 7, 8
Light speed quick scanning
Ability to perform full scans for all drives
Malwarebytes Anti-Malware Protection Module(requires registration)
Database updates released daily
Quarantine to hold threats and restore them at your convenience
Ignore list for both the scanner and Protection Module
Settings to enhance your Malwarebytes Anti-Malware performance
A small list of extra utilities to help remove malware manually
Multi-lingual support
Works together with other anti-malware utilities
Command line support for quick scanning
Context menu integration to scan files on demand
How to install MalwareBytes Anti-malware and perform a scan
Step 1. Download Malwarebytes Anti-malware
Click Malwarebytes' Anti-Malware Download Link to Download MalwareBytes Anti-malware (MBAM) and save it to your desktop.  When Malwarebytes Anti-Malware has finished downloading you will now see an icon on your desktop similar to the one below.


Step 2. Install Malwarebytes Anti-malware
Close all programs and Windows on your computer. Double-click mbam-setup-x.x.x.xxxx icon to run it and you will see a prompt similar to the figure below.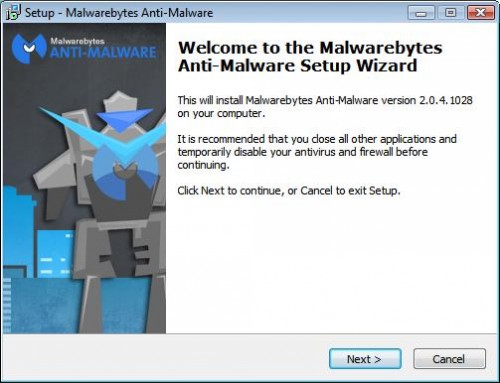 Click Next to continue with the installation process.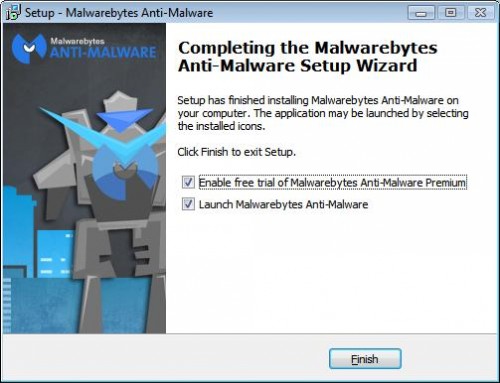 Do not make any changes to default settings and when the program has finished installing click Finish.
Step 3. Update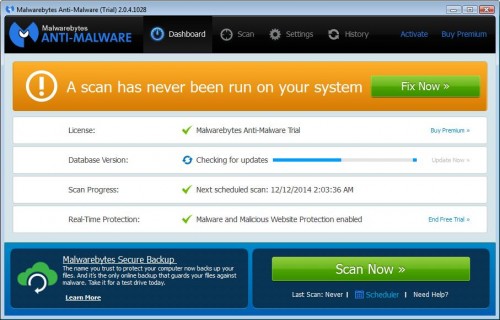 If an update is found, it will download and install the latest version.
Step 4. Perform a system scan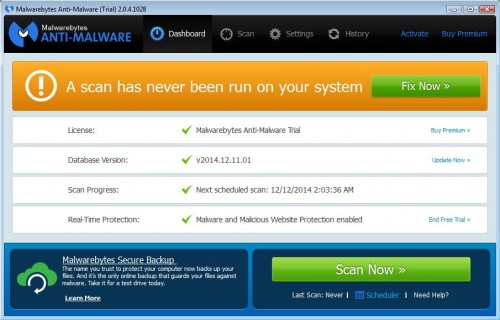 When Malwarebytes Anti-Malware has finished updating, click "Scan Now". The scan may take some time to finish,so please be patient.
Step 5. Remove malware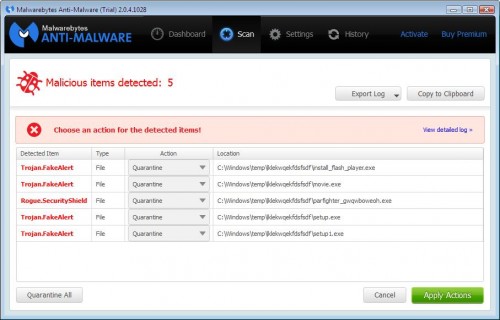 When the scan is complete, select action for all objects (Quarantine by default) and click Apply Action button. When disinfection is completed, a log will open in Notepad and you may be prompted to Restart.
Download MalwareBytes Anti-malware
1 Malwarebytes' Anti-Malware Download Link
2 Malwarebytes' Anti-Malware Download Link
Questions and answers.
1. I cannot download Malwarebytes Anti-malware.
Probably your computer infected with DNSChanger trojan. Read and follow these instructions: How to remove trojan DNSChanger.
2. Malwarebytes Anti-malware won`t install, run or update.
Read following instructions: Malwarebytes won`t install, run or update – How to fix it
3. Got error code 731 (0,9).
Try restarting the computer, it should solve the error.
Your current antispyware software let an infection through ? Then you may want to consider purchasing the FULL version of MalwareBytes Anti-malware to protect your computer in the future. MalwareBytes Anti-malware Full version features scheduled scanning, scheduled updating and highly advanced Real-Time Protection to ensure protection from installation or re-installation of potential threats as you surf the Internet.
August 28, 2008 on 12:53 am | In
Best Programs
,
Free Software
,
Malware removal
|
583 Comments
|
583 Comments »
RSS feed for comments on this post.
Leave a comment
My Anti Spyware - Free antispyware programs and Spyware Removal Instructions.