AVLab Internet Security is a rogue antispyware program that reports false infections, displays numerous fake security alerts and blocks legitimate Windows applications from running in order to trick you into purchasing its full version.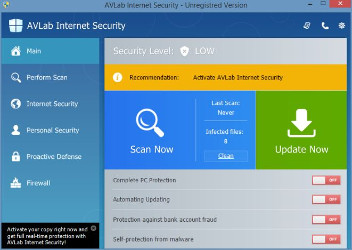 Do not trust anything that this malware will display you and remove AVLab Internet Security from your system as soon as possible. Read below what you'll want to know though is what does this malware do and how to remove the rogue from your computer for free.

What is AVLab Internet Security doing on your PC
This software is very dangerous computer parasite that simulates a system scan and reports false system security threats or infections to make you think your PC is infected with trojans, spyware, adware, worms and other malicious software. The authors of AVLab Internet Security want to scare you into believing that your device is heavy infected. Next, it will offer to remove all infections it detected. But only after you pays for its full version. Most important to know, AVLab Internet Security is not able to perform any type of security related functions when installed on a computer. The program is absolutely fake!
Moreover AVLab Internet Security will always make you think that your computer has lots of security problems. As soon as you logon to Windows, the misleading program will automatically started and you will get numerous security notifications regarding you computer is infected. AVLab Internet Security will use real names of different viruses, worms and infections to make the scam look more realistic. As we have already mentioned, it want to push you to buy a full version of AVLab Internet Security. Remember, all you need is to ignore all that this fake antispyware will display.
As you can see, AVLab Internet Security is absolutely useless. Its a dangerous software. The scan results, security warnings and alerts that generated by the rogue are totally fabricated and must by no means be trusted! Follow the guidelines below to get rid of this scareware. The detailed How to remove AVLab Internet Security guide can be followed by anyone as it really does take you step-by-step.
How does a computer get infected with AVLab Internet Security
It is being pushed by the Trojans which come from misleading or infected web resources along with fake online virus scanners that imitates the operation of real antivirus program while scanning your PC.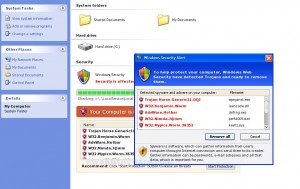 These fake scanners will state that you computer is infected and all you have to do in order to cure your computer is install the software. Important to know, this online scanner is a fake and cannot detect any viruses or infections on your PC. The results that are displayed are totally fabricated!
How to remove AVLab Internet Security (Removal guide)
Step 1. Reboot your computer in Safe mode.
Step 2. Use RKill to stop AVLab Internet Security processes.
Step 3. Scan your computer with Malwarebytes Anti-malware to remove all AVLab Internet Security associated malware.
Step 1. Reboot your computer in Safe mode.
Restart your computer. After hearing your computer beep once during startup, start pressing the F8 key on your keyboard.

On a computer that is configured for booting to multiple operating systems, you can press the F8 key when the Boot Menu appears.
Instead of Windows loading as normal, Windows Advanced Options menu appears similar to the one below.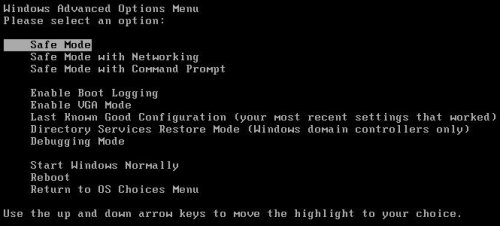 Windows Advanced Options menu
When the Windows Advanced Options menu appears, select Safe mode with networking and then press ENTER.
Step 2. Use RKill to stop AVLab Internet Security processes.
Download RKill by Grinler from here , but before saving rkill.com, rename it first to explorer.exe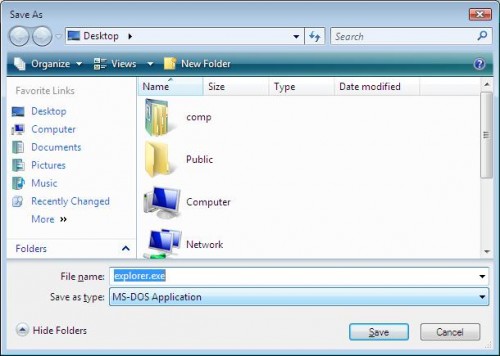 Click Save button to save it to desktop.

Double click the RKill desktop icon. If you are using Windows Vista, 7, 8 please right click and select Run as Administrator like below.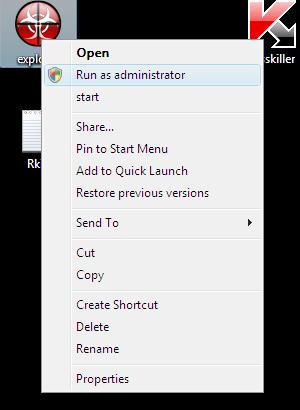 A black screen will briefly flash indicating a successful run. If the tool does not run and you will be shown a message that stats that rkill is infected, then without closing the message, try to run rkill once again.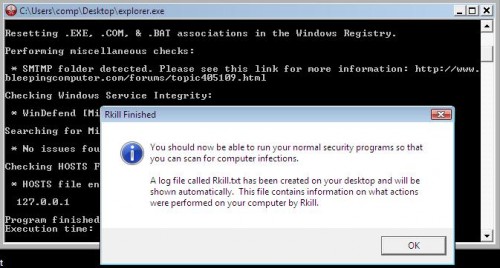 Once RKill has finished, click OK. Most important, don`t reboot your PC after running RKill!
Step 3. Scan your computer with Malwarebytes Anti-malware to remove all AVLab Internet Security associated malware.
Download MalwareBytes Anti-malware (MBAM). Once downloaded, close all programs and windows on your computer.

Double-click on the icon on your desktop named mbam-setup.exe.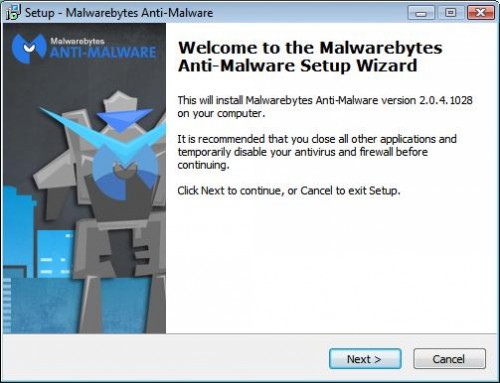 This will start the installation of MalwareBytes Anti-malware onto your computer. Once installation is complete, you will see window similar to the one below.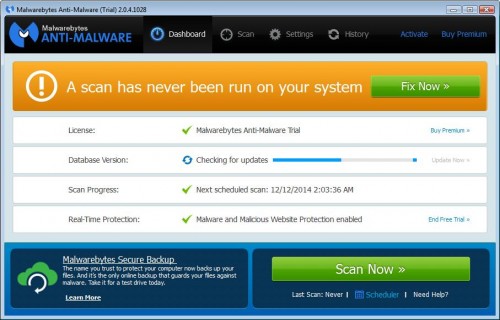 Now click on the Scan Now button to start scanning your computer for AVLab Internet Security associated malware. This procedure can take some time, so please be patient.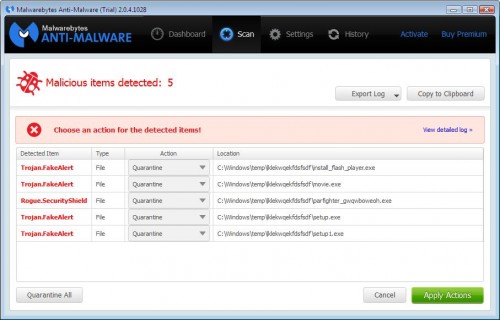 When the scan is finished, make sure all entries have "Quarantine" and click Apply Actions button. When disinfection is completed, you may be prompted to Restart.
Your system should now be free of the AVLab Internet Security. If you need help with the instructions, then post your questions in our Spyware Removal forum.
AVLab Internet Security removal notes
Note 1: if you can not download, install, run or update Malwarebytes Anti-malware, then follow the steps: Malwarebytes won`t install, run or update – How to fix it.
Note 2: your current antispyware and antivirus software let the infection through ? Then you may want to consider purchasing the FULL version of MalwareBytes Anti-malware to protect your computer in the future.
Note 3: If you follow this guide above to remove AVLab Internet Securit let us know how you managed by sending us your comments please.