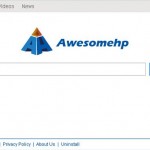 Awesomehp browser hijacker aka Awesomehp.com virus – an infection that when infecting a computer changes the settings of all web browsers. This virus establishes Awesomehp.com as your home page and Awesomehp.com as the default search engine . Moreover it will steal your personal data that you enter in the browser , as well as continually show a variety of advertising messages .
Since Awesomehp provides no official way to remove yourself and restore your browser options, then use the instructions below to remove the virus and and any associated malware from your computer for free.

Use the following instructions to remove Awesomehp browser hijacker
Go to Control Panel => Add or Remove Programs and remove the following programs, if found:
awesomehp Browser new tab extension
IePluginService
SupTab
WPM17.8.0.3159
Download MalwareBytes Anti-malware (MBAM). Close all programs and Windows on your computer.
Double Click mbam-setup.exe to install the application. When the installation begins, keep following the prompts in order to continue with the installation process. Do not make any changes to default settings and when the program has finished installing, make sure a checkmark is placed next to Update Malwarebytes' Anti-Malware and Launch Malwarebytes' Anti-Malware, then click Finish.
If an update is found, it will download and install the latest version.
Once the program has loaded you will see window similar to the one below.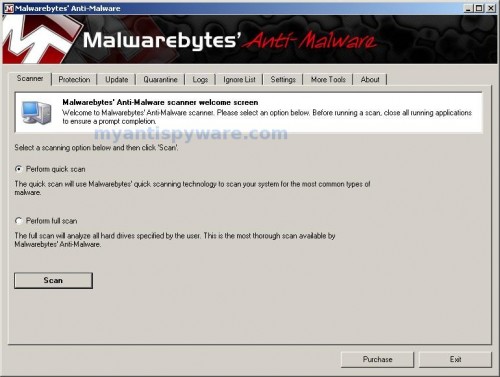 Malwarebytes Anti-Malware Window
Select Perform Quick Scan, then click Scan, it will start scanning your computer for Awesomehp browser hijacker infection. This procedure can take some time, so please be patient.
When the scan is complete, click OK, then Show Results to view the results. You will see a list of infected items similar as shown below. Note: list of infected items may be different than what is shown in the image below.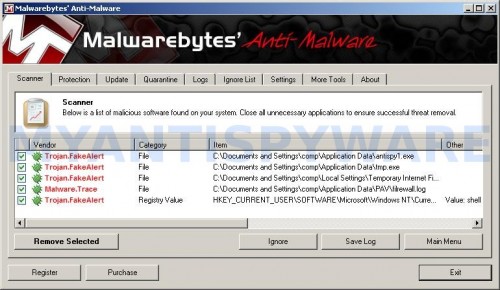 Malwarebytes Anti-malware, list of infected items
Make sure that everything is checked, and click Remove Selected for start Awesomehp browser hijacker removal process. When disinfection is completed, a log will open in Notepad and you may be prompted to Restart.
Download Shortcut Cleaner from here to to clean up all Windows web browser shortcuts. Once this program is downloaded, run it.
Last but not least, you need to reset your home page settings. For Internet Explorer, Click Tools menu, then Internet Options, on the General tab change your homepage options. For Firefox, open Tools menu, then Options. Next open General tab and set your homepage options. For Chrome, open main menu, then Settings, then click to Set Pages link to set your homepage options.
Awesomehp browser hijacker removal notes
Note 1: if you can not download, install, run or update Malwarebytes Anti-malware, then follow the steps: Malwarebytes won`t install, run or update – How to fix it.
Note 2: if you need help with the instructions, then post your questions in our Spyware Removal forum.
Note 3: your current antispyware and antivirus software let the infection through ? Then you may want to consider purchasing the FULL version of MalwareBytes Anti-malware to protect your computer in the future.