braviax.exe is a malware that also installs rogue security applications and display false alert on compromised computer. If your computer infected, then you have a red circle with a white X in your taskbar that is constantly telling you, that you have a virus
Your computer is infected!…
Starting in July 2009, this malware installs PC Security 2009.
O4 – HKLM\..\Run: [braviax] C:\WINDOWS\system32\braviax.exe
O20 – AppInit_DLLs: cru629.dat
Follow these steps to remove braviax infection
Download SDFix and save the file to your desktop. Double click SDFix.exe and it will extract the files to %systemdrive% (Drive that contains the Windows Directory, typically C:\SDFix)
Reboot your PC in Safe mode.
1. Restart your computer
2. After hearing your computer beep once during startup, but before the Windows icon appears, press F8.
3. Instead of Windows loading as normal, a menu should appear
4. Select the first option, to run Windows in Safe Mode.
Open the SDFix folder and double-click RunThis.bat.
Type Y to begin the cleanup process.
It will remove any Trojan Services and Registry Entries that it finds then prompt you to press any key to Reboot.
Press any Key and it will restart the PC.
When the PC restarts the Fixtool will run again and complete the removal process then display Finished, press any key to end the script and load your desktop icons.
Close any open browsers.
Download MalwareBytes Anti-malware (MBAM). Close all programs and Windows on your computer.
Double Click mbam-setup.exe to install the application. When the installation begins, keep following the prompts in order to continue with the installation process. Do not make any changes to default settings and when the program has finished installing, make sure a checkmark is placed next to Update Malwarebytes' Anti-Malware and Launch Malwarebytes' Anti-Malware, then click Finish.
If an update is found, it will download and install the latest version.
Once the program has loaded you will see window similar to the one below.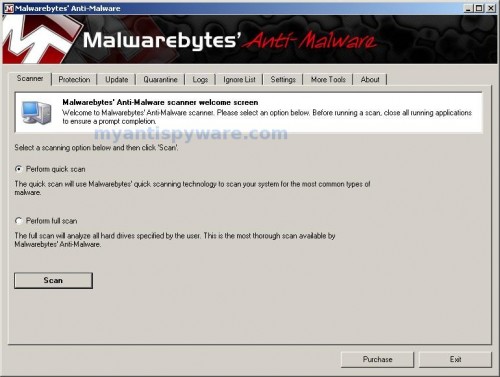 Malwarebytes Anti-Malware Window
Select Perform Quick Scan, then click Scan, it will start scanning your computer. This procedure can take some time, so please be patient.
When the scan is complete, click OK, then Show Results to view the results. You will see a list of infected items similar as shown below. Note: list of infected items may be different than what is shown in the image below.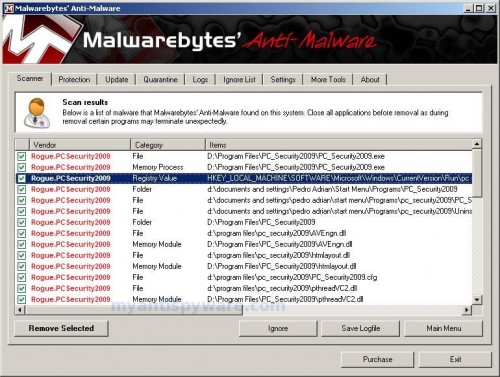 Malwarebytes Anti-malware, list of infected items
Make sure that everything is checked, and click Remove Selected.
Note: if you need help with the instructions, then post your questions in our Spyware Removal forum.