It sounds tempting: a free premium Pit Boss Grill, endorsed by none other than celebrity chef Guy Fieri, with the only cost being shipping fees. But beware, this enticing offer circulating on social media platforms like Facebook and Instagram is not what it seems. Numerous reports have flagged it as a sophisticated scam designed to siphon money and harvest personal details from unsuspecting individuals. Before you're drawn in by the allure of a too-good-to-be-true deal, arm yourself with knowledge. Read the article to learn more about the deceptive tactics behind this scheme and how to stay safe.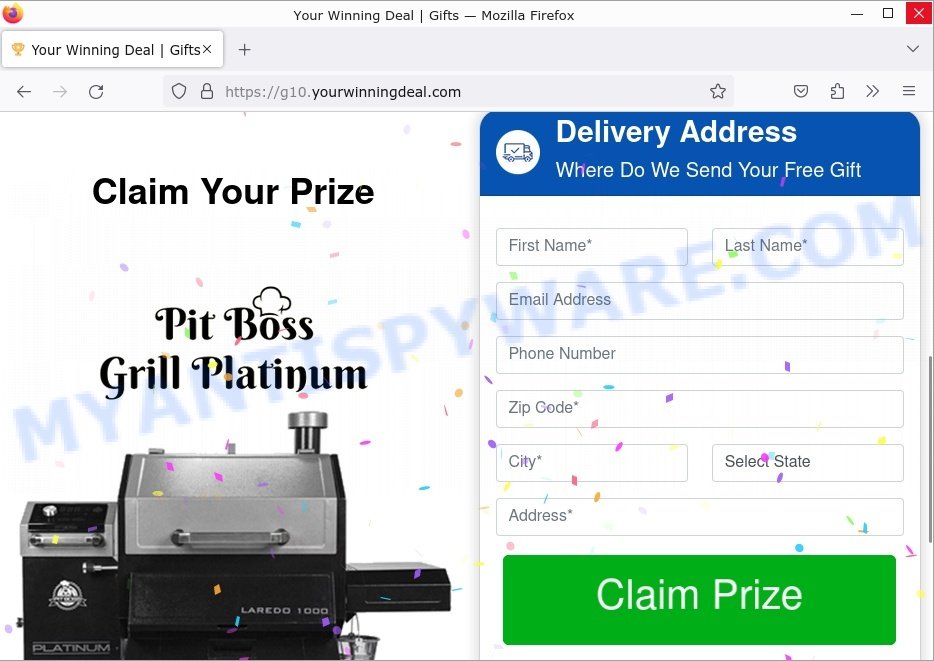 Table of Contents
🕵️‍♂️ Is the Guy Fieri Pit Boss Grill Premium Giveaway a Scam?
Upon examining the details, several indicators strongly suggest that the Guy Fieri Pit Boss Grill Premium Giveaway is a scam. Here's a breakdown:
🔍 Too Good to Be True Offer
The idea of receiving a high-quality Pit Boss Grill for just the shipping cost is a classic bait often used in scams.
🌐 Dubious Website URLs
Domains like "premiumrewardstoday.com" and "newprestigiousgiveway.net" don't match what you'd expect from a genuine giveaway. Legitimate promotions typically reside on official brand websites.
⏰ Artificial Sense of Urgency
The "Your Spot Is Reserved For 05:59 MINUTES SECONDS" countdown is a tactic to pressure users into hasty decisions.
❓ Unverified Claims of Partnership
The supposed collaboration between Guy Fieri and Pit Boss isn't confirmed on any official platforms, making it dubious.
💳 Demands for Credit Card Information
Requesting credit card details for a "free" item is a red flag, hinting at attempts to gather sensitive financial data.
🛒 Unexpected Items in Cart
A user reported that an unrelated product (a Fitness XR) was sneakily added to their cart. This is a typical sign of misleading activities.
🧩 How the Scam Works
The Guy Fieri Pit Boss Grill Premium Giveaway may seem like an exciting offer, but it's a trap. While it promises a high-value item for just the shipping cost, the reality is a series of deceptive tactics aimed at getting your money and personal details. Here, we'll detail each step of this deceptive process.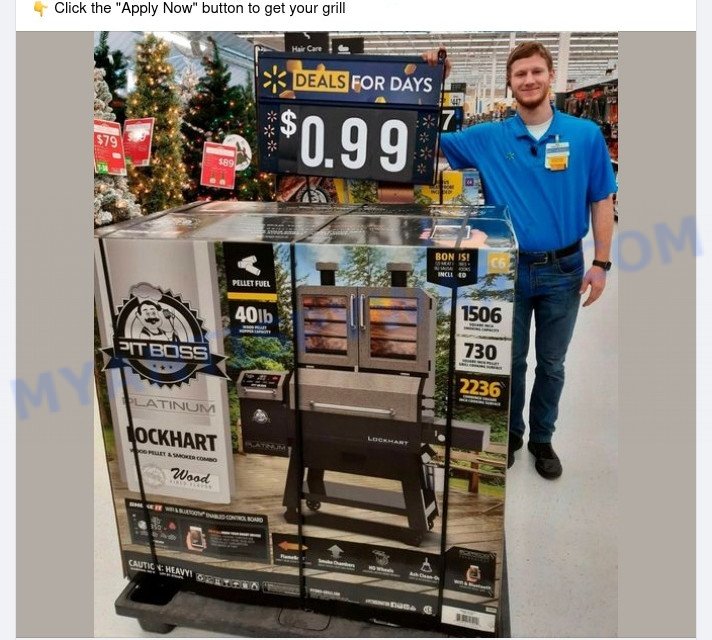 🎣 Bait with a Tempting Offer
Users encounter alluring advertisements on platforms like Facebook and Instagram. These ads boast a free Pit Boss Grill offer, emphasizing that recipients only need to cover shipping costs.
🖼️ Misleading Imagery and Endorsements
The ads may use photos of Guy Fieri or the grill, giving an illusion of authenticity. There's an implied endorsement that isn't verified through official channels.
🔗 Click and Redirect
Once a user shows interest by clicking on the ad, they're rerouted to unofficial, suspicious websites such as "premiumrewardstoday.com". These sites aren't affiliated with Guy Fieri, Pit Boss, or any other reputable brand.
⏳ Pressure Tactics
Upon landing on the scam website, a countdown timer ticks away. This tool builds an artificial urgency, making users feel they have limited time to claim the "exclusive" offer.
📋 Data Harvesting Begins
Users are then guided to fill out a form, asking for delivery addresses and other personal details. It's framed as a necessary step to receive the free grill.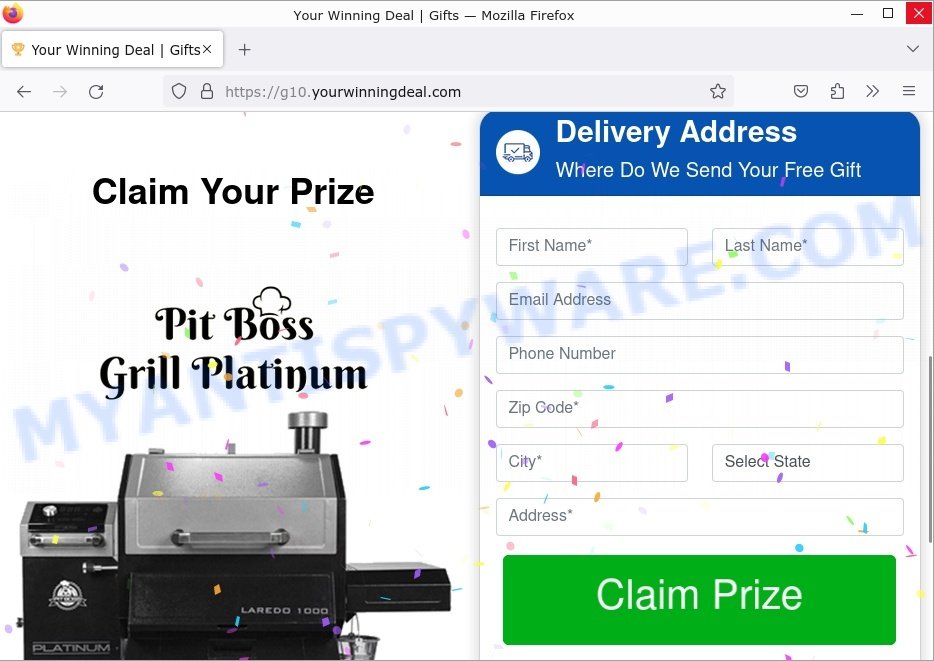 💳 Financial Info Extraction
Post submitting their address, a new page loads asking users to input their credit card details to cover the shipping fee. This step is pivotal for scammers, as it's their main avenue to access and exploit a user's financial information.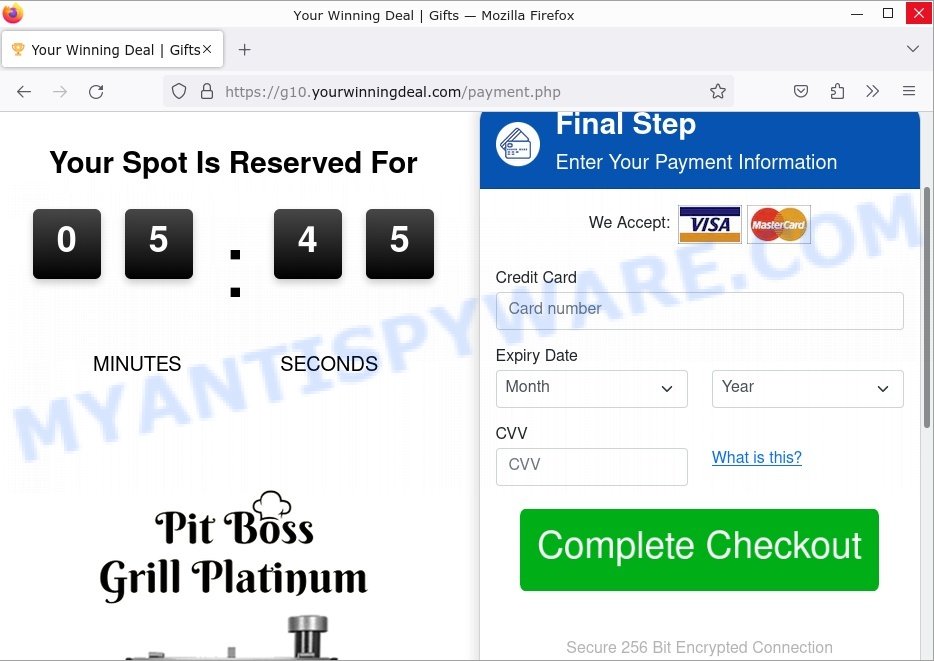 ❌ No Delivery
Once the transaction is completed, users often find themselves waiting indefinitely. The promised grill is never delivered. Meanwhile, they've been charged for the "shipping", and sometimes even more due to the added products.
🚫 Hidden Recurring Charges
Some victims of this scam have reported recurring unauthorized deductions from their credit cards. This suggests that scammers might set up recurring charges masked as subscription fees.
🔒 Data at Risk
Beyond the immediate financial loss, there's a grave risk that the personal and financial data shared can be misused, sold, or shared in the dark web or for other fraudulent schemes.
---
To stay safe, always be wary of offers that seem too good to be true, and double-check any promotions through official and recognized channels. Avoid sharing personal or financial information on suspicious platforms.
Examples of such scams
The Guy Fieri Pit Boss Grill Premium Giveaway scam is not an isolated incident. Digital fraudsters continually evolve their tactics and launch seemingly irresistible offers, aiming to exploit enthusiastic and unsuspecting participants. Here's a list of some recent, similar scams that have been making the rounds:
This scam baited users with an offer of a high-quality Ninja knife set from Kohl's at a drastically reduced price or even for free. All participants had to do was pay for the shipping. However, many reported never receiving the set after payment, while others noticed unauthorized charges on their accounts.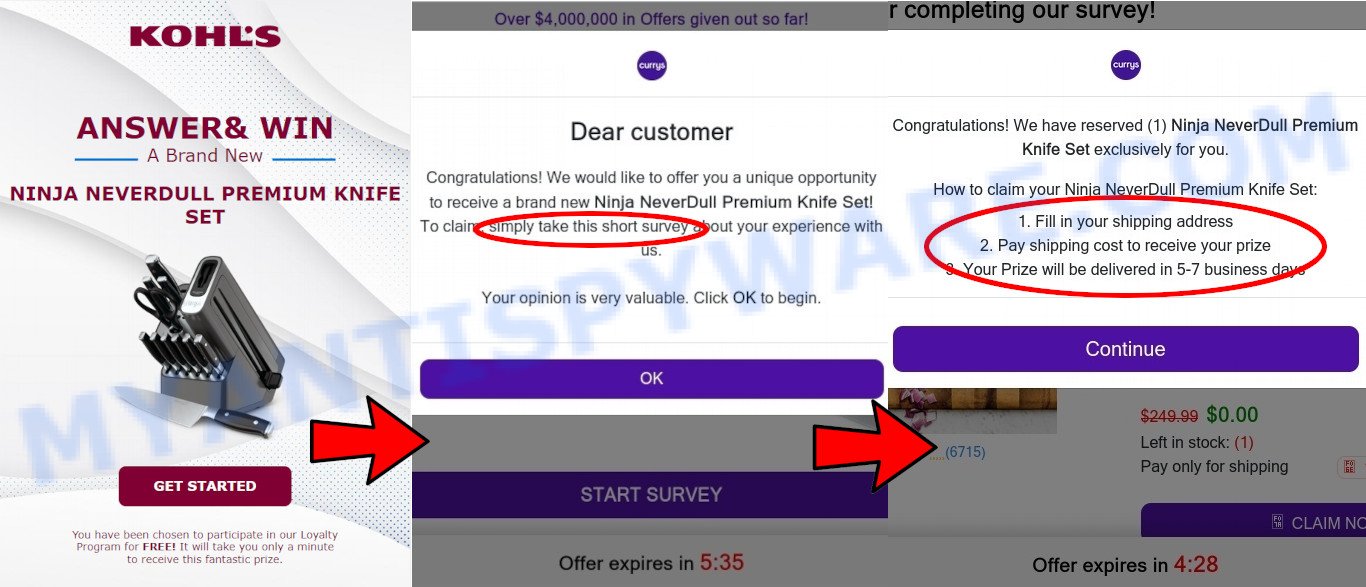 The popular YouTuber Mr Beast is known for his legitimate and extravagant giveaways. Scammers took advantage of his reputation by creating fake giveaway campaigns in his name, asking participants to provide personal details or even make a small payment to qualify.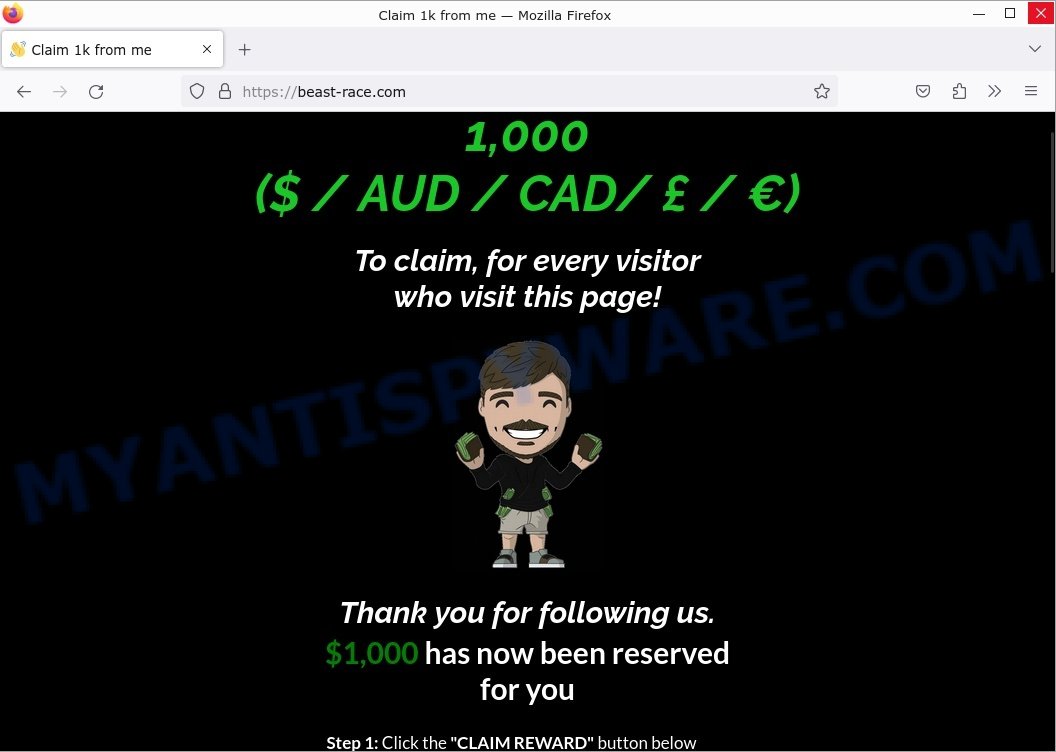 Similar to the Ninja Knife set scam, this one promised users a chance to get a premium Le Creuset product from KOHL'S for a fraction of its regular price or as a giveaway. However, those who fell for the trap either never received the product or found unrelated items added to their online shopping carts.

The popular online clothing store Shein was used as a front for this scam. Users were promised huge summer giveaways, often with the caveat of paying minimal fees or sharing the giveaway with friends. However, the "giveaways" never materialized, and many participants reported data breaches or suspicious online activity afterward.

It's essential to remember that if an online offer sounds too good to be true, it often is. Always approach such deals with caution, verify them through official channels, and never share personal or financial information without thorough scrutiny.
What to Do If Scammed 🚫🔐
If you've been caught up in the "Guy Fieri Pit Boss Grill Premium Giveaway" scam, don't panic. It's important to act quickly to protect yourself and your finances. Here's a step-by-step guide on what to do next:
🏦 Contact Your Financial Institution:
Immediately inform your bank or credit card company about the unauthorized transaction. They may be able to stop the transaction, reverse it, or even issue a chargeback. Request a new credit/debit card if you believe your card details have been compromised. Document any financial losses. This can be essential for investigations and potential reimbursements.
🔐 Change Passwords:
If you suspect your personal information, especially passwords, have been compromised, change them immediately. This is crucial for accounts linked to financial institutions or personal data. Consider using a reputable password manager to ensure strong, unique passwords for each account.
👀 Monitor Your Accounts:
Keep a close eye on your bank and credit card statements for the next several months. Look for any unauthorized or suspicious transactions, no matter how small. Consider enrolling in a credit monitoring service. Some services will alert you to changes in your credit report, potentially indicating identity theft.
🚔 Report the Scam
Forward the scam email to the Federal Trade Commission (FTC) at spam@uce.gov. Report the scam to your local law enforcement and provide them with all the details and evidence you have.
💻 Check Your Computer
If you've downloaded any attachments or clicked on any links in the scam email, your device might be infected. Run a comprehensive antivirus scan. Consider consulting with a professional to ensure your computer is clean from malware or spyware.
📘 Educate Yourself
Familiarize yourself with common scam tactics to avoid falling victim in the future. Stay updated on recent scams or phishing methods by following news sources or official government warnings.
📢 Inform Others
Warn friends and family about the scam, especially if it's widespread. Sharing your experience can help protect others from the same pitfalls.
Summary Table
| Row | Details |
| --- | --- |
| Name | Guy Fieri Pit Boss Grill Premium Giveaway Scam |
| Type | Online Giveaway/Shopping Scam |
| Fake Claims | Offer of a free Pit Boss Grill, only need to pay for shipping. |
| Disguise | Uses Guy Fieri's name and imagery as an endorsement; Mimics a legitimate promotional giveaway. |
| Scammers' websites | premiumrewardstoday.com, newprestigiousgiveway.net, g10.yourwinningdeal.com |
| Damage | Financial loss from fake charges; Unauthorized recurring charges; Risk of identity theft. |
| Distribution | Primarily through social media platforms like Facebook and Instagram, using targeted ads. |
| Indicators of the scam | Too-good-to-be-true offer; Countdown timers to create urgency; Redirected to an unfamiliar website after clicking; Unusual URLs not linked to official brands; Hidden charges or subscription details. |
| Prevention Tips | Verify offers through official channels; Be skeptical of offers that ask only for shipping fees; Be wary of providing personal or financial information on unfamiliar sites |
| Reporting Info | Report suspicious ads directly on social media platforms; For financial fraud, contact your bank immediately; In the U.S., consider reporting to the Federal Trade Commission (FTC) at reportfraud.ftc.gov. |
Conclusion
The Guy Fieri Pit Boss Grill Premium Giveaway Scam is a deceptive scheme meticulously crafted to appear genuine, leveraging the popularity of a celebrity chef. 🚫 Behind the appeal of a "free" high-quality grill, it hides its true intention: to extract money and personal information from unsuspecting individuals. By employing tactics such as fake endorsements, urgency timers, and shady websites, it ensnares its victims into a web of financial and data-related risks. 🕸️ It's vital for internet users to approach such seemingly attractive offers with caution, always prioritizing verification and safety. 🛡️