MrBeast, a popular YouTuber known for his philanthropic acts, has been the subject of a new scam that is targeting people across various platforms. The MrBeast giveaway scam promises cash prizes to those who follow a set of instructions, but in reality, it is a phishing scam that is designed to harvest personal information. Many people have been left wondering if MrBeast's giveaways are real or fake due to this scam. While MrBeast is known for his generous giveaways, it is important to be cautious and aware of potential scams that could take advantage of his name and reputation.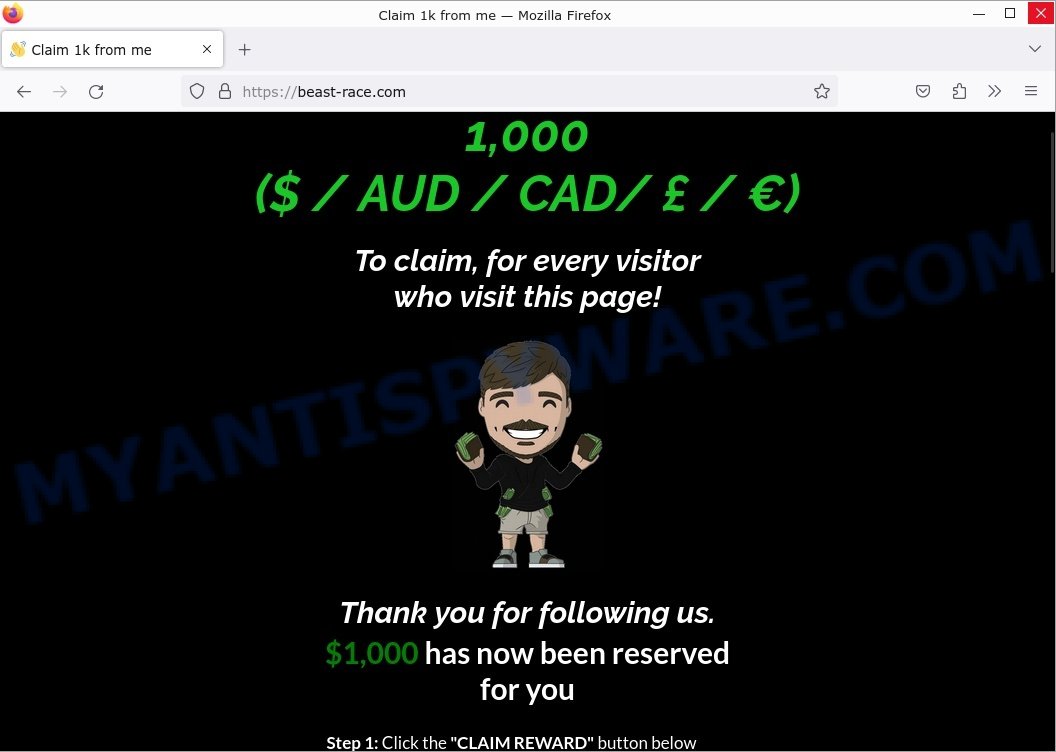 If you want to learn more about the MrBeast giveaway scam and how to protect yourself from falling victim to it, keep reading this article. We'll delve into how the scam works, what actions to take if you've fallen victim to it, tips to protect yourself from fake MrBeast giveaway ads on YouTube, and how to spot a fake MrBeast giveaway. Stay informed and stay safe!
QUICK LINKS
How the Mr Beast Giveaway Scam works
The "Mr Beast Giveaway" is a pop-up scam that uses the name and image of Mr Beast, a popular YouTuber and philanthropist, to trick people into giving away their personal information. The scammers create fake social media ads, emails, or text messages that promise large sums of money to those who follow a set of instructions. However, Mr Beast himself is not associated with this scam in any way.
The Mr Beast Giveaway scam is often propagated through fake social media ads, such as those seen on YouTube and Facebook. These ads are designed to look like legitimate promotions from Mr Beast himself, using his name and image to gain credibility and trust from potential victims.
The ads often have attention-grabbing headlines, promising large sums of money or other prizes in exchange for following a set of instructions. For example, an ad may say something like "How to get Free $25 (Not Clickbait)" or "I AM GIVING AWAY $500 TO EVERY PERSON WHO WATCHES THIS!" or "I'm Giving Away $10,000 to My Subscribers! Follow These Steps to Claim Your Share!" or "Free Money! Claim Your $100 Prize Now!".
When a user clicks on the link in one of these ads, they are taken to a fake website that looks like it is associated with Mr Beast. The site presents a message saying that every subscriber will get $1,000 if they follow the instructions on the page. The instructions involve clicking a "CLAIM REWARD" button, downloading sponsor applications or completing sponsor tasks, and entering their PayPal or bank account credentials.
The site also presents a fake countdown timer, suggesting that users have a limited amount of time to claim their reward. However, the "CLAIM REWARD" link is a phishing attempt link that redirects users to a phishing webpage that harvests private data. The scammers may use long redirect chains to hide malicious content, and most malicious redirects are conditional, which means that redirection only occurs when a certain condition is met, for example, when users click from a smartphone.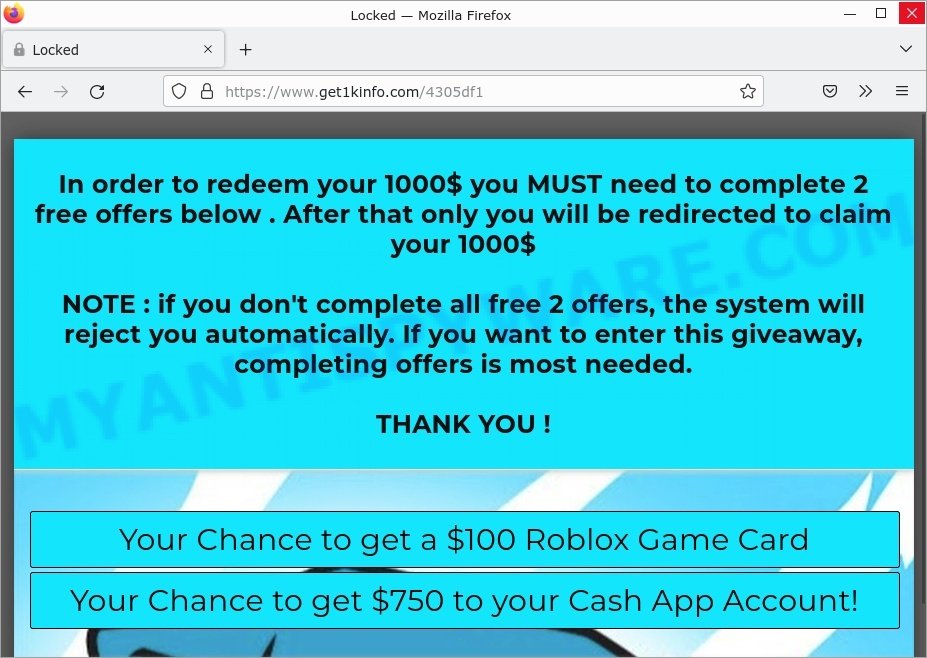 In a second phase of the scam, users are redirected to different scams depending on their IP address. For US IP addresses, they are redirected to surveysandpromoonline.com, while other IP addresses are redirected to expensivesurvey.click. Both of these sites ask users to complete a set of free offers or surveys to claim their reward. However, completing the offers may sign users up for expensive subscriptions or reveal their personal information to scammers.
Overall, the Mr Beast Giveaway scam is a phishing scam that preys on people's desire for easy money. The scammers use misleading ads and fake websites to trick users into divulging their personal information, which they can use for further scams or fraudulent activities. Users should always be cautious when clicking on links or giving out their personal information online and should report any suspicious activities to the relevant authorities.
VirusTotal flagged a fake "Mr Beast Giveaway" website as phishing: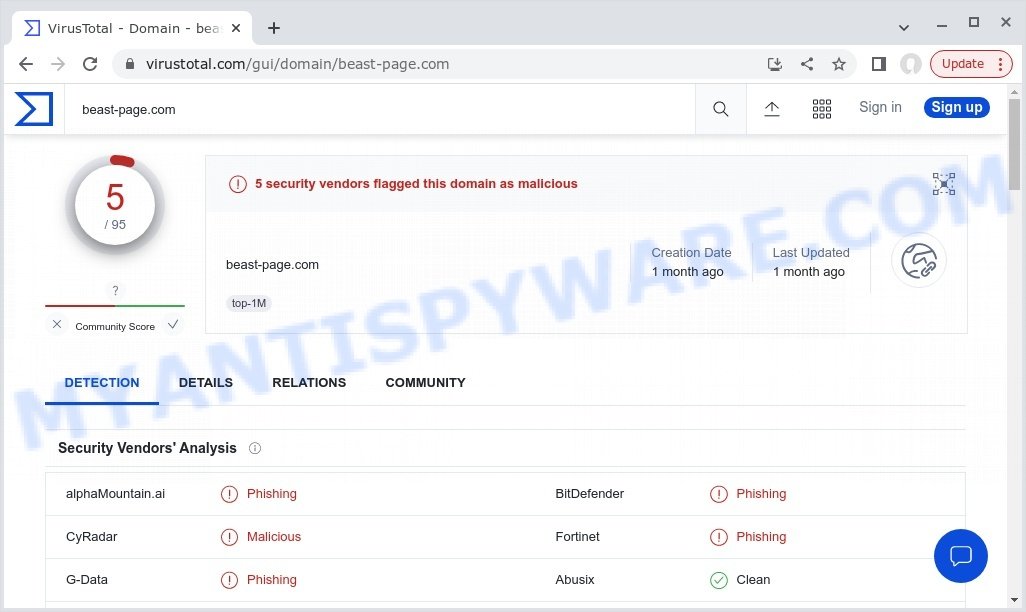 A Mr Beast Giveaway Scam Text:
$1,000

To every Subscriber
who visit this page!
Thank you for following us.
$1,000 has now been reserved for you

Step 1: Click the "CLAIM REWARD" button below

Step 2: Download sponsor applications on the next page and follow the instructions on the page

Step 3: After you download all applications, enter PayPal E-Mail on next page and recieve money in few minutes!

Monday, January 16, 2023

We will stop accepting new visitors in
26:03 minutes!

Mr Beast is an American YouTuber,
Entrepreneur and Philanthropist. He has been credited with pioneering a genre of YouTube videos on amazing stunts.

Total Views: Over 13+ billion
Total Subscribers: 100+ million

SPONSORED BY
Examples of such scams
As mentioned earlier, the Mr Beast Giveaway Scam is just one of many online scams that prey on unsuspecting victims. Below, we will provide examples of other similar scams that you should be aware of. These scams often use similar tactics, such as impersonating a well-known influencer or celebrity or brand and promising a large sum of money or valuable prizes in exchange for personal information or payment. It is important to be vigilant and cautious when encountering these types of offers to avoid falling victim to these scams. Here are some examples to look out for: Mr Beast Gift Cards Giveaway Scam, Amazon Children's Day PlayStation 5 Giveaway Scam, and SHEIN Gift Card Instagram Scam.
Actions to Take If You've Fallen Victim to the Mr Beast Giveaway Scam
If you have fallen for the Mr Beast Giveaway Scam, it's important to act quickly and take steps to protect yourself from any further harm. The scam can lead to the installation of harmful software or extensions on your computer, as well as the possibility of your PayPal account information being compromised. In this section, we will outline the steps you should take if you have been scammed by the Mr Beast Giveaway Scam, including how to remove any harmful software or extensions, protect your personal information, and report the scam to the relevant authorities.
Disconnect from the internet – this will prevent the scammer from accessing any more of your personal information or continuing to manipulate your computer.
Scan your computer for malware – run a full scan of your computer with reputable anti-virus or anti-malware software to detect and remove any potential malware or viruses that may have been installed during the scam.
Remove any suspicious software – if you downloaded any software as part of the scam, uninstall it immediately.
Clear your browsing history and reset your browser settings – this will remove any traces of the scam from your computer and prevent any further pop-ups or unwanted ads.
Change your passwords – if you have provided any passwords or sensitive information, change those passwords immediately. Also, consider enabling two-factor authentication for added security.
Contact PayPal – if you provided your PayPal credentials, contact PayPal's customer service and inform them of the situation. They may be able to help you recover any lost funds or prevent any further fraudulent activity on your account.
Report the scam – report the scam to the relevant authorities, such as the Federal Trade Commission at https://reportfraud.ftc.gov/ or your local police department. This can help prevent others from falling victim to the same scam.
Remember, it's important to stay vigilant and be cautious when it comes to online giveaways and contests. Always double-check the authenticity of the website and the social media account before providing any personal information or downloading any software.
Fake MrBeast Giveaway Ads on YouTube: Tips to Protect Yourself
If you come across a YouTube advertisement promoting a MrBeast giveaway, do not get excited, as it is likely a scam. These ads can be quite convincing and can mislead users into thinking that they have been selected to receive a prize worth thousands of dollars from MrBeast. The scammers ask victims to click on the ad and check the video description for more information on how to claim their prize.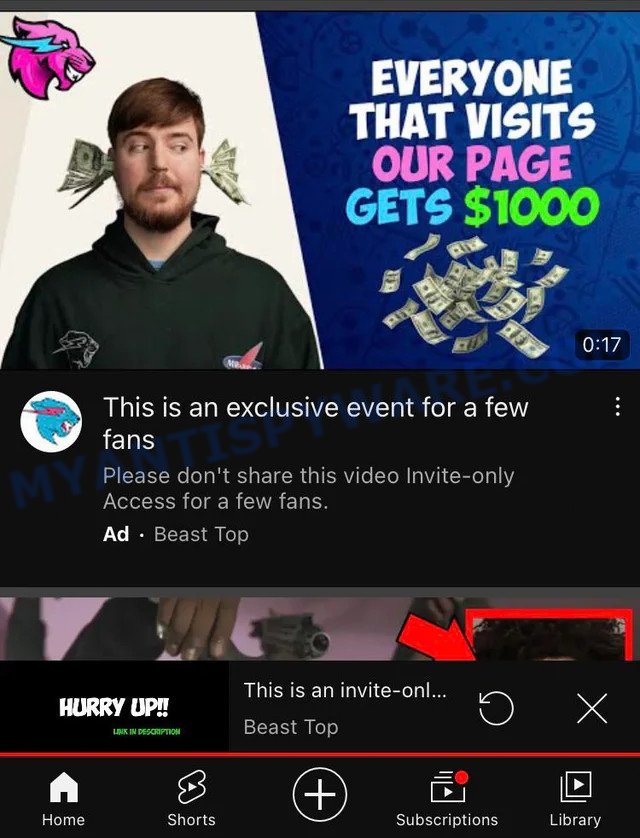 However, if you click on the link provided in the video description, you will be taken to a fake giveaway website that is designed to scam you out of your personal information or money. Therefore, it is important to report such ads to YouTube before closing them to help prevent others from falling victim to the scam.
To report a fake MrBeast giveaway ad on YouTube, you can follow these steps:
If the ad is still visible on your device, report it to YouTube before closing it. You can do this by clicking on the "Info" icon next to the ad timer and selecting "Report Ad" on the ad reporting page. Then choose "An ad violates Google Ads policies" and "It's misleading or a scam" options. Enter your email address and click "Submit".
Scammers often make the video used in the ad unlisted on their channel, so it's not always possible to find it again once you've closed the ad. If you remember the YouTube channel name, you can search for it and report the channel to YouTube.
To report a scammer's YouTube channel, follow these steps:
Sign in to your YouTube account.
Go to the YouTube channel you want to report.
Click the "About" tab.
Click the flag icon in the right pane.
Select "Report user" and choose "Spam or scams".
Click "Next" and select the video if it's listed on the channel. Otherwise, skip this step and click "Next".
In the "Additional notes" section, provide details about the scam.
Click "Submit" to complete the report.
It's important to report these scammers to YouTube as soon as possible to prevent them from victimizing more people. You can also help others by warning them about the scam and sharing this information with your friends and family.
Fake MrBeast Giveaway on TikTok: A New Twist on an Old Ruse
In this variant, scammers use TikTok to publish videos claiming MrBeast has reached a new milestone, such as 180 million followers on YouTube. These videos often feature text like "MrBeast reaches 180 million Followers on YouTube and surprises his Followers with the biggest Giveaway on his site". What's most deceptive is that these videos also include what appears to be a comment or insert from the official MrBeast account. This comment usually points you to a website where you're told you can "claim your prize".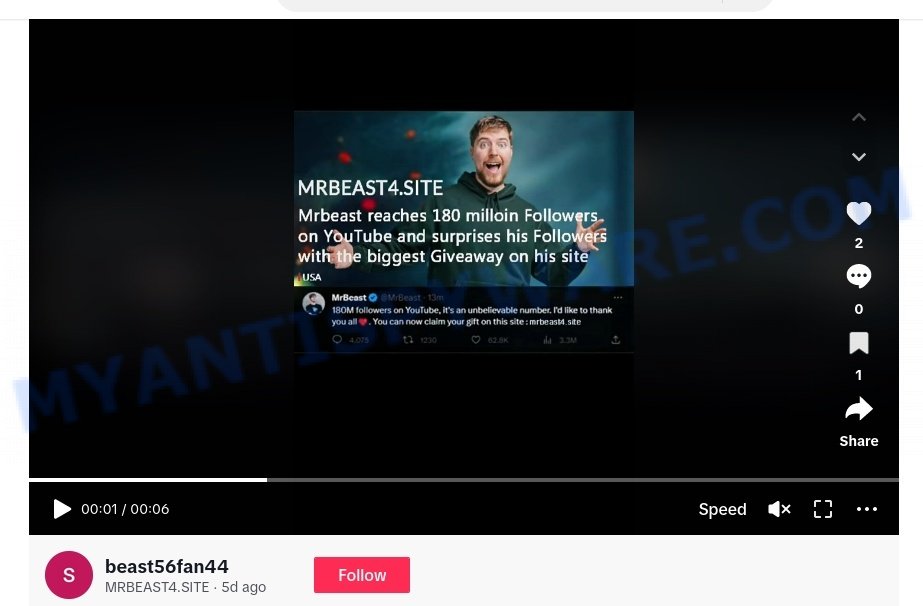 Once you land on the website, you're met with an array of alluring gift cards from popular games like Roblox, Fortnite, and Minecraft. To make you act fast, a countdown timer ticks away, urging you to make a decision before time runs out.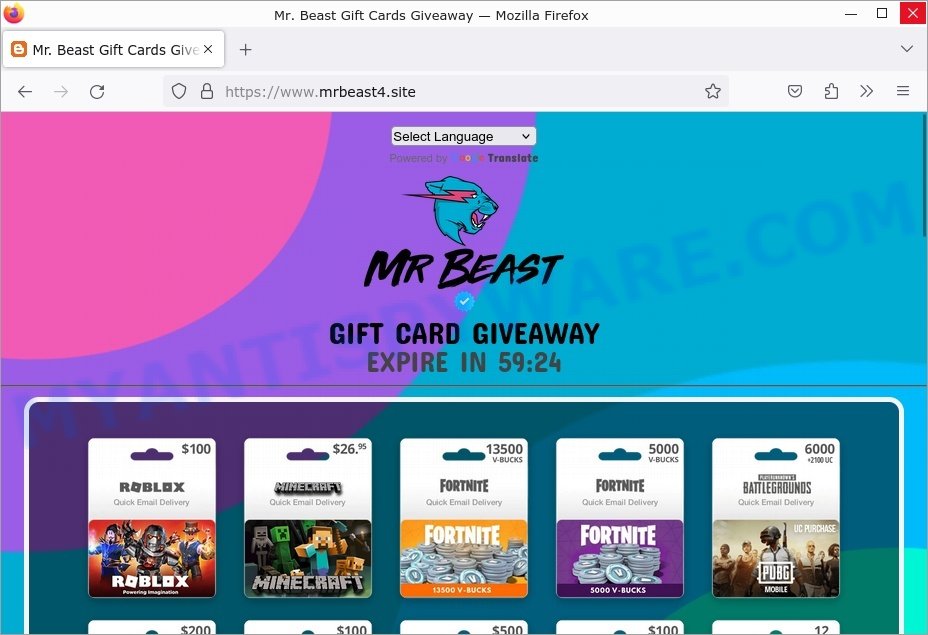 Here's where you should be really cautious. After choosing a gift card, you're guided to a so-called 'human verification' process. This is where the scam gets crafty. You'll find yourself navigating through a maze of misleading offers and deals. Before you know it, you could be caught in a web of unwanted subscriptions or signed-up services.
To report a fake MrBeast giveaway on TikTok, you can follow these steps:
Navigate to the TikTok video that is promoting the fake MrBeast giveaway.
You'll see a "3 dots" button, at the bottom of the video. Tap on it.
After tapping on "3 dots", a menu will appear with various options. One of them will be "Report". Tap on it.
TikTok will ask you why you are reporting the video. Select the category that best fits, which in this case would likely be "Spam or scam".
Follow the on-screen prompts to complete your report. Be as detailed as possible to help TikTok take the appropriate action.
Threat Summary
| | |
| --- | --- |
| Name | Mr Beast Giveaway Scam |
| Type | Social Engineering Scam |
| Fake Claims | Offers a chance to win large amounts of money or prizes by following a set of instructions |
| Scammers' Websites | mrbeast4.site, beast-seed.com, beast-seat.com, beast-scar.com, beast-scan.com, beast-race.com, beast-quiz.com, beast-push.com, beast-pure.com, beast-port.com, beast-plus.com, beast-part.com, beast-peel.com, beast-pile.com, beast-pick.com, beast-peak.com, beast-name.com, beast-link.com, beast-loop.com, beast-line.com, beast-loft.com, beastws.com, beast-line.com, beast-lion.com, beast-teka.com, beast-memo.com, beast-mask.com, beast-main.com, beast-mark.com, beast-knee.com, beast-iron.com, beast-hype.com, beast-hold.com, beast-hero.com, beast-hint.com, beast-here.com, beast-hale.com, beast-fuse.com, beast-flow.com, beast-fact.com, beast-easy.com, beast-flux.com, beast-fact.com, beast-epic.com, beast-dice.com, beast-crop.com, beast-bolt.com, beast-able.com, beast-guys.com, beast-atom.com, beast-fex.com, beast-fam.com, beast-tar.com, beast-clap.com, beast-lock.com, beast-yes.com, beast-dip.com, beast-you.com, beast-net.com, beast-now.com, mrbeast.cash, livembpage.com, beast-eye.com, beast-dip.com, beast-van.com, beast-tow.com, beast-use.com, onekcash.com, beast-job.com, beast-jam.com, beast-jar.com, beast-pop.com, beast-paw.com, beast-tank.com, beast-own.com, beast-bag.com, beast-gas.com, beast-for.com, beast-big.com, beast-boy.com, beast-ask.com, beast-ace.com, beast-key.com, beast-vox.com, beast-tod.com, beast-luck.com, mrb1thousand.com, beast-tank.com, beast-row.com, beast-pox.com, beast-jet.com, beast-mojo.com, beast-fire.com, beast-bow.com, beast-way.com, beastws.com, beast-trk.com, beast-team.com, k-promo.com, g2trc.com, beast-pot.com, beast-dots.com, beast-man.com, beast-was.com, cashbeast.co, verifyuser.org, beast-page.com, usdbeast.pro, beast-people.com, getgen.xyz, mb1kinfo.com, get1kinfo.com, beast-1k.live, yesgen.xyz, beast1k.site, 1kstep.live, medgen.xyz, www.beast1k-2k22.live, 1kbeastly.live, 1k-beast.live, beastly1k.live, beastpromo.live, claimit-now.com, 1000-mbest.com, foryou1k.com, mrb1k.org |
| Distribution | Social media platforms (YouTube, TikTok, Instagram, etc), phishing emails, search engine results |
| Symptoms | pop-up advertisements in bottom right corner of screen, unexpected changes in browser settings, pop-ups are loaded without your request, speed test good but internet slow |
| Damage | Financial loss, stolen personal information |
| Indicators of the Scam | 1) Promises of guaranteed winnings; 2) Requests for personal information or money; 3) Poor grammar and spelling in instructions |
| Prevention Tips | 1) Do not provide personal information or money to enter giveaways; 2) Verify the legitimacy of the source and check for blue verification badges on social media |
| Reporting Info | 1) Report suspicious activity to relevant platforms, e.g., YouTube, Twitter, and the Federal Trade Commission (FTC) |
How to Spot a Fake Mr Beast Giveaway
In recent years, YouTube and social media platforms have become popular places for online giveaways and contests, with some of the most popular hosted by well-known creators and influencers such as Mr Beast.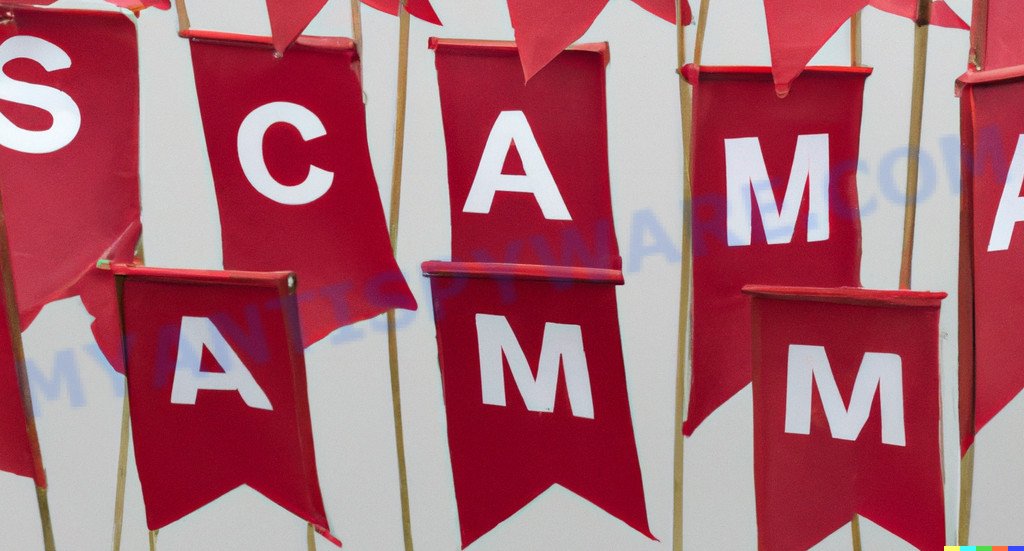 Unfortunately, scammers have taken advantage of the popularity of these giveaways by creating fake Mr Beast giveaways in an attempt to trick people into giving away their personal information or money. As a result, it is important for individuals to be able to identify these scams in order to protect themselves and their finances.
Check the source. Always verify the source of the giveaway. Mr Beast, aka Jimmy Donaldson, runs his giveaways on his verified social media accounts, including Twitter, Instagram, and YouTube. Scammers often create fake accounts that look similar to the official ones, so be sure to check the username and look for the verified badge.
Verify the rules. Mr Beast's giveaways usually have clear rules and guidelines, such as eligibility requirements and entry instructions. If you come across a giveaway with vague or incomplete rules, it may be a scam.
Watch out for fake links. Scammers often use fake links to trick people into giving away their personal information. Make sure to double-check any links before clicking on them. Mr Beast's official links: MrBeast on Facebook, MrBeast on YouTube.
Don't pay to enter. Mr Beast's giveaways are always free to enter. If a scammer asks for payment or personal information, it is likely a scam.
Be wary of messages claiming you have won. Scammers often send fake messages claiming that you have won a Mr Beast giveaway. If you receive such a message, do not click on any links or provide any personal information. Instead, go directly to Mr Beast's verified social media accounts to check if you have actually won.
Trust your instincts. If something seems too good to be true, it probably is. Mr Beast's giveaways are typically large, but they are still within reason. If a giveaway seems too extravagant, it could be a scam.
Beware of Fake Mr Beast Giveaways
In summary, the Mr Beast Giveaway scam involves fraudsters using social media platforms, especially YouTube, to trick unsuspecting victims into giving away personal information or downloading malware in exchange for a chance to win a large sum of money. The scam operates by using fake social media accounts or channels that impersonate Mr Beast or his team, and promoting a fraudulent giveaway that seems too good to be true.
To avoid falling for this scam, it is crucial to look out for red flags such as unverified accounts, suspicious links, and requests for personal information or payments. It is also important to report any suspicious activity to the relevant authorities to prevent other users from being victimized. With a combination of awareness, caution, and vigilance, you can protect yourself from falling prey to this scam and other similar schemes.