A new scam has emerged that you need to be aware of. The Mr Beast Gift Card Giveaway Scam, proliferating across numerous websites such as beastgiveaway.com, onlinegiveaways.in, and many more, is duping unsuspecting individuals into believing they've won gift cards from popular online games. These sites exploit the name of famous YouTuber, Mr Beast, and falsely promise digital rewards that are allegedly "quick email delivery".
However, this giveaway turns into a labyrinth of potentially harmful steps, involving verification methods that have already been flagged by cybersecurity service VirusTotal. How exactly does this scam operate? And more importantly, how can you protect yourself from falling victim to it? Read on to learn more about this sophisticated online trap.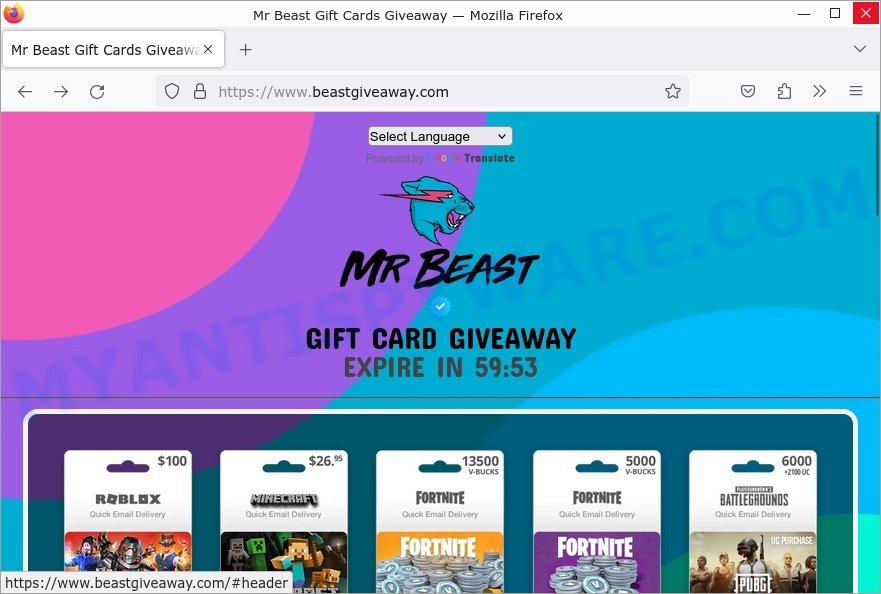 QUICK LINKS
How the Mr Beast Gift Cards Giveaway Scam works
Mr Beast Gift Cards Giveaway Scam is a sophisticated ruse that utilizes various stages and tactics to ensnare unsuspecting individuals. The tricksters behind this sham use the influence of the widely known YouTuber, Mr Beast, to create a veil of authenticity. Their modus operandi involves a network of websites, all carrying identical content, each one designed to take the visitor on a path that appears to lead towards free gaming gift cards.
The first stage involves creating a sense of urgency and anticipation. As soon as a user visits these sites, they are greeted with the familiar Mr Beast logo, lending credibility to the scam. Below this, a prominently displayed countdown timer instills a false sense of urgency, pushing visitors to act swiftly.
The stage introduces the prospect of rewards. The website displays a list of gaming gift cards, such as Roblox, Minecraft, and Fortnite, seemingly ready for immediate giveaway. The allure of these offerings is further amplified by promises of 'Quick Email Delivery'. However, upon selecting a gift card, users are asked to complete a 'human verification' process to allegedly prove they aren't bots and to unlock the claimed gift card.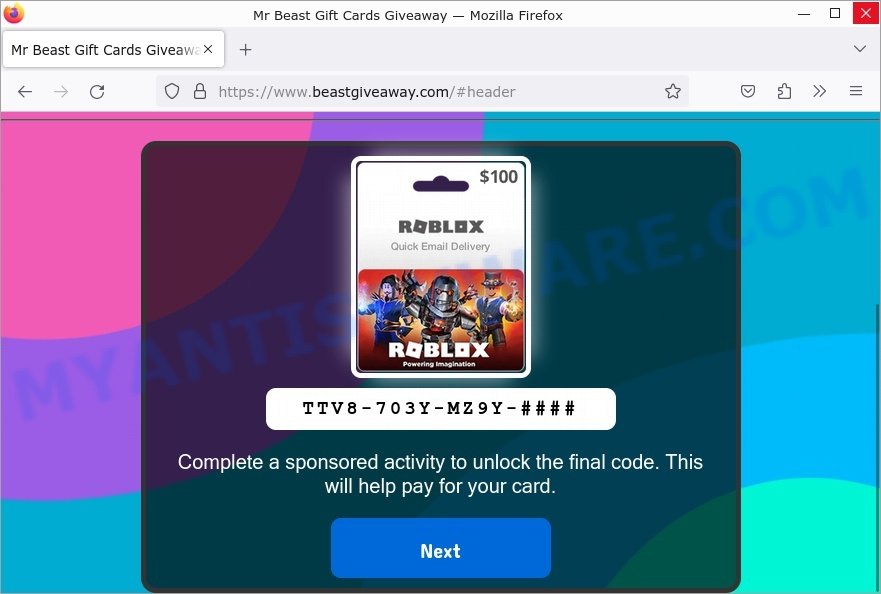 The 'human verification' marks the beginning of the final, most deceitful stage. The user is presented with a set of misleading deals such as a $100 Walmart gift card or $750 to a cash account. Clicking on these deals redirects the user through a chain of other websites, many of which have been flagged as phishing or malicious sites by cybersecurity service VirusTotal.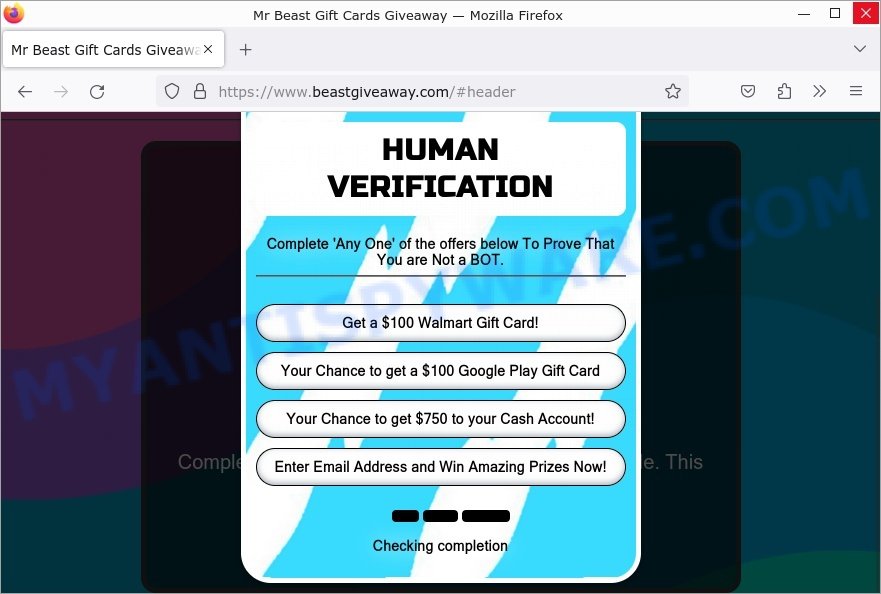 Upon reaching the final destination of this redirect chain, the user is asked to complete a specific number of 'deals'. These can range from taking surveys, subscribing to various services, downloading apps, or even making purchases. Unbeknownst to the user, these activities are designed to harvest their personal information or trick them into signing up for expensive subscriptions.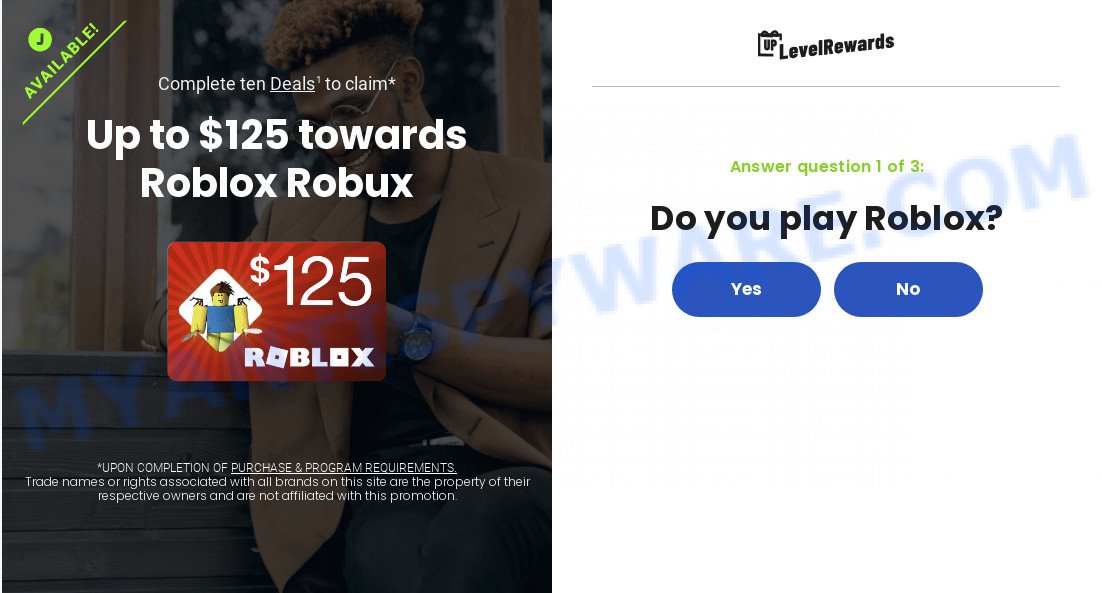 Once the required number of deals has been completed, the user is taken through a claims process involving ID verification, often taking 5-7 days. This drawn-out process is a further tactic employed to lend an air of legitimacy to the scam. Regrettably, despite all the effort and time put into these activities, the user is left empty-handed, with no actual reward, having potentially exposed themselves to harmful activities and unwanted charges.
In conclusion, the Mr Beast Gift Cards Giveaway Scam is an elaborate scheme designed to exploit the familiarity of Mr Beast's brand and the allure of seemingly free gaming gift cards. Through multiple stages, each crafted to add a layer of believability, the scam lures unsuspecting victims into sharing personal information, signing up for unwanted services, or even parting with their hard-earned money. Despite promises of rewards, victims are left with nothing but potentially compromised personal information and an unfortunate lesson in online safety.
What to do if you become a victim of the Mr Beast Gift Cards Giveaway Scam
If you have fallen victim to the Mr Beast Gift Cards Giveaway Scam, here are specific steps you should take:
Stop All Contact: Immediately cease all contact with the scam website and do not click any more links or complete any more 'deals.' Further engagement could lead to more potential harm.
Report to Mr Beast's Official Team: Alert the official team of Mr Beast about the scam. They may not be able to directly help you recover any losses, but your report can contribute to their efforts in getting these scam websites taken down.
Check for Unwanted Subscriptions: If you've signed up for 'deals,' check your emails and credit card statements for any unwanted subscriptions. Contact the respective services to cancel these subscriptions immediately.
Contact Your Bank: If you've made any payments or provided credit card information, reach out to your bank as soon as possible. Explain the situation, request to block any unauthorized transactions, and consider getting a new card if your current one has been compromised.
Change Your Passwords: If you've used your email address in the scam process, change your email password. If you've used the same password on other platforms, change those too.
Perform a Security Scan: Run a security scan on your device if you've downloaded anything as part of the 'deals.' Some of these downloads might contain malware.
Report the Scam: File a report with your local police and report the scam to the Internet Crime Complaint Center (IC3).
Inform Others: Spread awareness about this scam. Write about your experience on social media platforms and alert your friends and family so they do not fall for the same trick.
Finally, review online safety guidelines and educate yourself on identifying scams. Always remember that if something seems too good to be true, it probably is.
Other Scams Exploiting Mr Beast's Name
Unfortunately, the Mr Beast Gift Cards Giveaway Scam is not an isolated incident. Because of Mr Beast's popularity and philanthropic activities, his name has been exploited by scam artists in numerous deceptive schemes. The intent of these scams ranges from phishing personal information to fraudulent monetary solicitations. The following are some examples of scams that misuse Mr Beast's name: Mr Beast Giveaway Pop-Up Scam, Mr Beast Fund Scam, and MR. BEAST TOKEN DROP Cryptocurrency Scam. Despite their varying formats, all these scams share a common theme: the false promise of rewards from Mr Beast, aimed at exploiting unsuspecting fans. Being aware of these various scams can help us all stay safe while navigating the online world.
How to Spot a Fake Mr Beast Giveaway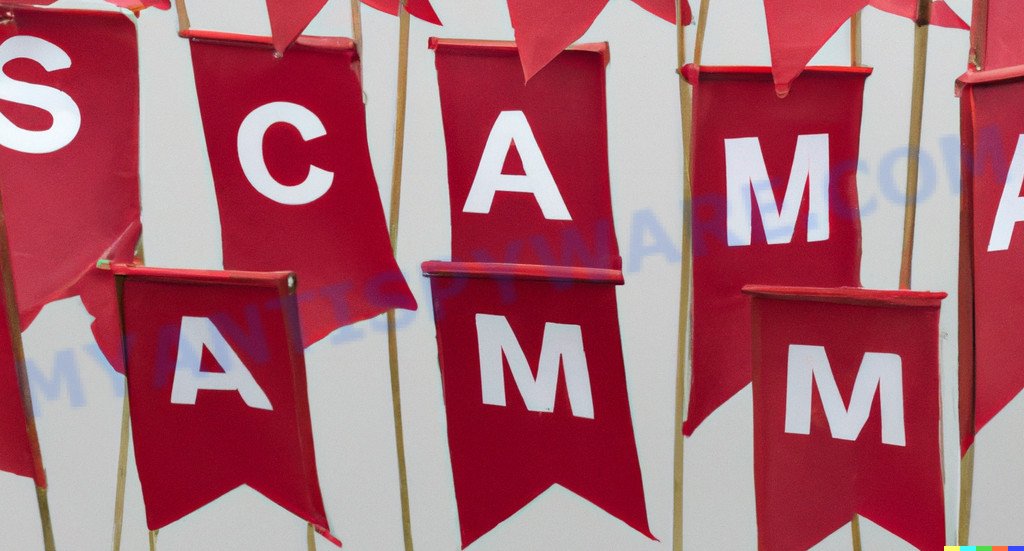 Identifying a fake Mr Beast giveaway is crucial to avoiding falling victim to such scams. Here are some telltale signs to look out for:
The most reliable giveaways are typically conducted on Mr Beast's official social media accounts: MrBeast on Facebook, MrBeast on YouTube. Always check the original source of the giveaway. If it's not from an official, verified account associated with Mr Beast, be suspicious.
Legitimate giveaways, especially from Mr Beast, do not require participants to provide sensitive personal information or make any kind of payment. If you're asked to submit personal details, credit card information, or make a payment, it's likely a scam.
If the giveaway promises rewards that seem too good to be true (for example, excessive amounts of money or luxury items), it's likely a scam.
Scammers often create a sense of urgency to push victims into acting quickly without thinking things through. If the giveaway insists you must act immediately or within a short timeframe, be wary.
If the giveaway requires you to complete 'deals', 'offers', or 'surveys' to claim a reward, this is a strong indication of a scam. Legitimate giveaways do not demand such actions.
Fake websites often have poor design, typos, or grammatical errors, which can be an indicator of a scam.
Remember, the key to avoiding scams is vigilance and critical thinking. If something doesn't seem right, it's best to err on the side of caution.
Summary Table for the Mr Beast Gift Cards Giveaway Scam
| | |
| --- | --- |
| Name | Mr Beast Gift Cards Giveaway Scam |
| Target | Fans of Mr Beast, Gamers, General public seeking free gift cards |
| Modus Operandi | Creates a fake giveaway that uses Mr Beast's logo and name; requires users to complete 'deals' to get the promised reward |
| Potential Risks | Personal Information Theft, Unwanted Subscriptions, Monetary Loss |
| Scam Websites Examples | beastgiveaway.com, onlinegiveaways.in, cardclaim.live, mrbeastgifts.fun, mrbeastgiftcards.com, etc. |
| How to Identify the Scam | No confirmation from Mr Beast's official social media channels; Requirement to complete 'deals' or 'offers' |
| What to Do if Scammed | Stop all contact, Report to Mr Beast's team, Check for unwanted subscriptions, Contact bank, Change passwords, etc. |
| Prevention Tips | Verify giveaways through official channels, Do not provide personal information or payment for 'free' rewards |
| Reporting Info | 1) Report the scam to the relevant social media platform or website; 2) File a complaint with the Federal Trade Commission or your country's equivalent agency; 3) Report the scam to the police or local authorities; 4) Contact your bank or financial institution if you've provided them with any sensitive information |
Conclusion
The Mr Beast Gift Cards Giveaway Scam uses deceptive tactics to exploit users' desire to win free gift cards. The scam websites offer enticing promotions with false claims of gift card giveaways, leading victims to complete various offers and share personal information. To protect yourself from such scams, stay vigilant, verify promotions from official sources, and avoid sharing personal information with suspicious websites. Report any scams you encounter to help protect others from falling victim to these deceptive schemes.