"Delivery failed, addressee unknown" is no longer just a simple error message—it's the sneaky start of a new trick. Scammers send messages that guide people to fake USPS websites, and once there, bam! This warning pops up. As the world of tricks and cheats grows, we need to be on our toes. Have you bumped into such a message? Or want to be ready if you do? Dive into this article! 🚫📦🔍 Keep it simple and stay safe.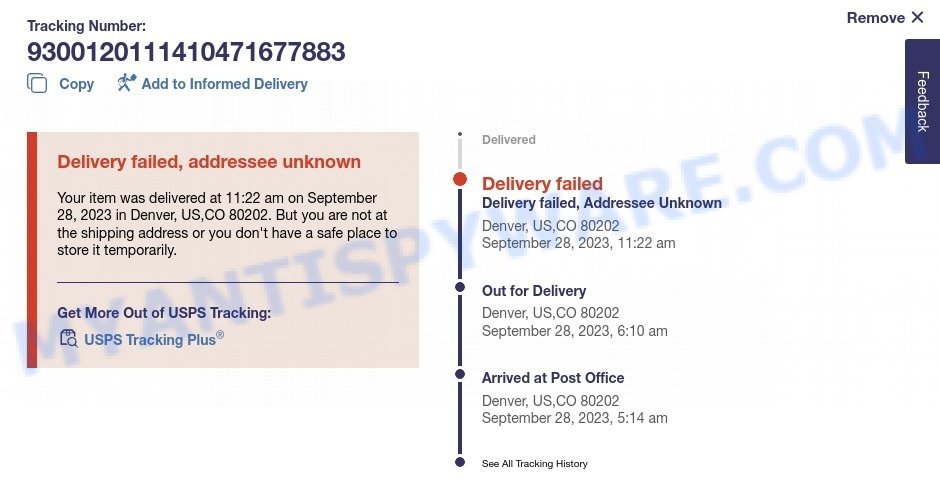 Table of Contents
Is 'Delivery failed, addressee unknown' a Scam? 🕵️‍♂️
Yes, the "Delivery failed, addressee unknown" message is a scam.🚫 Here's why:
🚫 Unsolicited Messages: Receiving unexpected messages about a failed package delivery, especially when you aren't expecting a package, is a classic red flag. Legitimate postal services do provide notices of missed deliveries, but they do not usually send unsolicited text messages or emails with embedded links.
🔗 Fake Website Domains: Genuine USPS services use official domains, like "USPS.com". The scam messages direct users to domains such as "arriveng.top", which have no connection to the actual USPS.
✏️ Typos and Grammatical Errors: Phishing scams, including this one, frequently contain spelling and grammar mistakes. A well-established institution like USPS would ensure their messages are free of such errors.
💳 Credit Card Charges: The scam attempts to charge a fee for redelivery. USPS does not charge fees in this manner. A mere $0.30 might seem inconsequential, but scammers can gather a large number of victims, and they may also misuse the provided credit card information for larger fraudulent activitie
🔒 Personal Information Request: The scam prompts you to fill in personal details, which USPS or other delivery services would already have if you genuinely had a package coming. They wouldn't need to ask for this through such a link.
🤔 Too Good or Too Alarming: Such scams play on the element of surprise or concern. If it feels off, it probably is.
In summary, if you encounter a "Delivery failed, addressee unknown" message with the characteristics mentioned above, it's almost certainly a scam⚠️
How the "Delivery failed, addressee unknown" Scam Works: A Detailed Breakdown 🚨
Scammers employ sophisticated tactics to deceive and extract information from their victims. The "Delivery failed, addressee unknown" scam is no exception, exploiting the victim's trust in reputed delivery institutions. This step-by-step guide elucidates exactly how this deceitful scheme unfolds:
1️⃣ The Scam Message
Victims receive an unsolicited message, often masked as a seemingly genuine notification. It claims a USPS package awaits them but can't be delivered due to an 'incomplete address'. The alarm bells may not ring immediately, given the professional tone and formatting.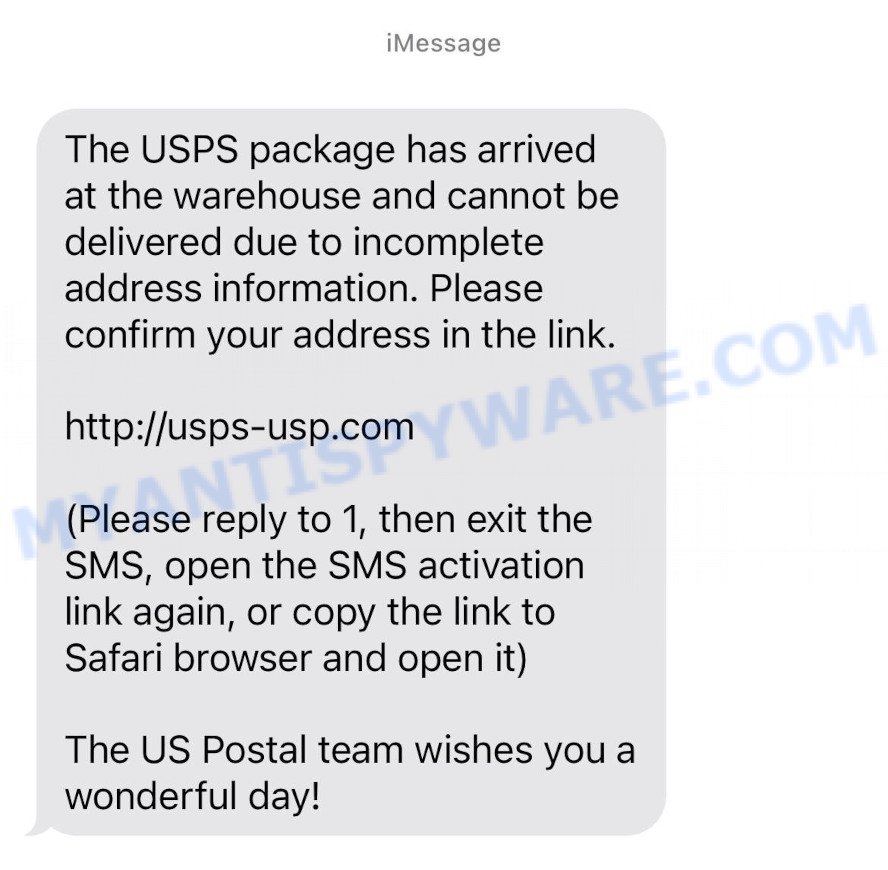 2️⃣ Deceptive Link Embedded
This message cunningly embeds a link, purporting to lead to the USPS site. In reality, it steers the user towards a fraudulent website with a deceptive domain like "arriveng.top", which holds no affiliation with USPS.
3️⃣ Mimicking Genuine Content
Upon landing on the fake site, the user encounters what appears to be the USPS's tracking page. It's furnished with details, showing the package's 'journey', and most notably, the error "Delivery failed, addressee unknown", further instilling a sense of urgency.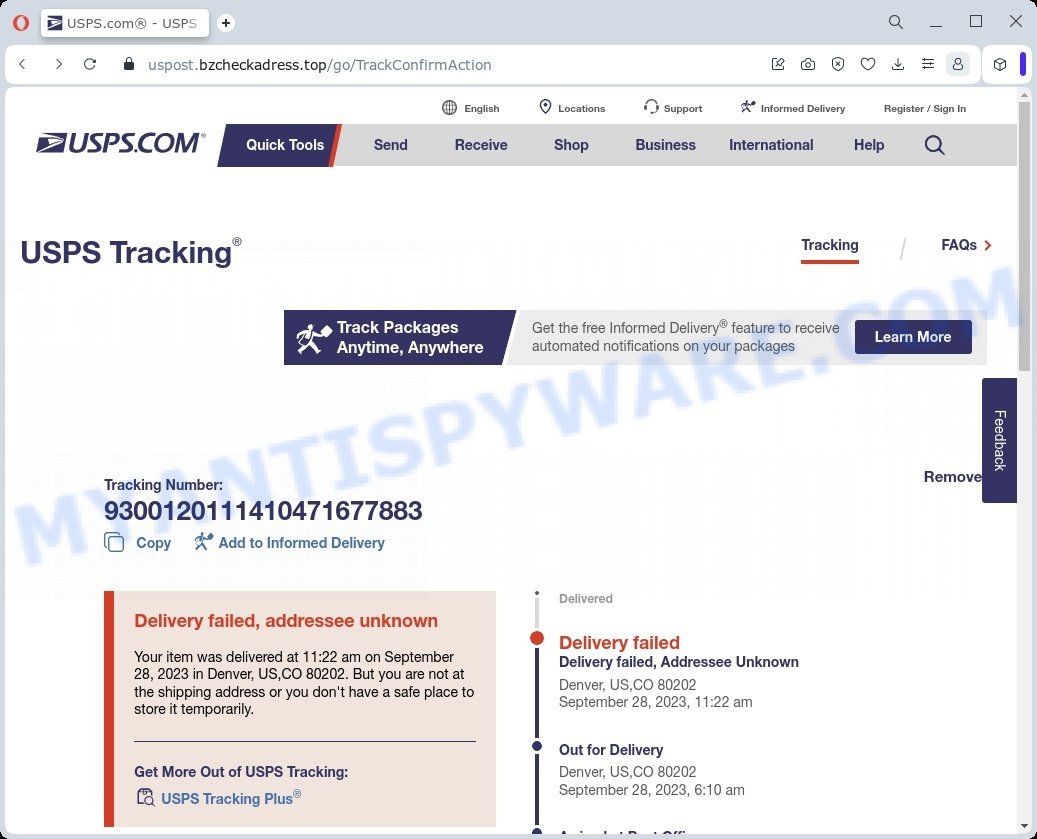 4️⃣ Clicking Into the Trap
Amid the sea of fabricated information, there's a highlighted Schedule a Redelivery button. It's presented as a quick solution to the delivery problem, luring users to click.
5️⃣ Entrapping with Personal Details
The next page continues the charade, demanding personal details under the guise of verifying the user's identity. From names to addresses, this data, in wrong hands, is a goldmine for malicious activities, including identity theft.
6️⃣ The Financial Bait
After gathering personal information, the scam deepens its claws. Now, it prompts for credit card details, justifying it as a nominal 'shipping fee' of $0.30. The unsuspecting victim, wishing to resolve the 'delivery issue', might provide this without a second thought.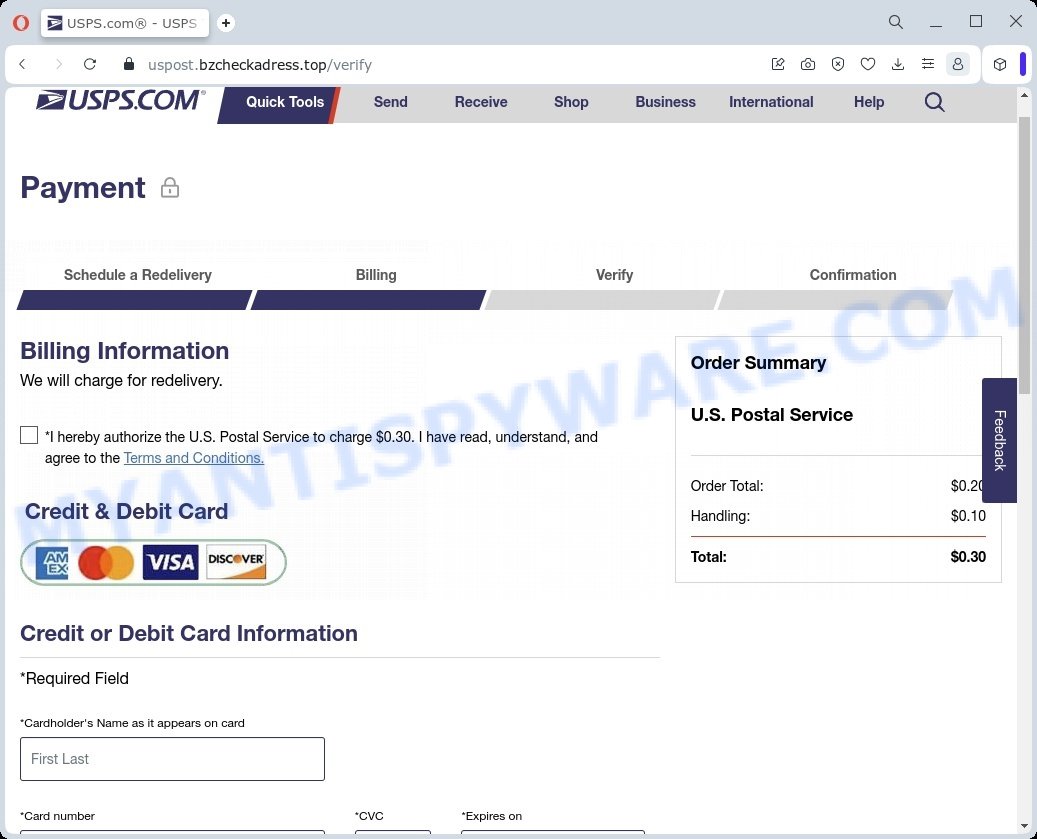 7️⃣ The Broader Implications
The seemingly trivial $0.30, when accumulated from thousands, translates to a substantial amount. Yet, the bigger concern remains: the potential misuse of procured credit card details, ranging from unauthorized purchases to more elaborate frauds.
---
Conclusion: The "Delivery failed, addressee unknown" scam is a well-crafted phishing attempt, guiding victims through a series of steps to extract valuable personal and financial information. It underscores the importance of meticulous scrutiny of unsolicited messages and the dire need to double-check with official sources before divulging any personal or financial information. 🚫🔍📦
What to Do If Scammed 😱
If you think you've been tricked by the 'Delivery failed, addressee unknown' Scam, don't panic! Here are some steps you can take:
1. Stop All Interaction 🛑
If you're still in contact with the scam website, stop immediately. Don't provide any more information.
2. Alert Your Bank 💳
Contact your bank or credit card provider right away to tell them what happened. They can help you take steps to protect your account.
3. Change Passwords 🔒
Change the passwords for your online accounts, especially for email and any financial services you use.
4. Monitor Your Accounts 👀
Keep a close eye on your bank and credit card statements for any strange transactions.
5. File a Report 🚨
Report the scam to the US Postal Inspection Service at https://www.uspis.gov/report, the Federal Trade Commission (FTC) at reportfraud.ftc.gov and to the Internet Crime Complaint Center (IC3) at ic3.gov. This helps stop the scammers and protects others.
6. Alert Others 🗣️
Tell your friends and family about the scam so they can be on the lookout and not fall for the same trick.
7. Be Extra Cautious Moving Forward ⚠️
Use this experience as a lesson. Always double-check any unexpected messages about deliveries or fees, especially if they ask you for personal information or money.
Examples of such scams
Unfortunately, the 'Delivery failed, addressee unknown' Scam is not the only one of its kind. There are several other similar scams that fraudsters use to trick people into giving away their personal information and money. In this section, we will take a look at some of the other scams that you need to be aware of. By being informed, you can better protect yourself and your loved ones from falling victim to these scams.
Here are some examples of such scams: Geek Squad Email Scam, I RECORDED YOU Email Scam, and Financial Hardship Department Scam Email.
How to Avoid Falling Victim to Similar Scams 🛡️
Avoiding scams, particularly sophisticated ones like the "Delivery failed, addressee unknown" ruse, requires vigilance and a discerning approach. Here are specific steps you can take to safeguard yourself:
1️⃣ Scrutinize Unsolicited Messages 📝
Always treat unsolicited messages, especially those alarming in nature, with suspicion. If you haven't ordered anything or aren't expecting a package, be doubly cautious.
2️⃣ Avoid Directly Clicking on Links 🖱️
Instead of impulsively clicking on links in messages, manually type the website address (e.g., "USPS.com") into your browser. This ensures you visit the official site and not a fake one.
3️⃣ Be Skeptical of Personal Data Requests 🤔
Authentic delivery services like USPS already have your information if you're expecting a delivery. They won't ask for it again via an email or text link.
4️⃣ Don't Rush 🕰️
Scammers want you to act fast without thinking. Take your time before you click any links or give info.
5️⃣ Never Give Out Financial Information Recklessly 💳
If a service suddenly asks for a nominal fee, especially for a service that's typically free, think twice. Always question why such information is needed and verify with the official service.
6️⃣ Research and Verify 🔒
If in doubt, use search engines to research the message's content or the website. Often, other victims or cybersecurity platforms may have flagged the scam, offering valuable insights.
7️⃣ Protect Your Devices 🔐
Use antivirus software and turn on a firewall. These can spot scams and block bad websites. Regularly scanning your device can often detect and warn you about phishing websites or malicious links.
8️⃣ Block Spam 🚫
Set your email to filter out scam messages so you don't even see them.
9️⃣ Educate Yourself
Stay updated with the latest scams. Awareness campaigns, official advisories, and cybersecurity news can offer insights into evolving scam tactics.
---
By following these tips, you can better protect yourself from falling for scams like these in the future. 🛡️
Threat Summary
| | |
| --- | --- |
| Name | 'Delivery failed, addressee unknown' Scam |
| Fake Tracking Number Used | 9300120111410471367725, US9524901144737, 9300120111410471677883, etc |
| Initial Contact Method | Unsolicited text messages (SMS, Email) |
| Fake Website Appearance | Mimics the official USPS site |
| Common Fake URLs | uspszj.top, uspost.bzcheckadress.top, ship.usps-postcard.com, uspusm.top, delivcheck.com, us-packagesservice.com, xtub.top, uspswl.top, usps.uspstg.com, usplco.top, uspim.shop, uspcodx.top, stamps.usps-click.com, redelivery-usps-service.com, redelivery-usps-ca.com, arriveyg.top, arrivevu.top, arrivenj.top, arriveng.top, arrivend.top, abnormalorder.aftersale.win, repack-usps-addr.com, usps-repack.com, usps-repack-us.com, uspoxz.top, uspicz.top, arrivei.top, arrivecg.top, ususl.top, ususbk.top, uspsxt.com, usponx.top, uspocs.top, usplvr.top, usftz.top, post-tracking-us.com, com-vk.top, com-usorder.top, com-us.top, com-hw.top, arriveik.top, tools.usps-goto.top, uspkbhnx.top, uspxi.shop, click.usps-ground.com, us-package-redelivery.com, usps-replacement.com, /usps-redelivery-us.com, tools.usps.com-uscheck.top, usps.com-loginza.us, us-ps-shipment-tracking.com, royalmaila.com, uspidi.top, us-redelivery-package.com, uspust.top, usps-goto.top, ususgn.top, ususbl.top, supoib.top, arrivetq.top, uspszi.top, arrivem.top, uspold.top, uspsnw.top, uspuse.top, ususntfi.top, uspnsn.top |
| Scammer's Objective | Harvest personal data, financial information, or facilitate the download of harmful malware |
| Deceptive Technique | Notifies about a delivery issue, prompting users to 'Schedule a Redelivery' |
| Defensive Measures | Double-check URLs, avoid clicking on unsolicited links, manually enter the official USPS website |
| Recommended Action | Report the scam to the USPS and the FTC (Federal Trade Commission) at reportfraud.ftc.gov. |
| In-Depth Explanation Source | 'USPS Redelivery Text Scam: What It Is and How to Protect Yourself' article |
Conclusion
The whole "Delivery Failed, Addressee Unknown" thing is a sneaky trick that plays on our worries about missing out on our packages. Scammers use fake messages and pretend to be the USPS to try to get our personal and money details. If you get an unexpected message or email, especially one talking about package tracking, be careful. Don't just click on any link they give you, and never give out your personal or credit card info unless you're 100% sure it's safe. Better safe than sorry! 🚫📦🔍