Received an email claiming you've won a "Harbor Pressure Washer" from "HARBOR FREIGHT"? Be wary before taking any action. Many unsuspecting individuals have been directed to suspicious websites, one of which includes sosimpledevices.com, after clicking "GET STARTED NOW". These sites, not affiliated with the genuine Harbor Freight brand, often dangle attractive offers, like the washer for just $9.95. Remember, if a deal sounds too good to be true, it's worth a second look. Want to know more about this deceptive email and its associated sites? Dive into our article for a detailed breakdown.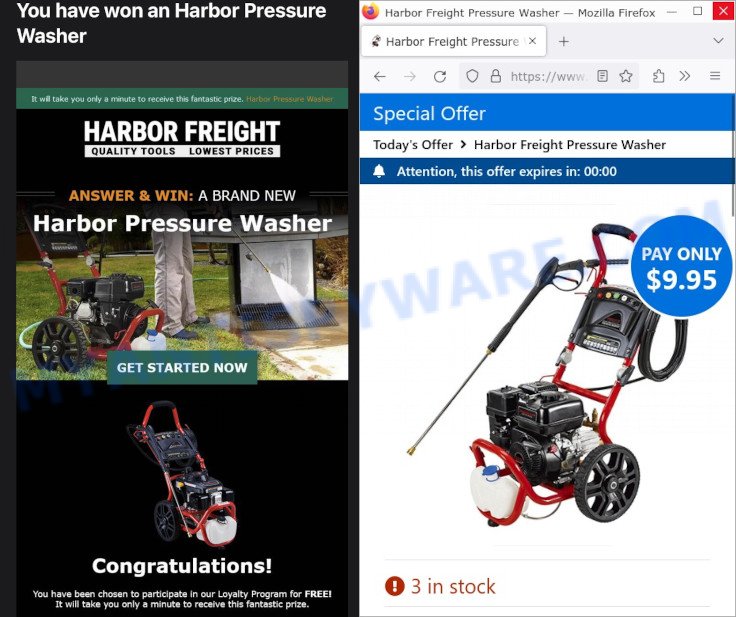 Table of Contents
Is the Harbor Pressure Washer Email a Scam? 🕵️‍♂️
Given the evidence provided, we can conclusively determine that the Harbor Pressure Washer email is a scam.
The Harbor Pressure Washer Email reads as:
You have won an Harbor Pressure Washer
It will take you only a minute to receive this fantastic prize.
Harbor Pressure Washer
HARBOR FREIGHT
QUALITY TOOLS
LOWEST PRICES
ANSWER & WIN: A BRAND NEW
Harbor Pressure Washer
GET STARTED NOW
Congratulations!
You have been chosen to participate in our Loyalty Program for FREE! It will take you only a minute to receive this fantastic prize.
Let's examine the concrete reasons:
📧 Unsolicited Email
Receiving an unexpected offer, especially if you never signed up for a Harbor Freight promotion or sweepstakes, is a tell-tale sign of deception. Fact: Genuine promotions typically arise from a prior engagement you've had with the company, such as signing up for a newsletter or entering a legitimate contest.
🌐 Mismatched Domain
The email directs users to "sosimpledevices.com", a domain with no discernible connection to Harbor Freight. Fact: Authentic companies almost always run their promotions or offers exclusively on their official websites.
🤨 Dubious Offer Details
A high-quality pressure washer for a mere $9.95 is an extremely unrealistic deal. Fact: Authentic promotions rarely, if ever, offer high-value items at such steep discounts without a catch.
💳 Concealed Charges
Beyond the initial $9.95, victims are blindsided by a hidden monthly charge of $122.75 for an unspecified app. Fact: Trustworthy companies practice transparency and explicitly state any potential charges upfront.
🔄 Ambiguous Cancellation Terms
The 'Harbor Pressure Washer' Giveaway hints at the possibility to cancel "after the first payment" but conveniently omits straightforward instructions or contact details for doing so. Fact: Legitimate subscriptions or services consistently provide a clear and easily accessible method for users to cancel or opt-out.
---
In summary, it's undeniable that the Harbor Pressure Washer email is a scam. 🚫 It's vital to remain vigilant and treat unexpected online offers with skepticism.
How the Scam Works 🚨
The scam begins with an unsolicited email claiming the recipient has won a Harbor Pressure Washer. This serves as the bait. Through inducing excitement and leveraging the perceived legitimacy of the Harbor Freight brand, unsuspecting individuals are drawn into the scam's web.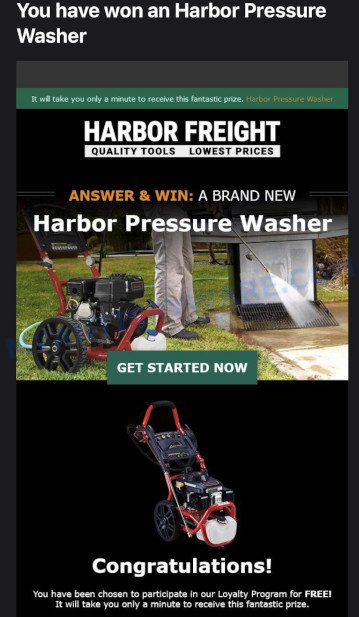 Clicking the Tempting Link 🖱️
Embedded in the email is a prominent "GET STARTED NOW" button. Clicking this link whisks the user away to an external site: "sosimpledevices.com". This site has no affiliations with the genuine Harbor Freight brand. Using external sites like this enables scammers to sidestep many email filters that would otherwise detect and block malicious content.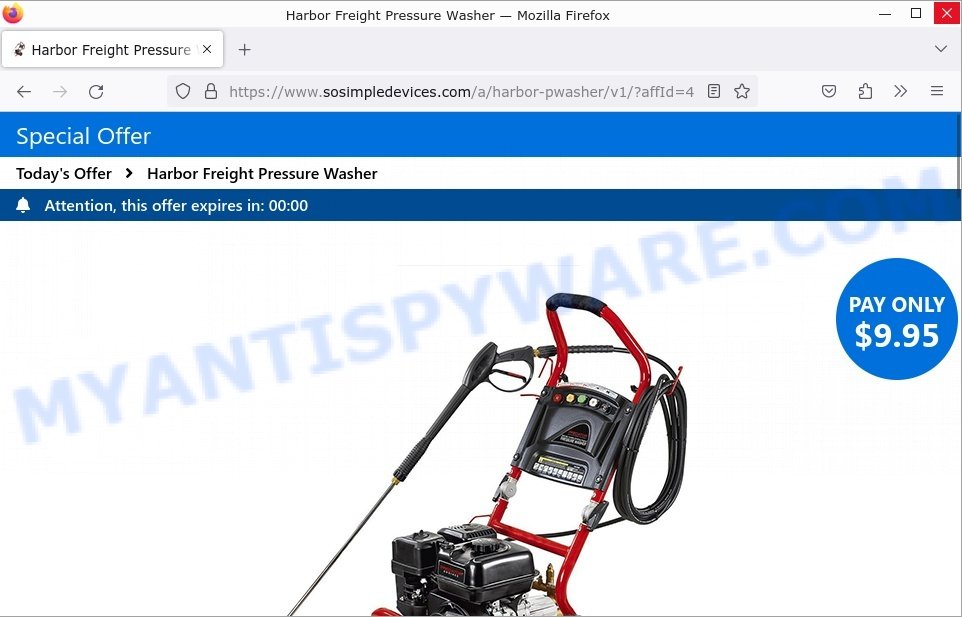 Deceptive Website Tactics ⏳💸
Upon arriving at "sosimpledevices.com", users are met with pressure tactics like "Attention, this offer expires in: 00:00" and a tantalizingly low price of $9.95 for the pressure washer. These strategies—constrained timeframes and incredible discounts—are masterminded to rush victims, preventing them from pausing to evaluate the offer's legitimacy.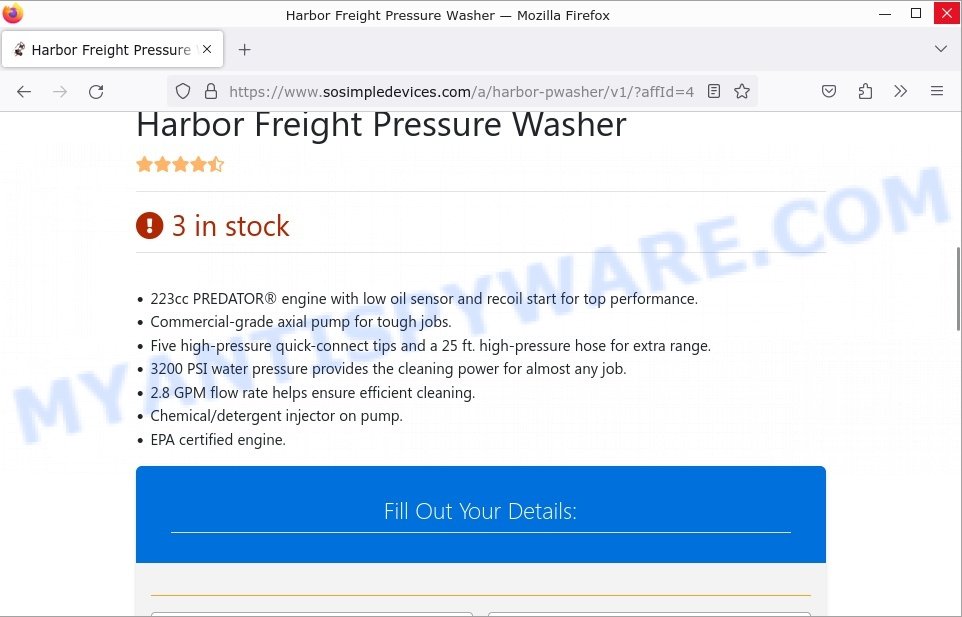 Inputting Personal Details 📝
The site then nudges users to fill out a form with their shipping details. While disguised as a benign step for prize delivery, it's a tactic to harvest valuable personal data. This information can later be exploited for other scams, sold illicitly, or even lead to identity theft.
VirusTotal flagged a 'Harbor Pressure Washer Giveaway' page as malicious: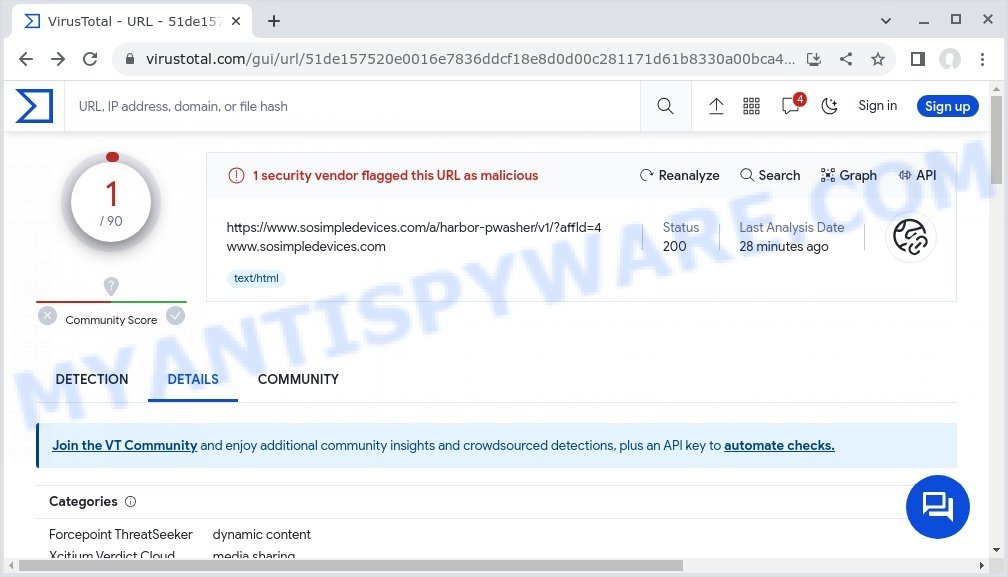 The Costly Catch 💰🔄
Should a victim proceed to "pay" the $9.95 delivery fee, they unknowingly enroll in a concealed subscription. Hidden in the fine print or obfuscated are terms binding them to a recurring charge of $122.75/month for an ambiguously defined "exclusive app access". Most will remain oblivious to this commitment until they spot the deductions in their bank statements.
---
In conclusion, the Harbor Pressure Washer email scam is a sophisticated, multi-tiered con. From the initial alluring email to the deceptive site tactics and concealed charges, it's designed with precision to extract both money and personal data. This serves as a stark reminder of the importance of caution and diligence when dealing with unsolicited online offers. Always double-check before parting with personal or financial details.
Examples of such scams
Unfortunately, the Harbor Pressure Washer Scam is not the only one of its kind. There are several other similar scams that fraudsters use to trick people into giving away their personal information and money. In this section, we will take a look at some of the other scams that you need to be aware of. By being informed, you can better protect yourself and your loved ones from falling victim to these scams.
Here are some examples of such scams: Kohl's Ninja Knife Set Scam, Mr Beast Giveaway Scam, KOHL'S Le Creuset Scam, and Shein Summer Giveaway Scam.
What to Do If Scammed 🚫🔐
If you've been caught up in the "Harbor Pressure Washer" scam, don't panic. It's important to act quickly to protect yourself and your finances. Here's a step-by-step guide on what to do next:
Contact Your Financial Institution: 🏦
Immediately inform your bank or credit card company about the unauthorized transaction. They may be able to stop the transaction, reverse it, or even issue a chargeback. Request a new credit/debit card if you believe your card details have been compromised. Document any financial losses. This can be essential for investigations and potential reimbursements.
Change Passwords: 🔐
If you suspect your personal information, especially passwords, have been compromised, change them immediately. This is crucial for accounts linked to financial institutions or personal data. Consider using a reputable password manager to ensure strong, unique passwords for each account.
Monitor Your Accounts: 👀
Keep a close eye on your bank and credit card statements for the next several months. Look for any unauthorized or suspicious transactions, no matter how small. Consider enrolling in a credit monitoring service. Some services will alert you to changes in your credit report, potentially indicating identity theft.
Report the Scam: 🚔
Forward the scam email to the Federal Trade Commission (FTC) at spam@uce.gov. Report the scam to your local law enforcement and provide them with all the details and evidence you have.
Check Your Computer: 💻
If you've downloaded any attachments or clicked on any links in the scam email, your device might be infected. Run a comprehensive antivirus scan. Consider consulting with a professional to ensure your computer is clean from malware or spyware.
Educate Yourself: 📘
Familiarize yourself with common scam tactics to avoid falling victim in the future. Stay updated on recent scams or phishing methods by following news sources or official government warnings.
Inform Others: 📢
Warn friends and family about the scam, especially if it's widespread. Sharing your experience can help protect others from the same pitfalls.
Summary Table
Row
Details
Name
Harbor Freight Pressure Washer Email Scam
Type
Phishing Scam
Fake Claims
"You have won a Harbor Pressure Washer"
Participation in a "Loyalty Program for FREE"
Disguise
Appears to be from the legitimate "HARBOR FREIGHT" brand offering a special giveaway
Scammers' websites
sosimpledevices.com, centereddevices.com
Damage
Loss of $9.95 or more due to hidden subscriptions
Potential misuse of personal information leading to identity theft
Distribution
Unsolicited emails often mimicking official marketing or giveaway campaigns
Indicators of the scam
Too-good-to-be-true offer
Redirected to an unfamiliar website after clicking
Hidden charges or subscription details
Prevention Tips
Avoid clicking on links in unsolicited emails
Cross-check offers with the official Harbor Freight website
Be wary of providing personal or financial information on unfamiliar sites
Reporting Info
Forward suspicious emails to the Federal Trade Commission (FTC) at spam@uce.gov. Also, report to local law enforcement.
Conclusion
Harbor Freight Pressure Washer Email is a glaring example of the deceptive tactics cybercriminals employ to exploit our trust and curiosity. At first glance, the offer may seem irresistible, promising a high-value prize for a seemingly nominal fee. However, as we've delved into the details, it becomes evident that this is likely a cleverly crafted scam.
The redirection to malicious and phishing websites, the too-good-to-be-true pricing, and the lack of clear terms and conditions are all telltale signs of a scam. Our article aimed to shed light on this deceptive scheme, and we hope it has empowered you to recognize similar scams in the future.
Always remember: if something seems too good to be true, it probably is. Be cautious, double-check the legitimacy of offers, and safeguard your personal and financial information. By doing so, you can protect yourself from falling victim to scams like the "Harbor Freight Pressure Washer Email". Stay safe! 💡🔐