Summersale.co is an online store that has been making waves due to its unrealistically low prices for HOKA sneakers. If you've come across their attractive promotions on Facebook or elsewhere, we strongly recommend you read our full review before making a purchase.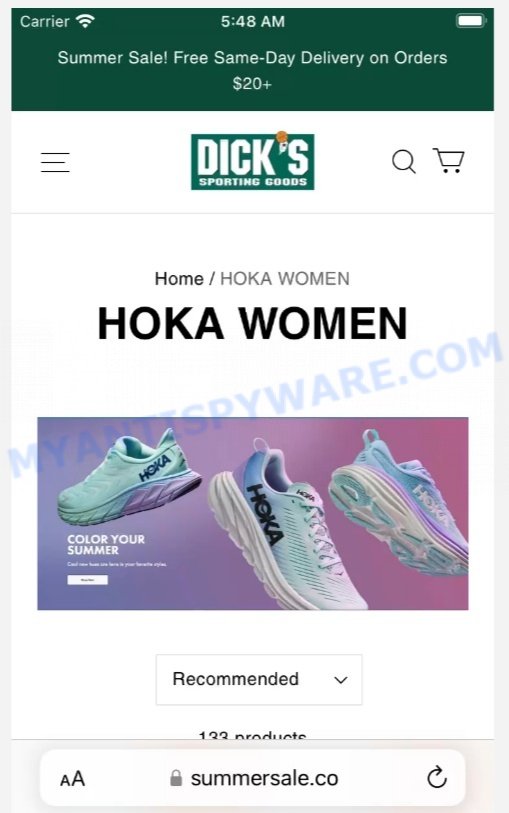 Quick links
Is Summersale.co a Scam?
Regrettably, Summersale.co exhibits several tell-tale signs of being a scam. These include:
A recently created domain, with its creation date being July 12, 2023.
The lack of real contact information, with only an email address (sily@peachcher.com) available. This email is also linked with other scam shops.
The associated company, AIMARK LTD, is tied to other fraudulent activities.
Unbelievably low prices for high-end products like HOKA sneakers, which are being advertised for just $19.9.
A template design with content and images possibly lifted from other sites.
Enticing slogans and a time counter on the product page to create a sense of urgency.
No social media presence or links to any social media platforms.
How the Summersale.co Scam works
Summersale.co is exploiting the popularity of HOKA sneakers to lure in unsuspecting victims. The scam begins with an attractive Facebook ad offering HOKA sneakers at the unbelievably low price of $19.9, citing a so-called "expiration of the sales contract" as the reason for the heavy discount. The ad also creates a sense of urgency by stating that it's a "limited stock available" and a "low price countdown".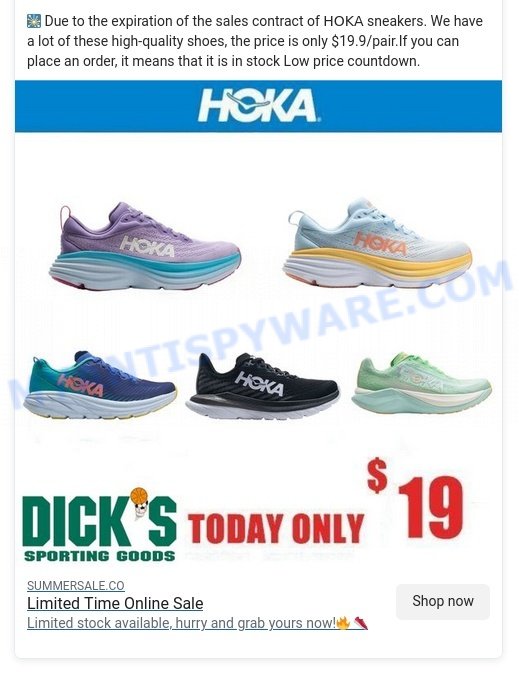 Upon clicking the ad, you're redirected to Summersale.co, which appears like a legitimate online store. However, the contact details are sketchy at best, with only a generic email address provided and no tangible information about the company behind the site. Furthermore, the domain was created recently and the associated company is linked to other scams. Once a purchase is made, either the product never arrives, or a counterfeit item is received.
What to do if you become a victim of Summersale.co
If you've fallen prey to the Summersale.co scam, don't panic. There are steps you can take to rectify the situation:
Contact your bank or credit card company and dispute the transaction.
Report the scam to your local authorities and provide all the information you have.
Warn your friends and family about the scam.
Leave a review online to alert others.
Other Scam Online Shops to Avoid
Our continuous effort to protect our readers from scams has led to the compilation of other suspicious online shops you should be aware of. Like Summersale.co, these shops share similar characteristics and deceptive practices to lure unsuspecting buyers. Online vigilance is crucial in protecting your personal and financial information. Below are some other scam online shops to avoid.
Here are a few examples of scam online shops: Babyjoynewyork.com Buy Buy BABY Store Scam, Acstoreus.com DICK'S SPORTING GOODS Store Scam, Outletshoks.com HOKA Summer Clearance Scam.
Summary table for Summersale.co
| | |
| --- | --- |
| Name | Summersale.co |
| Type | Online Store Scam |
| Damage | Loss of money, potential identity theft |
| Distribution | Primarily through Facebook ads |
| Tactics | Low prices for high-end products, false scarcity |
| Prices | $19.9 for HOKA sneakers |
| Contacts | Email: sily@peachcher.com; Company: AIMARK LTD |
| Prevention Tips | Verify contact details, Check social media presence, Research before purchasing |
| Reporting Info | Local authorities, Bank or Credit Card Company |
Conclusion
Summersale.co is an online scam that preys on the unwary with tempting deals on HOKA sneakers. We strongly advise against purchasing from this site due to the numerous red flags, including suspiciously low prices, limited contact information, and association with other known scam stores.
FAQ About the Summersale.co Scam
Are the HOKA sneakers sold on Summersale.co authentic?
Given the red flags associated with Summersale.co, it's highly unlikely that the HOKA sneakers sold on the site are authentic. The prices are far below the usual market rate, which is a common sign of counterfeit goods.
What happens if I've already made a purchase on Summersale.co?
If you've made a purchase on Summersale.co, you should contact your bank or credit card company immediately to dispute the transaction. It's also advisable to keep an eye on your bank statements for any unexpected transactions, as your financial information might be at risk.
How can I avoid online scams in the future?
To avoid falling prey to online scams, always do your research before making a purchase. Check for genuine contact details, read online reviews, and be wary of prices that seem too good to be true. You can also use tools like Whois lookup to check the age of the domain.