Irreac.com is an online store that recently gained attention because of its advertised deals for Fox Racing products. However, if you have come across their tempting Facebook ads, we urge you to go through our comprehensive review before making any purchases.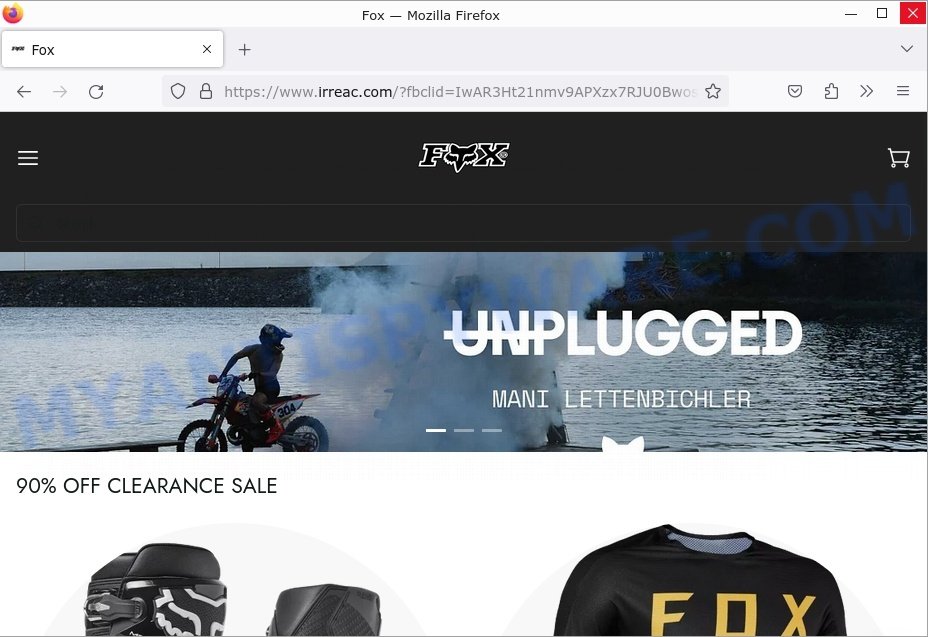 Quick links
Is Irreac.com a Scam?
Regrettably, there are numerous red flags associated with Irreac.com that suggest it's a scam. These indicators include:
A recently created domain (June 26, 2023).
Generic contact details that are associated with other scam stores. Only an email address (service@wahssei.com) is available, and the company name, KENTESH LTD, is tied to other fraudulent activities.
Shockingly low prices for Fox Racing products, advertised as just $5.99.
A website design with content and images likely copied from other sites.
Absence of links to social media platforms, which is unusual for legitimate businesses.
How the Irreac.com Scam Works
The Irreac.com scam begins with an enticing Facebook ad offering Fox Racing products at a shockingly low price of $5.99, thus creating a sense of urgency and a too-good-to-be-true deal.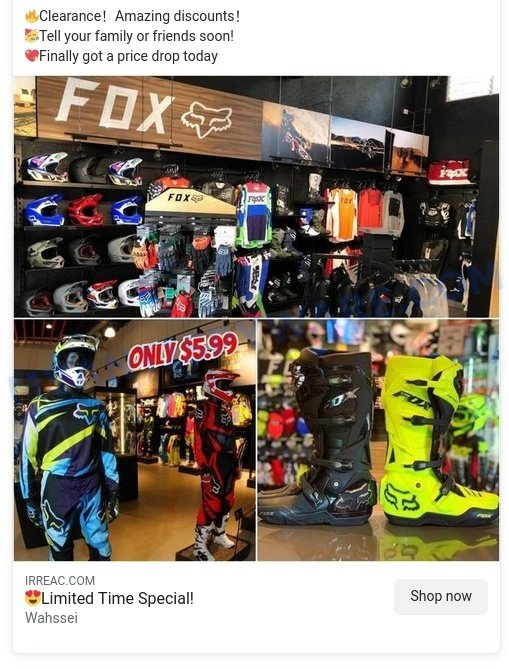 When you click the ad, you're directed to Irreac.com, which seems to be a legitimate online store. However, the contact details are vague, and the associated company has been linked to other scams. Typically, once a purchase is made, the product never arrives, or a counterfeit item is delivered.
What to do if You're a Victim of Irreac.com
If you've fallen victim to the Irreac.com scam, don't panic. Here are steps you can take:
Contact your bank or credit card company to dispute the charge.
Report the scam to local authorities, providing them with all the information you have.
Warn your family and friends about the scam to prevent further victims.
Leave a review online to alert others about your experience.
Other Scam Online Shops to Avoid
As part of our ongoing effort to protect readers from scams, we've compiled a list of other suspicious online shops to beware of. Like Irreac.com, these stores often use similar tactics and fraudulent practices to deceive unsuspecting buyers. Online vigilance is essential in safeguarding your personal and financial information.
Here are some other scam online shops to steer clear of: FakeWatchOutlet.com Luxury Watch Scam, SweetBabyDoll.com Baby Toys Scam, FakeGamerStore.com Video Games Scam.
Summary Table for Irreac.com
| | |
| --- | --- |
| Name | Irreac.com |
| Type | Online Store Scam |
| Damage | Loss of money, potential identity theft |
| Distribution | Primarily through Facebook ads |
| Tactics | Low prices for high-end products, false scarcity |
| Prices | $5.99 for Fox Racing products |
| Contacts | Email: service@wahssei.com; Company: KENTESH LTD; Company Address: Unit 1l Felix Business & Distribution Park, Birrell Street, Stoke-On-Trent, United Kingdom, ST4 3NX |
| Prevention Tips | Verify contact details, Check social media presence, Research before purchasing |
| Reporting Info | Local authorities, Bank or Credit Card Company |
Conclusion
Irreac.com is an online scam exploiting the popularity of Fox Racing products to bait unsuspecting shoppers. We strongly advise against purchasing from this site due to the many red flags, including suspiciously low prices, limited contact information, and association with other known scam stores.
FAQ About the Irreac.com Scam
Are the Fox Racing products sold on Irreac.com authentic?
Given the red flags associated with Irreac.com, it's highly unlikely that the Fox Racing products sold on the site are authentic. The incredibly low prices suggest counterfeit goods.
What happens if I've already made a purchase on Irreac.com?
If you've made a purchase on Irreac.com, it's crucial to contact your bank or credit card company immediately to dispute the charge. Keep an eye on your bank statements for any unexpected transactions, as your financial information may be at risk.
How can I avoid online scams in the future?
To evade online scams, always do your research before making a purchase. Check for genuine contact details, read online reviews, and be wary of prices that seem too good to be true. Tools like Whois lookup can help you check the age of the domain.