Domabes.com is an online store that's attracting a lot of attention for all the wrong reasons. The website, which presents itself as a vintage surfwear retailer, is unfortunately nothing more than a cleverly designed scam. This article provides a comprehensive review of the Domabes.com scam. We urge you to read on to safeguard your online security and protect your finances.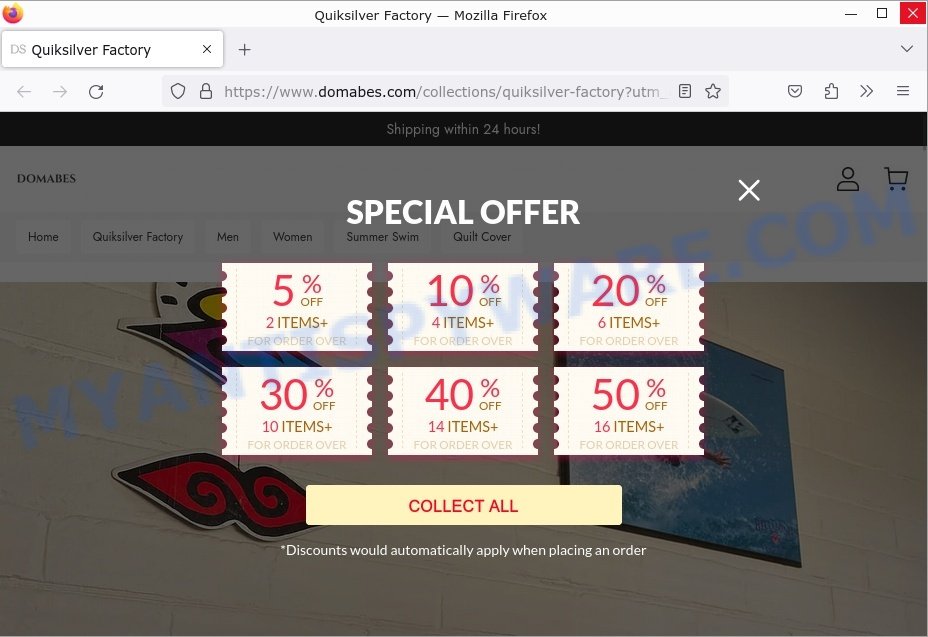 Quick links
Is Domabes.com a Scam?
Given the various signs and factors at play, it's fair to conclude that Domabes.com is a scam. Here's why:
The domain was recently created on 2023-06-18 and has a short registration period, which is a common characteristic of scam sites.
The contact information is suspicious. The email address (service@hujiso.com) and company details (DENG ECOMMERCE; Company Address: 38 rue des Mathurins 75008 Paris) are linked to other known scam shops.
The store offers unbelievable deals, like 50% off on all tees, which can be a trap to lure unsuspecting buyers.
The site does not provide real info about the company behind the scam.
The website's design appears to be a generic template, which is common among scam sites.
The Whois contacts are hidden, suggesting an attempt to conceal the true identity of the site operators.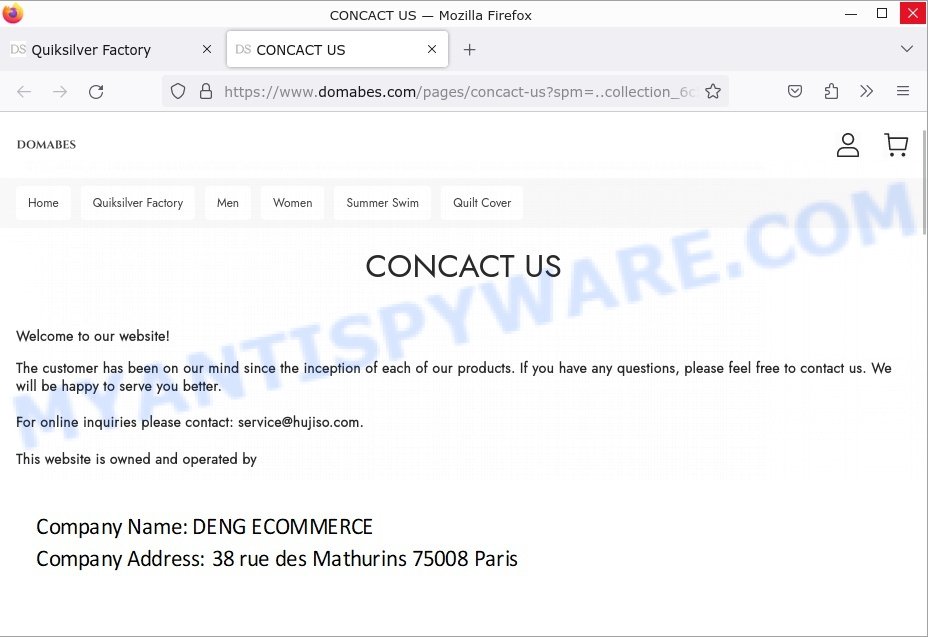 How the Domabes.com Scam works
Domabes.com is designed to catch the eye of online shoppers, particularly those seeking vintage surfwear. The scam begins with an enticing ad on Facebook, proclaiming a 50% off sale on all tees, accompanied by the line, "It's time to update your closet and make your life a little more romantic!".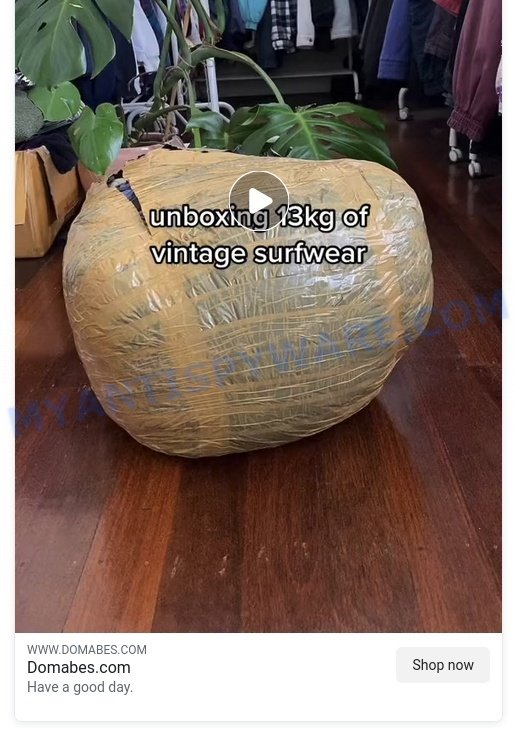 Upon clicking the ad, potential victims are directed to the Domabes.com website where they can browse various products at seemingly bargain prices. However, after making a purchase and payment, the customer will likely never receive the product, or receive a product that is vastly inferior to what was advertised. As a result, customers lose money, while the scammers behind Domabes.com profit.
What to do if you become a victim of Domabes.com
If you have unfortunately fallen victim to the Domabes.com scam, follow these steps:
Contact your bank or payment service provider immediately and inform them about the fraudulent transaction.
Change your online passwords, especially if you have used the same ones on Domabes.com.
Report the scam to your local law enforcement agency and provide them with all the information you have.
File a complaint with online consumer forums and post reviews to warn others.
Keep an eye on your credit report to ensure your personal information is not used for identity theft.
Other Scam Online Shops to Avoid
In our ongoing efforts to protect readers from online scams, we've compiled a list of other suspicious online shops. These shops bear similar characteristics to Domabes.com, using deceptive practices to fool unsuspecting online shoppers. It's essential to stay vigilant when shopping online and recognize the warning signs of potential scams.
Here are a few examples of the scam online shops: KingCrabStore.com King Crab Store Scam, Closingstore.shop Bed Bath & Beyond Store Scam, and Outletshoks.com HOKA Summer Clearance Scam.
Summary table for Domabes.com
| | |
| --- | --- |
| Name | Domabes.com |
| Type | Online Store Scam |
| Damage | Financial loss, potential identity theft |
| Distribution | Worldwide via internet |
| Tactics | Deceptive advertising, unrealistic discounts |
| Prices | 50% off on all tees |
| Contacts | Email:service@hujiso.com; Company Name: DENG ECOMMERCE; Company Address: 38 rue des Mathurins 75008 Paris |
| Prevention Tips | Verify before purchase, be wary of unrealistic offers |
| Reporting Info | Contact local law enforcement, report to online consumer forums |
Conclusion
Domabes.com is a dangerous scam site designed to trick online shoppers with its too-good-to-be-true deals. It's essential to remain vigilant and scrutinize any online shop before making a purchase. Remember, if an offer seems too good to be true, it probably is.
FAQ About the Domabes.com Scam
How does Domabes.com lure in victims?
Domabes.com lures in victims primarily through enticing Facebook ads offering massive discounts on vintage surfwear. These advertisements are designed to be attractive, prompting potential victims to visit the site and make purchases.
What type of scam is Domabes.com involved in?
Domabes.com is involved in an online store scam. They attract customers with impressive discounts and product offerings, only to either not deliver the product or deliver something significantly less valuable than advertised.