Decksportsus.com is another in a long line of online scams designed to separate unsuspecting shoppers from their hard-earned money. With promises of unrealistically low prices for popular brands like HOKA, this dubious online store draws potential victims in with a countdown deal for sneakers at $19.9 a pair. This article will delve deeper into how this scam operates, how to guard against such tactics, and what to do if you've fallen prey to this scam.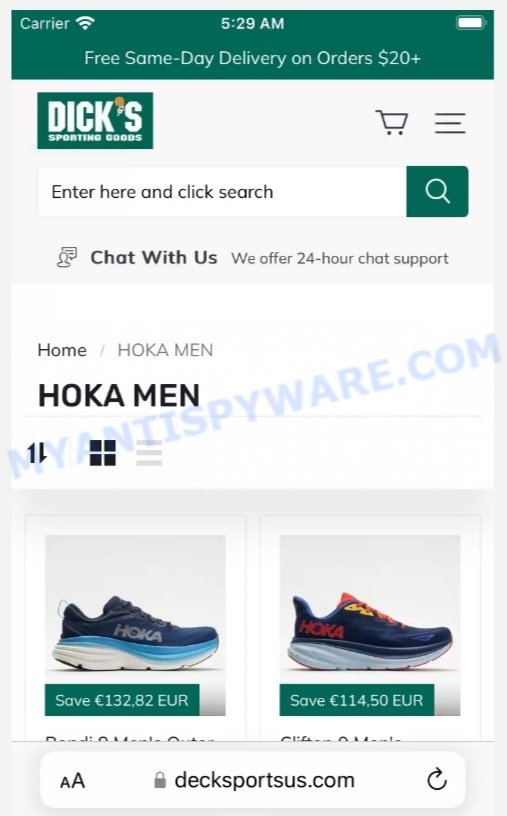 Quick links
Is Decksportsus.com a Scam?
Based on the following indicators, it appears that Decksportsus.com is not a legitimate online store:
The website was only recently created on August 1, 2023.
The provided contact email (dobby@autumce.com) and company details (AIMARK LTD) have been associated with other online scams.
Decksportsus.com offers unrealistically low prices on branded goods, such as HOKA sneakers for just $19.9 per pair.
The quality and authenticity of the site's design and content are questionable, and it lacks clear links to social media platforms.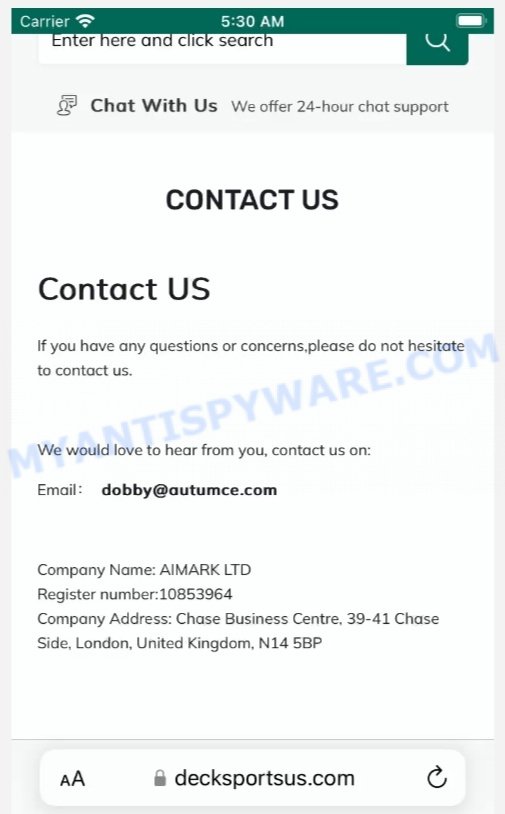 How the Decksportsus.com Scam Works
Decksportsus.com primarily operates through Facebook advertisements. They offer HOKA sneakers for an unbelievably low price of $19.9 per pair.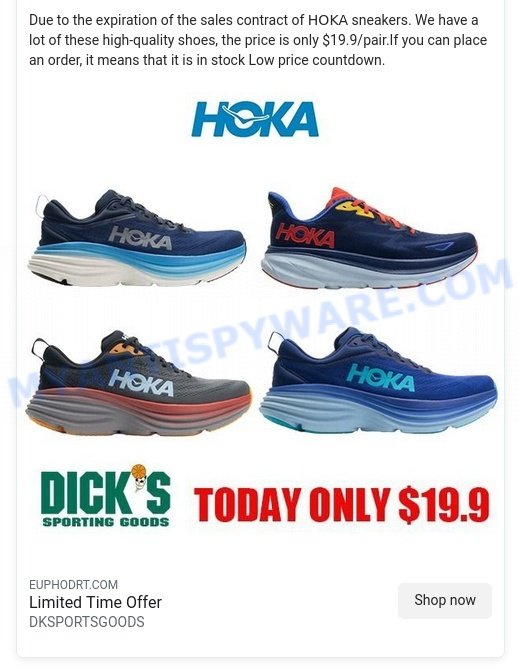 Unsuspecting buyers place orders that are never fulfilled, and the limited and suspicious contact information makes it nearly impossible for victims to seek refunds or resolution.
What to Do If You Become a Victim of Decksportsus.com
If you've been scammed by Decksportsus.com, take the following actions:
Contact your bank or credit card provider to report the fraudulent transaction and ask about reversing the charges.
Change your online banking and email passwords to protect your information from further unauthorized access.
Report the incident to local law enforcement and your country's cybercrime reporting center.
Other Scam Online Shops to Avoid
We continue to identify and expose other fraudulent online shops that operate in a similar manner as Decksportsus.com. Always exercise caution when shopping online and stay informed about the telltale signs of scams. Here are a few more scam online shops to watch out for: For example: Sneakers-Deal-Outlet.com Scam, Discount-Shoe-Outlet.com Scam, Best-Shoe-Store-Online.com Scam.
Summary Table for Decksportsus.com
| | |
| --- | --- |
| Name | Decksportsus.com |
| Type | Online Shopping Scam |
| Damage | Financial Loss, Privacy Compromise |
| Distribution | Facebook Ads |
| Tactics | Deceptive Advertising, False Discounts |
| Prices | As low as $19.9/pair |
| Contacts | Email: dobby@autumce.com; Company: AIMARK LTD |
| Prevention Tips | Check Website Credibility, Secure Payment Methods |
| Reporting Info | Local Law Enforcement, Cybercrime Reporting Centers |
Conclusion
Decksportsus.com represents a classic example of an online shopping scam. With deceptive marketing, false discounts, and feigned association with popular brands, it seeks to ensnare unwary online shoppers. Stay vigilant and always look out for the red flags of online scams to ensure your personal and financial information remains secure.
FAQ About the Decksportsus.com Scam
1. How did I encounter the Decksportsus.com scam?
You may have come across this scam via Facebook advertisements promoting extremely low prices for HOKA sneakers.
2. Why is the company name in the scam significant?
The company name, AIMARK LTD, has been linked to other known scam websites. This connection raises red flags about the credibility of Decksportsus.com.
3. What should I do if I have already made a purchase on Decksportsus.com?
If you've made a purchase, get in touch with your bank or credit card provider as soon as possible to report the fraudulent transaction and discuss the possibility of reversing the charges.